Click Consult is a multi award-winning search and digital marketing agency with a focus on organic (SEO) and paid search (PPC). We are the leading experts in our field and work with brands & SMEs that want a measurable return from their online budget. We define bespoke strategies that maximise visibility and believe in an ethical, transparent approach to search so our experts can help our clients navigate the ever-changing search marketing landscape.
Our knowledge and understanding
One of the things that puts many businesses at a disadvantage is that they don't fully understand their marketplace. If you are a large brand that wants to run multi-national search campaigns then we have the know-how to run effective strategies. In a similar vein if you are an SME who wants to run a local search campaign, we have plenty of experience in this.
Also sometimes businesses don't need a full strategy from an agency but need consultancy and guidance on how to see the greatest return form their efforts. For this we offer in-house support to companies of all sizes.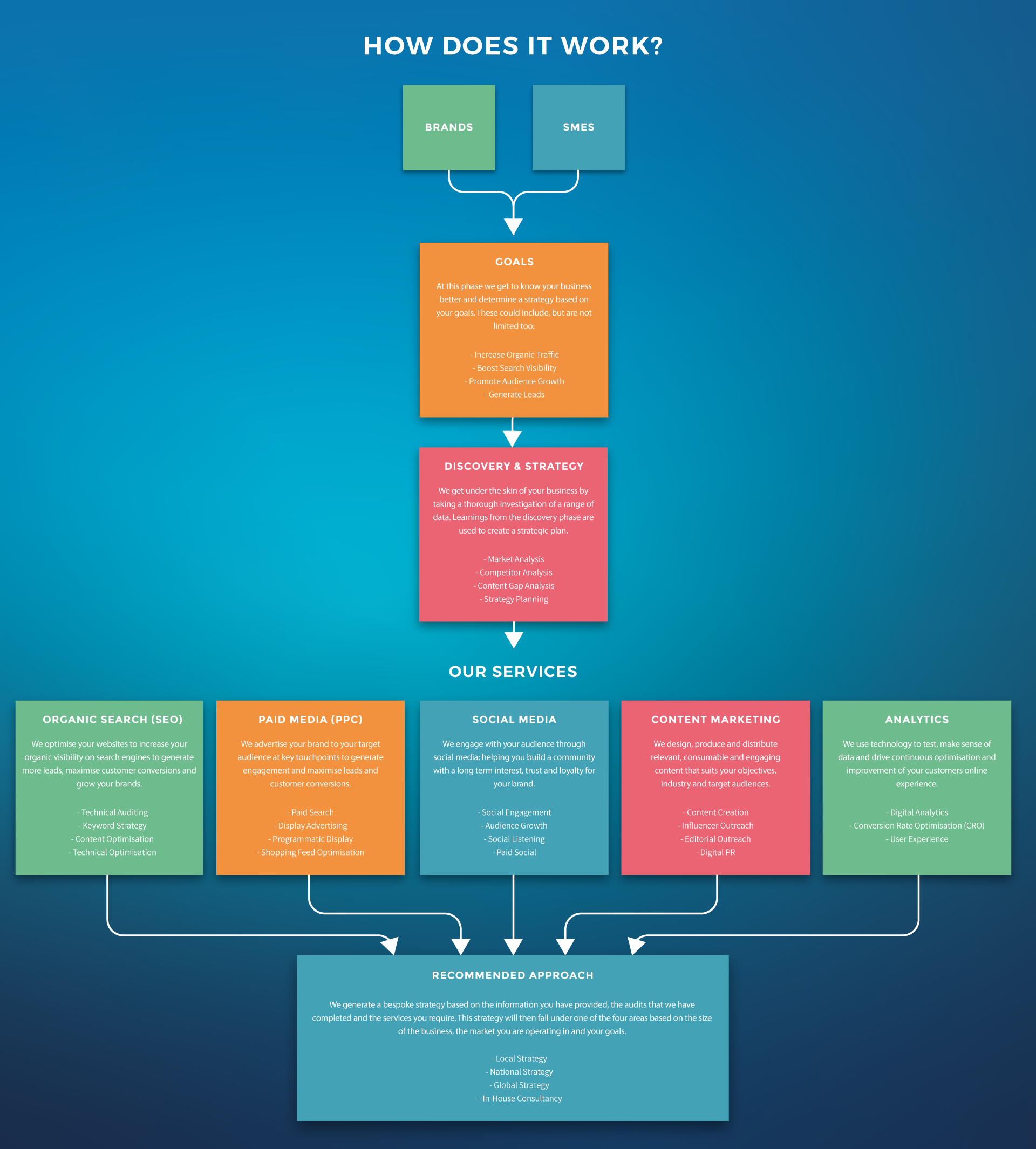 Our brand and SME experience
Our talented and experienced team have worked with an impressive portfolio of clients. From SMEs to some of the world's most recognisable brands, across multiple industry sectors. A selection of some of these can can be seen below, however you can head over to our clients page to see the full range of industry sectors and clients we've worked with.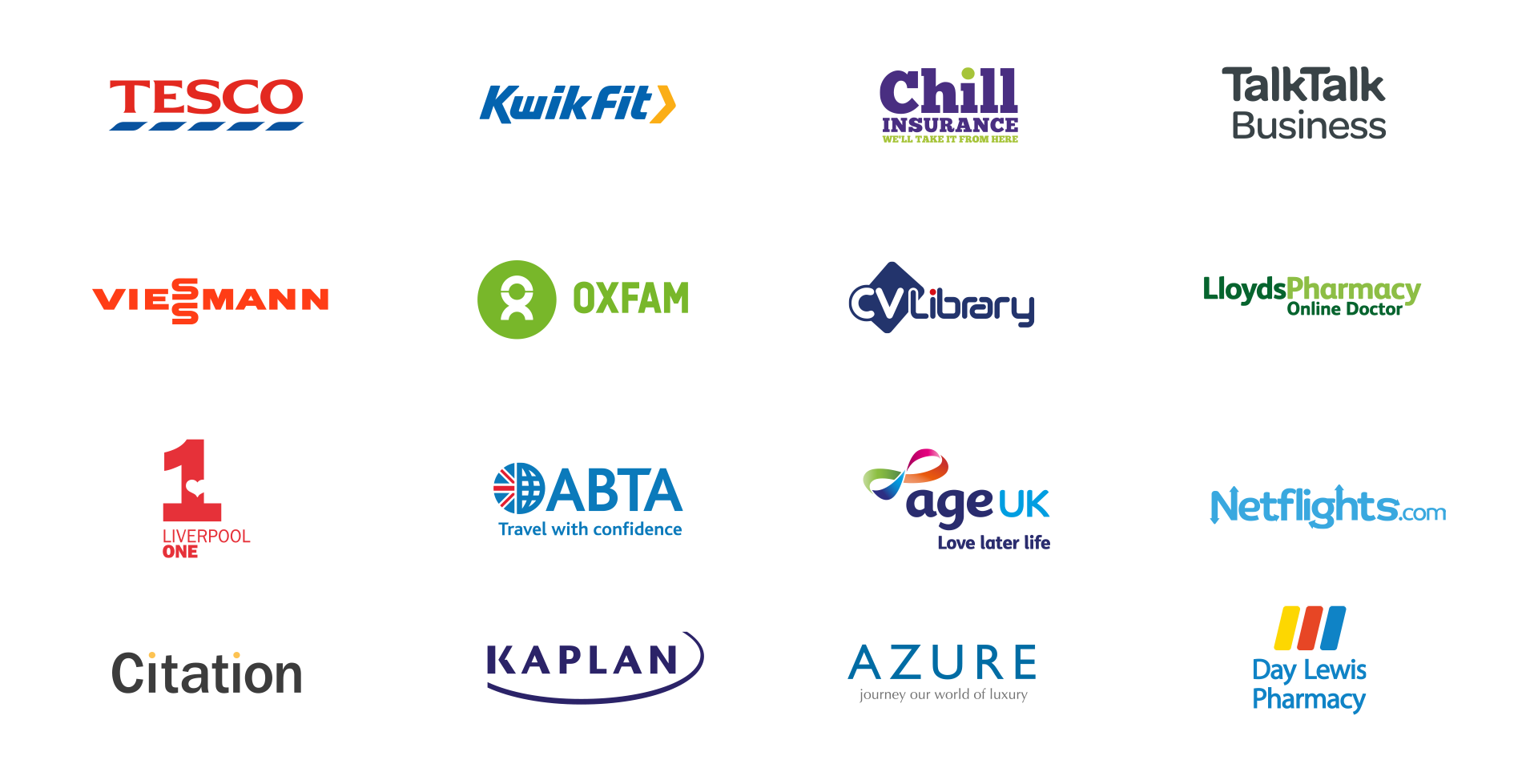 Our services
Our offering encompasses a wide range of integrated search and digital marketing services, our core offering has been detailed below. Not content to rest on our laurels we are continually evolving our services and are dedicated to developing new technologies in order to maximise the reach, trust and reward for our efforts. You can view our full range of services here.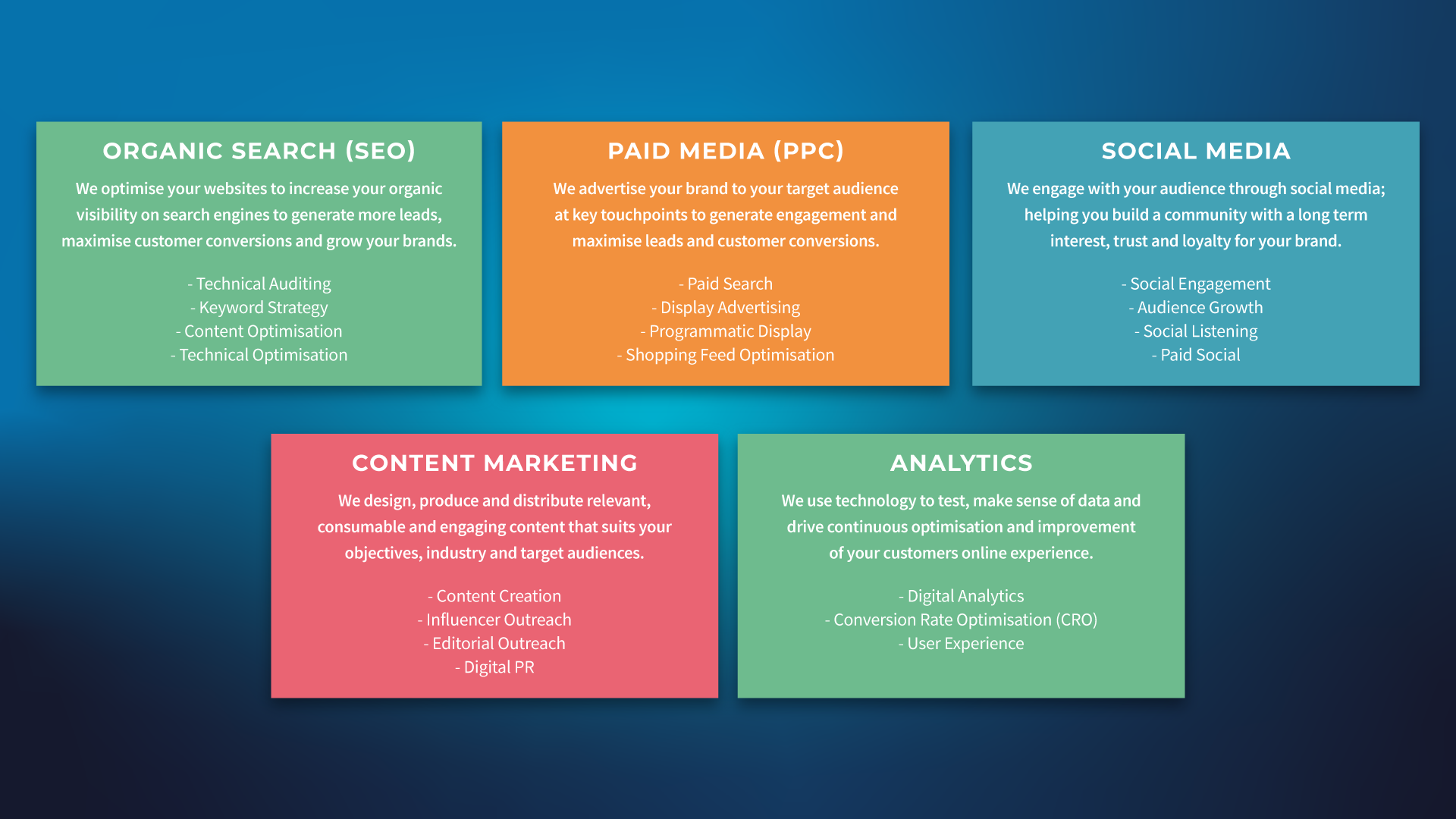 Our team of experts
Our team is comprised of accomplished search marketing professionals who have a reputation for delivering results and hold a wealth of experience across a range of competitive verticals. This includes CEO, Matt Bullas, our Director of Search, Alan Reeves and Business Development & Client Services Director, Julie Sowa. Collectively, the team has over 150 years' experience in search marketing and has worked with a number of leading brands, including Tesco, Age UK, Oxfam, ABTA, Boohoo, Regatta, Kwik Fit, LloydsPharmacy Online Doctor and Chill Insurance, to name a few.
Our strategies are bespoke
There's rarely a 'one size fits all' approach to search marketing, which is why we implement a strategy review process. Our team are experts in their field and undertake a range of technical audits, each designed to help us fully understand, analyse and document everything we need to know about our clients' campaigns. Our transparent monthly and strategic review process therefore allows us to continually adapt our bespoke strategies to meet our clients' ever changing goals and objectives and to deliver ROI.
Our reporting process is designed to showcase the results we achieve for our clients efficiently and transparently. Indeed, for each project we work on, we share all corresponding documentation with clients over Google Drive and provide a comprehensive statistical report each month.
We're data-driven
Our data-driven approach to developing search marketing strategies allows us to make fully informed decisions and achieve results based on hard data rather than assumptions. While we employ industry leading technology to help support our clients' campaigns, our passion for delivering results means that our clients also benefit from continuous investment, which has led to the development of our suite of custom built TRAX technologies.
We're global
We're part of the Ceuta Group family whose work specialises in offering brand services for some of the largest businesses in the world. Our expertise lies in search and digital marketing and our services perfectly compliment those of the rest of the group.
The chart below shows the spectrum of services across the Ceuta Group and the work carried out by the 12 businesses that form the collective. Whilst we're specialists in our area, clients can be assured that we have a selection of equally specialist businesses at their disposition covering all areas from strategy and development through to market execution.
Our services are vital for brands wanting to go from humble beginnings and proof of concept through to trading in global markets.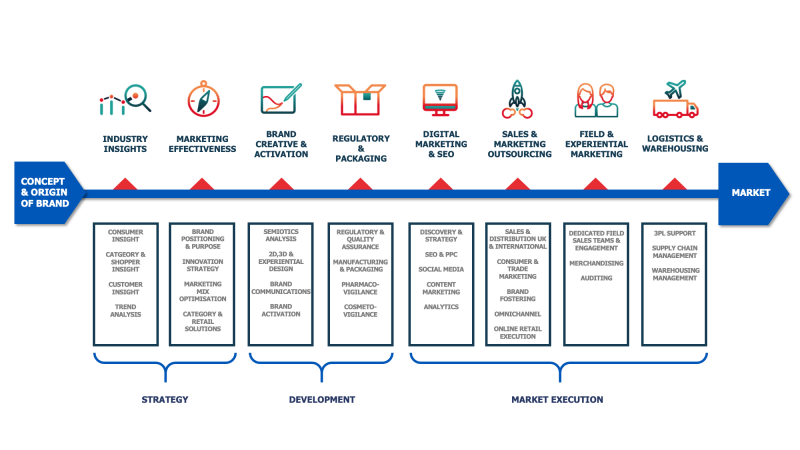 Through our alliance of global partners, we can support brands in over 100 international markets, working with trusted partners on location around the world who understand local markets, cultures, regulations and customs. We can launch, develop or grow your brand successfully in any region or country.
We're thought leaders
We pride ourselves on staying several steps ahead of the search marketing curve, particularly when it comes to Google's algorithm. Our ethical approach to search marketing ensures that our strategies exceed Webmaster quality guidelines, allowing our experts to deliver exceptional ROI. In terms of paid search, we've been executing Google Ads campaigns ever since the popular digital advertising platform was launched, we're a Premier Google Partner and our PPC team have won individual awards for their expertise. We're committed to sharing our knowledge with others through whitepapers, eBooks and our industry leading conference, Benchmark.
Our awards & accreditations
In recognition of our achievements, both as a company and on behalf of our clients, we've received an abundance of prestigious awards, accolades and industry-leading accreditations. A selection of some of our most recent award wins can be viewed below:

Want to find out more?
Simply get in touch using the form below to discover how we can help with your next search & digital project…