3 clues your site's been hit by Google's mobile-friendly algorithm
It might not have made as many headlines as the royal baby news or the General Election, but Google's mobile-friendly update was huge news among marketers and webmasters
---
The update, which began rolling out on 21st April, was designed to penalise sites that are not mobile friendly by pushing them further down the rankings in mobile search results.
The full effects of this update are yet to be determined, with Google's John Mueller confirming that the algorithm has not yet been fully rolled out to all data centres. Until this roll out is complete, it's premature to make any firm conclusions.
Reddit and NBC Sports are amongst the sites which have lost the most organic search visibility over the past couple of weeks
However, early indications are that the algorithm has done exactly what it said on the tin, with data from Searchmetrics suggesting that Reddit and NBC Sports are amongst the sites which have lost the most organic search visibility over the past few weeks. The common link with both of these is that neither of them has a homepage which tests mobile friendly.
In the meantime, here are some things you can do to gauge the impact that the algorithm has had on your rankings:
---
1. Your mobile keyword rankings are down
You can get a general idea of the impact that the algorithm update has had on your rankings from your Google Webmaster Tools account. Just log into your account and access the Search Queries tab under the Search Traffic section in the left hand navigation:
This is automatically set to report on all "web" traffic over a one month period. Change the date range to just cover the past week and then click [download this table].
You can alter the filters under the top queries section on this page so that you are shown mobile traffic in isolation. Simply click on filters and then select mobile under the search heading and click apply: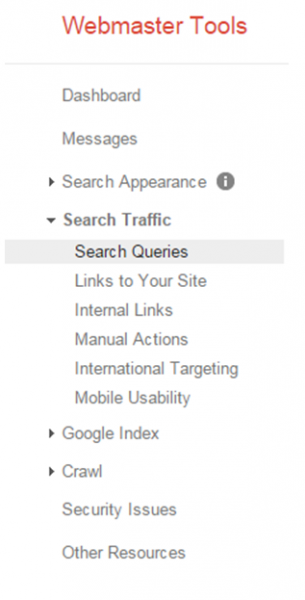 This will show you mobile traffic in isolation and the column we are interested in is Avg. Position.  Click [download this table] again and compare the average ranking positions reported here against those which are reported in your "web" traffic download. You can do this manually by comparing positions of individual keywords, or complete a VLookUp if you're more comfortable with using Excel. This would give you a side by side view of avg. rankings for each keyword on desktop searches against those performed on mobile devices.
If you are seeing that Avg. Rankings in mobile search are lower than those in desktop searches, then it is likely that your sites lack of mobile friendliness is already having a detrimental impact on your performance.
---
2. Your mobile traffic's dropped
If your rankings are down, then it's likely that your traffic will have dropped too. With the mobile filter still applied, but with the date range changed to take account of the past month, take a look at your overall mobile traffic using the line chart which is displayed at the top of the search queries tab in Webmaster Tools.
If there is a visible drop in the time following the mobile algorithm update, then it is possible that you may have been hit; particularly if you know that your site is not mobile friendly.
---
3. Google says your site's not mobile-friendly
If you're seeing a drop in both rankings and traffic following the update, one way to determine whether or not the mobile ranking update is the cause is to run your site through Google's mobile testing tool which is designed give you a definitive yes/no answer to the question of whether or not your site tests as being mobile friendly:

If the tool finds that your website isn't mobile-friendly, then it's very likely that the update will have caused your drop in traffic. But don't panic – the good news about this latest update is that your rankings should automatically improve once Google identifies that remedial action has been taken.
Of course, there are many factors at play in the complex world of SEO and there are no guarantees that the mobile algorithm is the root cause even if your site is distinctly mobile-unfriendly.
Share this: