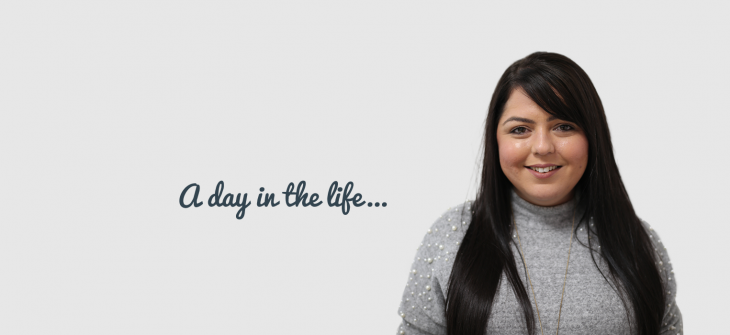 A day in the life – Andrea Swan
Join us this month as we take a closer look at one of our award winning team,  it's… Andrea Swan –  Senior Organic Search Strategist
---
Describe your role as a Senior Organic Search Strategist
My role as a Senior Organic Search Strategist at Click Consult is super rewarding. The role forever changes as an SEO; from identifying technical issues, proposing new content and highlighting off-page opportunities. As a strategist, I am fortunate to get to work closely with lots of different departments at Click Consult such as sales, account management, campaigns, and content.
At Click Consult we pride ourselves on constantly sharpening our SEO axes and ensuring our processes are top-notch. A big part of my role is ensuring I am up to date with any Google updates and advancements in tools such as Google Search Console, Sistrix and Ahrefs.
What does a typical day at Click Consult involve?
I start my day with a strong cup of coffee in my iconic pug mug (I love pugs, who doesn't?). You will often catch me in meetings, at my desk or about the office with the pug mug.
My week starts by checking emails and calendar. The start of the week is usually focused on client weekly checks, this is to ensure nothing has changed that could negatively impact organic performance. Then, I move on to client work which can be anything from a full SEO strategy to a technical audit; I also get to assist with any new business/pitch work which is exciting and varied.
What's the most challenging part of the role?
Uncertainty is the most challenging part of being an SEO. Like any marketing strategy, results aren't always guaranteed. However, it's also the best part of the job… Backing up strategies with data and making a change regardless of how big or small and seeing it pay off is wonderful. It's what I get out of bed for.
Which area of your role interests you the most?
In my role, the competitor analysis element interests me the most. Trying to unpick from the data why one site is outperforming another is one of my favourite puzzles to crack.
Another thing I love is collaborating with the team, learning and showing others how to carry out SEO tasks. I also love a cheeky game of table tennis at lunchtime.
How would you describe working at Click to a friend?
I am fortunate to work at such a great company that truly values its people. We have a great team at Click Consult that is second to none.
As much as I love my job, I tend to try and steer away from explaining exactly what I do at work while talking with friends. Their eyes tend to glaze over pretty quickly.
I swear they just think I play table tennis…
Finally, the ubiquitous question at Click Consult: rock and roll or sausage roll?
I do like a sausage roll but only from Chatwin's (sausage roll snob here…).
---
You can meet another of our amazing team every month – or if you're looking for something you can get your teeth into, why not check out our resources? Or contact us to see what Andrea and the rest of Click Consult can do for your brand.
Share this: