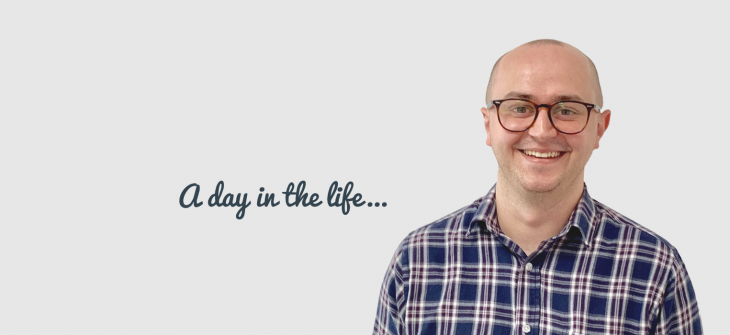 A day in the life – Greg Whitaker
Joining us this month as we take a closer look at one of our award winning team is Greg Whitaker – content executive
---
Describe your role as Content Executive
My role as a Content Executive sees me tasked with writing original and high quality content for our clients. From web copy to blogs, user focused content to eBooks and infographics, no two days are ever the same. Aside from writing, my job involves ensuring all copy supports the client's signed-off brief, achieves the correct tone of voice and meets any organic search goals that may have been set. Along with the rest of the Content Team, I also proofread the copy of my colleagues and make sure grammar, spelling and punctuation is correct and consistent.
What does a typical day at Click Consult involve?
Each day usually starts with a quick meeting in which the team will assess which pieces of content are in our workflow, what we are expecting to come in and what needs to be prioritised. The rest of the day is usually taken up with researching and writing the content I have been assigned, as well as proofreading the work of my teammates. As a team, we also often collaborate with the Campaigns Team and the User Focus Strategists, helping to write copy for other parts of the business.
What's the most challenging part of the role?
A wide variety of different clients brings with it a good range of separate, and sometimes contrasting, briefs, styles, guidelines and tone of voice instructions. The most challenging part of the role is ensuring that a client's expectations are being consistently met. A nationwide chain of pharmacies, for example, is going to expect and require a completely different type of content than, say, a retailer of novelty clothing for your pet. Therefore, this involves being adaptable, versatile and competent in a number of different writing styles and formats. Although sometimes challenging, this aspect of the job is also what makes it so interesting.
How would you describe working at Click to a friend?
Writing is my passion and at Click I am able to do it for a living. If I was to describe working at Click to a mate, I would say it's fun, thoroughly rewarding, fast-paced and completely different every day. The perfect combination to keep me on my toes!
What's the single most important piece of advice you would give to someone who's thinking of using content as part of their search marketing strategy?
Having a clear vision and direction for your content strategy as a whole is key. Knowing exactly what you want a piece of content to say and achieve, as well as having a well-researched target demographic and consistency when it comes to style, tone of voice and formatting is absolutely vital.
Have you seen any great examples of content lately and if so, what was it?
I think KFC's recent 'Chicken Town – home of the imitators' campaign is a fantastic example of great content and how powerful a well-put-together content marketing campaign can be. After a difficult 2018 for the company (the great KFC shortage of '18), this campaign used wording and images that the viewer immediately associated with the brand, as well as the use of a flashing red beacon, indicating that the 'emergency' was over. Showing all the 'imitators' – fried chicken joints spanning the alphabet from AFC all the way to ZFC – was also a great touch; very much highlighting that KFC is still the original and best. Viral content marketing at its very best.
Tell us one interesting fact about yourself that people might not know.
As of last August, I am a published author. My book, I Can't Help Falling in Love With You looks at the changing face of football fandom and is available online and at all good bookshops.
You should also know that I'm also pretty shameless when it comes to promoting the aforementioned book…
As a writer and published author, what is your favourite word and why?
Serendipity. A word that has completely positive connotations that's also incredibly satisfying to write, read and say.
---
You can meet another of our amazing team every month – or if you're looking for something you can get your teeth into, why not check out our resources? Or contact us to see what Greg and the rest of Click Consult can do for your brand.
Share this: