A day in the life of Chloie Brandrick, Senior Marketing & Content Executive
Chloie on what she enjoys about agency life, being the office oldie and falling through windows
---
Describe your role as a Senior Marketing & Content Executive
My role is a bit different to most of the rest of our agency as I'm part of the in-house marketing team, promoting Click Consult rather than clients. It's a busy and varied job that I really enjoy.
What does a typical day at Click Consult involve?
We've got a tight content marketing schedule to work to, so I'll usually begin by checking our content calendar and what content needs to go live that day or that week, whether that's blog content, social media posts, eBooks or any other assets.
This involves a lot of research into the subjects we're covering as well as for keywords to target. I also collaborate regularly with our delivery teams and consult with them on how best to approach our content – their input is vital as they're the ones who work directly with the clients and actually provide the services we offer. On top of that, obviously we need to monitor how our content is performing – whether it's driving engagement and conversions – so we can tweak and optimise our approach.
I also check and update Click's social profiles throughout the day, as well as keeping an eye on what our competitors are up to!
Our team works really closely with our Design department – we provide the copy and they make it look pretty and professional.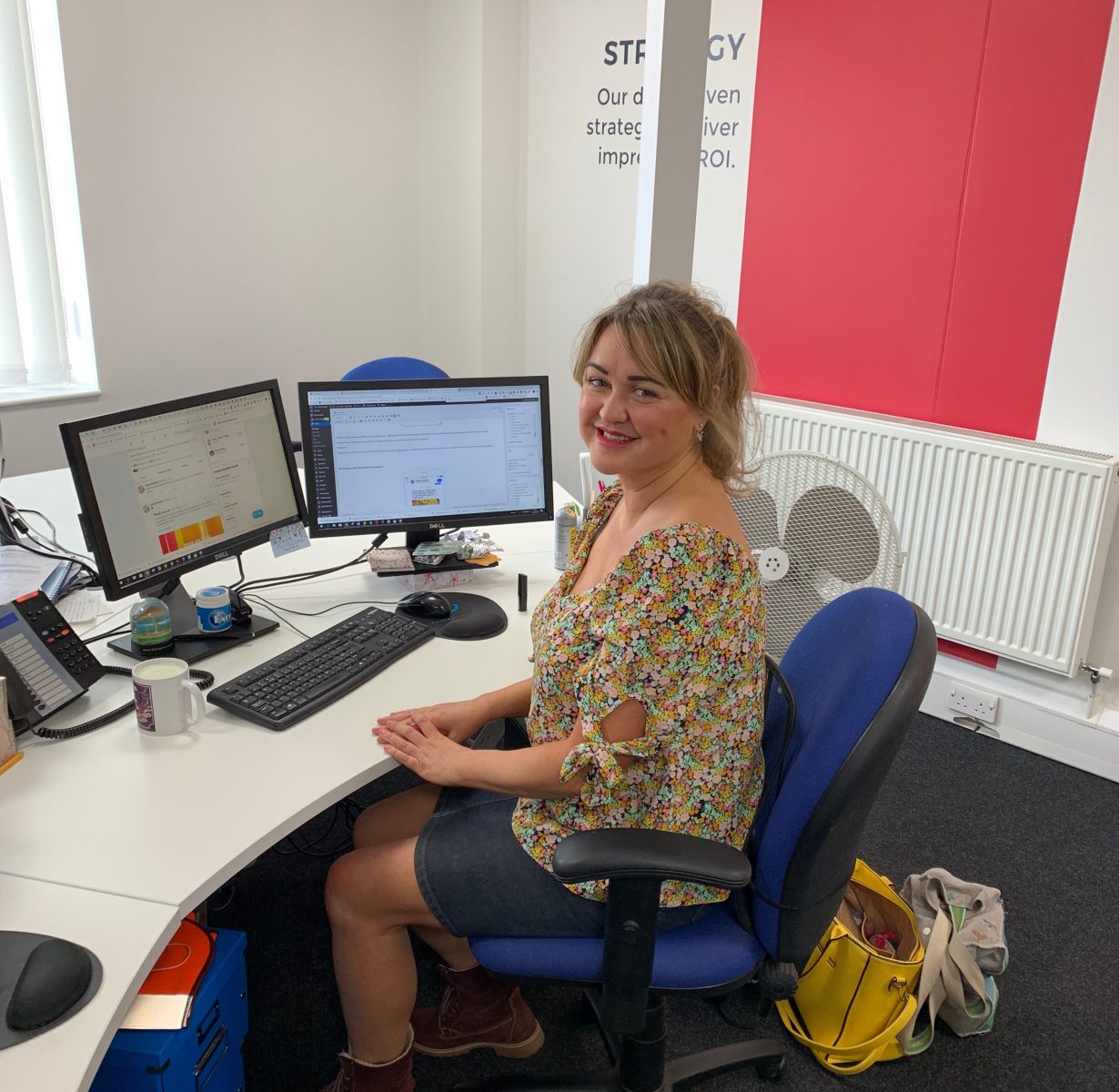 Chloie is the linchpin of Click's Marketing team
What's the most challenging part of the role?
Search marketing is a fast-moving industry, which means staying on top of new industry developments, trends and news is vital not only to optimise our performance as an agency, but also to make sure all our marketing collateral – from eBooks, to web copy and marketing literature is up to date and reflects our offering and industry knowledge. However, this also makes the role really exciting as you have to stay on the ball and keep learning new things!
I should also mention that I'm the oldest person in my office, so it's challenging for me when I want to talk about an 80s celebrity , or what life was like before mobiles, and everybody just looks at me blankly.
What's the single most important piece of advice you'd give to someone who's thinking of using an agency for SEO or PPC?
Set achievable goals from the outset. Wanting to appear on page 1 for all your key terms in a month, for example, isn't very realistic. Think short term and long term. Also consider how you're going to communicate performance with your internal stakeholders: set their expectations from the start in terms of progress, identify the KPIs that are most important to your business and present the data in a meaningful format.
What's the most embarrassing thing that's ever happened to you?
I don't tend to get embarrassed very easily these days – I reached saturation point in my 20s. Although I recently managed to fall through my own bedroom window recently and did myself a mischief. I live in a ground floor flat and tried to climb in through an open bedroom window when I locked myself out. However, I slipped and hurt various body parts, so I suppose it was quite awkward explaining my injuries to people afterwards.
How would describe working at Click to a friend?
A cliché, but it's 'work hard, play hard'.  There are high expectations in terms of deadlines and targets, but there's also plenty of banter and fun.
What do you enjoy most about working at Click?
That my job means I get to work with every team, so I know everyone in the business and consider many of them friends as well as colleagues. This helps professionally, as I'm aware of the challenges each team faces, as well as new developments and opportunities that may arise that we can leverage to help market the business. On a personal level, it means I've also had the pleasure of having a drink or two with the majority of my colleagues.
---
Want to find out how our services can help to improve your search ranking and convert more customers? Read about the success we've achieved, or contact us today!
Share this: