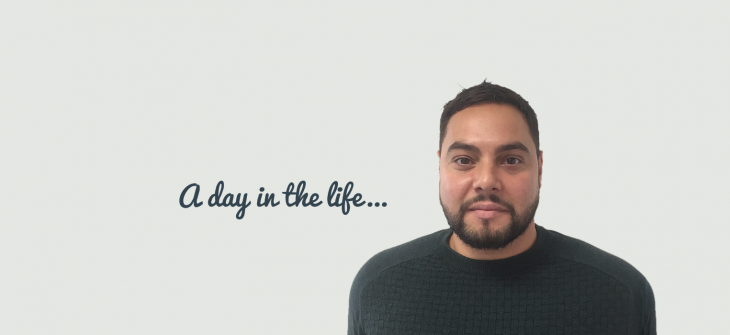 A day in the life of Fahim Choudhary, Senior Business Development Manager
Fahim talks coffee, Kermit impressions and Click culture 
---
Briefly describe your role as Senior Business Development Manager (BDM)
As with any BDM role, most of my day involves speaking with potential clients and advising on how I may be able to help them. As our main service is search marketing, the businesses I come across vary as far as conceivably possible which, as you can imagine, keeps my day-to-day pretty varied.
A big part of what I do is look for opportunities and ways in which potential clients can capitalise on them so, more often than not, be it through explaining targeting through misspelling or finding search volume that exists for keywords they would not have otherwise contemplated or a number of other ways; I aim to surprise them (in a good way!) and show how we can bring substantial improvements to their growth.
---

Hmm, Fahim's desk is not usually this tidy
---
What does a typical day at Click Consult involve?
Get in a little early to get coffee in my system (I'm not entirely sure I can even see colour without it these days). Start up the computer and pick up on emails – not too many surprises as they have been coming through and been read on my mobile most of the night. Look at the diary and pick up the phone.
Other days will be spent parked on the M6 or working on my laptop on a Virgin train to London to see clients.
We know you enjoy hiking – where's the best place you've ever been?
I love Devil's Kitchen, Snowdonia, Caernarfonshire. It's only about an hour and a half out from where I live so is ideal, there are some places you can get kayaks close by. A childhood favourite is Betws-y-Coed, which is only 20 minutes away and you can get some awesome food after a scramble too. I feel like I let the Lake District down here, a very close second for me! A quick fact about the Lake District to sign off on… There's only actually one "lake" there – Bassenthwaite Lake near Keswick.
---

Devil's Kitchen in Snowdonia; one of Fahim's favourite places to walk
---
What do you enjoy most about working at Click?
It is so easy to say speaking with new people on a daily basis but I'm going to say the thing I enjoy most about working at Click is the people here.
The culture here is amazing and the people I work with are too!
What's the most embarrassing thing that's ever happened to you?
Really Chloie, you're going to use this interview to try and get dirt on me?
Have you got any hidden talents?
I do a mean Kermit impression but, as with most people's hidden talents, only after a few drinks.
---
Want to find out how our services can help to improve your search ranking and convert more customers? Contact us today!
Share this: