Why we can't teach SEO – David Edmundson-Bird's Benchmark 2017 talk
In the latest write up from the Benchmark Search Conference, we look back at the speech from David Edmundson-Bird, Principal Lecturer in Digital Marketing & Enterprise Associate Director: Digital Innovation at Manchester Metropolitan University 
---
Returning to Benchmark (MMU first sponsored the event in 2016) David discussed why he can't teach SEO to his students and the struggle that many of them face when they try to enter the industry.  He discussed preparing his undergraduates with the skills to make it in an agency or working for a business in the 'digital' sphere.
He also implored businesses to 'take a chance' on those leaving university as it can be highly rewarding for both parties and these graduate often have the skills and proven ability to learn and grow.
So the question really is how someone can learn all of the skills to be a success in the digital industry but not be able to learn SEO. Well, in his speech David started by telling us that this is the most common question he faces.
---
---
He said that the truth is the industry moves too fast and that what a student would start learning in 2014 on a three year degree would not be relevant in 2017 upon graduation.
There is no way to teach SEO to students that will not be out of date by the time they finish – the future is apprenticeships.
He gave the examples that in 2014 SEO's were focusing on:
Site speed is not a factor
The PR team does the outreach
Trawl the backend for all 'bad' links and get rid of them
Think about keywords
What do people type in
He then had his 'OMG' moment in 2017 where the focus should be:
Site speed and mobile – 'Aaaaargh'
You need to do proper outreach as an SEO
Think about UX
You should be doing AMP
Think about voice search
People type words that have meanings and are questions
Do schema markup
'Oh, and nobody cares about bad links they have little impact.
All of the metrics that his team now face are about getting the students work ready so that there is no drop off and they can learn as they go and adapt within the digital industry. He said that he wanted to give the students a 'shelf-life' that went beyond 24 months.
---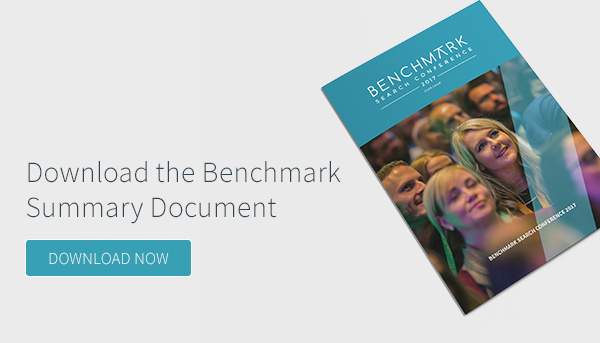 ---
So if a university can't teach you where to learn how to do SEO, then what are the options? Well, David suggests that on the job is the best place to learn. In the short term you can do an internship or work on live projects, or students and graduates can do part time projects to gain experience. The next step would be as a work experience placement or a summer job, where skills can be learned in a working environment and the final area is in the long terms placements and degree apprenticeships where those entering the job are rewarded financially and in terms of skills.
He then finished with the 5 W's, Who, What, Where, When and Why as you can see in the slide below.
---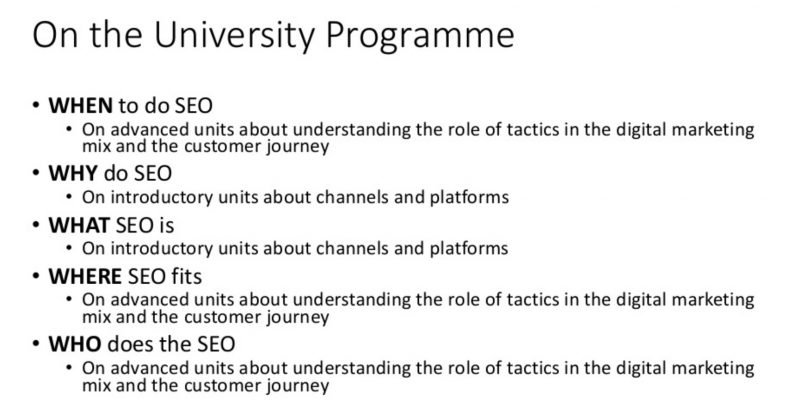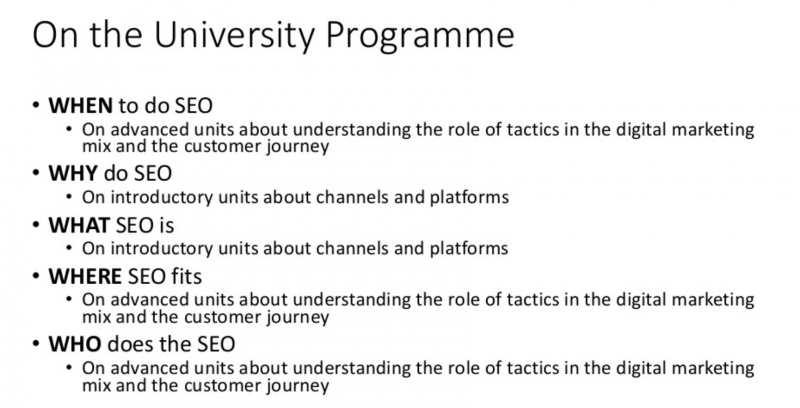 ---
Key takeaways
What was a priority in 2014 is old hat at the end of a three year course, so educators must be attempting to make students work ready.
Universities must concentrate on teaching students:
WHEN to do SEO
WHY to do SEO
WHAT SEO is
WHERE SEO fits
WHO does the SEO
In order to ensure the industry has graduates that know HOW to do SEO is through placements and live projects.
Agencies and brands need to take responsibility for nurturing talent.
Degree apprenticeships are almost here and we need to make it work for the good of the industry.
---
The Benchmark Search Conference is held annually by Click Consult, helping the industry to push itself to new heights every year. To find out what we can do for your brand, contact us today.
Share this: