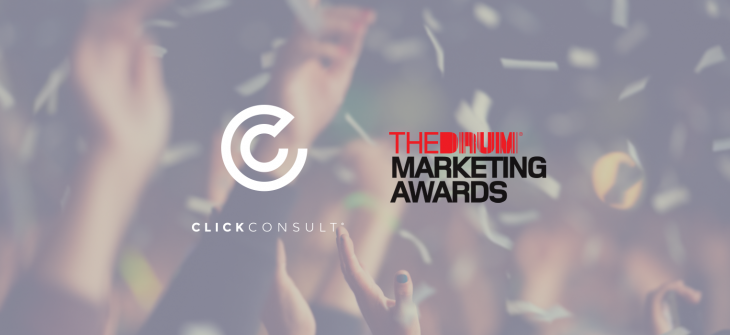 Click Consult nominated for Marketing Agency of the Year at the Drum Marketing Awards 2017
We've done it again!
---
After a hugely successful period of growth for the business, we are delighted that our work has once again been recognised as we today leaned of our shortlisting for Marketing Agency of the Year at the Drum Marketing Awards 2017.
Following on from 12 other industry nominations the team here at Click Consult is delighted to be placed alongside some of the biggest names in the industry for the top award of the night.
---
---
Speaking about the latest nominations, Click Consult CEO and Founder, Matt Bullas said: "2017 has really started with a bang and this is largely thanks to the exceptional results that we delivered for our clients during 2016. We've been nominated for a variety of awards from across the industry and being held in such high regard by The Drum is a great achievement.
"To be nominated in the Marketing Agency of the Year category is a testament to the hard work that the team have put in.
"This year we've positioned ourselves firmly at the forefront of the sector with an ambitious thought leadership programme that aims to share best practice, raise standards across the sector and help us to tackle some of the biggest challenges facing our clients.
"I'm delighted with the collective efforts and know that our team continues to strive for search marketing excellence, meaning greater visibility and ROI for all those we work with."
The awards will be presented on 30th May 2017 at the Park Plaza Westminster Bridge Hotel in London.
---
Need help with your search marketing? Why not get in touch? Or subscribe to our newsletter for industry leading insights.
Share this: