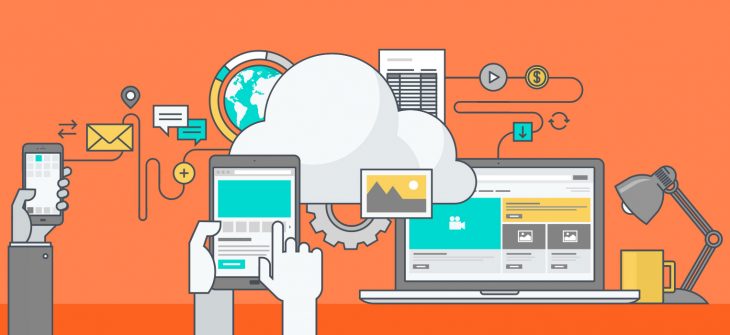 Content marketing strategy – the new rules
Content marketing wasn't new when the phrased was coined in the 1990s; from collectable cigarette cards, to Michelin guides, and even to Proctor & Gamble's invention of the soap opera, brands have long seen the value in giving away information they know that their audience will find useful and entertaining. But it wasn't until the 2000s, when social networks such as Facebook, Twitter, YouTube came onto the scene (followed by the evolution of influencer marketing), that online content became accessible, shareable and on-demand.
This blog post isn't about the past of content marketing, it's about the current state of play and how savvy content marketing can still drive high quality traffic to your website, increase conversions and keep customers coming back for more
---
Content distribution is just as important than content creation
You can spend months and thousands creating the perfect video/infographic/webinar, but if you don't invest as much – and arguably, more – effort on making sure it gets in front of the right people, that time and money is wasted. Your content is irrelevant without an audience.
How much content do you find yourself bombarded with at any given point in the day? On your phone, on your desktop, in your inbox, your social media feeds…
But more choice isn't necessarily good. People don't want unlimited choices. They want convenience and relevance. As psychologist Barry Schwartz says in his book The Paradox of Choice – Why More Is Less; "… as the number of choices keeps growing, negative aspects of having a multitude of options begin to appear. As the number of choices grows further, the negatives escalate until we become overloaded. At this point, choice no longer liberates, but debilitates. It might even be said to tyrannize."
Digital Marketing Consultant, a speaker several times at our Benchmark Search & Digital Marketing Conference, Bas van den Beld, talking about the phenomenon of 'choice anxiety' in content marketing:
---
For me, the number one error is the sheer number of content pieces out there. Content marketers still seem to believe more is better. Which it is not. Actually, by creating more content all the time, they are making it harder for not just their competitors, but themselves as well, to have any impact. They don't realise that the more content they create, the less chance there is of people making the right choice. And that right choice could just be their product…
---
Google itself has addressed this issue by providing the information being searched for in an answer box at the, rather than a resource to an answer, whenever possible, eclipsing the thousands of organic results and reducing choice anxiety, for example: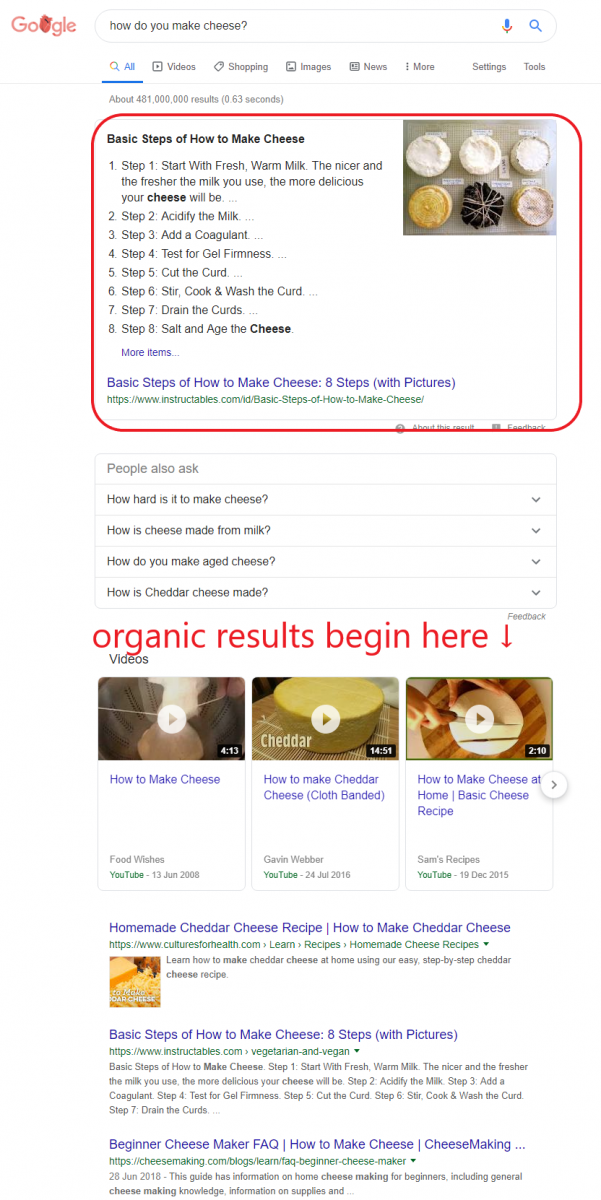 A theory exists that says content marketing is about 20% creation, 80% distribution. I'm not sure I entirely agree with balance as successful content should be asset-driven, but it highlights how importance it is to plan how to reach the right recipients, through the right channels, be they social media, email marketing, paid placements, influencer networks, etc. There's lots of choice nowadays. Just as when you're planning content creation, you need to consider your audience, your goals, the format of your content and your call-to-action (CTA).
Authenticity and transparency are not just buzzwords
Without these, you'll lose trust and credibility in the eyes of the audience you're trying to impress. People got wise to brand advertising tactics that spoke at them or down to them and started to doubt the impartiality (or even honesty) of traditional journalism and news outlets, instead turning to what was originally called 'citizen journalism' and which has since evolved to encompass bloggers and online influencers, social media commentators. Of course, not every source (online or offline) can be trusted and every brand – and every influencer has an ultimate agenda.
As Click's blogger John Warner has said: "Unfortunately you can't buy authenticity – but that's okay, you already have it."
Authentic and honest storytelling  – not being afraid to admit failures, showing actual data about your business, showing the people and the personalities behind your brand failures is what will differentiate your brand and make your messages memorable – sincerity is a powerful quality that creates trust.
So what does it mean? If old school marketing is about carefully stage-managing an audience's perception of your brand, think of content marketing as giving customers a peek of what's happening backstage. Open, honest and willing to share the tricks of your trade. This ties in with the rising trend for audiences demanding 'humancentric' experiences in all areas they consume and which brands are increasingly incorporating into all areas of marketing.
Remember that content doesn't need to be overtly branded or feel like advertising. The aim is to strike a balance between showcasing your brand and offering engaging, helpful content that encourages people to take action; this is what fosters consumer engagement, loyalty and brand advocacy.
The human brain is less rational than we might like to think when it comes to our reactions to marketing, with 20% of buying decisions based on logic and 80% on emotion. This means connecting with customers on an emotional level is a powerful way to drive engagement and motivate people to take action.
Some brands, though, struggle to understand this fundamental difference between content marketing and advertising. Yes, you need your content to be relevant to your brand and what it sells but, ultimately the audience comes first. And today's digital audience doesn't just respect authenticity, they demand it.
What's the point of your content marketing strategy?
Content marketing (even before the phrase itself was coined) has always been about providing value to your audience in some way – be it educating them, entertaining them, or otherwise – not about out-of-context self-promotion or fakery such as humblebragging. On social platforms, especially LinkedIn and web news discussion forum Reddit, this misjudgement, whether by brands or individuals is regularly called out (Shopify's Braveen Kumar describes Reddit as a place which "thrives on anonymity, but it's kept in check by transparency").
. See this @CrapOnLinkedIn

Seems like there's a restaurant on downside of his house but he will wait for delivery boy to bring food because it's hot and @Zomato got discounts 😂 pic.twitter.com/cr5FyqSxH0

— Aayush Jain (@aayushjain_) June 18, 2019
Relevancy: also not just industry jargon, it's common sense. 78% of consumers say that personally-relevant content is a determining factor in their purchasing decision and, if you can create something interactive, that users can engage with on an individual level, even better.
To be successful, you need to consistently creating content that your customers actively wants to read and share, build an audience and grow trust in your brand. The selling comes later. I read a blog post from the Content Marketing Institute (CMI) recently that summed this up this really well:
---
Successful marketers prioritise the audience's needs over promotional messaging… If your content isn't created for the audience you are trying to reach, engage, and convert, it will have a negligible shelf life. Stop creating content to sell

Michael Brenner, CEO of Marketing Insider Group
---
If you're not helping your target audience to solve a problem or better accomplish their goals (and you have to identify what these are first), your content is not adding value. And if you're not adding value, you're not a real content marketer.
Another good point to remember is that timing is key to relevancy. You need a content plan in place, of course, but you also need to be flexible enough to respond to, and reschedule around, real-life events and breaking news that could eclipse your story. Our Head of Campaign Outreach, Sophie Edwards, told me she remembered talking to a blogger who launched a campaign on oil consumption on the same day Donald Trump was elected President; needless to say, she didn't get the results she was hoping for.
What not to do – there are some examples of a big brands getting it very wrong. The tweet below from BrewDog marked the release of 'Pink IPA' to support their flagship beer 'Punk IPA'. The aim of the campaign was to use sexism ironically to promote equality. However, the campaign created a backlash, damaging their brand.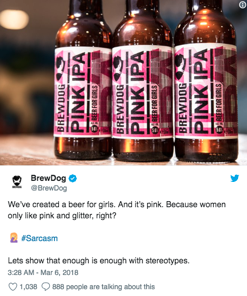 Learn from failures
In many areas of life, not just in content marketing, setbacks have the power to push people to immense success, BBC Capital's Ian Leslie has reported. A study of Olympic medalists by UVA economist Adam Leive found that those who nearly missed the gold led longer, more successful lives than the top finishers. Another study, of scientists, found that those who suffered early on ultimately published research of greater impact than their more fortunate peers. While certainly not all who initially struggle thrive later on, those who do manage to transform pain into motivation.
So content that fails to hit the mark isn't wasted. With so many options in terms of content type, distribution channels, audience targeting, etc, finding out what doesn't work allows you to narrow down your options. Just like the blogger who saw her carefully crafted oil consumption campaign squashed by President Trump, chalk it up as successful learning exercise.
Influencer outreach is getting very niche – but size isn't everything
Instead of fighting with other content marketers over the same audience, a lot of brands are finding themselves shifting towards niche content.
There's been a noticeable shift in strategy in recent times, with brands targeting micro-influencers and moving towards smaller, but more powerful, spheres of influence where trust and communities matter more than ever.
Micro-influencers (those with between 1,000 to 10,000 followers on their blog or social media account, depending on who's definition you're going by, and whose audience usually revolves around a particular hobby, topic or other passion) appeal to content marketers because of their closer and more meaningful interaction with their followers and higher levels of engagement.
The Influencer Marketing 2020 report suggests brands are increasingly looking for bespoke and nuanced content, with some respondents complaining they have paid large amounts to top-tier influencers in return for generic content that misses the mark. This makes micro influencers attractive as they can be relatively cheap in terms of cost and tend to have a greater ability to influence the purchase decision of a user.
A report by CMS Wire claims the social media influencer outreach market is set to be worth more than $10 billion by 2020 and is keen to emphasise the smallest of these groups, with less that 1,000 followers: the nano influencer.  According to the digital news site:
---

Nano influencers are a relatively new breed of influencer. This would be someone who has influence in the local community like a member of the local police force. The aim is to get 'regular everyday people' to influence a brand's product or service to their friends and family – most of the time this can be achieved through user-generated content
---
When identifying influencers to work with, it's  important to take into account that these follower numbers should not be taken as absolute measure of 'fit' for your brand. For example, an influencer with 10,000 followers in the UK has a much better overall reach than a US influencer with the same audience count – if you're targeting by geography.
While, in general though, the larger the audience, the less focused it is likely to be, everything depends on: your industry; the frequency and type of interaction; the brand message and your objectives.
Think long-term rewards over short-term gains
The term 'link-building" has become a bit of a dirty word in the digital marketing world. Despite this, building links is still an important aspect of SEO. But it's not the be-all-and-end-all of content marketing strategy. Good content marketing helps to establish your brand identity, is a differentiator, marks you out as a thought leader in your industry.
If you're producing unique and useful content, if you have a solid outreach strategy, if you're active on social media, if you engage your audience, people will link back to your site naturally. Marketers need to concentrate their attention on customers rather than links. The more useful, in-depth and engaging your content is, the more people will want to link back to that content in the long-term.
Producing assets takes a lot of time and work, so you shouldn't regard any campaign as a one-off transaction. Keep interest in your content going by repurposing to tell the story in different ways, appeal to different audiences/niches, and help to reinforce your message.
It allows you to maximise the value of an original piece of content, and all of the research that went into it, by making it accessible to different user preferences among your target audience (long-form, short-form, bite-sized, visual, etc) and adapting it into separate pieces that can serve each step of the buyer journey.
An example in practice could be to produce an in-depth eBook, then:
focus on the key points over a series of blog posts
pull out interesting stats and present as an infographic
distil the top-level messages into a SlideShare presentation
adapt parts of it into a vlog or podcast
---
Call us today on 0845 205 0292, or use our contact form, for an informal chat on how we can help with your brand's content marketing strategy. Alternatively, check out our resources on the subject, like the eBook below.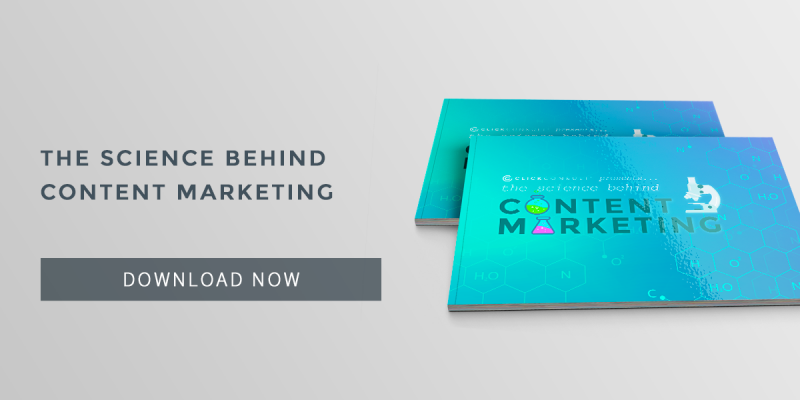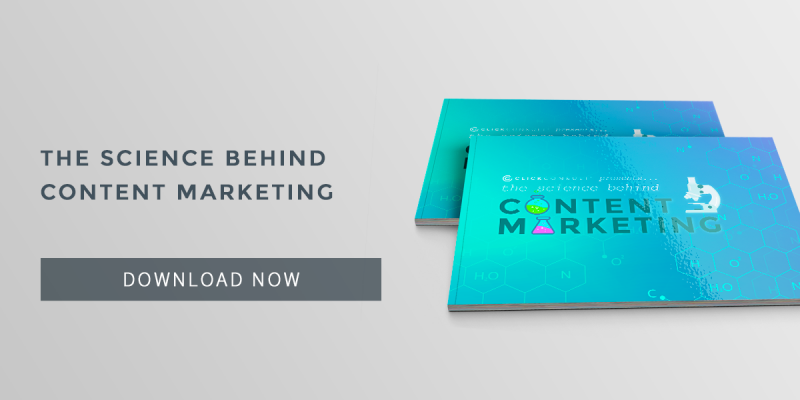 Share this: