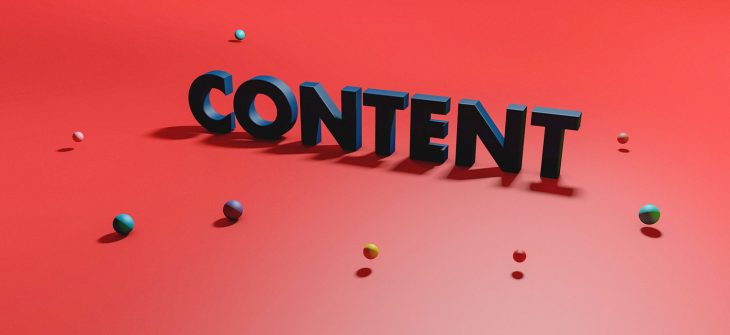 Content marketing – which brands have done well?
For many, the Covid-19 pandemic has had an unprecedented impact on their lives and their businesses. Brands across the world are desperately trying to amend their strategies to ensure that they can keep trading and in some cases remain open
---
With this in mind we often look to content marketing to help us inform ourselves about the changes that are going on in the industry. It seems like common sense to go to the bigger brands and show what they are doing during this time to get a feel for the type of marketing that works.
Here are some of our favourite coronavirus based marketing efforts and later in the blog we'll give you some handy hints explaining the things you could be doing to ensure that you are getting the most from your customer base.
What is content marketing?
It seems best to start with a definition. Content marketing's definition differs across many areas of the marketing remit – whether it is audience building thought leadership, purchase-intent driving inspirational videos, link profile enhancement through resources or any other of a wide variety of functions.
The easiest way to group all aims, however, is to state that content marketing is an activity whereby high quality written, design or audio-visual assets are produced in order to build, retain and increase purchase intent of a pre-defined, well researched audience demographic.
It is a strategic marketing approach involving the creation and sharing of materials – both online and offline – including blogs, videos, reports, whitepapers and social media posts among others with the intention of earning links, business and exposure and building consumer relationships.
Current examples
Below we have several examples of content marketing during the coronavirus outbreak that have gained traction. All of them are different and indeed as are the businesses, what's striking however is that they all have the same common goals. Firstly then need to be recognisable and easily associated with they branding and secondly they need to emit the feeling that in all of the change, it is till business as usual (at least in terms of thinking about their customer base).
McDonald's
This piece of content marketing has a really powerful message relating to social distancing. The 'Golden Arches' is one of the most recognisable brands and images on the planet and something that a lot of people can resonate with. By dividing the arches they are using their brand to raise awareness to an enormous customer base.
---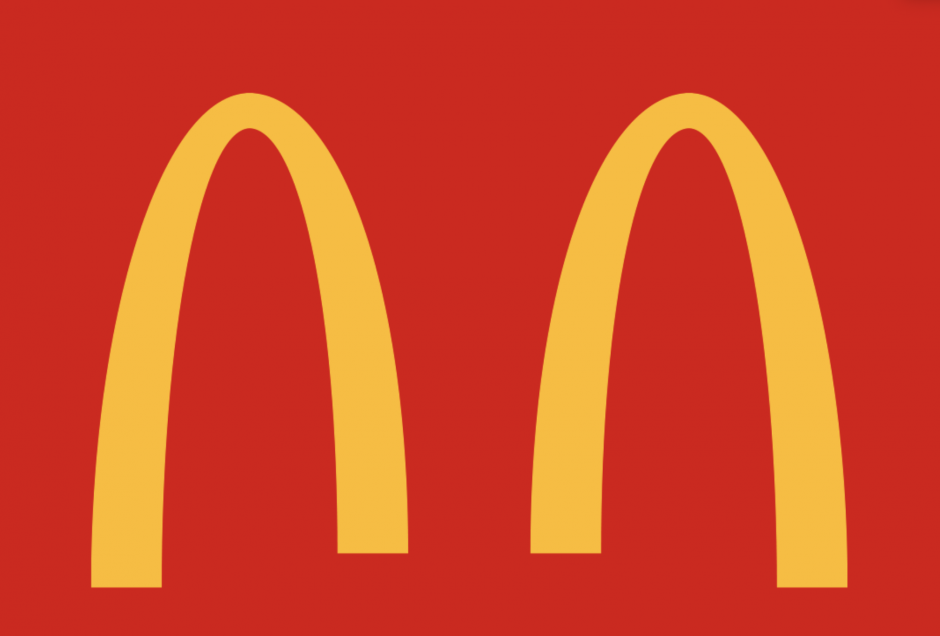 ---
McCann / Coca Cola
Another of the world's leading food and drinks brands, Coca-Cola use a unique font and all of their branding is stylised as such. This is again an example of pushing the message of social distancing to stop the spread of the virus and it is interesting to see that the brand is still willing to run ads in one of the most expensive locations in the world (Times Square, NYC) to help raise awareness. The imagery here makes it perfect for social media
---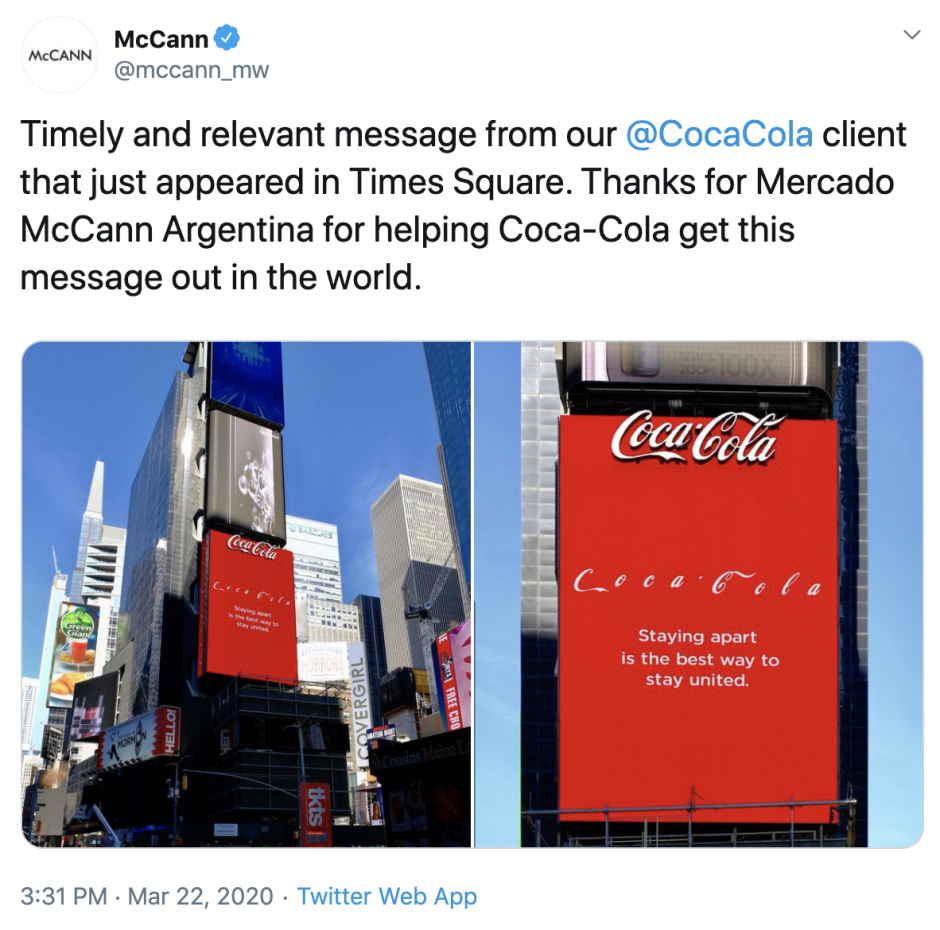 ---
Burger King
Like the two examples above Burger King has decided to again reference the need to stay away. This is unprecedented that a brand with no real online presence (I know that some fast foods can be ordered online) is actively telling people to stay away. This is a move that will no doubt play well with the customers and helps with image.
Where McDonald's has an eye catching logo Burger King has a memorable slogan and this example is a great play on word to move from 'home of the whopper' to 'stay home'. Simple yet effective.
---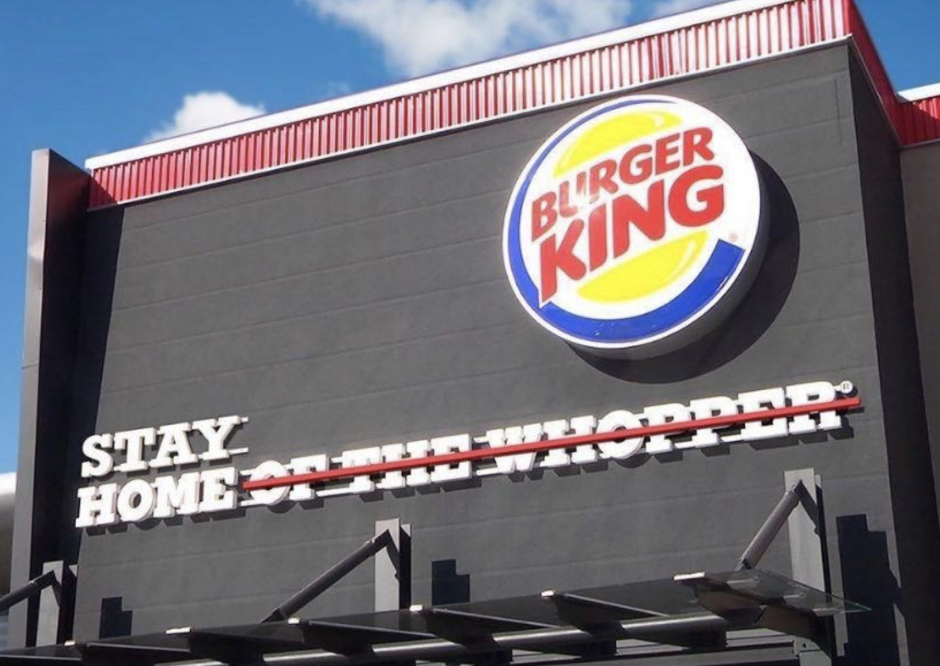 ---
Brewdog
One of the fastest growing brands in the UK and a company who are always forward thinking when it comes to their marketing, Brewdog's content marketing message always comes back to the idea of giving back. This venture was largely crowdfunded to start with and despite enormous growth they still remain loyal to their customers. This piece of content generated huge reach both online and on social media and it is a clever way of the brand adapting the distillery to make hand sanitiser. It is especially clever the way they have kept the branding in place and named the product 'Brewgel'.
---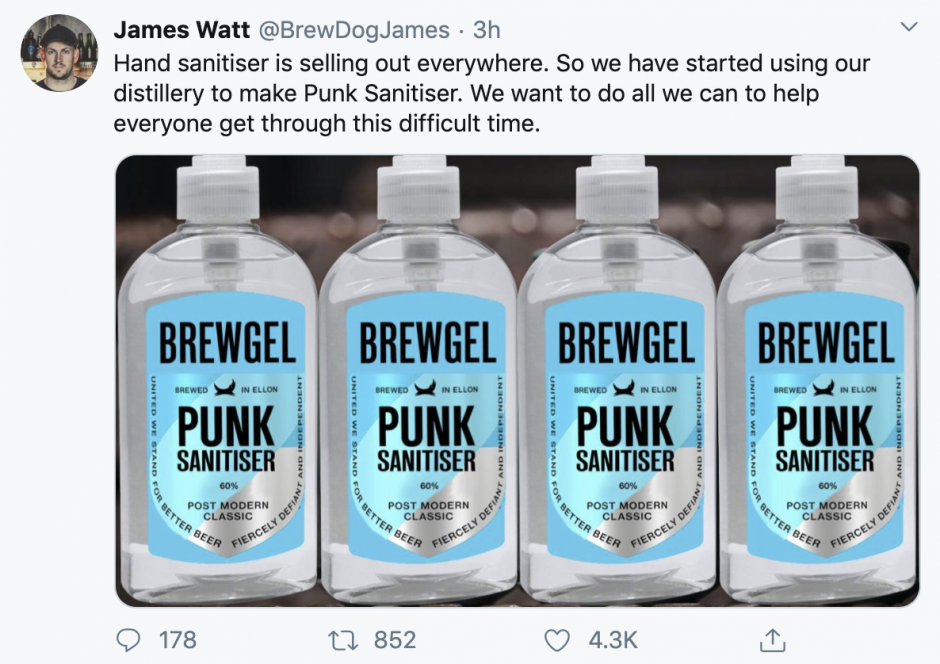 ---
Guinness
The below advert is a great example of why Guinness is seen as one of the leading advertisers in the world, the content that they produce is always on message both in terms of their product and world events. This video shows the power they have when it comes to St Patrick's Day marketing and bringing people together. This is a good example of adapting to the market as it will ave always been in the plan to create an advert and the script has been changed at the last minute. Always think of you narrative.
---
---
Top tips for communication in a crisis
It's all about communication. Businesses that have an online store should be using communication to run FAQ sections on a website, to inform customers about policy changes such as shipping or returns changes. They should also be letting people know if products are out of stock or unavailable. This all seems pretty straight forward and in truth is best practise for good user experience (UX) whether we are in a crisis or not.
For those businesses that have physical stores then using social media as a communication tool is a must. You need to be able to keep your online community in the loop and inform them of when you plan to reopen and what will be different when you do so. Managing expectations in this way is a must and can have a really positive impact on brand loyalty. We're all glued to our computers and phones looking for updates within our community. We're also looking for entertainment and ways to pass the time. For many, that includes shopping online so make sure that you are easy to find. This means having SEO in place to help push and promote your content.
This is not the time to be hidden online.
We recently published our complete guide to digital marketing in a crisis and here are some of the things that brands and businesses should consider if they want to guarantee success.
Understand why people may search for your content
Great, so you've identified your audience. Now you need to make sure that the content you produce connects with them. If it addresses the needs of your persona(s), it will be read more and shared more, helping it to rank better in search engines. People search for a variety of reasons. Common reasons in the B2B sector include searching to:
• Understand a product category
• Learn about a product or solution
• Solve a specific business problem
• Be informed about new approaches
Common reasons in the B2C sector include searching to:
• Find the best deal
• Find the closest location
• Locate a product or service that's advertised
As above, a basic buyer's journey includes the following stages: Awareness > Interest > Consideration > Purchase > Post Purchase > Re-Purchase
You can think about this before beginning a piece of content. Is your persona:
• Looking for a general category of information? (Awareness)
• Looking for a solution to a specific problem? (Interest)
• Looking for an enterprise solution? (Awareness-Interest)
• Identifying and comparing specific products or vendors? (Consideration-Purchase)
• Looking for help with one of your products they already own? (Post-Purchase)
• Looking to replace or upgrade a product, and planning to remain loyal to you? (Re-Purchase)
Optimising your content
Keyword research is a vital part of any organic search campaign, whether it is used to mould onpage copy or to develop brand or product positioning – it is imperative that it is not only done, but done thoroughly and well.
As search engines have improved their ability to 'understand' natural language (from the advent of the Hummingbird update in 2013, to the new levels of query relevancy offered by RankBrain and the introduction of BERT), a lot of brands and agencies have begun to place less importance on the role of keywords in content.
The worrying possibility this raises, however, is that, though it frees our writers to express themselves with fluency and style without having to rely on keyword anchoring, the reduced importance of keywords in on-page copy can sometimes carry over into keyword targeting.
Keywords should not and must not be overlooked, and their importance in attracting a potential
consumer can be underrated.
Take, for example, someone looking to make a purchase for a new hobby. They are interested in the hobby, but lack a degree of knowledge when it comes to hobby specific key terms; in this case, they are going to be searching for more general keywords and are going to rely on brands using search
marketing strategies that account for this.
The best keyword research will identify themes – around price size, colour, etc. as well as gaps in the market with low competition from competitors. By grouping such terms into 'themes' (groups of keywords), they can be converted into pages of content which will represent a thorough match to a number of targeted searches, increasing relevance and usefulness for consumers – again heightening UX at the same time as improving chances of conversion.
This is a good time to refer back to your buyer personas, what are they looking for, what will they want to know and at what stage in the buying cycle will they want to know it? Think about how you search on a phone as opposed to on a laptop. Are there differences in your own search methods from one device to another?
What are your intentions across devices?
Think about the levels of interest and expertise possessed by your buyer personas – are consumers looking for brand specific items, using specific industry jargon more or less likely to want to buy or to need information than those searching for generic, non-specific terms? How can your keyword targeting nurture the buyer journey by delivering the right content at the right time? If you have run PPC campaigns for your goods or services in the past, there may be a wealth of useful information available to you in your Search Query reports.
Once you have assembled lists of key terms and questions, use online tools (such as Google's Keyword Planner) to quantify search density and, therefore, which of these keywords, terms and
themes should be the focus of your efforts.
Ideally you're looking for the golden ration of low competition and high volume. Also, use Analytics to monitor in-site searches – those terms which consumers are searching for while on your page – as well as popular landing pages and seek to consolidate these terms externally.
The role of keywords in modern search marketing is in flux at the moment – and there are some which, with good reason, have suggested that the industry should be looking to move away from
using specific keyword rankings as a success metric – especially as trophy keywords are likely to diminish in importance (as the way we search shifts and queries continue to trend longer).
However, regardless of the relative importance for monitoring progress, keyword research will retain its importance when determining positioning and importance as well as when considering
audience targeting.
Four simple steps
• Think like a consumer – pick short and long tail keywords likely to be searched by your buyer personas. Ranking for many, low volume, but relevant keywords will serve you better than
vanity terms.
• Look for gaps – in a crowded marketplace it can be difficult to compete against established companies. So don't compete, find where they aren't present.
• Rank for priority – it is counterproductive to spread yourself too thin, so choose your targets wisely and look for the golden ration of high volume, low competition.
• Consolidate gains – if you begin to rank for certain terms, don't rest on your laurels but continue to target these keywords as you expand your target list.
Stay social
More people are on social media now while stuck at home, scanning for updates and trying to stay connected so make sure you keep up your activity. Information is key and you want to make sure that you hit the ground running when things open up again.
Final thoughts
Content marketing is a vital form of communication between your business and potential audience. With competition at an all-time high and the way individuals take in their information so varied, content marketing allows you to connect with as large an audience as possible and over an ever expanding number of formats.
There is a well-known saying that 'content is king' and whilst that is true, in that you need to produce and promote your content, a better phrase would be 'good content is king'.
If as a business you are able to create, publish, distribute and promote materials for your target audience which will in turn lead to new business then this is a strategy you have to explore. The content and assets which you can create cost relatively little to nothing and the return on the effort of creating them can be very lucrative. If you can then make the content engaging and sharable then you are on a path to even greater exposure at a relatively low cost.
---
Need help with your search marketing? Why not get in touch? Or subscribe to our newsletter for industry leading insights.  
Share this: