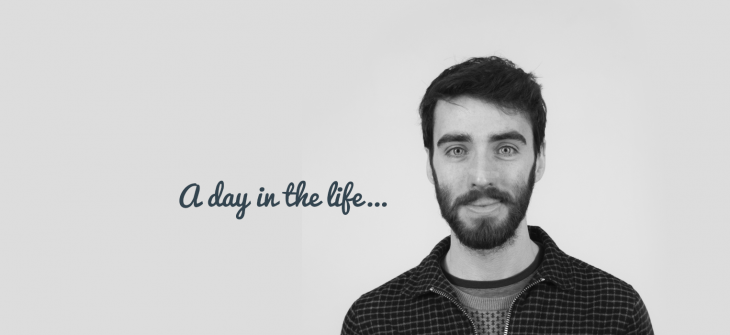 A day in the life of Jacob Booth, Campaigns and Social Executive
Our video marketing expert talks campaigns, content marketing and creative geniuses
---
Briefly describe your role
I run content marketing campaigns on behalf of brands, with the goal of improving their SEO presence. The process involves research, ideation, creative production, outreach, social media, delivery and reporting. In addition, I specialise in creating video content for these campaigns, which aim to spark conversation on social media, blogs and editorial sites.
What does a typical day in the Campaigns and Social Team involve?
Many campaigns are running simultaneously, so a typical day involves checking that every campaign is ticking along incrementally onto the next stage. My email inbox is full of long chains of relationship building with key influencers, and my bookmarks are links to favourite examples of others' content marketing.
How would describe working at Click Consult to a friend (culture etc)?
Working at Click Consult is working at the forefront of search marketing. You can pop round to ask advice from technical experts and creative geniuses from the different teams. At lunch, you will find *very* competitive table tennis and table football matches, and on occasion our office parties are off. the. hook.
---
---
Which other teams do you interact with the most?
The teams I work with change throughout a campaign. In ideation, I consult the SEO team to find potential opportunities for improvement. In production, I speak to content and design teams to advise on the production of infographics, eBooks and videos. Throughout the campaign, I have a running dialogue with the Account Managers, answering any queries that the client may have, and ensuring that the campaign runs on track as expected.
---
What do you enjoy most about your job?
I enjoy keeping up to date with trends and developments. It's important to stay inspired, and find influence in the best of other people's work. To anyone in creative fields, I recommend building a library of images, videos and ideas that make you excited to get to work and do better.
Talk us through yours and Elliott's recent Halloween costumes…
---
---
For Halloween I was one of the many Elevens from Stranger Things – dress and all. Elliott made a great partner as Winona Ryder and the Ouija wall. If Halloween had been two weeks later we might have gone as the iguana and the snakes on Planet Earth. S C A R Y.
As a film buff, who would you choose to play you in a film of your life and why?
Daniel Day Lewis, because he would do my job for three years to research the role.
---
Want to find out how our services can help to improve your search ranking and convert more customers? Contact us today!
Share this: