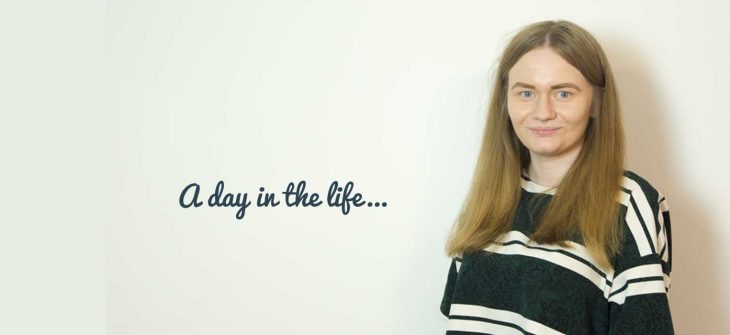 A day in the life of Lucy Nixon, Campaigns and Social Executive
A key member of our content marketing team, Lucy, tells us about out-the-box thinking, relationship-building and buffet-demolishing
---
What does a typical day as a Campaigns and Social Executive involve?
The best part about being a Campaigns and Social Executive is the fact that no two days are the same. We're in charge of seeing our campaigns through from start to finish so I find myself doing all sorts from coming up with campaign ideas, building relationships with bloggers or when it gets to the end of campaign; writing up the reports. Keeping on top of my emails is key though because we're always talking with new bloggers and influencers so you don't want to miss anything!
What's the most challenging aspect of your job?
Sometimes it can be hard to think outside the box so our campaigns don't become predictable. The best campaigns are the ones that get people talking be that because of some shocking new data, an eye-catching visual asset or a super current theme. It can be tricky to think of new bloggers and influencers to get on board with a campaign but by doing a bit of research we can find people who get just as passionate about the campaigns as we do.
And the most enjoyable?
I am quite partial to my 3pm afternoon snack; to be honest I normally start thinking about it about 9.10am. I get a bit hangry if I go too long without an edible treat so I like to keep a few options at my desk. If you're ever hungry you know where to come  – I've got crisps, chocolate, rice cakes, even a tin of emergency soup…
Which other teams do you interact with the most?
It all depends on what part of the campaign process we're at. At the start we spend a lot of time with content and design to ensure we're all on the same page with what we want the campaign to look like. As the campaign progresses we have ongoing conversations with SEO and the account managers to make sure everything runs smoothly and we're all up to date.
How important is it to build relationships with bloggers and online influencers?
The key to a campaigns success is to ensure it's engaging to bloggers and influencers. Our job is to build ongoing relationships with the people who have a strong online presence and voice. Bloggers and social media influencers are a big deal these days and it's crucial that we don't get left behind so by building relationships with them and getting them interested it really helps to get the campaign off the ground and in front of the right eyes.
How would you describe working at Click Consult to a friend?
It's always interesting. The vast range of clients that we work with mean our days are never boring and you're constantly being challenged. The people are pretty fab too and whether we're discussing our campaigns or the age old 'is a Twix a chocolate bar or a biscuit' debate there's always something (or someone!) to keep you entertained and motivated.
Finally, in a scenario where you were trapped up to your neck in a kind of foodstuff and had to eat your way out what would you choose?
I always say that my last meal would be some sort of buffet…I'm ALL about a party buffet in fact I probably won't RSVP to an event until I'm assured there'll be some sausage rolls and sandwiches on offer. So I guess if I had to eat my way out of anything I'd go for  the classic party spread… at least I'd have plenty of variety so wouldn't get bored eating the same thing until I was free.
---
Want to find out how our services can help to improve your search ranking and convert more customers? Contact us today!
Share this: