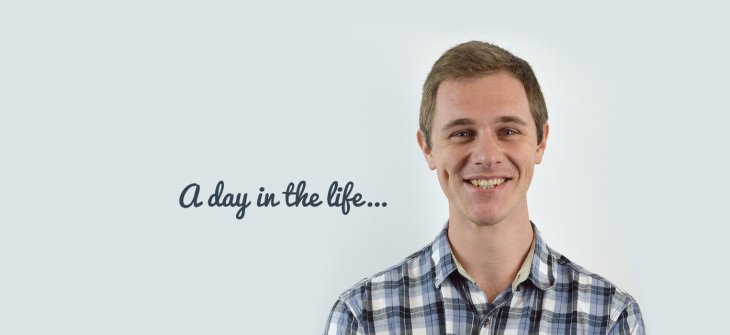 A day in the life of Stu Jones, Senior Organic Search Strategist
Stu shares his passion for the technical side of organic search, and gives his slant on the SEO v PPC debate…
---
Describe your role as Senior Organic Search Executive
My role is to understand everything about a website that could affect SEO performance, and to plan and implement a strategic workflow that achieves a client's goals. This includes researching and finding all technical, content-related and off-page issues, and recommending or implementing ways to fix them. My role also includes occasionally meeting with prospective clients.
Stu analysing a client's visibility
What's your favourite aspect of working at Click?
I love the technical side more so now than ever. In my spare time over the past three years I've learned to proficiently code in Python, and in the last year I've been able to use my knowledge to build some really cool tools for Click. The problem-solving side of SEO is also very appealing. It's fun to sit down and try to get to the bottom of why a site is performing a certain way.
What does a typical day for you on the SEO strategy team involve?
It can range between preparing an analysis of a prospective client's website to use at a sales pitch, to implementing coding changes to a client's website for SEO benefit. More often than not, you can find me implementing a client's strategic workflow, speaking with Account Managers about client progress, or investigating client queries.
As well as being an SEO superstar, you're also a trained hairdresser and an accomplished mover on the dancefloor – what made you pick SEO as a career rather than either of these?
Honest answer is I didn't enjoy the day to day of working in a salon. Maybe I'm less of a people person than first thought. After that, I got my degree and I wanted a marketing-related career. I started at Click a couple of months after graduating and I've been learning and enjoying it for the last five years.
Stu throws some shapes
Who would win in a fight – PPC or SEO?
My wife is a Senior Paid Search (PPC) Executive here at Click too, and I know she can beat me up, so speaking literally, PPC wins hands-down.
---
Want to find out how our services can help to improve your search ranking and convert more customers? Contact us today!
Share this: