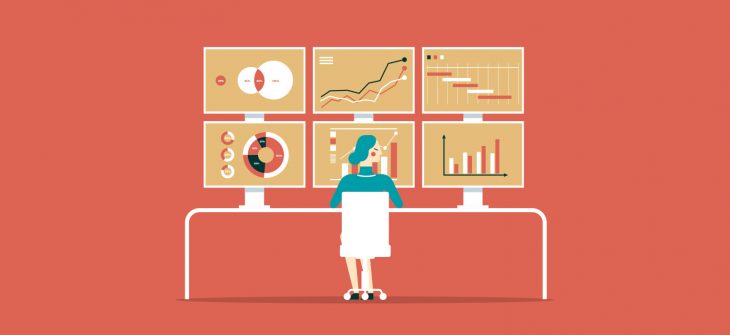 How to create a keyword performance Data Studio report with adjustable date range and filter
Like many agencies, we're still shifting the way we report to clients as Data Studio adds further features, we're able to move more and more of our manual reporting to the platform. Knowing I had a blog due for the site – and also needed to pull together a new way to do the keyword performance reports – I thought I'd combine the two
---
To begin with, if you're new to Data Studio, we have a few bits and pieces that might be of assistance to start.
What is a keyword performance report?
This is a visualisation or tabular recording of historical keyword performance – while it can be taken from any number of tools, this blog will deal specifically with data from Google Search Console (meaning position data will be an average over a month rather than a last tracked position) and aims to present the details of keyword positions, clicks and impressions over a set time.
Why you need a keyword performance report
While there are a substantial number of reasons to track keyword performance, the main two are essentially:
To monitor the success of your SEO efforts or the impact of Google updates
To identify keywords with the potential to improve their performance
In this regard, monitoring your keywords offers some great insight in to historic performance and future potential.
Connecting Google Search Console to Data Studio
The connector for Google Search Console is located in the same place as that of GA, to access it, select 'Manage added data sources' from your resource tab (in edit view).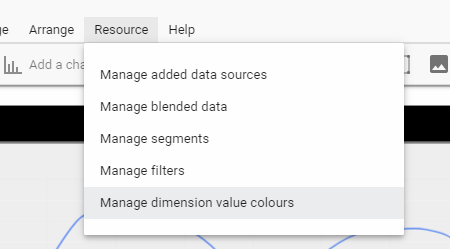 Then scroll to the bottom of your current data sources and select 'add a data source'.

Then select GSC from the list of sources (one scroll down – for me at least).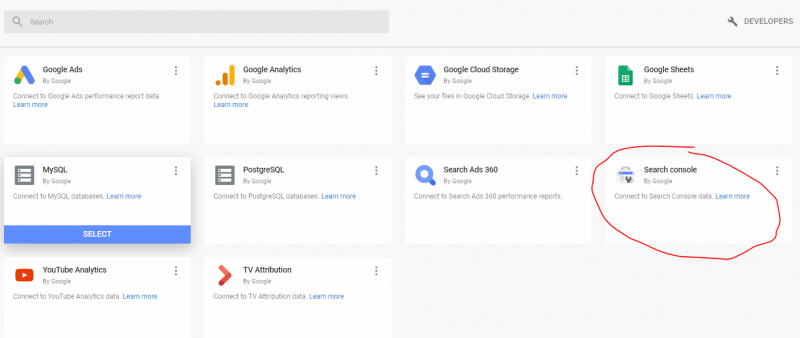 You'll then need to choose the site you want to connect to – for which there's a search function if you are managing multiple sites.
Then you'll need to choose between the two options – site impression or URL impression. For this report, we'll be using site impression as it holds average position data while URL impression doesn't (though it has landing page data instead), after which you can click the connect button.

You can then add the data source to the report (changing any of the dimensions and metrics to the measurement you prefer).

You can then confirm the process and add it to the source.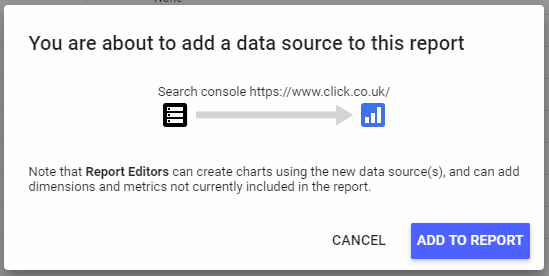 Setting up filters for the report
For this report, I wanted to be able to narrow down the raw data by date range, zero in on a specific keyword and ranges of keywords, so I've set up a search function, a 'query' select and a date range control.

Date range select
While none of these filters are especially difficult to implement, the date range selector is the easiest of them. You simply click on the calendar icon and that will drop a box in to the sheet.

You can then style this box (or not) as you choose. In 'view' mode, this box will set the default date for any tables or charts that have their date set to 'automatic'.

Query select filters
The other two boxes here are selected from the same place, but with slightly different set ups. Both begin by selecting the filter box from the top menu.

This should auto populate a box – similar to the date select, but this time showing the default dimension 'Google Property'.
In the data management tab of this box, you can define the dimension for the box – in this case 'query' (the metric isn't necessary for this filter).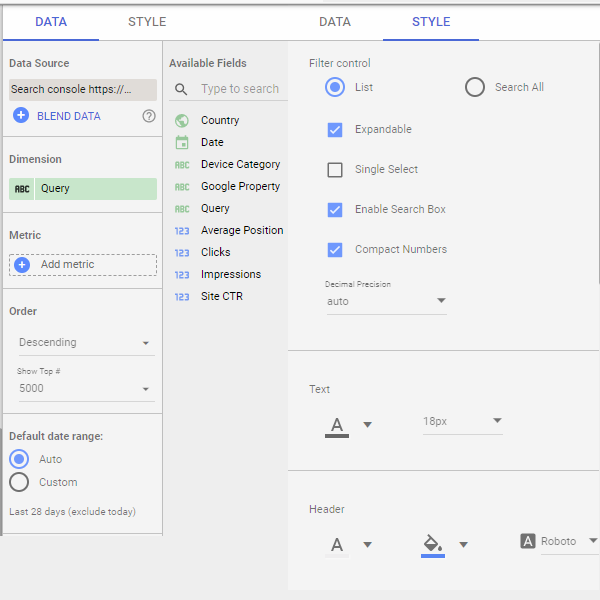 The default style for this is sufficient for the query drop down, but for the search function you'll need another couple of adjustments.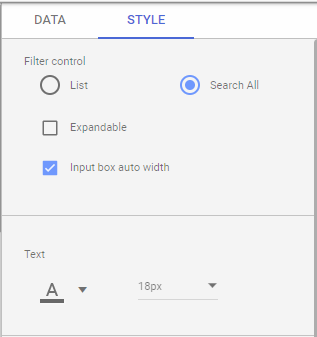 Once you've created these three filters, the remaining work is fairly simple. To keep it simple, I've created a table showing keyword performance in a table, and then broken it down to keyword performance over time in two key metrics – average position and impressions (where people see it and how often they see it).
Performance charts
We covered setting a table in previous Data Studio blogs, but as a quick overview – select table from the 'add chart' menu: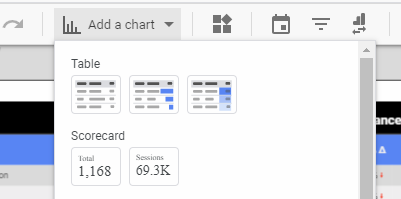 Then choose your dimension and metrics: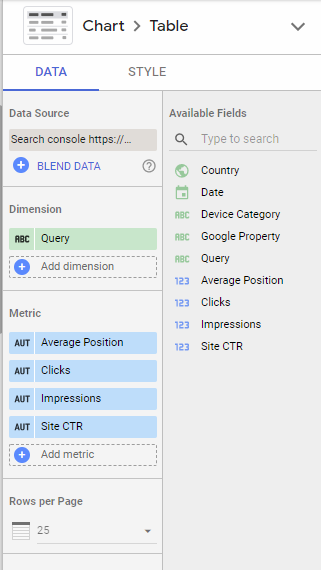 The main thing to remember here is to ensure you choose 'Auto' as the default date range – this will link it to the date range selector in the 'view' mode of the report. In addition, I tend to add 'previous period' to the comparison range – as this ensures you're comparing apples with apples when the range changes.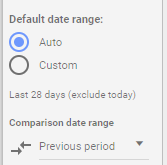 The secondary performance charts are simple smoothed line charts (I find it easier to compare date ranges with smoothed lines, but the choice is yours).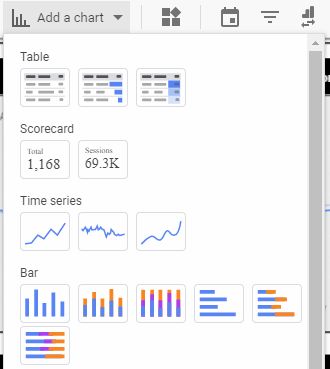 Again, we've covered the set up elsewhere, but for a line chart, you're looking at creating a time dimension with one or more metrics. For average position, I also tend to reverse the direction of the y axis – so that the lower number is at the top of the chart. The same is true of these charts as for the table, in that selecting auto as your date range connects it to your date box and the 'previous period' is the easiest way to ensure good comparison.
Using these charts
While these charts look pretty good even without styling (which I'm terrible at), they're also useful, as mentioned earlier, for researching the performance of your site. Using the query box, you can select important brand (or non-brand but important for conversion) keywords and track them over the course of a particular link building campaign or throughout on-site SEO work, but you can also change the dimension to 'Average position' and look for keywords in the 11-20 average positions in order to generate ideas for content for your site – or pages which, with a little work, might be bumped up to page one, thereby improving your visibility.
The charts mentioned here are, of course, just the surface level of what can be achieved with such filters and charts – so don't hold back, and experiment a little to see what insight you can draw from the enormous amounts of data at your fingertips.
---
Want more actionable content? Subscribe to our blog, or check out our library of resources. Alternatively, contact us today to find out what we can do for you.
Share this: