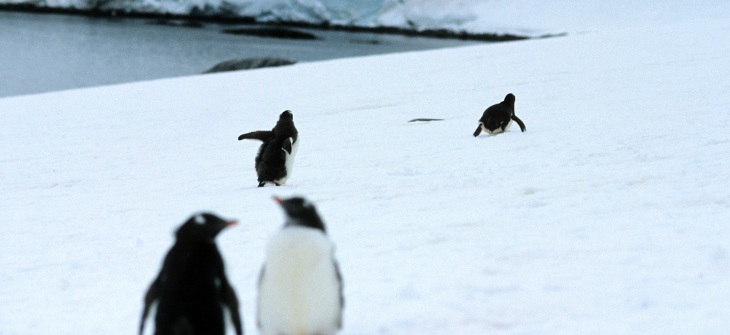 Recent fluctuations in SERPs not a result of overdue Penguin 4.0
A steamy Thursday and Friday from the Mozcast were followed by wild speculation and a little trepidation about the possibility of a Penguin 4.0 roll out – John Mueller has stated that this is not the case, however
---
With temperatures reaching a balmy 108 degrees on Thursday and 90 on Friday (the hottest for some time) on the Mozcast site, the minds of many SEO professionals began to scan back through the year for any indication of what might be afoot, naturally landing on the long awaited Penguin 4.0 iteration. Initially, with several sources reporting dramatic variability in SERPs positions, some rankings appeared to back up the theory, but with the Labor Day public holiday falling on Monday 7th, there was little to do but speculate until the US returned to work on Tuesday and we could get an official response.
---
---
This response came late last night in an official Google Webmaster Hangout. During the conversation, John Mueller – familiarly polite and non-committal – answered that we could scratch Penguin off our list of potential candidates for the visible fluctuations experienced over the weekend.
---
@glenngabe @pedrodias @rustybrick We'll call it "Eddies in the space-time continuum"?

— John Mueller (@JohnMu) September 6, 2016
---
Despite this piece of information, however, Google has not formally confirmed anything at this stage, leaving people to continue guessing as to the factors behind the data trends. What we do know for certain is that Google has been making a lot of changes to the way in which Google local results are displayed and their positions calculated – with spammy results clamped down on recently.
---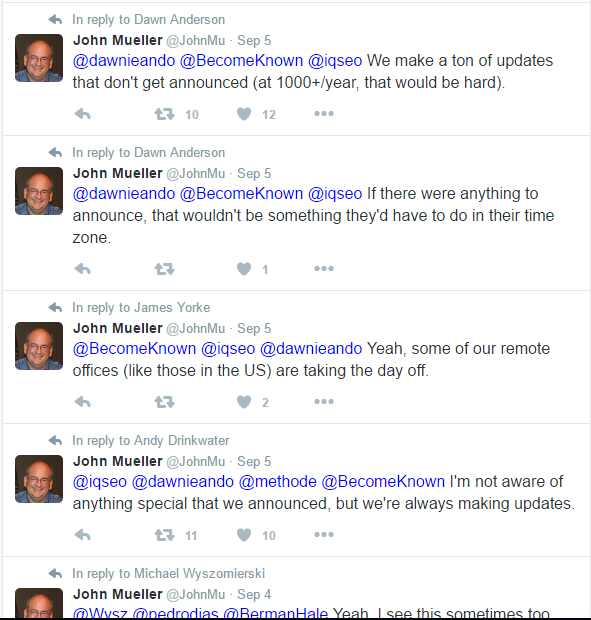 ---
The consistent denial that the update is part of any named algorithm change or announced update and that it is instead just one among the 1000+ unnamed updates Google perform every year seems to indicate that it is simply continuation of ongoing improvements to local results – though whether it has been a quality update or an update to the local algorithm remains to be seen.
---
Here at Click Consult, we've monitored the situation closely, with additional SEO health checks undertaken for all of our clients, across the many client accounts we manage, monitor and maintain, though there have been fluctuations, they have been within the margins attributable to the regular daily fluctuations visible every month – and nowhere near, thankfully, the drops reported elsewhere over the weekend – with several clients seeing greater than predicted improvements. We will continue to monitor the situation as it unfolds, but are confident for the moment that – as ever – most sites adhering to best practice will not be negatively affected and that while work is ongoing on local SERPs results, fluctuations should be expected but not overly worried about.
For now, though, we'll leave you with John Mueller's latest Webmaster Hangout:
---
---
For more information on Google's algorithm, why not check out our resources? Or to see what Click Consult can do to ensure you no longer have to worry about the ins and outs of the Google algorithm, contact us today.
Share this: