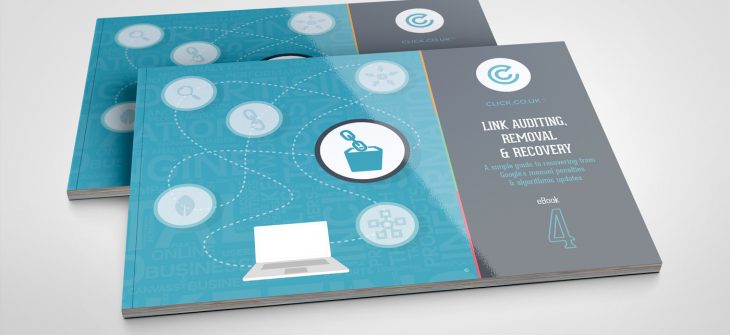 Google penalty? We've released a complimentary eBook to help you recover
This afternoon, we launched our exclusive eBook, Link Auditing, Removal & Recovery. This is in response to the high volume of enquiries we've received from concerned website owners seeking assistance in recovering from Google-imposed penalties over the past two years
---
Here at Click Consult, our talented team of link removal experts have undertaken over 60 manual penalty removal and recovery projects to-date and for each one, we have a 100% success rate.

We understand it can be difficult to keep up with the ever-changing world of organic search; what works today may lead to a penalty tomorrow. That's why we stay ahead of the curve so you don't have to. Our brand new eBook provides a detailed overview of the link auditing, removal and recovery process to help you overcome Google penalties and safeguard your site against them in the future.
So, what else is included in this comprehensive eBook? Here are just a few of the areas we have covered:
The history of backlinks
Why are backlinks important?
What is a Google penalty?
Manual and algorithmic penalties in more detail
How could you get a manual or algorithmic penalty?
How to conduct a link audit
How to use Google's Disavow Links tool
How to write and submit a reconsideration request
What to expect after link removal for manual and algorithmic penalties
Reasons why your traffic may not have improved
Case study
Link auditing, removal and recovery process infographic
Recovery through inbound marketing, content marketing and blogger outreach
Link Auditing, Removal & Recovery also offers a comprehensive glossary of digital terms; a case study on one of our clients, whose website we recovered from a manual penalty; and an infographic that documents the link auditing, removal and recovery process.
In a recent news piece, our CEO & Founder, Matt Bullas said: "Since Google rolled out Penguin 2.0, our search marketing team has been inundated with enquiries from understandably concerned website owners who have been affected by manual or algorithmic penalties. We recognise the damaging impact that Google-imposed penalties may have on businesses, as their site traffic usually decreases and ultimately, so does their revenue. Our link removal experts utilise a host of industry-leading tools and best-practice methodologies to recover penalised websites – a process that is complemented by our fully comprehensive guide to penalty recovery. Indeed, our skilled team of experts have a 100% success rate in recovering websites, using some of the techniques outlined in the guide", he said
Interested? Download your free copy of Link Auditing, Removal & Recovery now.
Share this: