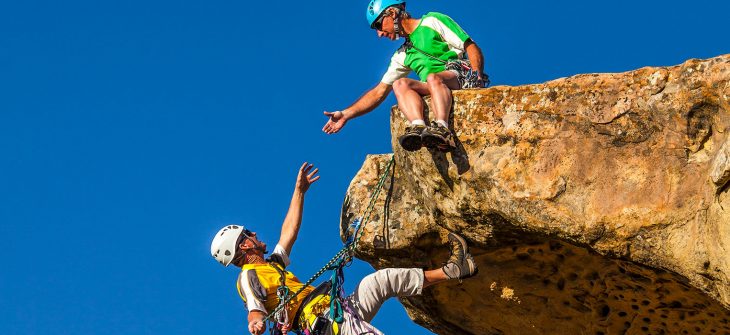 Hamstrung SEO: Why trust is vital – a look back at Rob Hughes' Benchmark '16 talk
Rob Hughes' Benchmark talk really cut to the heart of one of SEO's major modern problems – trust and how to earn it when predecessors or other agencies have lost it
---
We were really pleased to welcome Rob Hughes to the Benchmark stage this year, a man with a wealth of experience both at agencies and, more recently, client side. As he informed a packed hall at this year's conference, he has spent the last 18 months at JD Williams – a fashion retailer with a 140 year history and a series of websites each around 20 years old.
The position Hughes found himself in will be familiar to any SEO professional arriving at a brand with a long standing internal SEO department – there was a legacy of burned bridges, broken promises and trust issues extending back decades, all of which had 'hamstrung' the SEO practices of the brand. It is also a situation many agencies will find themselves in when taking on a client with one or more failed agency relationships in the past.
In this regard, the condition of JD Williams eCommerce sites serve as a particularly satisfying metaphor – operating with in excess of six different CMSs and, on average around 20 years old, the sites, as Hughes stated, were becoming more sticking plaster than website – this reflects the position many agencies or newly arrived in-house professionals will recognise, in that there are a lot of semi-finished or failed processes, content or practices which linger from legacy relationships and which must be addressed before progress can be made, but there are also trust issues that have arisen which can cause problems with implementing necessary changes.
---
---
The key to addressing these trust issues, Hughes states, is to implement five things to rebuild burned bridges. These are:
Process
Technology
Integration
Celebration
Communication
It's a list that forms an integral part of what we do here at Click Consult, I'm pleased to say. Though Hughes rightly states the necessity of dynamic processes (capable of altering as and when required), the need for a process – especially when rebuilding trust between departments or between agency and brand is intrinsic, as a formalised process allows all parties to know where they are at any time. The same is true of technology and integration (or as Hughes refers to it later 'joined up thinking'), by ensuring the right technologies are used and used by all who are a part of the process, and by ensuring that all parts of the process are included in decision making (integration), there is a demystification of the process which enables trust to grow at all stages without the potential obfuscatory nature of working in silos.
---
---
Celebration and communication here are really to strings of the same bow – while it may not be necessary to have formal reporting daily or even weekly what is necessary is to celebrate and communicate the wins. Again, it is only through transparency that trust can be earned and the hamstrung nature of SEO can be overcome in these situations. By including the appropriate people and departments at all stages, the way things work can easily be seen as well as the progress toward what is, whether in an in-house department or external agency, the same goal – success for the brand.
High staff turnover within departments and a minority of unscrupulous agencies have created a trust deficit for those unfortunate brands that have dealt with these issues, and it can impede the future SEO performance of any company if this deficit is not redressed. Therefore, as Hughes' talk so accurately conveys, trust is the best way to avoid being hamstrung in your SEO practices.
It was great for us at Click Consult to hear such an interesting and honest talk from such an experienced client-side professional, and I'm sure there will have been many in the room that welcomed Hughes' candour as issues like this can all too often be brushed to one side or ignored, yet are present in many brands across the vast majority of industries. The talk represented another great step forward in addressing the issues the SEO industry has at present, and as a company that prides itself on ethical, transparent practices, we were really pleased to play host to such a talk.
---
For more SEO insights, why not visit our resource page or, to find out what Click Consult can do for your brand, contact us today.
Share this: