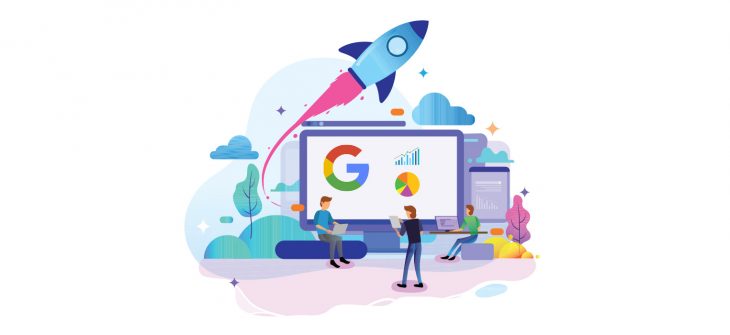 Could October 2021 Quality Rater Guide Changes Presage Coming Core Update?
Following the first overhaul of Google's Quality Rater Guidelines in 12 months, the world of search and digital marketing has been full of speculation, but does it indicate a coming update, what could be driving it and what shape might that update take?
---
What are the Quality Rater Guidelines?
Google is constantly tweaking search results. Whether it's new additions to rich results, the addition of carousels, the number of blue links, or how it evaluates the sites in its index, all of this is subject to regular change and those changes are constantly evaluated by third-party Search Quality Raters. The Quality Rater Guidelines are the collective term for a 250+ page document that helps them to judge whether changes to search are beneficial.
How often do the Quality Rater Guidelines change?
There is no schedule for QRG updates, the best you can say is that they are changed infrequently but generally annually. However, there has been a trend of these updates being followed relatively closely by core algorithm updates – this is what has led to a the fairly intense industry discussion of an upcoming update.
What are the Quality Rater Guideline updates?
I won't cover the changes exhaustively, SE Roundtable provides a few good resources in a recent blog (which includes the change log below), so I'm going to give a general summary of what are the main updates cover.
---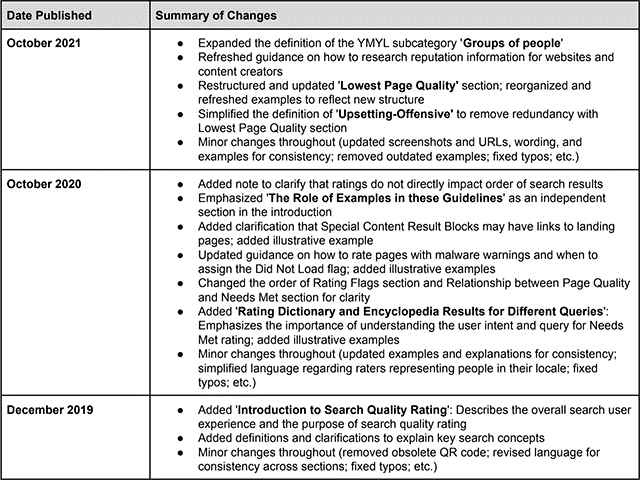 ---
The changes mostly involve what has come to be known in the industry as EAT (expertise, authority, trust) and do so in a manner which looks to address many of the valid concerns expressed over the last couple of years about misinformation and the harmful nature of some online content and websites.
This includes significant changes to the pages which deal with what the document refers to as 'lowest quality pages' including a reworking and simplification of the initial three-point description of the assessment of pages as lowest quality:
Assess the true purpose of the page. If the website or page has a harmful purpose or is designed to deceive people about its true purpose, it should be rated Lowest.
Assess the potential of the page to cause harm as described in these guidelines. Websites or pages that are harmful to people or society, untrustworthy, or spammy as specified in these guidelines should receive the Lowest rating.
Otherwise, the PQ rating is based on how well the page achieves its purpose using the criteria outlined in these guidelines.
It also simplifies the description of misleading information:
Clearly inaccurate harmful information that can easily be refuted by straightforward and widely accepted facts
Harmful information that contradicts well-established expert consensus
Harmful unsubstantiated theories/claims not grounded in any reasonable facts or evidence
In fact, many of the changes are simplifications and reworkings of the information on and around harm and misinformation – whether in reference to individuals, groups, science or YMYL topics. EAT, therefore, seems to have been very much front-of-mind for the update.
What do these updates mean?
Google has received some justified (and often overdue) criticism over the last few years, from the US Senate and EU Parliament to journalists and users across the world, for the ease with which the search engine seemed to be used to disseminate misinformation. Equally, however, Google has been attempting to improve the 'quality' of its results for its own financial wellbeing – being the 'best' search engine is what made Alphabet, after all.
These updates seem to be a reasonable blend of the two aims – to address issues raised by critics and to improve the veracity and usefulness of the SERP as part of their business model. This is the only thing that we can say for certain – that Google is upping its efforts to tackle misinformation and harmful content. However, we can speculate…
Will there be a broad core algorithm update?
With or without an update to the QRG, 2021 has absolutely been a year of testing for Google – at least, we can infer as much from the weekly rumours of an update. There has been huge volatility in the ranking trackers pretty consistently throughout the year. Temperatures have run high, weather has been stormy, tigers have been grumpy and many more trackers have seen record levels of fluctuation.
The addition of the BERT, MUM and LaMDA language models to the Google algorithm may go a long way to explaining this fluctuation – Google is slowly becoming better at understanding the content on the web, and that is going to lead to big changes in the way search works. In the short term, however, it offers Google a major dial to turn that is entirely focused on its capacity to understand the 'quality' of online content of many varieties (video, text and audio).
Though it's easy to say there's a broad core update on the way – there always is – the changes lead me to believe that any update will be related to Google's constant campaign to quantify the ephemeral nature of 'quality'. While drawing connection between QRG reworks and algorithm updates may be a case of highly industry specific apophenia, there are now several data points to suggest that it is the case.
Combined with the fairly well trumpeted language model advances (playing a major part in Sundar Pichai's Google I/O talk), these changes do hint at both a desire and a potential avenue for Google to tackle improving quality and tackling misinformation and harm online.
In a conscious attempt to combat the near universal truth of Betteridge's Law ('any headline that ends in a question mark can be answered by the word no'), I'm going to come down – albeit cautiously – on the side of yes. There will likely be an update, it will likely represent a fairly large leap in Google's ability to judge quality and it probably won't affect as many sites as we're worried it may.
---
The search and digital marketing industry is constantly changing – and brands are going to need to hire specialists or work with them to ensure success online. Want to see what an awar- winning SEO agency can do for your brand? Contact us today!
Share this: