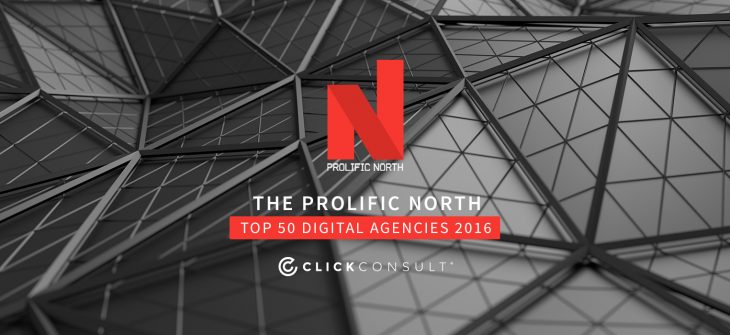 Prolific North's Top 50 Digital Agencies 2016: Click Consult ranks at 14
We're proud to once again feature in Prolific North's Top 50 Digital Agencies!
---
The Prolific North Top 50 Digital Agencies is a definitive listing of the North's largest and best digital agencies, spanning SEO and PPC, web, content, mobile and eCommerce. It's now widely recognised across the region as the benchmark for the region's digital sector.
Prolific North work together with one of the UK's leading independent research companies, Mustard Research, and financial reporting company, fame BVD, to make an informed decision on the top 50 digital agencies in the North of England. The judges examined the accounts of over 150 digital agencies that are either based in the North or have offices here, as well as asking the agencies themselves to submit supplementary financial and related data.
Our founder and CEO Matt Bullas said: "A long list of achievements and accolades confirms the great work we've done over the past year, combining high-achieving creative and technical talent with pioneering technology to deliver data-driven, content-rich ROI-focused campaigns that exceed client expectations.
"Ours is a fast-moving industry, in which we've established ourselves as thought leaders who remain ahead of the curve on industry trends, search techniques and new technology in order to deliver the very best service for our clients. We're committed to continuous innovation, and the past year has seen us invest in developing our service offerings and our people, as well as launching our own industry-leading suite of tools and techniques in TRAX technologies, and hosting our inaugural Benchmark Conference in Manchester (watch this space for news of Benchmark 2016).
"Our emergence as a clear leader in search marketing is reflected in our client wins over the past 12 months  – including significant brands such as Oxfam, Netflights, and Truprint – who have selected Click Consult to execute their search strategy."
---
Sign up to our newsletter by popping your email address in the box above to the left – we'll keep you up to date with all the latest search marketing insights.
Share this: