RankBrain in 2017 – Facing the Future of SEO – Omi Sido's Benchmark 2017 talk
Machine learning isn't just the future, it's already here – Omi Sido discussed how to prepare your brand for a present and future with RankBrain
---
When Google presents you with a list of ranking factors, Sido argues, it makes little sense to discount the third most important of them because optimising for it is difficult – and the Senior Technical SEO at Canon Europe, who began by defining himself as a practitioner rather than a speaker, would certainly be among the people to ask.
A fantastic way to start the conference, Omi began by ironically demanding that all bronze medallists be summarily stripped of their award for merely being the third placed in a competition, describing the decision by most SEO authorities to avoid talking about the importance of RankBrain and finding ways to optimise for it as a mistake of a similar nature as the suggested act of Olympian unkindness.
---
---
In fact – as the talk went on to discuss, and as we've discussed here at the Click head office and even here in the blog – discounting machine learning as it is presently is to leave yourself radically unprepared for the future of search, where RankBrain may serve as the arbiter in an organic version of the AdWords Quality Score for PPC.
This possibility (of machine judged quality) was then related to a patent filed by Google almost a decade ago that described a process of inferring quality and deciding organic rankings based upon consumer interaction with content in the SERPs.
This, while it is not immenent, seems a reasonably safe bet for the organisation of SERPs in a future where RankBrain earns a gold rather than bronze medal at the ranking factor Olympics. It is Google's stated aim to ensure that their results are the best possible answers to consumer queries and there seem to be few ways to ensure this than consumer interaction – which will need to be monitored and judged and constantly learned from by either RankBrain or one of its descendants.
---
---
In this future, while links will no doubt remain important, Sido states, there will be far greater emphasis placed on aspects of your analytics data that will have been of secondary consideration – like click through rate, time on page, session length and various other signals that could be viewed as indicative of a positive user experience by whichever algorithm Google is then using.
For this reason, it is vital according to Sido, that we begin to keep pace with what RankBrain wants now to avoid having to make a large step up in future.
---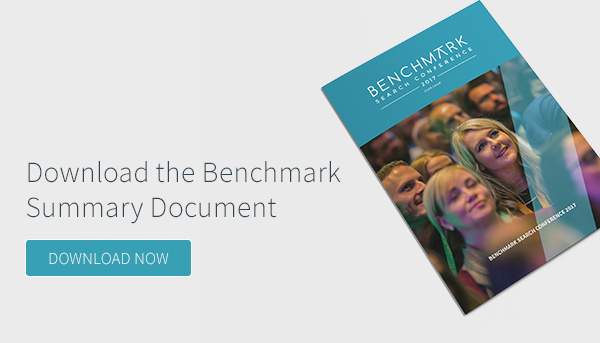 ---
One of the trends of the conference also began with Sido's talk – the concept that machine learning is rendering the 'one size fits all' theory of SEO (that you can apply the same techniques across industries and expect similar results) not only obsolete, but counterproductive. He made a convincing argument, for all those unaware, that SEO needs to become ever more bespoke to avoid failing.
I was delighted to welcome Omi as one of the new additions to a speaker line up with some familiar faces; the man is a thoroughbred practitioner of technical SEO and a fantastic speaker from whom the hundreds of gathered marketers cannot have failed to take something new and exciting.
---
Want to see what the agency behind the successful Benchmark Search Conference can do for your brand? Contact us today, or check out our library of resources. For more Benchmark goodness, all talks and slide decks are now also available on the Benchmark 17 page.
Share this: