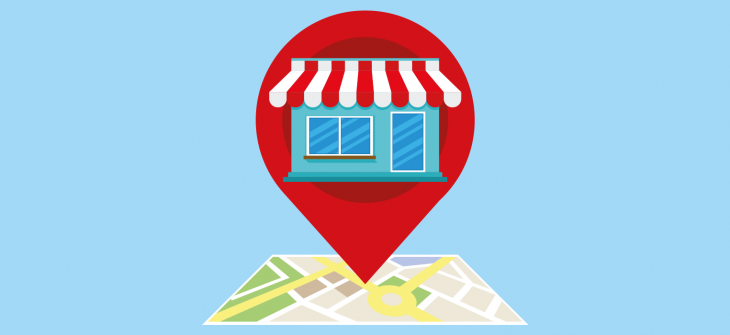 The rise of hyperlocal search marketing
There are several topics in search marketing that come up over and over again and one such example is personalisation. Users want to be targeted with the correct content at the correct time and, when it comes to the results that are displayed on search engine results pages (SERPs), they are no different
---
Users want information that best serves a need and a major part of this is to do with advanced local searches or hyperlocal searches.
Imagine the scene – you are at home and want to head out for dinner. Your search might appear similar to the following:
---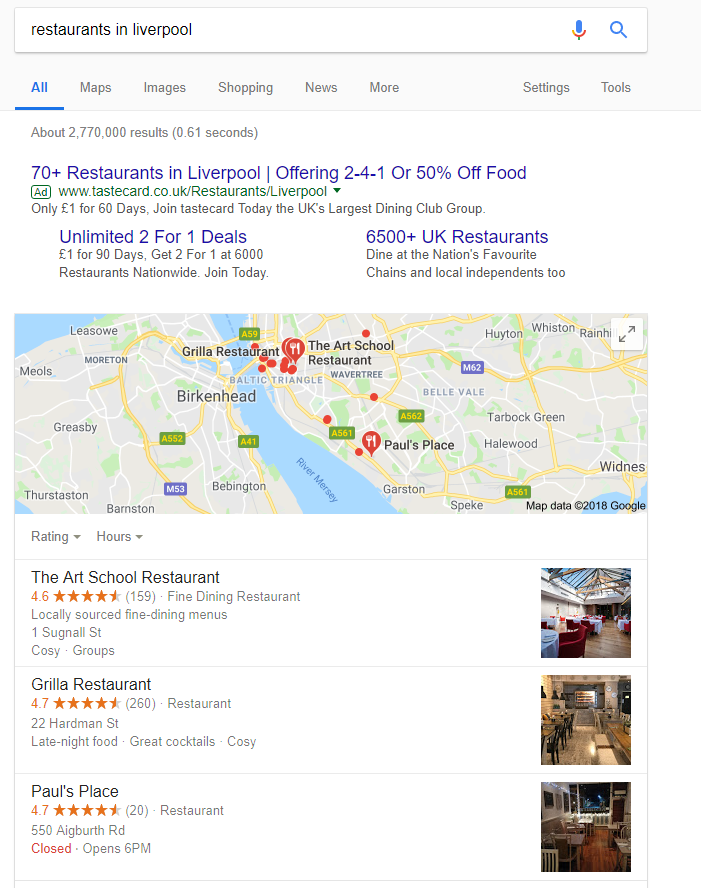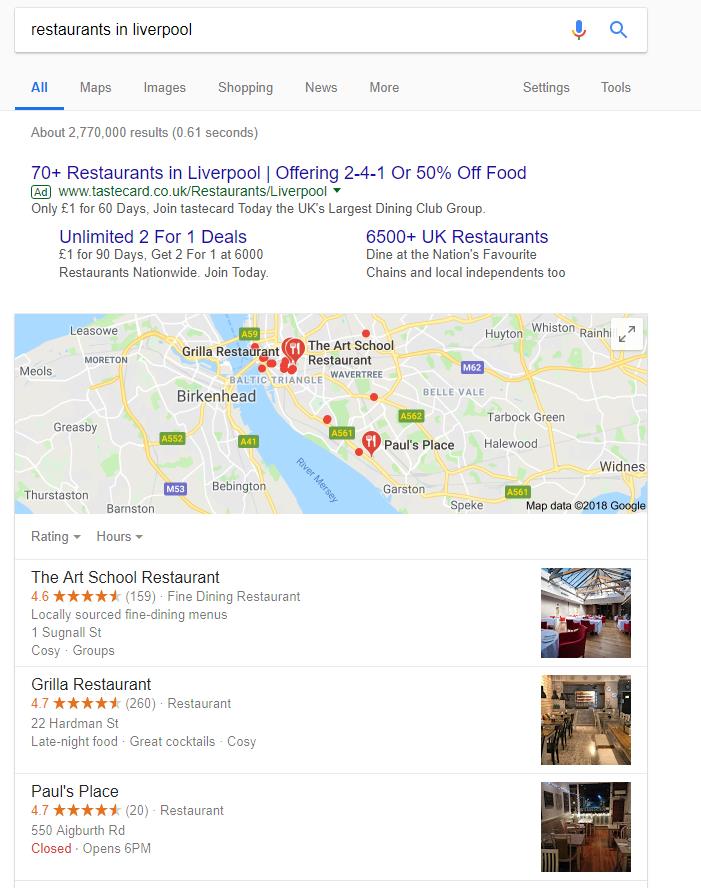 ---
With the advancements in technology however and with location services more accurate than ever there is now a precedent for a hyperlocal search which means you can look 'on the go' for businesses that best suit your need and which are in your vicinity. We have covered extensively the importance and indeed the shift towards a Mobile-First environment and how this is perhaps the most significant development in recent years. A search in this format might display the following results, for example:
---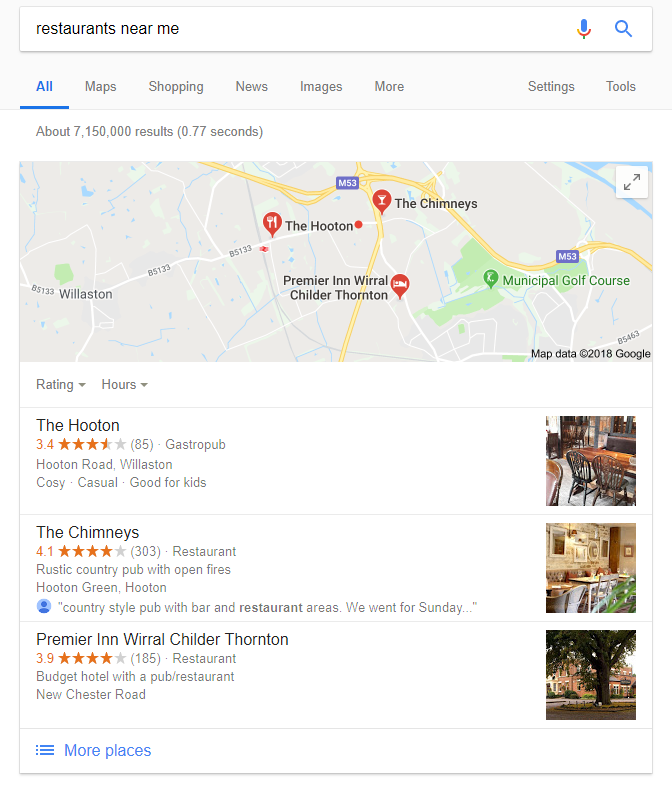 ---
We have covered extensively the importance and indeed the shift towards a Mobile-First environment and how this is perhaps the most significant development in recent years.
With the time poor, information rich nature of the users searching habits it is no surprise that they are using both mobile search and local search more frequently. Google has adapted to this and over the last few years paid particular attention to how searches with hyperlocal intent are displayed and, indeed, ranked.
From a consumer perspective, the very reason that a search is conducted is for research purposes. Buyers want answers and access relating to where, how and when they can purchase and that doesn't change whether they are buying a coffee or a car. According to a report by Forbes Insights customers still like to do their research online but make their purchase instore (N.B. this is changing and will continue to do so). In their study "A Split Screen: Online Information and a Human Touch," customers prefer to mix technology and in-store visits for major purchases.
It also found that nearly 50% of retailers surveyed said that their customers are looking for an 'omnichannel' shopping experience. In terms of those using a search engine prior to buying and choosing where to buy from the number is 82%, which shows the sheer power of being at the top of SERPS for your most relevant and your industry's most competitive keywords.
For businesses who are trying to gain local business with a local search strategy, Google Trends has identified the importance of utilising the 'near me' suffix to searches as is displayed below:
---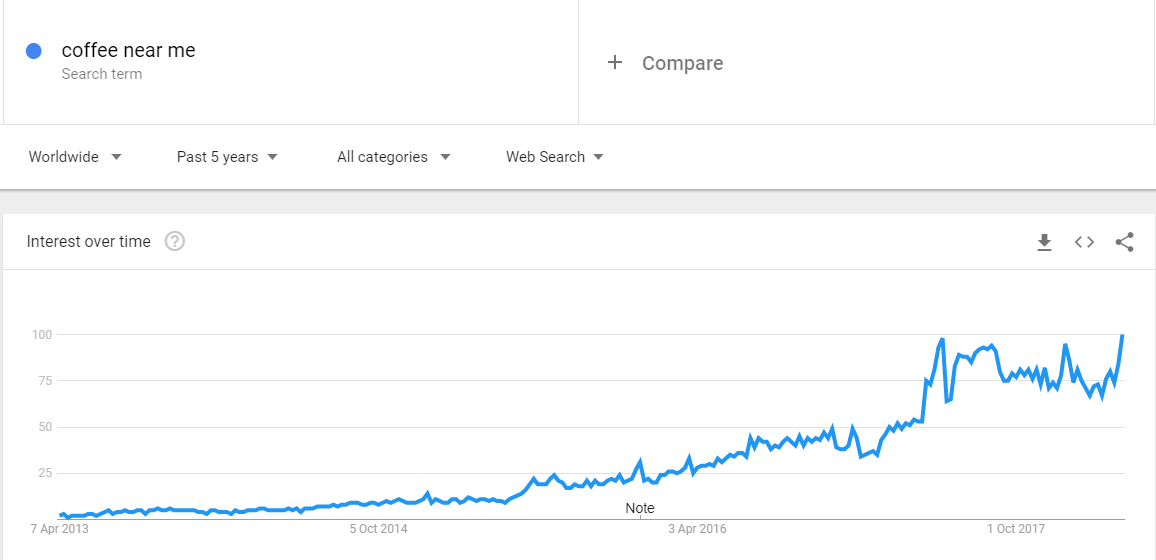 ---
This search for 'coffee near me' is on an upwardly mobile curve and this directly correlates with the idea that mobile search and local search have been given a greater level of importance over the last five years. This phenomenon is sure to continue and, in reality, I'd say it's highly likely that instead of being one way of conducting a search I feel it will become 'the way' to search and with Mobile-First finally being announced in March 2018, the shift will continue to turn this from a mobile marvel to standard practise.
Google has acknowledged that insofar as the has the following to say: "Across our client base we are still seeing more than 50% of the traffic from these queries coming from desktop — and more than 80% of the clicks but there is a shift".
Trying a different search, this time for 'shoes near me' the results are very similar (see below) and simply looking for 'near me' also shows the upward trend.
---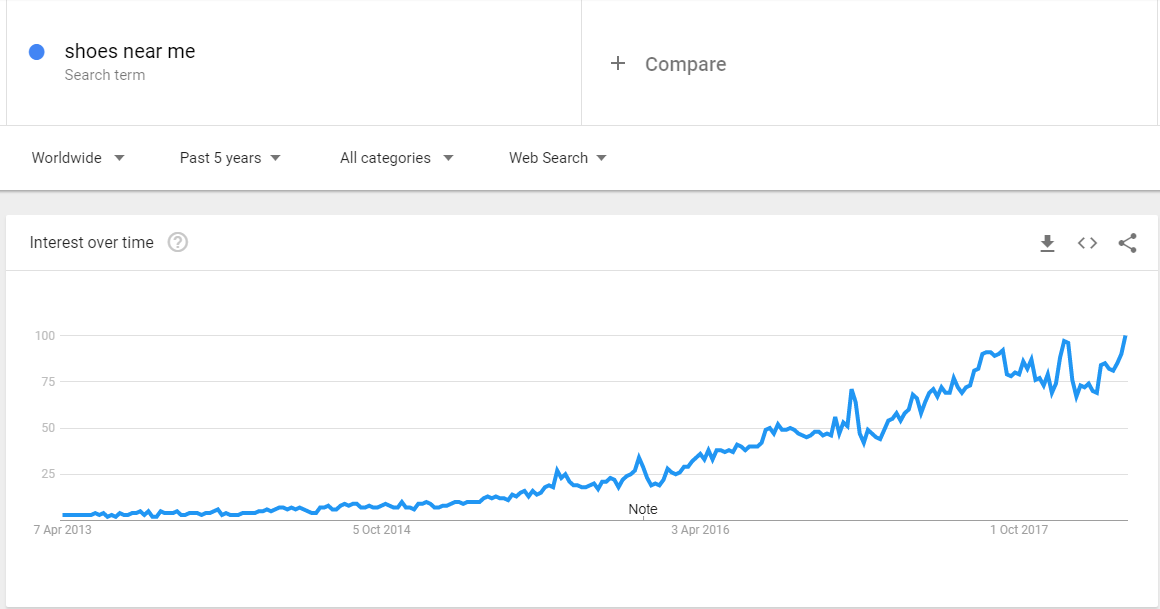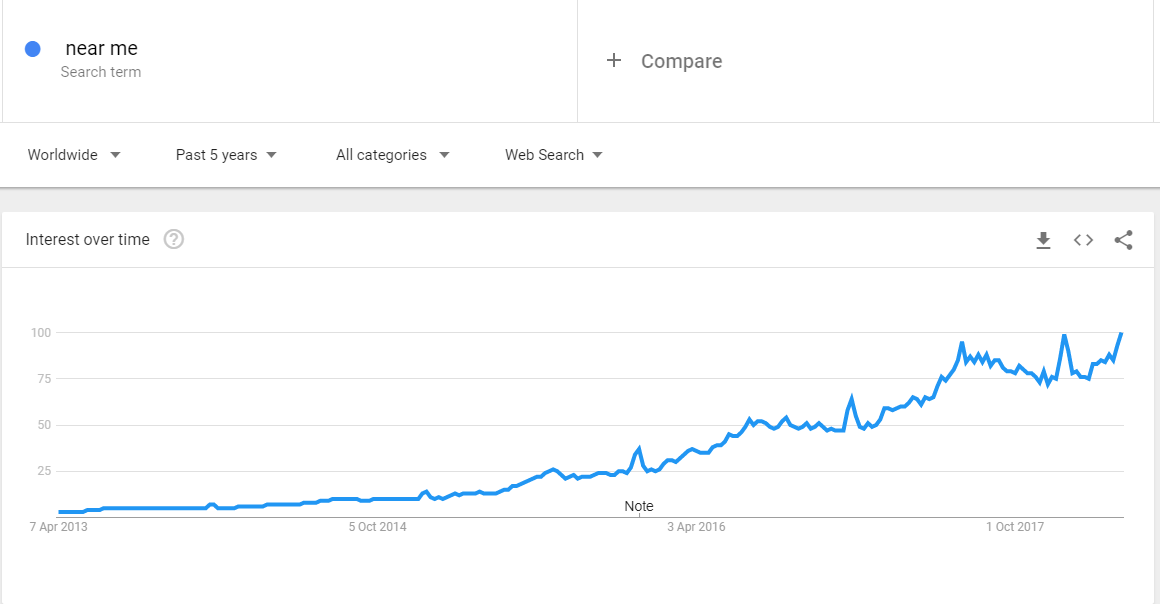 ---
If we also go back to the search relating to 'coffee near me' you can pull some additional data and see related topics and queries which can help you to build out your keywords strategy.
---

---
What are the 'near me' ranking factors?
'Near me' queries as a whole are a relatively small (but expanding) part of local search volume, but these searches are clear signals of local intent and consequently represent high-quality traffic for businesses targeting locally.
In a statistic-led study of Google's Local SEO Ranking Factors report by Search Engine Land, they found that when looking at ~600 searches, which included ~6,000 Google My Business (GMB) pages, as well as the corresponding domains/pages that the GMB pages linked to, the following factors had the strongest positive correlations with ranking well in Google's and 'near me' searches:
Google reviews
Total number of backlinks with searched city/region in the anchor text
Percentage of backlinks with searched city/region in the anchor text
They also found that link metrics were some of the strongest indicators of good rankings, so it's not surprising that they also matter for 'near me' queries. The example that they used was that TripAdvisor have an aggressive use of 'near me' in internal link anchor text may be one of the reasons those URLs rank so well for local queries:
---

---
One area where there was a differing of opinion in terms of ranking factors was in relation to distance as a search ranking.  The search below shows a selection of coffee shops near to the searcher. These are sorted apparently by distance.  Yet when you expand the results in the second image the distance does not become the natural order proving that although it is the primary factor for the users it is not the primary result that is displayed.
---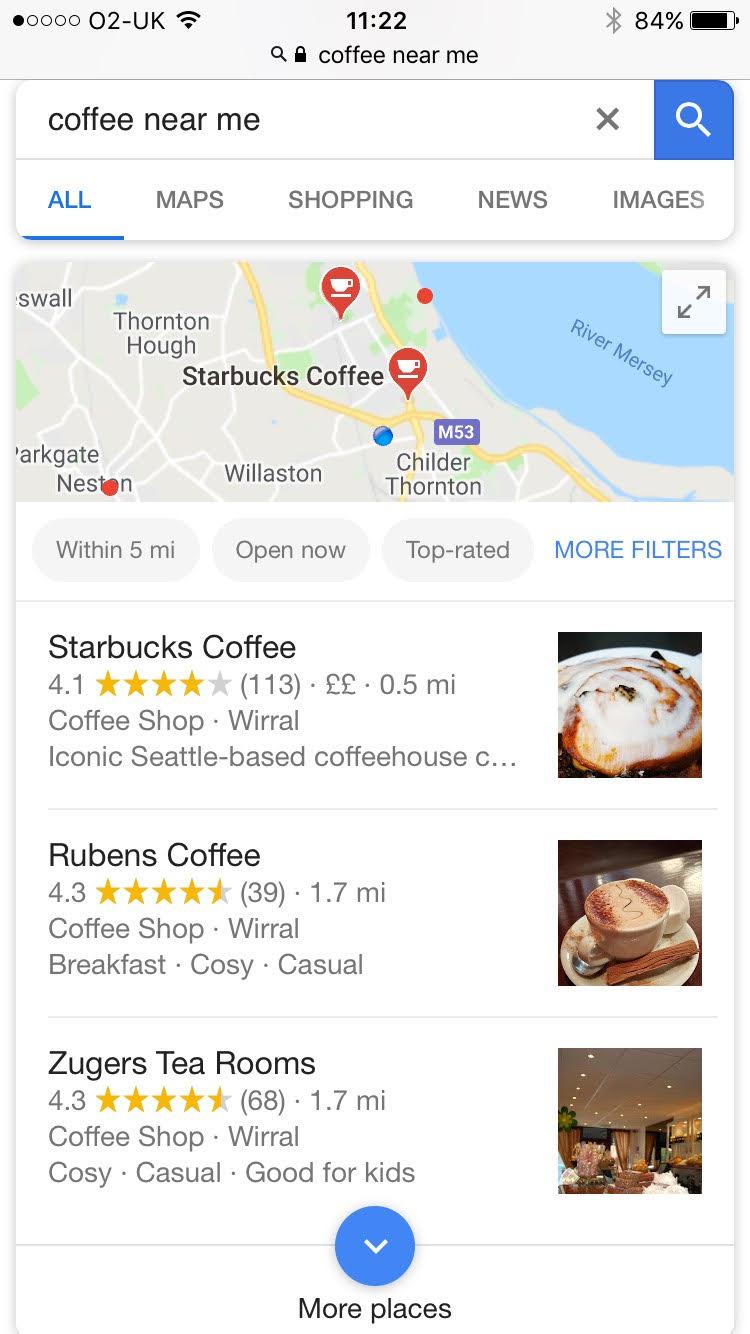 ---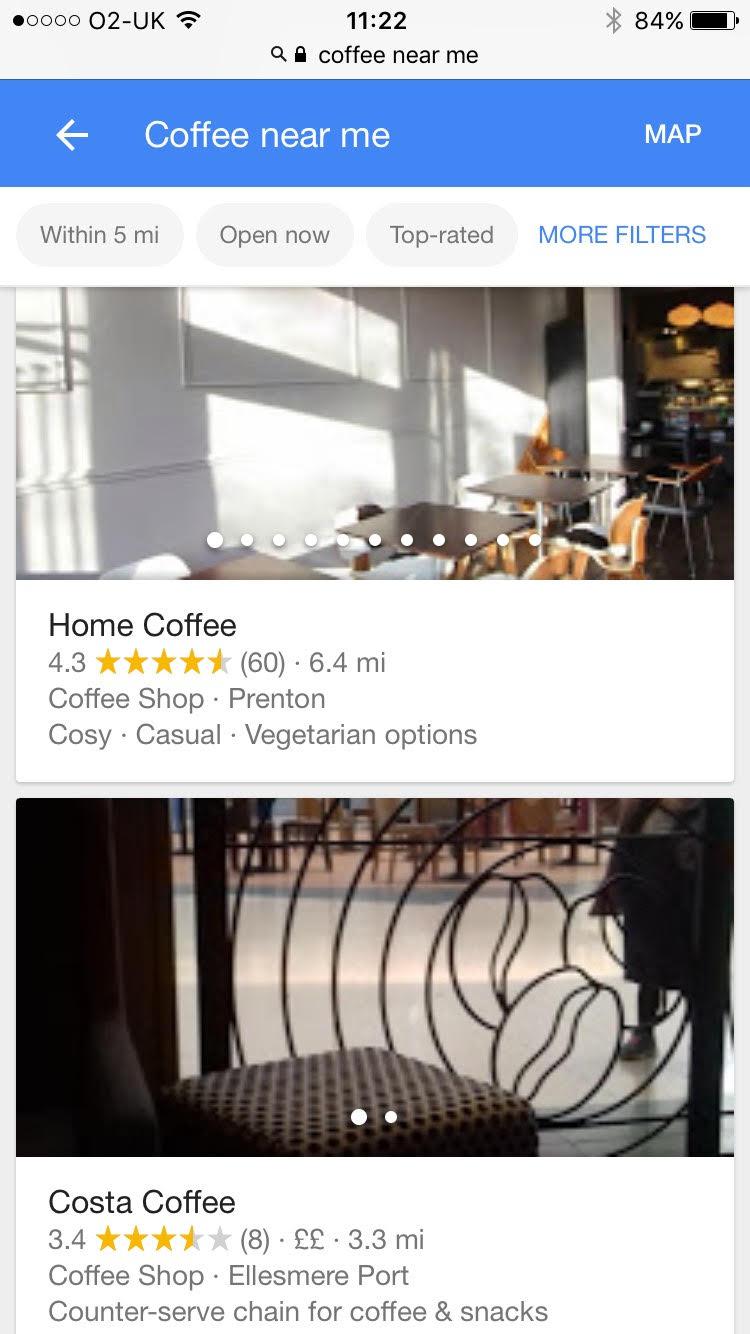 ---
Indeed it appears as though the GMB ranking carries more weight.
Moz, a respected authority on Google's ranking criteria, collects data each year from industry experts about what they believe are the main local search ranking factors and assigns each of them a weighting:
---

---
How to be 'hyperlocal' ready
Getting started with hyperlocal SEO is all about ensuring it is easy for Google to know your business is relevant to hyperlocal searches. The best way to ensure that you are prepared is to follow these steps:
Set up your Google My Business profile
With a log in/sign-up page that promises to help you 'Manage', 'Connect' and 'Understand', Google My Business seeks to be a hub for a number of Google's small business products including (but not limited to) local listing info for maps, Google reviews, 'Insights' and the latest addition 'Website'. The platform (not to be confused with Google Business Solutions) is a good starting point for any start-up looking to hit the ground running.
By signing up to Google My Business you can tell Google directly the name of your business, the exact location, what it does, opening times, what it looks like (upload your own images), and many more attributes.
It is of particular relevance to the map results and the 3-pack listings. For instance, Google smartly tells the searcher whether the business is open or closed right now and pulls out images to give users more of an idea of what to expect.
In order to view performance in a hyperlocal environment GMB also offers a huge amount of data in Google Analytics, so you have the stats to back up the strategy.
Not only does Google My Business make it easier for it to know what's what about your business, it also improves the search experience for your customer – giving more 'at a glance' information than the traditional SERPs listings do. What's more the service is free to use.
Reflect hyperlocal terms in your on-page content – An important aspect of local SEO is ensuring that the copy across your website is high quality and extensive. In the case of local SEO, this must be the case on all local pages on your website.
Location-specific landing pages should ideally be 300 words in length and include information about the local area. If you have multiple local pages on your website, you have to ensure that each page has unique content.
Once you're sure of your hyperlocal term, make sure it is reflected in your titles, descriptions, body text, alt. text of images etc. so when Google crawls this content – and potential customers read it – both know your business is there.
A top tip from searchenginewatch on this is that if you are located near a well-known place or landmark (university, sports stadium, monuments etc.)? It might be worth reflecting this in your onsite content.
Please use schema markup – When optimising your website for local SEO, it's critical to optimise your website with semantic markup. For local businesses, the markup of important information such as the business address, telephone number, opening hours and map data is important as it allows Google to understand the context of the information shown on the page.
By including the relevant markup, you can make Google's job of displaying the necessary information and call-to-actions about your business even easier.
Currently Google accepts markup for (among other things):
Opening Times. Even down to seasonal changes
Including latitude and longitude
Restaurant-specific properties. Such as food served, how it can be delivered, how to reserve a table etc.
Consider adding markup to the content pages on your site as a best practice accompaniment to the information in your Google My Business profile. It will ensure that when Google is crawling your site, it will deliver the most trustworthy, up-to-date and relevant information.
An example of local schema markup, using Schema.org, and the corresponding local listing on Google can be seen below:
---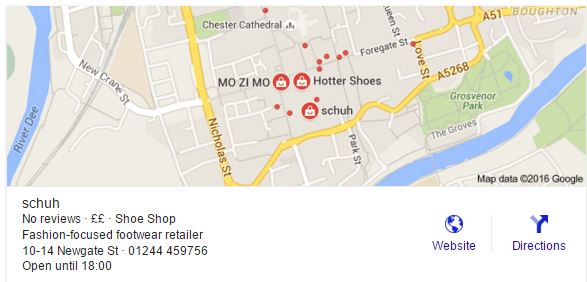 ---
It might also be worth noting that if you have multiple locations then make sure that you make landing pages for each of the sites. This will maximize your appearance in search and allows you to optimise the content further.
PPC impact of hyperlocal search marketing
Although there are many businesses that feel the reason that their organic performance has improved is because it is in line with their increase in PPC spend, we have to say that this is a myth. The correlation is not proved but that doesn't mean that it shouldn't be a consideration in your strategy especially in terms of Google Maps and branded pins.
Branded Pins are the next stage of mobile marketing, incorporating Google's highly used Google Maps. Advertisers have the opportunity to display as a 'pinned' location on the map. This is perfect for such moments as when a consumer looks up directions to a meeting, allowing available coffee shops to advertise en route.
When touched, the pin expands to provide the user with all the key information a mobile user would need: directions, address, phone number, opening times, in store promotions and product inventory searches. This connection is the strongest so far made available between the digital and the physical in terms of marketing. By combining such features with the developing 'store visits' metric, marketers will now be able to begin to quantify the effect of these features.
When it comes to this form of geotargeting there are also benefits in terms of PPC not just SEO Google, Bing and most display networks support geomarketing and are able to serve ads to the user based on their location. If the search conducted is for an Italian restaurant then future ads for similar restaurants can be served based on where the device is connecting from.
Businesses can also use location as a type of remarketing/retargeting strategy. To do this, businesses can use indoor proximity systems. These devices use Bluetooth technology to communicate with nearby mobile devices.
This type of technology could benefit stores, events, or any other kind of local business that wants to communicate with its customers in real time. It allows these businesses to gather insights while highly personalising the content based on their shopping or event-going experience.
To make the most of this kind of system, you can offer incentives to customers who provide you with feedback. Just send a quick message like, earn a voucher,' or 'earn 25% off your next purchase.'
Keeping the message focused on the incentive can attract people and help to create loyal customers in the process.
Social media impact of hyperlocal search marketing
With nearly 3 billion social media users all over the world, it's a given that the social media marketing must not be ignored by businesses. Hyperlocal marketing is the type of marketing, which is aimed to reach potential customers within certain areas but knowledge hut suggests that: "Brands must think global and act local, and their social media marketing strategy must be modified accordingly."
There are five main reasons why a business particularly in retail can benefit from this type of strategy and in the latest study by Martech they picked up on the following points:
Reach out while your prospect is attentive – Hyperlocal Social Monitors can act as both active and passive method of communication. If a user posted a Tweet online, there is a small time frame (approximately 2-3 minutes) where the user is expecting a response, voice, or an opinion to that post. If retail firms respond within that window, they'll receive the full attention of the customer. The response must provide a call to action, or build a conversation.
Personal triumphs vague – Marketing is effective when it is more personalised and relevant to the area in question. Build a more intimate relationship between the brand and the customer.
Targeting social influencers –Hyperlocal Social Monitors provide necessary tools and features that will provide deeper insight into the social media user or customer. Rewarding influencers will be the simplest and best way to reach out to new local customers and empower the brand locally.
Point of sale is key – Customers use social media to reach out to the world to receive an opinion of what they wish to purchase. Encouraging purchase, through sharing the sales for that day, or reward points received. Customers are not always aware of great deals, and for them to be informed will increase UX.
Measure success – Few Hyperlocal Social Media tools provide the functionality that enables businesses to measure the success of their social media strategy. Combining social media data (sentiment, influence, reach) with retail metrics, means it is now possible thanks to cross-platform technology – such as APIs and cloud technology to get the best results and adapt your strategy.
Final thoughts
When it comes to the impact of adopting this kind of strategy has on your business is quite clear. Smallbiztrends said: "You already know that location is paramount for local businesses. But it isn't just your storefront's location that can make a big difference to your business's success. Location can also have a big impact when it comes to your market research efforts.
For instance, the questions you would ask someone who is in your store would differ from the questions you'd ask people who are just nearby. And the questions you would ask people nearby might be different from what you would ask those outside your direct neighbourhood or city."
This sums it up nicely. You need to be an adopter if you haven't already, you need to be. Look and test different strategies if you are to attract not only those who are directly in your area but those who are passing by. These impulse sales can mean big profits and the ROI of a hyperlocal strategy is not to be sneered at.
With a Mobile-First, local search strategy you may also intercept potential sales if you can target those in an area close to a rival company. In the future I'll look at producing a whitepaper on this sort of strategy and will look into the businesses that are best served by moving forward with this approach.
---
Click Consult are committed to staying ahead of the curve, if you want to see what we can do for your brand, contact us today.
Share this: