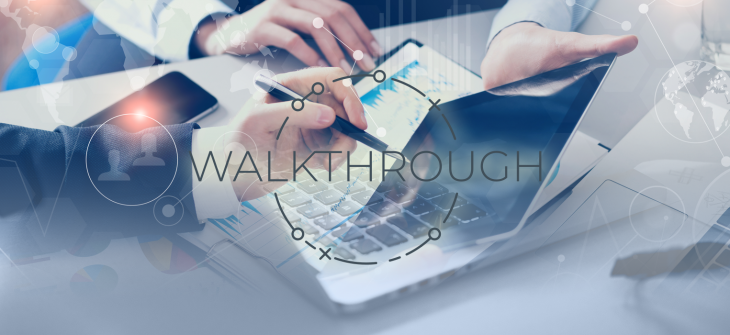 Setting up an ad campaign on LinkedIn
LinkedIn is fast becoming the darling of social media advertisers, with 42% of media buyers planning to increase their ad spending on the platform in 2019 – and to move budgets away from platforms like Facebook and Twitter. While the latter are great for campaigns to drive reach and awareness, the potential for driving qualified leads via LinkedIn ads is huge. Here's a step-by-step guide to setting up your campaign
---
What really sets LinkedIn apart from other social media advertising platforms is its optimised targeting options, driven by the quality and detail of the personal and professional data members share in their profiles.
Want to focus on professionals in the education sector who are interested in technology and based in Scotland? Reach CEOs of businesses with more than 1,000 employees? Target management trainees who studied business at Durham University? As a marketer, you can really hone in and connect with specific professionals.
Ads are created on a self-service basis via the professional network's Campaign Manager, which allows you to set up and monitor everything in one dashboard.
Accessing Campaign Manager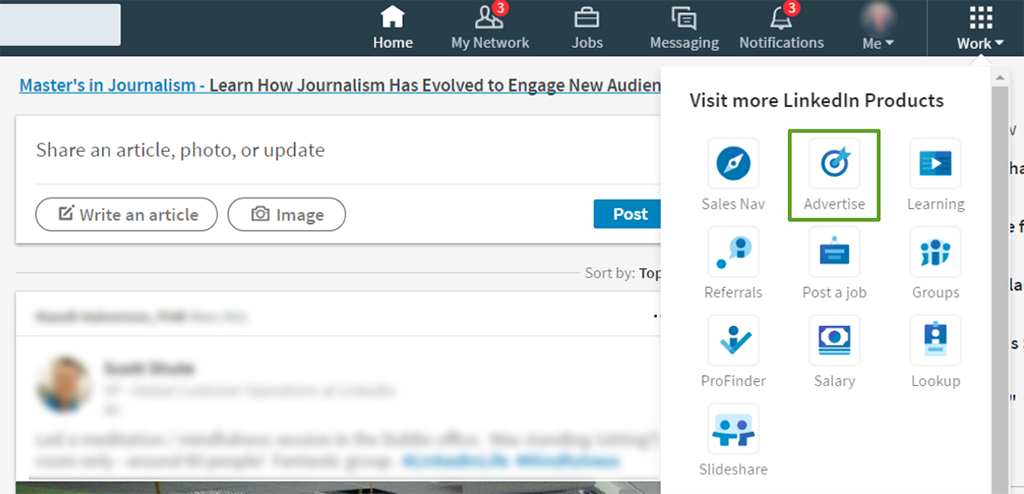 Select, Work>Advertising. Existing advertisers will be directed to the account overview page in Campaign Manager. New advertisers will be directed to a welcome screen prompting you to create a new ad account.
If prompted, use the same email address and password you use to access your personal LinkedIn account.
Campaign Manager is structured by Account, then by Campaign Group, by Campaign, then Ad: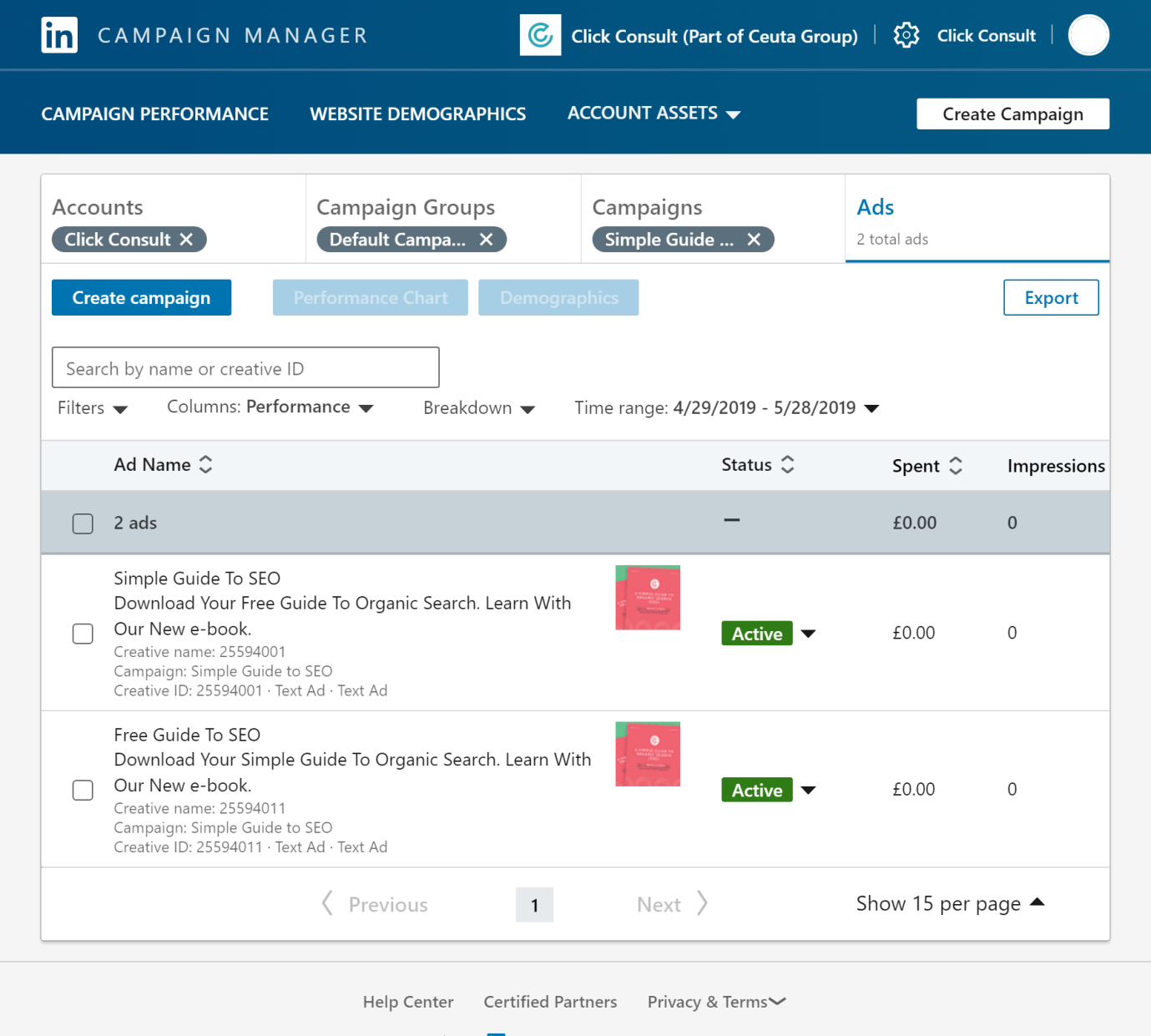 You can create multiple accounts for LinkedIn Ads campaigns, which is useful if you advertise on behalf of several companies.
Setting up a Campaign
Choose your campaign objective: awareness, consideration or conversions: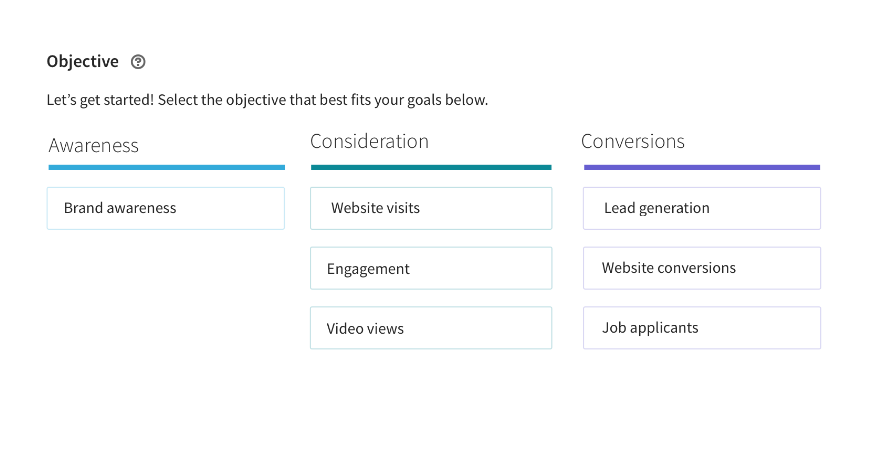 You'll then be taken to a screen like this: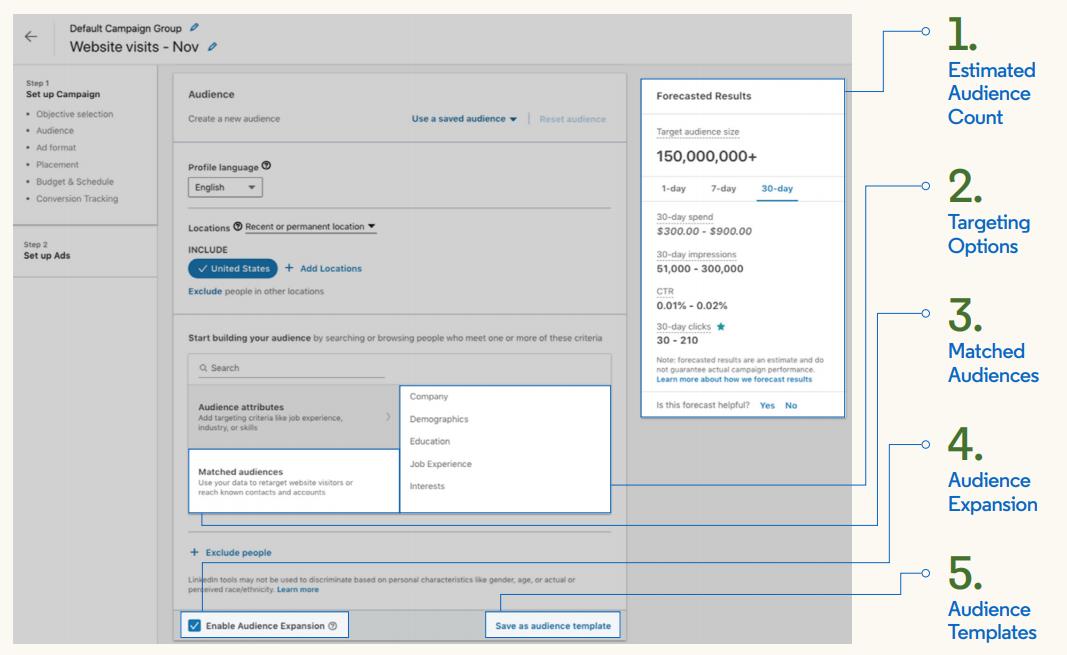 Name your campaign in the top left hand corner. These are only visible internally, so the more informative the name, the better.
You'll then be asked to select an Audience by selecting locations that you want to target (and/or exclude) and language. This is where it starts to get really interesting as you can get incredibly granular with your targeting.
Begin searching for audience attributes using targeting criteria like job title, industry, experience and skills.
Top tips for LinkedIn ad campaigns
Make sure your buyer personas are well-defined before you start. This will help you deliver the right messaging to a specific subset of LinkedIn members.
Combine the Job Function option with the Seniority option to reach decision makers with a specific expertise. For example, if you're looking to reach decision-makers in the IT function, try targeting the Information Technology, Engineering, and Operations functions and pairing that with a seniority targeting of Senior, Manager, Director, VP, CXO, and Owner.
Avoid limiting your reach by targeting only a few titles. When you begin entering a title in the tool, Campaign Manager will auto-suggest other relevant job titles that you may want to add. You can also broaden the scale of your campaign by targeting both current and past holders of a given Job Title. These members may have changed roles but still have a relevant skillset and be of interest to your business.
Company Size is one of the options where excluding options works well if your business caters to businesses in a specific stage of growth.
Before selecting Industry targeting, look at LinkedIn Pages from a few companies that fit your options to see which industry they fall under. Consider including all relevant industries in your targeting.
Before selecting the Groups option, to some research on LinkedIn homepage to find relevant groups. The larger and more active groups will typically appear at the top of the list.
Don't over-target as it could limit the scale of your campaigns and reduce performance.
You can also select from LinkedIn's audience templates, which are templates pre-populated with various targeting options to help you reach desired audiences more easily and efficiently.
Once you've filled all of this in, you can choose to save it as a template for future campaigns.
Set up a Campaign Group
Campaign Groups allow you to organise related campaigns, eg, those sharing target audiences, or marketing objectives, and to share common budgets, run dates, status and reporting for those multiple campaigns. You can create up to 200 Campaigns per Campaign Group
Click Create campaign group located under the Accounts tab.
Complete the fields for Campaign group name, Total budget, Start date, End date, and Status.
The total budget, start date, end date, and status act as limits across all the campaigns within that group.
Start date and status are required fields to create a Campaign Group. Total budget and end date are optional, but if you do set a total budget, the end date is required.
Matched audiences
This option allows you to use LinkedIn to retarget your website visitors, market to your known contacts from your databases and marketing automation platforms, and reach decision makers at target companies for your account-based marketing programs.
Website Retargeting: Target your website visitors with LinkedIn ad campaigns by adding the LinkedIn insight tag to your web pages, such as your homepage or contact us page.
Contact Targeting: Build a customised audience by connecting your contact management platform or securely uploading a list of email addresses.
Account Targeting: Run account-based marketing (ABM) campaigns by matching your target companies against the 8+ million LinkedIn Pages.
Setting a budget and schedule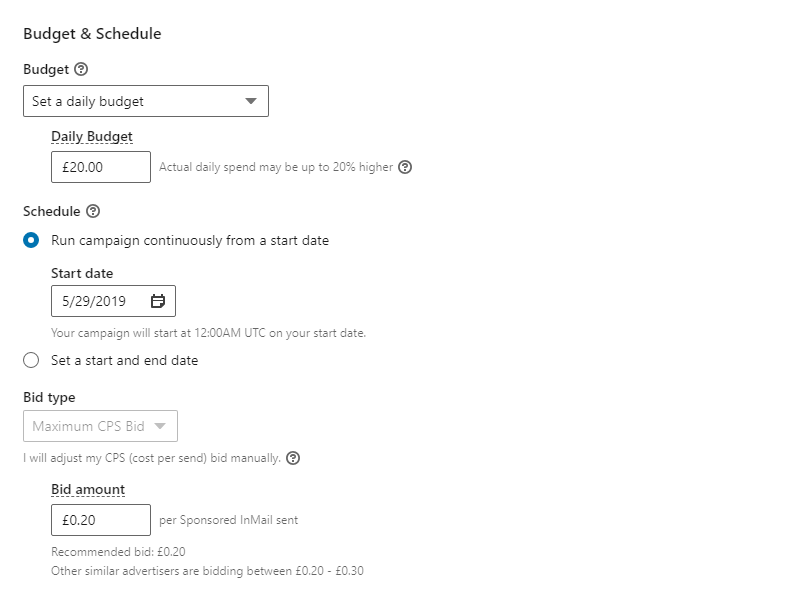 When you create a campaign in the Campaign Manager tool, you can set your bid, budget, and schedule.
Set a budget
For every campaign you have the option to set a daily and total budget. When only inputting a daily budget, you're telling LinkedIn how much on average you would like to spend on a daily basis. If you have a flexible budget, use the daily budget only option.
If you have a fixed cap on your budget, use the daily and total budget option. When using the daily and total budget option, you're indicating that you would like to spend a certain amount on a daily basis, but for us to never exceed your total budget throughout the lifetime of your campaign.
Across both options, daily spend can be up to 20% more than your daily budget. If you notice that daily spend is more than your daily budget, it means your campaign is spending more on days with more opportunities to hit your objective and bid goals. Factors such as seasonality, traffic, ad inventory and bid type can impact your daily spend. The flexibility allows your campaigns to drive the best results on busy days. If you add a total budget in addition to daily budget, we will not exceed your total budget amount.
Set a schedule
This helps to determine the lifetime of your campaign. You can choose to run campaigns continuously from a start date or set a start and end date. As with any other social advertising network, make sure to factor in the time it takes for the ads and linked websites within the ads to be reviewed.
Set a bid
For every campaign, you may choose Automated or Maximum cost bid type. Automated bidding uses machine learning to help you spend all of your budget as effectively as possible by getting you the lowest costs per optimisation event (The number of times your ads achieve the outcome for which it's optimised ) for your entire budget. This bid type aims to spend your entire budget as efficiently as possible. This is the best option if you want to optimise for performance at the lowest cost.
However, automated bidding is not available for campaigns that utilise the Job Ad or Sponsored InMail ad types.
Maximum cost bidding is best for staying at a specific cost per optimisation event. If you have strict rules about your bids, this option ensures better cost control.
The platform has stepped up its advertising game over the last year, adding new capabilities such as 'lookalike audiences' (targeted because they're similar to your existing customers – a feature pioneered by Facebook), and 'interest targeting'. So now's a better time than ever to start experimenting.
---
Want to learn more about how to get the best out of paid social on LinkedIn? Download this free eBook and learn how.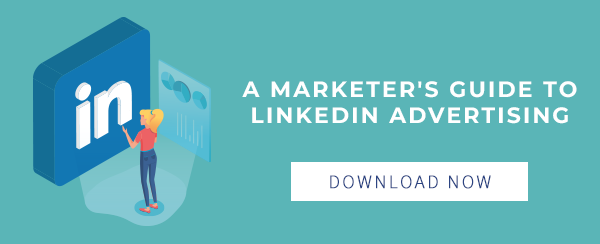 Share this: