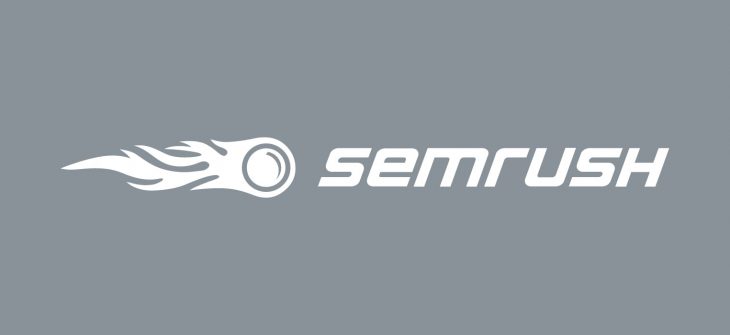 Setting up your first SEMrush project
I was asked to be a part of a SEMrush program looking for feedback and, in return got access to my own account, so while the agency already uses it frequently, I have the chance to muck about a bit, and as such will run through a few things as I go
---
As mentioned previously, Click already has a project set up which monitors our performance – but if I'm going to be poking and prodding I wanted to make sure I didn't break anything permanently, so my first task was to set up a project I can play with – and I thought I'd write up the process for anyone that may need it, with a bit of a review as I go.
To set up your first project, you'll need to select it from the left hand menu (in the Management section). This will take you to the below screen on which you can select 'Add new project'.
---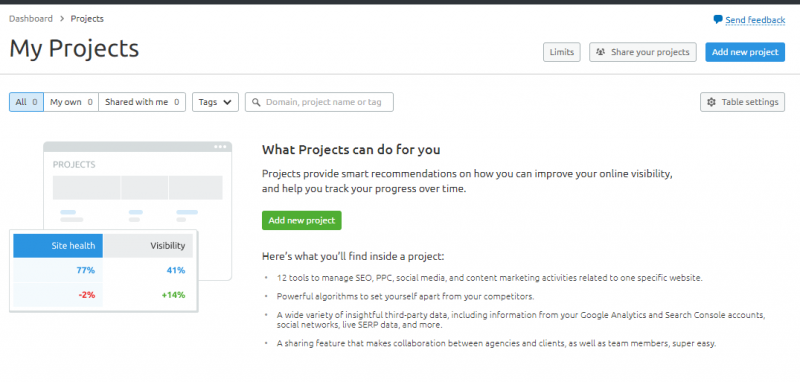 ---
You'll then need to name the project and supply a domain for the project.
---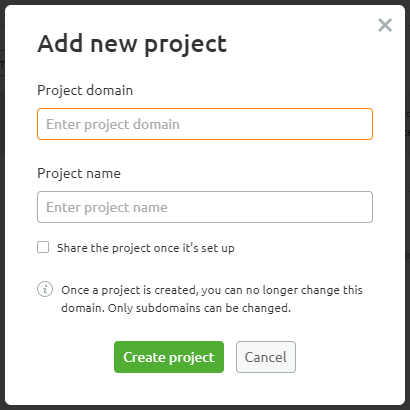 ---
Once you've named the project, you'll see it added to the table below.
---

---
This is where the projects get interesting. SEMrush has a host of automated audits that you can add to your project and, while no software is ever going to completely replace thorough examination by an experienced professional, these do offer a fantastic starting point. The first we're going to look at is the overall site audit.
---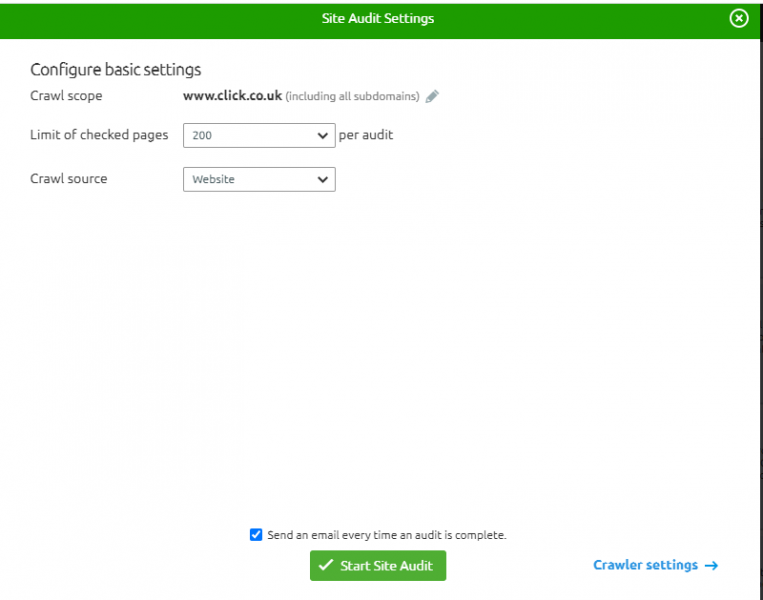 ---
There are a few adjustments you can make to the crawler first of all – useful if your site lacks the server capacity for a quick crawl (if it has had trouble with Screaming Frog crawls in the past, for example) you might want to limit it a little.
---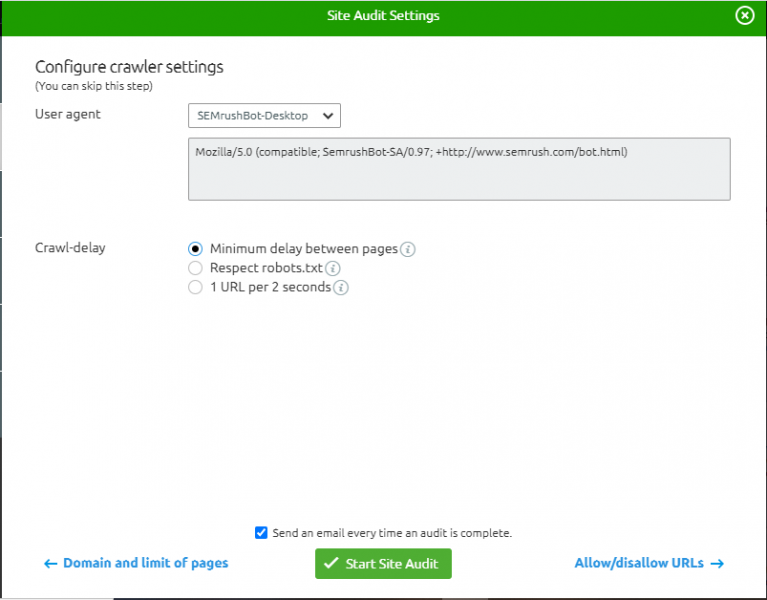 ---
This will give you a dashboard of various useful metrics and diagnostics – covering many of the basic SEO issues.
Once you've run your audit – and looked on aghast in most cases – you can move on to running one of the other tests. You can select 'return to dashboard' and there find a list of your other options. The next one I ran while setting this up was the position tracker, for which you'll need to again provide a bit of basic information for the set-up.
---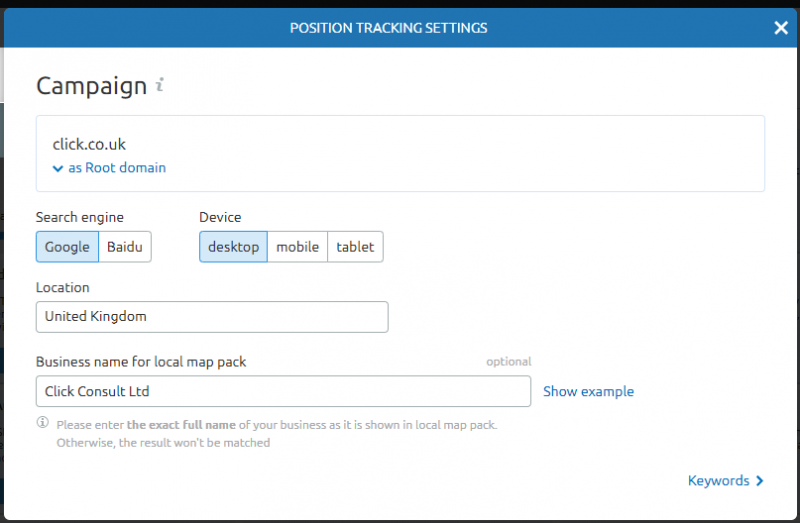 ---
Once you've done that, you'll need to import a list of keywords. This is the only part of this particular feature that could do with any real improvement – and it's generally easier to copy and paste the list into notepad to remove formatting and then from there into the box as the CSV import is less than intuitive. For example, the following image was a CSV import – registering as a single keyword.
---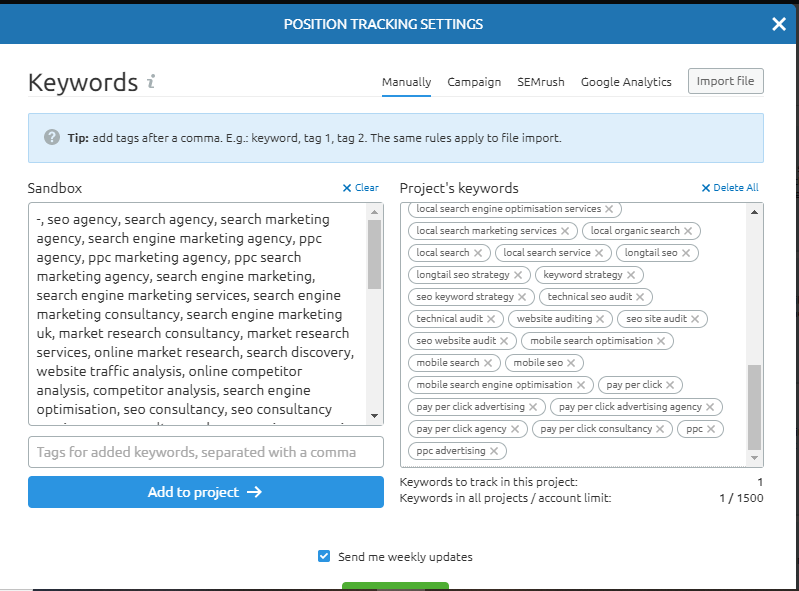 ---
While this is how it needs to be laid out for the keywords to register uniquely.
---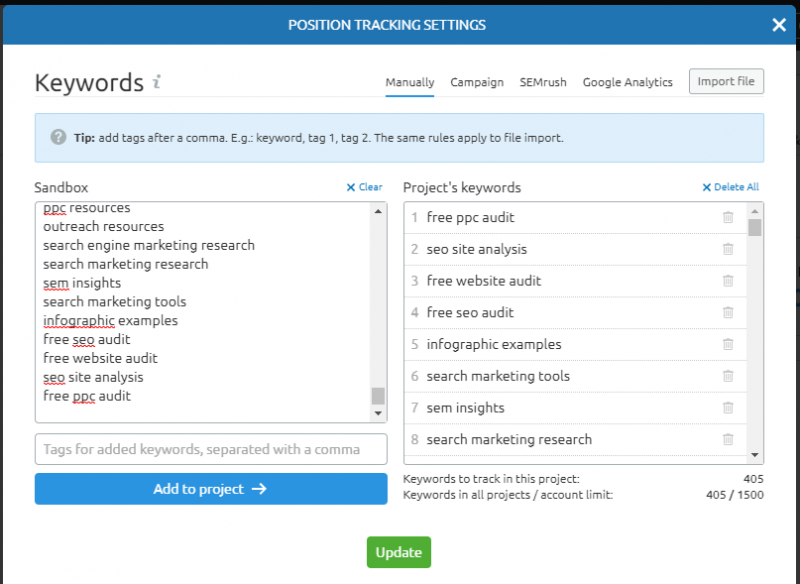 ---
There is also an 'Auto Import' option, which will return a useful batch (provided your site is generally content rich) if you've not yet got a list of keywords you're tracking (you really should have a list of keywords).
---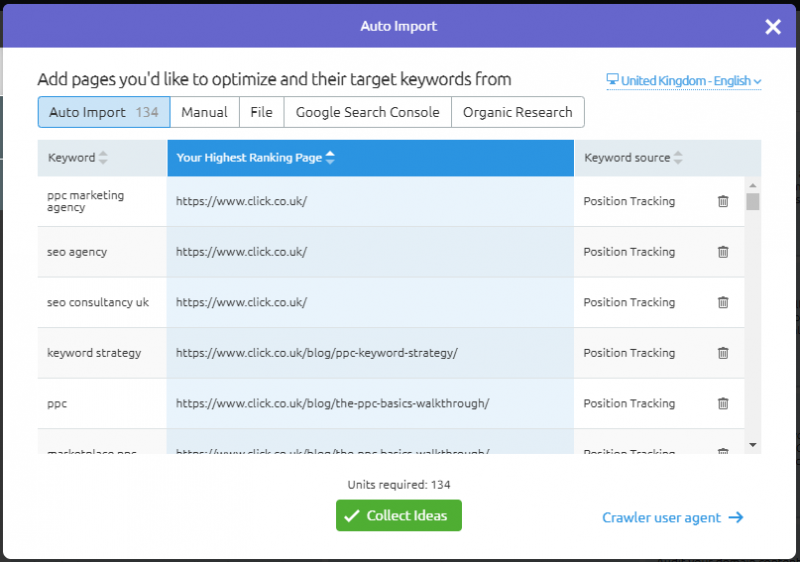 ---
This all leads to another dashboard with more reports – the depth here is really nice, and features a host of charts and reports that will help both with diagnosing issues and with making the case for investment. This includes a 'canibalisation report' which returns the pages on your site ranking for the same keyword – this is a recent beta addition, and looks like it could be quite useful. Then there are traditional competitor charts and tables to help you see where you are for your designated keywords.
---

---
Next up is one of my favourite features of the SEMrush tool – the 'On Page SEO Checker'. While it's not perfect (nothing ever is), there's a lot there for those with an interest, like me, in content. The report offers a lot of pretty in-depth analysis which, while I the numbers for potential seem optimistic, the ideas (each a clickable link to a drill-down) are fantastic resources.
---

---
The next in the sequence of reviews is the social media tool – which, with permission, does many of the things you'll find on tools like Sprout or Hootsuite from tracking follower counts to enabling posting and scheduling.
---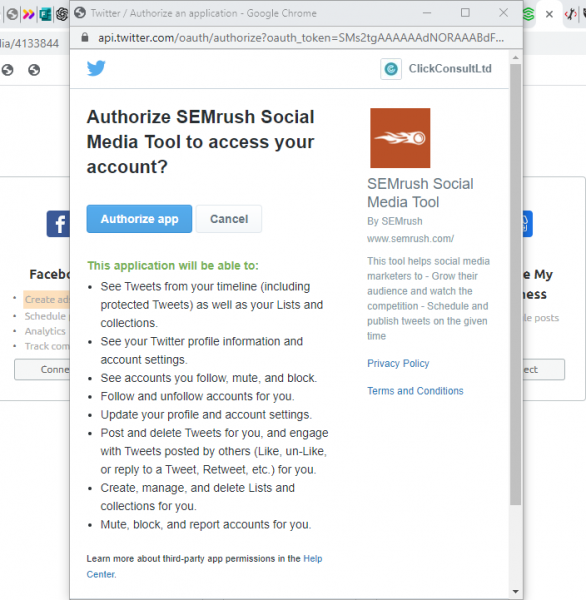 ---
The campaign and brand monitoring options are also great resources and, again, while it doesn't find all mentions, or all backlinks, the review serves as a great base to begin further research from – and having used some of the more expensive brand and sentiment monitoring software on the market, there is surprisingly little quality difference between the insights here and those from extremely expensive brand monitoring SaaS.
Again, with minimal information and settings to adjust, there's a host of really useful insights that will provide a starting point for more intensive reviews – but equally, that will be a perfectly functional way for brands that don't want to shell out for multiple tools.
---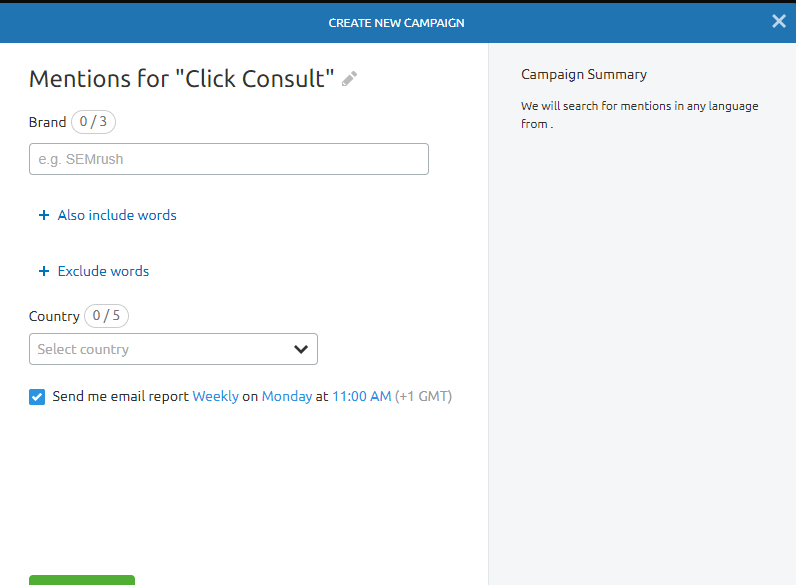 ---
Backlink analysis comes next (again, requiring little setup) – and, again, I'd say that multiple sources would be recommended for a full review of backlinks. However, there is absolutely no reason that this shouldn't be one of the tools used to export links to investigate and the facility to directly connect Google Search Console and import others makes this a good analysis tool also – with the standard traffic light method to indicate the relative danger of various domains.
---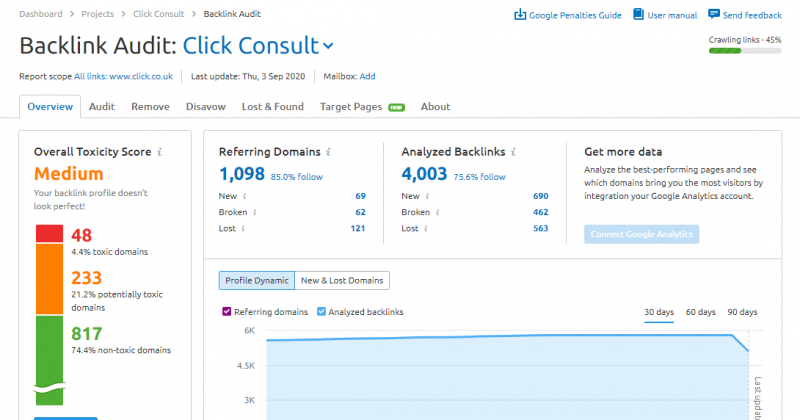 ---
The 'Domain Prospects' report offers a list of potential outreach targets – while for Click Consult, a lot of these are direct competitors, there are sites in the list for which I have written previously and with which we've worked. Again, it's not perfect, but it's a great starting point.
---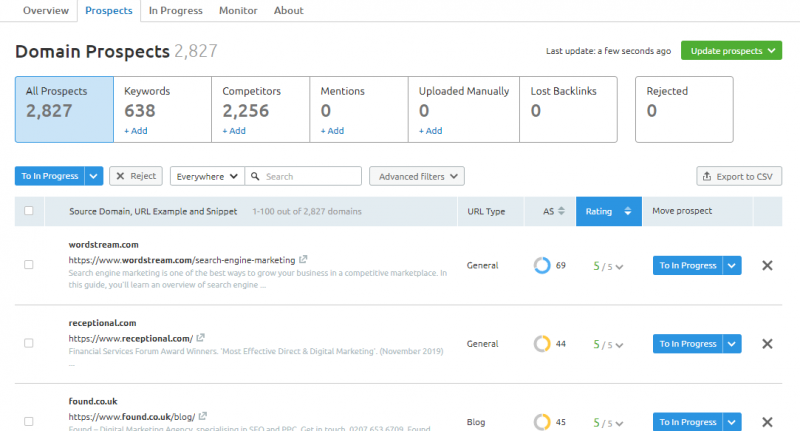 ---
I'm going to skip the next three reports – the first two being paid search reports which I may cover at another point and the third being the Organic Traffic Insights; the reason for skipping the latter is simply that it is inaccurate to the point of being useless. It may offer some minor utility if you're looking up competitors, but for your own brand – or brands you manage – you should always be looking to Google Analytics for this information.
So the final report is the Content Analyzer report – this one I quite like and, while again you can take the numbers with a pinch of salt, the advice and analysis on offer is really very good. Again, the setup is limited to the provision of the URL and clicking a button and the result is a useful set of diagnostics on your site's content and suggestions that fall in to three categories – rewrite, update or review.
The constant refrain applies here as much as elsewhere – this is not the gospel truth, but it's a great place to start. Use your common sense – if the tool says delete or rewrite, take it as a suggestion, think of ways you can improve it, look at the on page optimisation report for ideas as to how you can enhance the page or combine it with other pieces.
---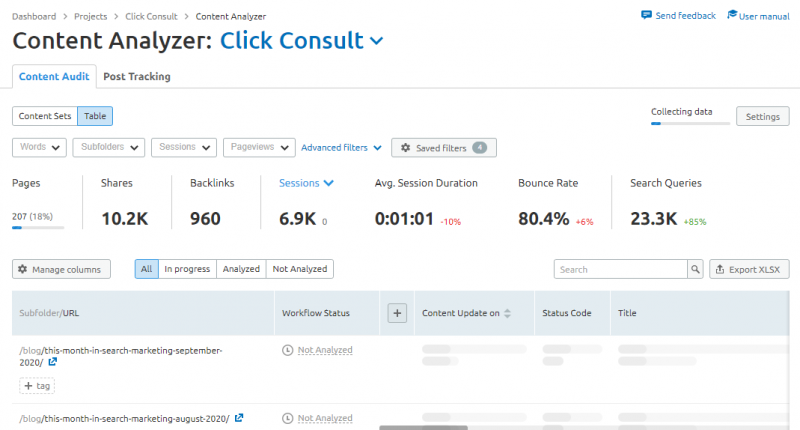 ---
Overall
I like SEMrush and the access to this tool they provided is extremely welcome, but the former is in no way influenced by the latter. In an ideal world, brands would be able to use every tool and make decisions based on the complete picture. However, the 'Project' report suite is just part of the SEMrush tool and is, on its own, an excellent set of reports for brands that want to improve their online performance.
No tool in digital is the best at every aspect of digital marketing, but SEMrush performs at enough of a high level at each aspect that it can be considered a good investment for brands that can't afford multiple tools.
---
Follow our blog for the latest news, techniques and views in the industry – or contact us today to see what we can do for your brand.
Share this: