Sports supplements on the SERPs
In today's industry analysis, we'll be looking at the organic search performance of the sports and bodybuilding supplements online marketplace. In particular, we'll be looking at one company doing almost everything right and considering what three competitor companies can learn from its success
---
The websites we'll be analysing are…
– www.myprotein.com
– www.sci-mx.co.uk
– www.phd-supplements.com
– www.onacademy.co.uk
Let's begin with MyProtein. According to the search visibility graph below (from www.searchmetrics.com), the MyProtein website is flying, with better than ever organic search engine visibility of almost 8,000.

In comparison to the competitor brands also analysed in this report, MyProtein is the market leader, with the closest competitor achieving an organic visibility score of only around 1000.
So how is a single brand so much more successful within the online sports supplements market?
Put simply, MyProtein is doing almost everything right. They're doing everything by the book regarding Google's webmaster best practice guidelines and the following report attempts to demonstrate the outcome of Click Consult's search optimisation analysis for each website, highlighting threats and opportunities where appropriate.
---
On-page technical
Titles
Let's start with the SEO basics: 'meta titles'. The typical format for category and product page titles uses the keywords of primary importance, followed by a pipe or hyphen and finally, the brand name. This format is implemented by all websites, with the exception of PhD supplements. PhD not only uses a title that is massively over the character limit at 145/56 characters and is keyword spammy, but they also duplicate this across all pages! This is definitely considered to be against best practice guidelines, because the title is seen as arguably the most important on-page factor for indicating the keyword a page wishes to rank for to search engines. Therefore, PhD really should be creating a bespoke title for every page of the website.
Head tag
The H1 is optimised effectively by MyProtein, targeting the same primary importance keyword as targeted by the meta title, whilst www.onacademy.co.uk used their brand name of Optimum Nutrition. The page structure of PhD did not allow for the optimisation of a header one tag. Finally, Sci-Mx was the worst offender for this element. Their H1 tag was hidden using a display:none' property, and therefore could be considered by the major search engines to be committing the sin that is hidden content. Although this may be an honest mistake by the developer to ensure perfect page design, they have nevertheless hidden the header tag, and this can be seen by the major search engines as a manipulative practice and, if scaled, can be worthy of a Panda related penalty.
Category page content
In assessing the quality of each website's category-page content, MyProtein and Sci-Mx scored well and supplied relevant copy written to a high quality, which answered the potential queries of users. MyProtein has supplied significantly more copy, totalling almost 900 words, compared with Sci-Mx's 241 words. For a product such as sports supplements, it is advised to gift users with as much information as possible, so as to satisfy their information search and make their purchase decision all the more easy. This is part of the reason for Google's Hummingbird update, which is intended to provide the best search results for conversational search queries. Conversational queries will usually include more than five keywords and therefore pose a very good opportunity to target long tail search queries through high quality content pages.To digress, PhD supplies no copy on their category pages and, perhaps worse, Optimum Nutrition has duplicated the content on their '/shop-by-sport/bodybuilding' page by taking several paragraphs from the '/articles/nutritional-demands-bodybuilding' page.
Product page content
All of the websites, with the exception of Optimum Nutrition, used between three and four tabs for their product page content and, encouragingly, all competitors enable these to expand down the page when JavaScript is disabled, in line with webmaster best practice guidelines. Again, MyProtein supplied the largest amount of copy, at over 1400 words, whilst each of the competitor sites provided only as much as 500 words. However, Optimum Nutrition also supplied a video which is sure to satisfy user engagement. The inclusion of a transcript for this video is webmaster best practice and may also improve the search engines' ability to understand the context of the page.
In assessing the on-page factors, we can already begin to see a trend, which highlights the importance MyProtein have placed upon providing informative, in-depth content for their users. It is likely this has given the website a competitive advantage. Providing the crawl robots with as much information as possible allows them to best understand the context of the page. In doing so, that page is more likely to rank in high positions for relevant search queries.
Our eBook A Simple Guide to Organic Search goes into more detail on using on-page techniques to optimise your site.
---
Social media
The table below compares social metrics for the largest social media platforms. This allows us to quickly visualise the dominance of both MyProtein and Optimum Nutrition's social presence, which is arguably crucial for the sports nutrition and supplements market.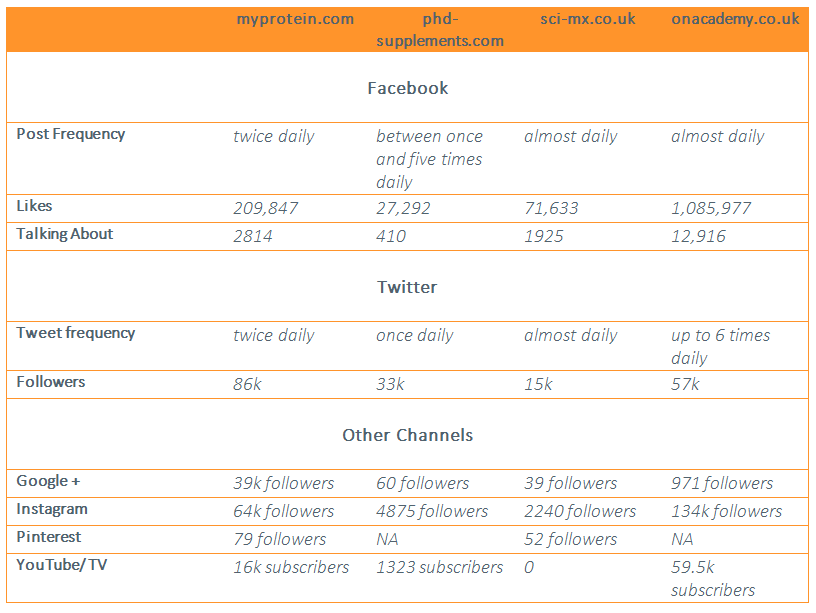 Starting with Facebook, we can see that users are highly engaged with this type of product, since only PhD has failed to attract more than 50,000 likes. It should be noted that the frequency of posts from PhD, at up to five times daily, may be infringing on the sacred news feed space of 'likers', and may have prompted users to 'un-like' the brand through sheer annoyance. PhD should revise their approach to be more in-line with the market, posting closer to twice a day.
Both MyProtein and Optimum Nutrition frequently update their Facebook pages with content that users find interesting and enjoyable, receiving high levels of engagement as a result. These posts include new products, recipes, sponsored athletes and events, and lots of videos/images. Contrarily, Sci-Mx is arguably more sales driven, while PhD attempt to apply a more user focused theme through their Facebook page, including posts about non-sponsored sporting events and humorous images.
The MyProtein Twitter page is somewhat an extension of their Facebook page, ensuring the largest audience reach possible is made. Users again seem engaged with the brand, posting their use of MyProtein products as they conduct their gym or sporting sessions. This is testament to the high quality of the product and has earned MyProtein a massive Twitter audience of over 86,000 followers.
The evidence of pursuing a visually-focused strategy for a large social following is clear when observing the use of G+, Instagram and YouTube by both MyProtein and Optimum Nutrition. Both brands post large numbers of images and videos on a large number of related topics, from sports nutrition conferences, to bodybuilding competitions, home selfies, promotional materials, reviews and how to videos.
The massive winner regarding social media is the utilisation of G+ by MyProtein. The brand has understood the potential importance of dominating this social platform and they have again extended their audience reach by almost duplicating their Twitter and Facebook activity on G+.
---
Link profiles
Whilst a high domain authority and large link profile can be the result of generating a strong brand and website, it can also be a sign of manipulative practices and should not be taken at face value. However, it becomes apparent from the screenshot below that, in the case of MyProtein's backlink profile, hard work has prevailed.
The above screenshot shows the associated risk for all domains linking back to the MyProtein website. Sites with a high number of above average and high risk links should conduct an audit of their backlink profile and remove links which they feel may be perceived as 'spammy' from the perspective of the search engines, in order to avoid penalisation from future search algorithmic updates.
The screenshot shows that MyProtein's backlinks are very much healthy and naturally generated, with the majority falling into the below average, low and very low classifications. This backlink profile is ideal and should be seen as a benchmark in quantity, quality and health for competitor websites.
If you're interested in reading more on building links that boost your website's success, download Link Building Through Outreach.
---
Structured data

Search engine results pages (SERPs) can change dramatically depending on the search query entered and the major search engines now recommend the provision of as much data as possible on each page of your website, in order to give the search engines the best understanding of the context of your web page.
This is the reason for structured data, otherwise known as semantic markup. In the same way that meta data is sometimes described as being 'data about data', we can think of semantic markup as 'data, about data, about data'. As shown below, we are explicitly stating to the crawler of the page that this rating is, in fact, an 'Aggregate Rating' and that the rating value of the review is, in fact, 4.716.

---
Why bother going to the trouble of implementing this extra markup across your website?
Well, in the same way that Google has included review information as rich snippets in the organic and paid search results, the major search engines may again take the data you have provided using structured data and implement this, in whatever way, into the SERPs. With product markup, for example, this may lead to rich snippets on the search results pages that includes pricing, availability and reviews ratings. Having these visible alongside your meta title and description can significantly improve your click through rates, leading to greater conversions and revenue.
---
Mobile
We are fast approaching a new algorithmic update, scheduled for April 21st 2015, which Google declares will favour websites with mobile-friendly capabilities.This reason, along with the fact that mobile traffic has overtaken that of desktop, means it has never been more important for a company to focus their online strategy toward mobile web users.
Again, we can only sing the praises of MyProtein, who have a dedicated mobile website, whereas both PhD and Sci-Mx offer only the desktop version of their websites for mobile users. It is Optimum Nutrition, however, who win the gold star in this category, with their clever implementation of a mobile dedicated site which uses the same domain URL as their desktop offering. For example, when a user visits the website via a mobile device, the website understands this and provides the mobile version, without the need for a responsive site design.
In doing things this way, Optimum Nutrition have ensured that the authority, which would usually be divided by having both a dedicated desktop site and a dedicated mobile site, is now flowing to the same domain URLs.
Download our eBook Digital Marketing Trends to learn more about the importance of mobile responsive website design for retailers.
---
Notable resellers
The graph below demonstrates the organic search visibility of four other noteworthy competitor websites:-
– www.theproteinworks.com
– www.discount-supplements.co.uk
– www.bulkpowders.co.uk
– www.olympushealth.com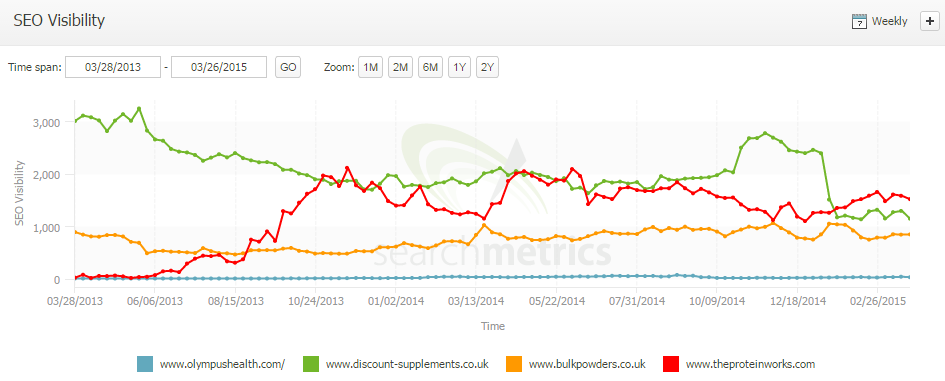 The salient website regarding severity of change here is Discount Supplements, whose visibility has declined from around 3,000 in March 2013 to just above 1,000 in February of 2015.
So let's try to quickly gauge some of the factors which could be responsible for the large drops in visibility. Foremost, from a content perspective, there is relatively little for a search engine to read which would tell it about the context of the webpage. This is true for the home page and all top category pages.  Product pages include a moderate amount of useful page copy, but this is oddly positioned beneath the reviews and Facebook 'customer discussion' sections.
As a general rule, Google gives greater importance to web copy depending on where on the page is sits, with highest being best. Therefore, Discount Supplements should revise its product page structure from an SEO best practice perspective. They must also include an appropriate amount of web copy, for the benefit of both the user and the search engine, on the home and top category pages, since these pages will receive the largest quantities of backlinks and will therefore dictate the authority of the website.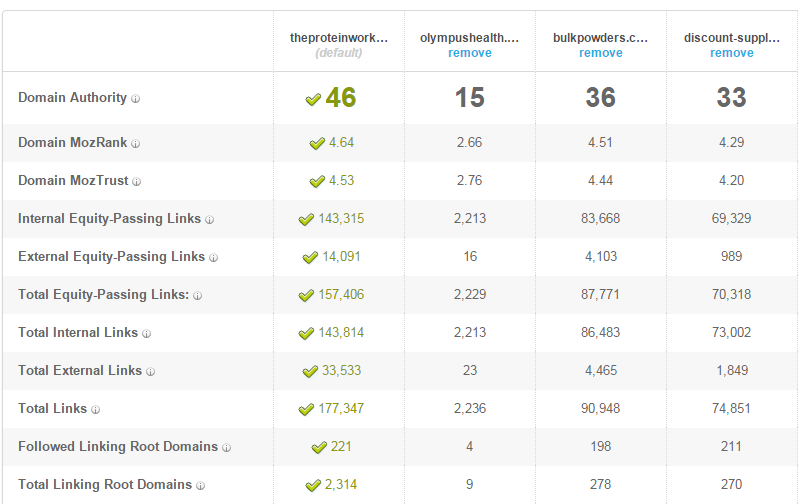 In assessing the link profile of each website in the above chart, it is unsurprising to see that The Protein Works, with a domain authority of 46, has now surpassed the organic visibility of Discount Supplements during January/February of 2015. Discount Supplement's large drop in visibility during January 2015 correlates to Google's shift to continuous Penguin related updates, and away from the infrequent, major updates.
Disregarding the health of Discount Supplement's backlink profile, it is alarming to see such a small number of external equity passing links when comparing their profile with that of The Protein Works. This could be indicative of a recent, poorly-executed link removal effort but this is of course only speculation. If the decline in visibility was caused by a penalty and a process of link removal has indeed been undertaken, Discount Supplements may very well see a return to ranking form once the next algorithmic update is rolled out.
Nevertheless, all competitors will doubtless benefit from a focus on the creation of content which satisfies and delights their visitors. A return to traditional marketing with a digital edge is the most sure-fire way to acquire backlinks, authority and organic success and should therefore become priority.
---
Penalty summary
Below is a summary of the potential penalties that may have hit each website.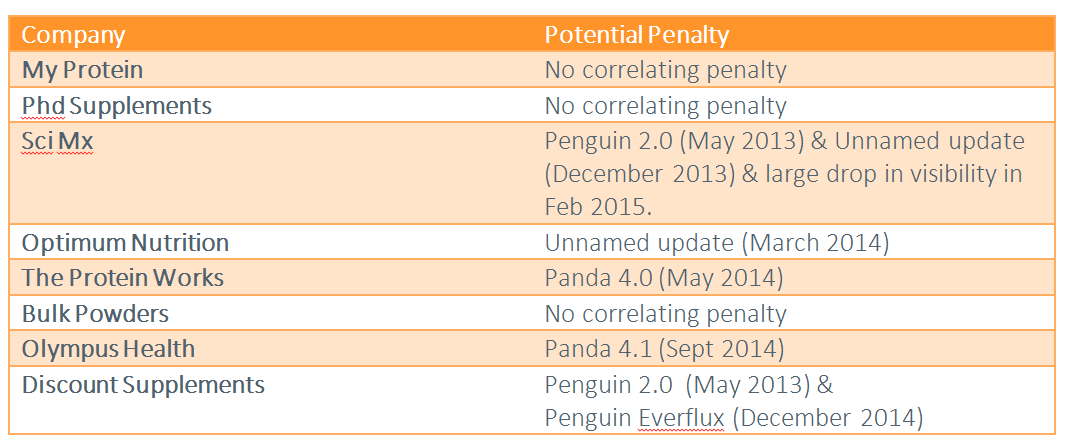 ---
Conclusion
Optimum Nutrition is widely recognised as having the most popular protein product available and their organic search strategy has a number of strengths which are being utilised well and will ultimately help them succeed online.
However, both they and the other competitors analysed in this report are shadowed by the huge organic search efforts of MyProtein. All online supplement providers would do well to learn from the many successes of the MyProtein strategy when considering their own future online marketing objectives.
Share this: