The PPC Basics Walkthrough: Your PPC Journey Starts Here
We provide a lot of information on this site – in the form of blogs, infographics, videos and more – so much that it could be difficult for someone new to the industry to find what they're looking for. So here's a primer on the PPC basics for those looking to enter the industry
---
Introduction
What is PPC?
PPC advertising is win-win for you and your potential customers: you drive highly targeted traffic to your website, while they get to see ads that are most relevant to their needs or requirements. PPC campaigns are quick to implement, easy to track or amend and have the potential to yield immediate results.
PPC is the model of internet marketing whereby businesses pay a fee every time their ad is clicked on by a potential customer. Placing a PPC advert that correlates with a specific search can help expose your offering to a relevant audience, driving highly targeted traffic to your website.
This exposure improves if the ad links to a fully optimised site, with unique well written content. If this is the case you should be able to climb the paid results on the search engine results pages (SERPs).
There are four main types of online advertising that play a role in the standard payment model of PPC. They are:
Paid search
Paid search ads are those listings that appear at the top and bottom of SERPs, marked as ads, landing pages or 'sponsored results'. The listings are paid for by the advertiser either on a cost-per-click (CPC) basis when the visitor uses a link to navigate to the landing page, or less frequently, as a cost-per-impression, for being displayed next to the search.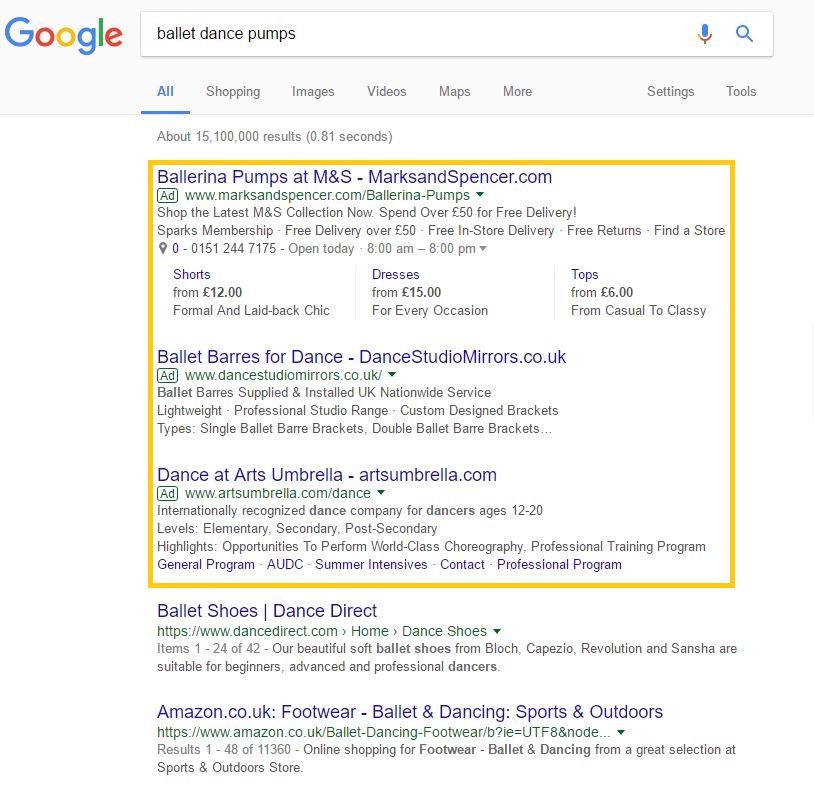 Paid search results highlighted in yellow
Display advertising
Display advertising is advertising on third party websites. It includes many different formats and contains items such as text, images, flash, video, and audio. The main purpose of display advertising is to deliver general advertisements and brand messages to site visitors.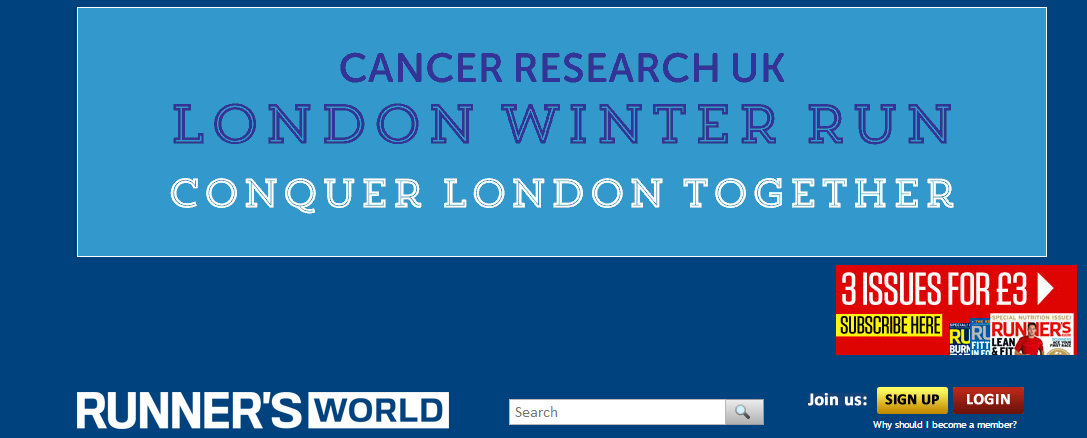 Example display ad
Social advertising
Social advertising relies on social information or networks in generating, targeting, and delivering marketing communications. The advertising platforms provided by Google, Twitter, and Facebook and other social platforms involve targeting and presenting ads based on relationships articulated on those same services. Social advertising can be part of a broader social media marketing strategy designed to connect with consumers.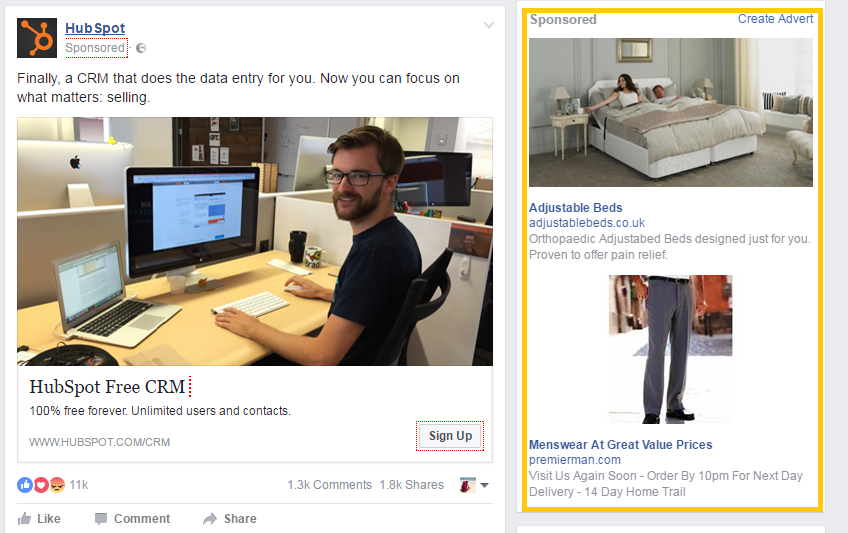 Social advertising on Facebook
Shopping Campaigns
Shopping ads offer a different experience for those searching for a product, mainly because they display more than the ad text. Shopping ads show users a photo of the item as well as the title, price and retailer. The overall concept of a shopping ad gives the user a stronger perception of what you are offering them and this can lead to more conversions.
It goes without saying that there are many benefits to running digital ads as part of a search marketing strategy. The first main benefit is that well-crafted and highly optimised ads can raise brand awareness and exposure. They put your immediate details into the public domain at the time they are searching for products in your sector. Your ads get your message out to a highly relevant audience which ultimately increases the potential of extra traffic.
If your ads are correctly placed and optimised to appear next to certain searches then they can improve your unique visits. If the content on the landing page is specific to the user search and includes a clear call-to-action (CTA) such as a downloadable brochure, an email subscription or a call back request, you are another step along the marketing path. These leads direct customers to your online store where they can convert from browsing to purchasing.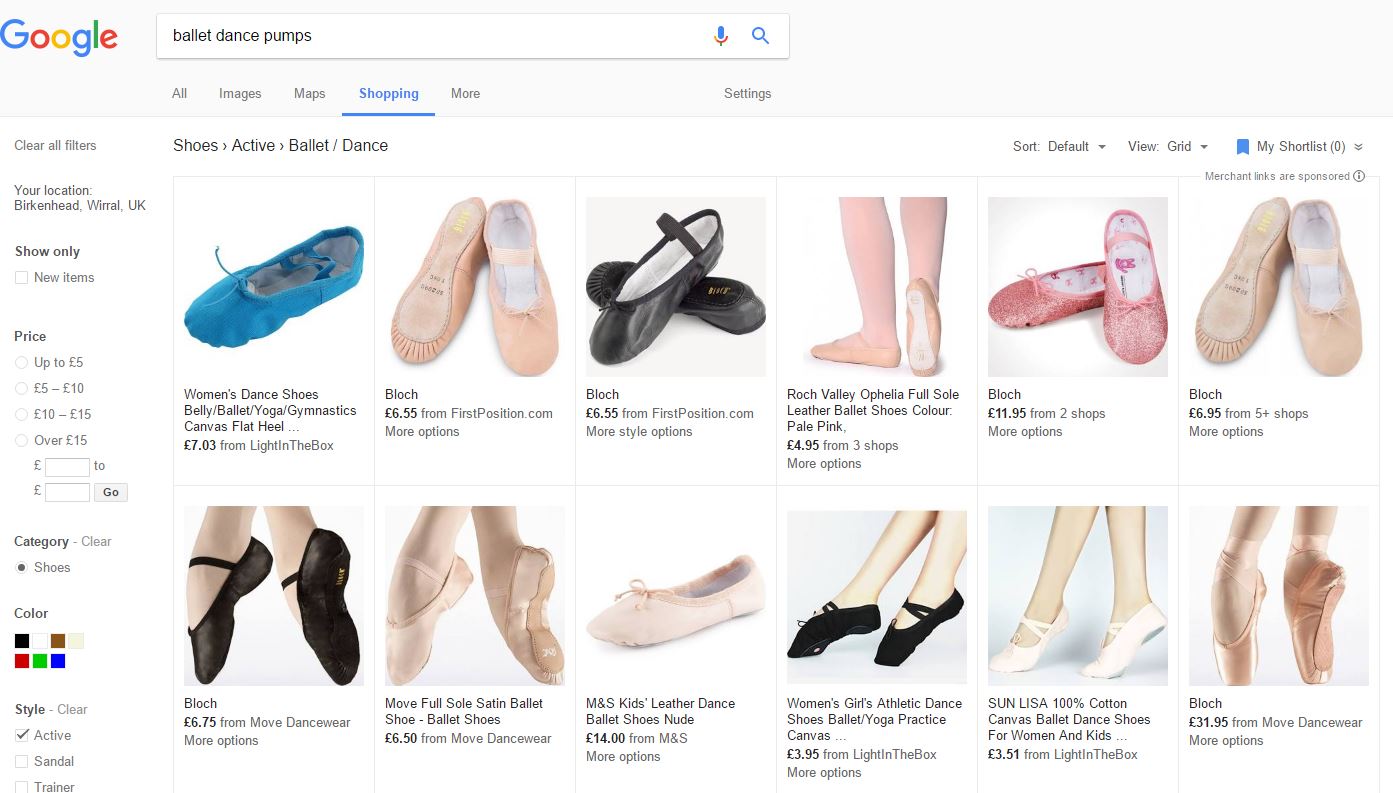 Google Shopping ads example
What are the main PPC platforms?
Google AdWords
Paid search is also a lucrative generator of revenue for search engines – the biggest is, of course, Google, with the majority of the UK market share. Google AdWords is the best known PPC platform.
Yahoo! Bing Ads
The only other real paid search contender and is slowly gaining more market share. However, this means less competition and therefore comparatively lower CPCs. Bing Ads gives your website exposure on both the Yahoo! and Bing search engines.
What are the most important elements of PPC?
Audience targeting
Audience is everything when it comes to marketing. You want to reach a targeted audience who are much more likely to convert if taken to the correct page or products. In order to choose the right audience for your advert, there are a number of factors to consider and questions to ask. You could use a user targeted approach for those that have shown a particular behaviour or interest, or you could use inventory targeting whereby you focus on a type of content that is often visited by individuals within a particular demographic.
You could also choose to create ads that will occur based on the searches of an individual or on factors like gender, age, income, location, marital status etc. Above is an example of the pages within Facebook that allow you to choose a location specific campaign. Here you can use a preset or saved audience, or can make a bespoke strategy for your campaign.
You can also gather information from competitors and see what you followers might also be looking at, via their likes on social media. Above is an example from Facebook. When picking an audience based on behaviour you may decide to look at dayparting – the practice of targeting individuals at a certain time of the day or day of the week. You may also wish to retarget past
visitors to your site.
Depending on the aim of your ad there are a number of different ways you can track these interactions and measure their performance; all you need to do is establish your goal and what you would consider the key performance indicators (KPIs). If you are looking to use the ad to generate leads, then this can be measured in terms of the cost per acquisition (CPA). Your plan could be to generate a certain number of leads from a predetermined budget, eg, 250 leads for £2500 or £10 per lead.
When your aim is to encourage brand awareness and exposure, then the success of a campaign will be based on the number of views and then the click through rate (CTR) from this. If you were to receive 20,000 clicks and had a landing page CTR of 5%, you put yourself in a solid position to convert a high percentage of these to sales.
The index that most businesses want to talk about however is the ROI, in terms of PPC this is often referred to as return on ad spend (ROAS). The KPI could be to generate 100 sales with a return of £5 per £1 spent.
Setting your budget
When it comes to the planning stage of a PPC ad campaign, it's important that you understand your market and have a clear set of objectives. If you're in a competitive marketplace, you may find that your budget doesn't go as far as you thought.
A restricted or smaller budget can be channelled into very specific areas which in turn should increase the chance of conversions in your identified market, not matter how niche. Big brands throw huge amounts of money at certain advertising and marketing strategies, so make sure you are realistic.
Optimising your landing pages
Making great ads is one thing, but the truth is you have to back this up. If you have a content-filled ad which engages with the visitors, you must also have a landing page of equal standards. One mistake that is often made by those new to the industry is that they see a high quality ad that promotes you as a brand to associate with and then they reach your URL, and feel disappointed. A content rich website is a must as it encourages further interactions and ultimately sales.
Keyword strategy
Choosing your keywords might just be the most important consideration to make when it comes to creating a successful ad campaign. If you are looking to make impressions that convert into sales you have to make sure that you're bringing the correct audience to your page. If a user makes a general internet search for a product that you specialise in yet you don't feature as an ad or in SERPs you are missing out. Cover your bases and perform thorough research.
Good keyword research will reveal gaps in the market and highlight areas your competitors are not competing in, or competing only marginally. If your brand is new to a marketplace, the chances are that competitors will be well established for some of the prize keywords, whereas industry specific long tail gaps might not be covered. A good strategy means you can exploit these gaps to get ahead with your ads. As you can see from the above chart, getting the balance right is key if you are to identify a good keyword strategy. The words that form the strategy will be based on internet searches, your content and the competition for keywords in your industry.
The pros and cons of paid search (PPC) platforms
There are a lot of places, these days, to spend your PPC budget and it can be difficult to know whether to pick and choose the most relevant platforms or risk spreading yourself too thin. Thankfully, we're here to help with a quick round up of the main platforms' pros and cons.
Google AdWords
Pros
Easy to use – quick set up and user friendly interface.
Great and immediate reach – you can appear on the first page of largest search engine.
Numerous options – with paid search, display, retargeting and others all on one platform.
No minimum budget – available to businesses of all sizes.
Full and immediate control – want to make a change, pull an ad or run a test straight away? You can.
Cons
Payment per click – if you're receiving a lot of irrelevant clicks, it can quickly become expensive.
Hard to master – while it's easy to begin, it takes work to ensure your keywords are relevant and ads are competitive in bid and quality.
Bing Ads
Pros
Less expensive than Google – as the platform is less popular, the reach is less but so is the cost per click for well targeted ads.
Better chance of top of the page listing – Bing shows up to four ads, one more than Google, at the top of results.
Cortana is performing well – Microsoft's digital assistant could well offer access to millions of Windows users.
Bing's users are older – offering the ability to target this specific demographic harder and for less outlay.
Cons
Lower click through rate than Google – according to comScore, ads on Bing generally receive fewer click throughs.
Fewer extensions – the augmentation options for a Bing ad are few (though improving).
Smaller audience – if you're targeting a <35 demographic, Bing has fewer users than Google.
Yahoo Gemini
Pros
Yes, it's still a thing.
Native advertising – appearing on Yahoo Sport, Yahoo's home page, social sites such as Tumblr and a variety of customisation options make Yahoo's native advertising an interesting option.
Cons
Facebook Ads
Pros
The world's largest social platform – Facebook gives you a potentially huge reach due to its active user numbers.
Targeting – as well as having a lot of active users, Facebook also has a lot of data on them and allows for extensive targeting.
Inexpensive – with ad campaigns happily running for as little as a dollar a day, there's a Facebook budget for businesses large and small.
Native split testing – A/B testing permits tailored testing through Facebook's own Power Editor.
Comprehensive data – Facebook's native analytics platform for ads is as thorough as any other allowing for data-driven optimisation.
Cons
Clutter – due to the nature of the newsfeed, drawing the consumer's eye can be difficult.
Low CTR – the click through rate on Facebook is much lower than on AdWords, as are conversions.
In flux – Facebook is going through changes and it remains to be seen how various privacy, news and other crack downs will affect advertising.
YouTube Ads
Pros
Reach – with over a billion users, YouTube is the world's second largest search engine after its parent company Google.
Cost – with the first five seconds essentially free, YouTube offers a great way to pitch to prospective consumers without spending big.
Multiple options – with pre-roll, display and promoted videos there are a number of ways to reach your audience.
Cons
Lack of third party tracking – makes it difficult to independently carry out tracking and measurement.
Targeting is hit and miss – with all videos tagged by creators, your ad can end up appearing on videos with little or no brand relevance.
Twitter Ads
Pros
Second largest social platform – with 328 million active users, your potential audience is massive.
Easy to use – there's little you need to get a Twitter campaign up and running, making it one of the easiest platforms to advertise on.
Keyword targeting – while Facebook allows topic targeting, Twitter allows greater specificity, targeting phrases and hashtags.
Offers retargeting – you can now specifically target consumers who have already engaged with your brand.
You only pay for completing an objective – there are no additional costs even if your post, somehow, goes viral.
Cons
The feed moves fast for most users, meaning there's every chance you could miss your mark by seconds.
Campaigns can, and often are, co-opted if there is a weakness or opportunity shown (ask Walkers and many more).
Cost per click is greater than Facebook (and, often, Google), meaning Twitter campaigns can seem expensive.
---
---
Getting Started
PPC 101 – Jargon Explained
Have you ever looked across the meeting room table to be met with the glazing eyes of a colleague – or have they been your eyes? Sometimes, when gaining expertise in a single field we forget that the language we use is often unique to our own area.
It's easy to do – when conversing regularly within a specialist area, there are certain levels of shared knowledge we treat as implicit. Unfortunately, however, it is not always the case when meeting with clients or other areas of the business. It is for this reason Click Consult always tries to restore parity between all parties.
Jargon develops as a form of verbal and written short-hand, allowing for increased clarity and rapidity of communications between those with a shared vocabulary or specialism. In many industries, the jargon which develops remains similar enough between departments to represent dialect changes rather than different languages.
For search marketing, however, there are a number of distinct specialisms existing in a symbiotic relationship in every agency or in-house department, whether it's technical SEO, PPC, content, design or any other niche.
---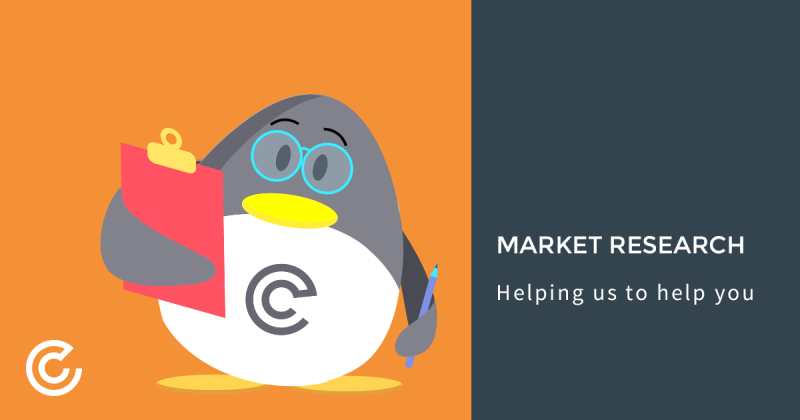 ---
As the industry grows, however, and holistic campaigns drawing on all areas of specialist knowledge become an increasing necessity to achieve the very best results for a brand, the need for each area to become polyglot and speak one another's language increases too.
It is for this reason Click Consult has worked to offer a PPC glossary (joining our existing SEO and CRO Glossaries) to help in the process of breaking down the boundaries between departments, the best results are always those achieved as a team, not as a group of expert individuals.
---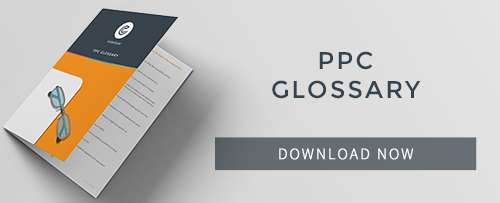 ---
PPC Q & A: The 7 most common things people want to know
We asked our Business Development Team the questions they most get asked about paid search (PPC) campaigns so we could post them here with with some jargon-free answers…
How specific can you be in targeting demographics or geographical areas with a PPC campaign?
Targeting ads is essential to the success of paid search, as you want to ensure that your ads are being viewed by the right people. You can target specific demographics – including age, gender and parental status, and specific geographical areas – by choosing a country, region, city or postcode area where your customers are located or show an interest in. As well as targeting these factors, you can also target them in combination with other segments – making PPC campaigns specific and customised to specific audiences.
How is CPC (cost-per-click) determined?
As bids are determined on a one-by-one basis, depending on a number of factors including competition and quality score, the CPC varies. This is because the cost-per-click is always a discounted price from your maximum CPC, meaning you only pay the least amount required to beat the ad rank of the nearest competitor.
This means that the average CPC is used, which is worked out by dividing the total cost of clicks by the total number of clicks.
Why set up a Shopping Campaign?
There are a number of reasons why an eCommerce site should set up a Shopping Campaign. The benefits are:
Increased traffic
Many businesses experience an increase in click-through rate (CTR) due to setting up a Shopping Campaign, therefore bringing more people to your website giving them the opportunity to convert.
Better quality clicks
The clicks from Shopping Campaigns are likely to be of a better quality to clicks from search engine campaigns, as by viewing the shopping page they show the behaviour of users who are more likely to convert.
Brand presence
Shopping ads give your business more opportunities to appear on searches. By combining a Shopping ad and a text ad, your ads will gain more impressions and the chances of conversion are higher.
How do you determine keywords for PPC?
At the beginning of a campaign, keywords are determined by words or phrases which are relevant to the campaign – and more specifically – relevant to the ad group. These can then be used for your ad in a variety of match types including exact, phrase and broad match modifiers.
Keywords can also be determined by Keyword Planner – which is a Google tool used for building new campaigns or expanding existing ones – giving you keyword and ad group ideas, historical statistics and performance predictions of keywords.
---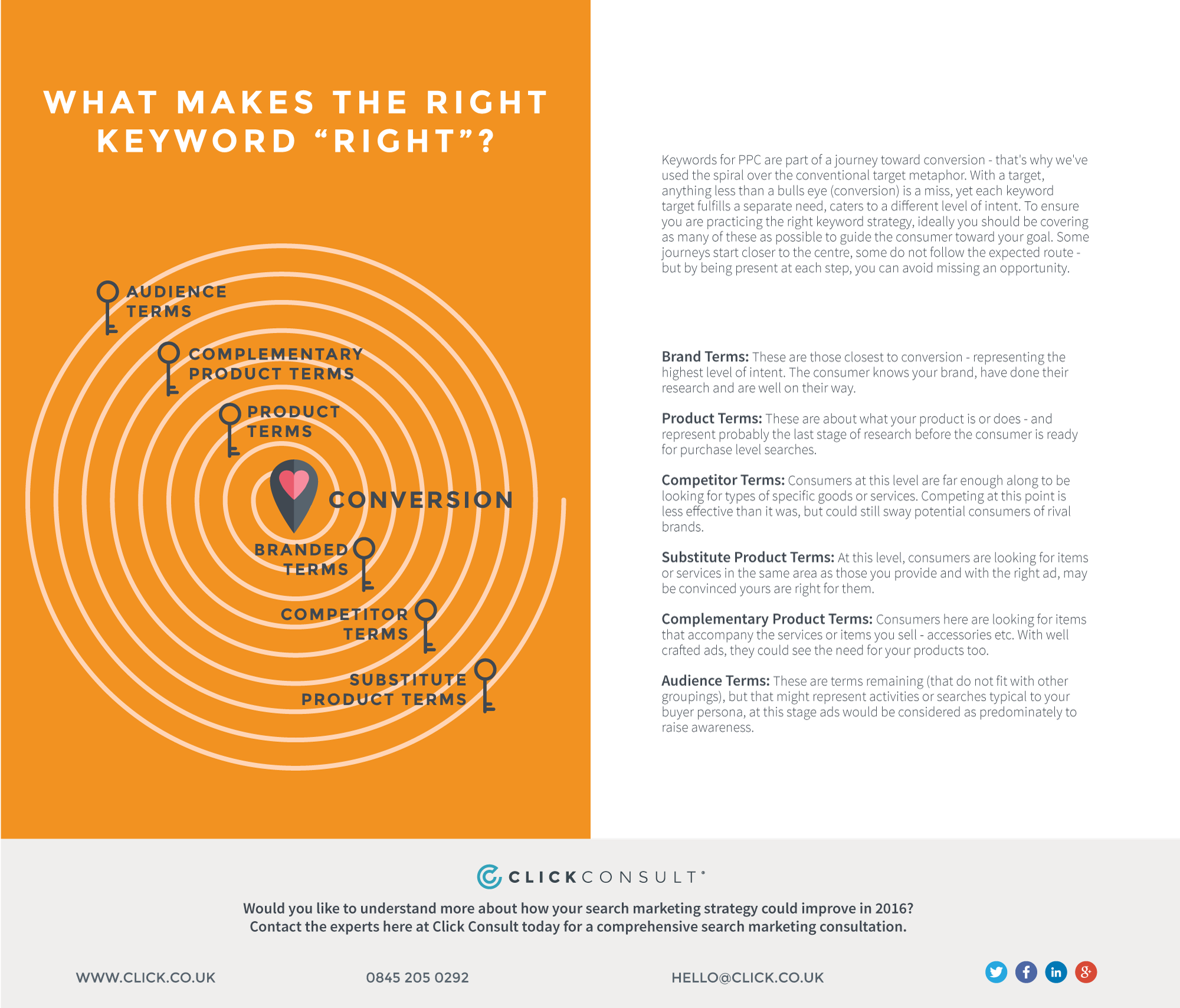 ---
What are the benefits of remarketing?
Remarketing is the strategy of targeting your ads to users who have already visited your website, and therefore have already shown interest in your brand or products/services. The benefits of using this strategy include:
Gaining access to users most likely to buy
As you're reaching out to people who have already interacted with your business, these people are the most likely to convert at a later date.
Using custom messages tailored for remarketing
By customising remarketing lists, you can create messages specific to audience activities. For example, a "shopping basket abandoners" list to show ads to the people who have added something to their basket but didn't complete the transaction.
Efficient pricing
Remarketing can be a cheaper way to convert additional customers as, generally, CPC can be much lower on remarketing.
Our remarketing cheat sheet tells you more.
How can our Quality Score be improved?
Quality Score is a 1 to 10 rating given to each keyword. This score affects your CPC, your ad position and your eligibility for auctions – therefore time should be taken to improve this score. This can be done by:
Ensuring your landing page is relevant, transparent and easy to navigate
Ensuring your ad groups are relevant to the keywords utilised
How quickly can I get my campaign started?
It takes 5 to 10 working days to get a campaign started at Click Consult. This is dependent on a number of factors including the campaign you want, the amount of ads needed, whether your website landing page matches the ad copy and your past account performance.  You also need to have a set budget and KPIs in mind before beginning your campaign in order to track your spending and measure ROI.
---

---
Understanding the PPC buyer's journey
Even for those involved in paid search, the journey a buyer embarks upon before reaching the point of conversion can be tough to understand, Click Consult aims to demystify the road from awareness to conversion.
---
Whatever your brand sells, promotes or manufactures, your consumers will embark upon a journey. From initial consideration and realisation of a desire to the moment they click 'buy' or 'download', in order to make the most of your site traffic, it's important to understand that journey in order to place signposts at all the right points on the path.
Click Consult was among the first UK providers of PPC service to clients and throughout its many years gathering experience, it has learned a few things. The below infographic gives a quick and easy reference to the three, simple sections of the conversion funnel and how they relate to the buyer's journey:
---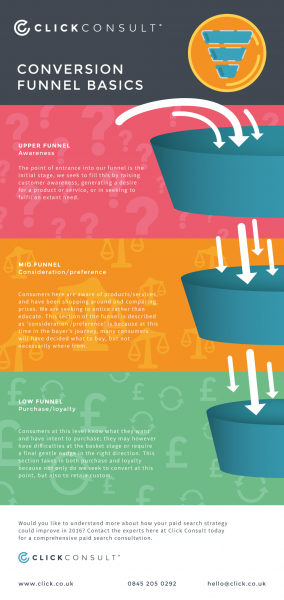 Share This Image On Your Site
---
Feel free to share this quick reference guide to the conversion funnel, or embed it, or even print it out for use in training and development. At Click Consult, we are always looking to communicate our years of experience in new and easy to understand ways. Like it? Let us know – and equally, if you feel we've missed something, tell us that, too!
Whether you want to know what stage requires display advertising or remarketing, or how to match your ads to consumer intent, Click Consult has produced a short eBook to guide you through the buyer's journey which should offer all you need to get to grips with the progress.
---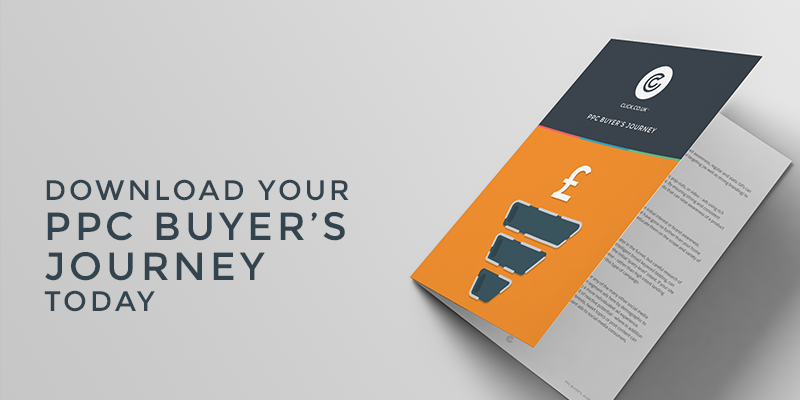 ---
Paid, owned or earned media, where should you spend your money?
What is paid media?
In truly Ronseal fashion (doing what it said on the tin), paid media refers to any exposure for which you have paid – including PPC ads, native content, remarketing etc.
The paid media offering, however, is far from simplistic – it has developed an awful lot, as you would expect from a service that has now been around for almost 20 years.
The levels of personalisation and the varieties of ads that can now be served to consumers are so great, and native advertising and sponsored content so well embedded in the mainstream media (and invulnerable to adblocking software) that the paid media offering is capable of reaching people effectively at all stages of the buyers journey.
What is earned media?
Earned media is a term applied to any content or conversation surrounding your brand which is earned through your activities in the paid and owned media disciplines and through outreach.
Earned media is slightly more diffuse in description, but insofar as narrowing it down to a particular marketing activity, could most easily be applied to content marketing and outreach activities, which – with the rise of influencer marketing – is increasingly important to brands of all sizes and is an area that is seeing a lot of growth as a result.
What is owned media?
Owned media is any content or conversation disseminated through channels your brand owns – i.e. your branded blog, website content and social channels.
You only have to look as far as the brands you enjoy yourself – it would be surprising if they did not maintain a presence on every applicable social channel as well as a branded blog. It is no longer a bonus interaction with consumers as it may have been less than a decade ago; it is almost a minimum requirement. For this reason, the demand for high quality output has never been higher.
So which is better?
The truth is, there is no longer a single route or strategy for success and there has never been. Every brand has specific needs and wants regarding their marketing, and so the particular strategic blend is, more often than not, going to be different. What has become apparent, however, is that it is a blend that is required.
What we're looking at is (as I've argued elsewhere) is a shift toward an holistic industry with sub-specialisms rather than three distinct practices.
Interest in SEO has levelled from its historic high in 2011 (at the release of Panda, with which the industry would become familiar).
---

---
PPC interest has levelled after seeing a steady downturn for a few years. This would, I imagine, relate to the amount of separate paid offerings which are searched for independently – such as remarketing, display etcetera – cannibalising the paid search interest.
---

---
While content marketing (the closest service term to earned media, as stated) is showing a steady increase over time.
---

---
While these charts, from Google Trends, don't deal in volume but comparative interest over time, what you can see are peaks of novelty – SEO at the implementation of Panda, PPC when Google implemented a small business PPC offering and, latterly, in content marketing.
In conjunction with this, however, is a steady increase in interest for the term 'digital marketing' (or 'search marketing' as we like to call it), with peak interest having to be redefined regularly (and again with the latest data point).
---
---
Increasingly, brands are looking to agencies and in-house teams for full service digital marketing – operating across skillsets – and the reason for that is that each of the skillsets has become indispensable to the creation and execution of a successful online marketing strategy.
Think of your brand as a platform with three uneven legs – each of these categories, paid, owned and earned media are wedges which can help stabilise that platform and render it secure enough to build upon.
How to assess where to allocate your budget
Your brand will, of course, have its plans and projections – outlines of strategies and ambitions for growth; it should also have some idea what it requires to achieve these ambitions. It is these requirements that will determine how you apportion your budget to each of your paid, earned and owned media endeavours.
Clearly, for the majority of brands, the primary aims are growth and revenue increase – but these can be achieved in multiple ways.
Paid media
Paid media (as all three of these methods do) has some overlaps with the other two, but insofar as broad brush strategy preparation is concerned, paid media can be viewed as the best method for converting your current audience. It offers a substantial number of opportunities to be present at each of their levels of purchase intention and, while it obviously has the capacity to reach consumers far beyond your own, the ability of conversion rate optimisation to improve efficiency, or remarketing and other cookie based personalisation make it a powerful tool for earning the most from your present consumer base.
Earned media
Earned media (as above – in broad brush terms) can be seen as the best method of building your consumer base. With strategic content dissemination and outreach, PR, influencer marketing and the like, you can look to extend your reach beyond that which you've already built. It also, as mentioned earlier, has the benefit of building on work done in each of the other areas, helping it to fill the top of your sales funnel.
Owned media
Owned media, therefore, is best viewed as a method of building relationships, earning trust and will generally be the main injection of impetus into your earned media. By creating unique, high quality and audience relevant content for your owned media channels, you can inspire your audience to become brand ambassadors and build a rapport and relationship with your consumer base – allowing you to not only maintain good relations, but also ensure that your brand is first in their mind when they have further need of your products or services.
The holistic approach
This hopefully demonstrates the need for an holistic approach to search marketing – with paid, earned and owned media each playing a part, to greater or lesser degrees, in a successful strategy, represented as a point at the intersection of all three disciplines in the Venn diagram of branding.
---
---
---
Hiring an Agency
A guide to hiring a PPC agency
There's a lot more to PPC (pay per click) than simple text ads. It's a specialism in its own right so if you're thinking of hiring an agency, here's our guide to choosing wisely.
---
As you'll be placing your brand's reputation in their hands, it's important that your agency not only has the right blend of technical skills and experience, but also that they're a good fit with your business.
Recently we posted a guide to selecting an SEO agency, so here's a companion piece for businesses considering outsourcing their PPC…
Expertise
Paid search is a complex field that is subject to rapidly changing trends and market developments that can have a real-time impact on the performance of your campaign. Look for an agency that can demonstrate in-depth understanding and up-to-date knowledge: regularly blogging and producing other content on the subject are good signs.
Certification
Look for a PPC agency that's a Google Partner and Bing Ads Accredited.
Focus
Ideally, your agency will have a team or individual solely dedicated to paid search, distinct from related search marketing functions such as SEO, in order to give your campaigns adequate time and attention.
Proof of success
Does the agency have a track record of achieving impressive results for their paid search clients, particularly those within your industry or sector? Successful, experienced agencies will be able to talk you through examples of work they've carried out on current and previous campaigns, and provide case studies and testimonials.
Tools
It's savvy to ask about the tools that will be used to both manage your campaigns and whether they would allow easy portability should you want to change agencies in the future or bring PPC in-house. Do they use tools built in-house or 3rd party software?
Reporting
Do they offer completely bespoke reporting? How frequent is the reporting required? Will they show you exactly the data you require in a visually appealing way?
Communication
Will you have a dedicated Account Manager? Will you get access to speak to the person who actually manages the account when required? On a personal level, you also need to feel a rapport with the person or people you'll be dealing with, and confident you can build a strong working relationship.
Honesty and transparency
A good agency will demonstrate a clear understanding of your objectives and advise you whether they are achievable within your budget. They should be able to provide an accurate and realistic projection of results and timescales and give you breakdown of the steps they will take towards accomplishing your goals.
Industry specialism
Have they worked with other clients in your industry? What industry-specific the learnings they can apply to your account?
Optimisation techniques
How will the agency ensure you're getting the very best return on your budget? See our PPC optimisation checklist
Account review
Do they offer an in-depth account review before signing up? As well as allowing the agency to show the scope of opportunity, it's useful for creating an initial workflow so you can hit the ground running when you start working together. Challenge the agency on how they would implement all of the recommended changes so you know they can walk the walk as well as being able to talk the talk.
How to get the best out of your PPC agency
Paid search (PPC) plays a vital part in the marketing function of many businesses, so when appointing a new agency –  whether that is replacing the incumbent or finding one for the first time – you invest a significant amount of time in finding and appointing the right agency for you.
So when you've finally made that decision and begun working together, how do you get the best out of them?
Key Account Manager, Dan Marshall, has outlined some of the key things to consider when trying to achieve PPC perfection.
Teach them
When you appoint an agency, you typically do that based on their skills and accreditations relating to PPC, so you'd hope that they would be experts in their field. However, that doesn't necessarily make them an expert in yours.
It is always valuable in any kick off meeting for you to give them an overview of your business; introduce them to your products and service (get technical  – it's interesting and might give them campaign ideas), tell them your brand story, talk them through your processes and show them how you work.
The more an agency knows about your business and your products and services the easier they will find it to add value to your account.
Set goals and objectives
It seems obvious to say this, but many businesses will be pushing budget through an AdWords account blindly with no set KPIs.
Any agency worth their value will insist upon this and ensure that some kind of objectives are defined early on because if they're not, then what's the point?
PPC is so flexible with what it can achieve so you need to think about the purpose of the account, what are you looking to get out of it?
Brand exposure
Sales
Lead generation
Event sign ups
Content downloads
Once you decide on the purpose, which could be any of the above or multiples of them, then you will be able to decide which metrics are most important to. Do you want to focus on increasing the volume of sales/leads? Do you want to achieve a certain return on investment (ROI)? Or do you want to achieve a set cost per acquisition (CPA)?
It is essential that you define these at an early stage with your agencies involvement, if you don't how are you going to know whether the partnership is working?
Agree on a reporting structure
Once you've identified your goals you need to agree how you are going to report on them and how frequently.
As standard you should get at the very least a monthly reporting highlights key trends and performance within your account. Depending on the size of your account you may need a weekly update and if your account is spending more than six figures a month you might even need a daily report.
An agency will always have a standard reporting template to work from, but over time that should become more and more bespoke based around your objectives and the data that is important to you.
As a Key Account Manager at Click Consult, reporting is one of the most important things that I do; it is imperative that you agree on this with your agency.
Communication
Ok, so it may be one of the biggest clichés in business, but communication is so important in any client-agency relationship and this could not be truer than when working on PPC.
If you think about it, PPC is real time and will have a direct effect on your site's performance in everything from sessions through to cold hard cash! So if something changes, or something breaks or needs updating you need to have clear lines of communication to let each other know.
There's so many essentials that you need to be communicating, such as:
Stock levels
Lead quality
Promotions
Site changes
A communication strategy should be agreed between you and your Account Manager and it should be based around what works for you as a client. Like reporting you should always agree upon a monthly catch up, be that a call or a meeting, at the very least and then dependant on the size of your accounts and your needs you may want to have a weekly call too.
The key thing to remember with PPC is that things can change and be changed within minutes, so you need to ensure all parties are aware of any changes or development to make sure that you capitalise on them.
Collaboration
It's easy to sit back, relax and leave the agency to do everything, and if they are good at what they do you'll get some success. However, the more you give to the agency, the more you teach them about your business and the more you work together the better the results are going to be.
There are many things that you can do to collaborate with your PPC agency and get better results, for example:
Share data
The more data and insight that you can share with your agency the more likely they are to come up with ideas and ways to improve performance. For instance, sharing profitability data will help them to understand where you make the most margin, therefore allowing them to capitalise on relevant key terms.
Share ownership of tasks
This is more likely to come into play if you have a large Ad Spend, but it can be really valuable to get involved in managing aspects of the account and working together on testing new concepts.
Feedback
It is really important to feedback on things, whether that be new builds your PPC agency creates or just letting them know what the quality of leads generated has been like, this can all be digested, analysed and then taken forward to optimise and improve your account.
Share ideas
When looking for ways to grow your account don't rely solely on your agency, if you have any ideas that you think could work well for the business let them know. You might not be as knowledgeable on PPC as they are, but challenge them to take your ideas and make them work for the account.
You should view the agency as a partner and an extension of your own marketing team, that way they can really understand your business and really push to achieve great results.
Trust
You will have no doubt invested a significant amount of time in identifying and screening prospective agencies to identify your new partner, so once you've done that and their working on your account you need to trust them.
You need to be confident in your agency and you need to reflect that by taking on board their recommendations and allowing them to implement their best practise and ideas within your account. If you are partnering with an established agency that have been in operation for a number of years you should be able to have confidence in the fact they are an expert in their field.
Summary
As paid search is such a key marketing channel with the ability to peak and trough and the drop of a pin it is essential that everyone is focused on getting the best performance that is possible. It is therefore essential that you get the best out of the PPC agency that you are working with and you can achieve that by following the steps outlined in this blog;
Teach them
Set goals and objectives
Agree on a reporting structure
Communication
Collaboration
Trust
If you are open and honest with your agency at the beginning of the relationship and both parties really invest the time into the areas identified above, then there is no reason why your account won't achieve fantastic things.
25 Questions to Ask the Person Managing Your Paid Search Campaign
Getting to grips with paid search is now essential for every business that wants to improve their search engine visibility and reach a highly relevant, targeted audience. In fact, spend on paid search has overtaken that of organic (SEO) techniques in recent years as achieving and retaining visibility on search engine results pages becomes increasingly competitive.
One of the biggest advantages of paid search marketing (PPC) is the ability to fine tune your campaigns at a granular level and see the impact almost immediately. However, this can be an enormously complex task that requires a wide range of skills, ranging from copywriting to data analysis. Whether you've got someone whose job it is to manage paid search in-house or outsource this job to an agency, you'll want to ensure that each area of your account is optimised to the highest level to ensure the nest possible performance and ROI.
That's why we've published this handy print-out-&-keep checklist of questions to ask the person managing your paid search to ensure nothing is missed.
This checklist is a companion to our eBooks, A Simple Guide to Paid Search (PPC) and Paid Search Optimisation.
---
---
Personalisation
PPC gets personal – Part 1 [on.click VLOG]
The ability to reach the right person at the right time has always been the holy grail of marketing. And with the evolution of online advertising and paid search (PPC), it's never been easier to fine-tune targeting and relevancy. But, until recently, true personalisation has been tricky to achieve.
The better you can understand the consumer at the point of searching, the higher your chance of creating an emotional connection that will lead to conversion.
In this click.on video, our Head of Paid Search, Dave Karellen, explains how PPC is moving from the realms of 'highly targeted' to true ad personalisation, and how brands can take advantage of the capabilities offered by Google AdWords to step up their ROI.
---
Hungry for more PPC know-how? Download our eBook and learn how to create ads that pack a real punch.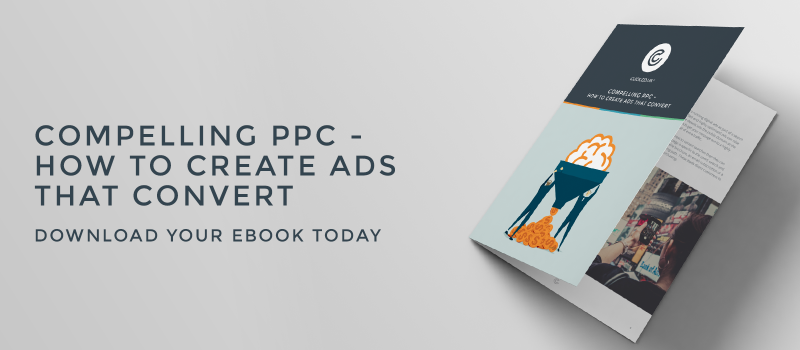 ---
PPC gets personal – Part 2 [on.click VLOG]
Paid search has always championed targeting and relevancy as core components of its offering. After all, targeting keywords based on a user's search terms can result in a highly focused and relevant ad, as you know what that person is interested in at that exact moment.
Lately though, these two pillars have evolved into something different. It's no longer just keywords that narrow down which ad is used for each person.
In this click.on video, our Head of Paid Search, Dave Karellen, continues where he left off in his previous vlog, this time reflecting on the new capabilities offered by Google AdWords to dynamically optimise PPC ads by device, scheduling and audience.
---
Passionate about personalisation? Download our guide to better targeting in all areas of search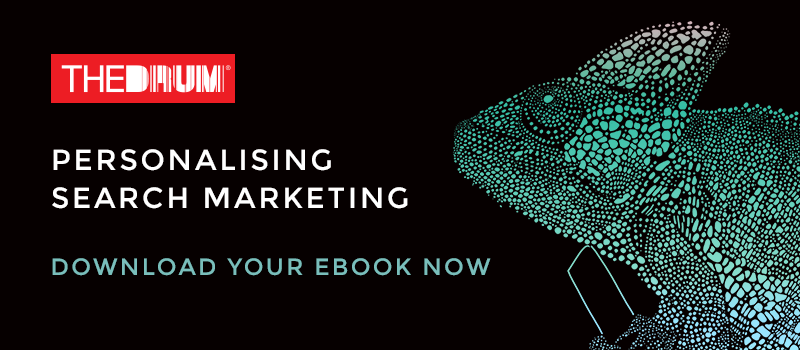 ---
---
Keyword Strategy
PPC 101: Keyword strategy
Keyword strategy development for paid search is similar to that for organic search: the process of creating buyer personas, looking for gaps in the market, ranking for priority and searching for the golden ratio of high traffic, low competition.
What is a paid search (PPC) keyword strategy?
PPC keyword strategies are multi faceted, taking in data mining and analysis, research and creative elements. However, the process can be reduced to four key elements of research and execution: creating buyer personas, looking for gaps in the market, ranking for priority and searching for the golden ratio of high traffic, low competition, and reading and catering for intent.
Based on the above, here are 4 steps to help you develop a winning keyword strategy for your AdWords campaigns.
Identify your audience
As with an organic keyword strategy, begin by creating buyer personas for whom you can identify levels of intent and types of queries that may typify these stages. The next step is to brainstorm words or terms around your goods and services. Put yourself in you customers' shoes and think about who, what and where they will be searching for when trying to connect with sites like yours.
Combine this with information from your Analytics account to see what consumers are searching for on your site or to check anchor text for inbound links.
Refine your list
Now that you've built up a list of words, try using a concatenation tool, such as Merge, to create a list of long tail search terms you can then proceed to refine.
After removing non-applicable terms, you can refine the list using a keyword research tool to check for traffic, for example, using Google's Keyword Planner – enter your URL and your industry and it will show you suggestions with search volumes. Other useful sites are Keyword Tool, Soovle and UberSuggest.
This process of refinement is about finding those areas which are best suited to your brand's financial and market position. By narrowing down your list by those terms with the highest traffic and a recommended bid which is within your comfort zone, you can reduce your list to terms you know you can successfully compete for, that have sufficient traffic to drive conversions and which are representative of your brand.
Once you have these lists, you can then segment them by the level of purchase intent they demonstrate: more specific searches often demonstrate that a searcher is much closer to making a decision to buy, as demonstrated in our spiral diagram below. For example, a 'buy white adidas trainers' search is much closer to conversion than simply 'white trainers'.
Group your keywords
Next, you'll need to group these under common themes to form your campaigns in Google AdWords. Google recommends 5 to 20 keywords per ad group, and each ad group should contain keywords that directly relate to the group's theme. These ad groups will form your specific matches with keywords of these five main types:
Broad match
Broad match keywords will "include misspellings, synonyms, related searches and other relevant variations". These more generic terms are useful to ensure a higher number of impressions and a greater flow of traffic, but are the least effective at targeting.
Broad match modified
Broad match modified keywords will "contain the modified term (or close variations, but not synonyms), in any order". Your ad will show only when someone's search contains the words within your keyword, or close variations of the words (close variations can include synonyms, abbreviations and misspellings).
Phrase match
Phrase match keywords "are a phrase, and close variations of that phrase". Your ad will show only when someone searches for a term that contains the keyword within the phrase, with or without additional words before or after it, as well as close variations.
Exact match
Exact match keywords include "exact term and close variations of that exact term". These keywords give you specific control of which search terms you want to match, which helps with budgeting and results in high relevancy.

Review performance & tweak as necessary
Through careful and consistent review, you will begin to identify more keywords for which to compete and more you should exclude ('negative' keywords'). Ensure keyword research is a key and regular part of your PPC account management time.
You can develop your campaigns using AdWords' search query report (SQR) tool. The SQR allows you to research what queries are connecting to your current keywords and allows you to refine your targeting and identify opportunities that you are currently missing. Improving relevancy is one part of improving Ad Rank and Quality Score, which can boost your click-through-rate and save you money in bids.
How to build an effective keyword list for your paid search campaign
Effective keyword lists are the foundations for all of your paid search (PPC) campaigns. If your keyword lists have weaknesses, so will your account.
Generating keywords
Get brainstorming
When researching your keywords, the first step is to identify the audience you're targeting. A quick brainstorming session on likely keywords is a good place to start. Think about who, what and where your target audience will be searching for when trying to connect with sites like yours.
Make the most of Google's Keyword Planner
This AdWords tool is essential when creating keyword lists. Firstly, it gives you the option to search for keywords by volume using a generic or specific topic. You can then narrow this down by location, product category, language and network. This makes the suggested keywords as specific to your business as possible. Your landing page can also be added to the search, which will improve the Quality Score of the keywords fed back because of their relevancy to your landing page.
You can use as little or as many of these options as you like, but the more you use, the more specific the results will be to your business. Use your brainstorm ideas to expand your Keyword Planner research further. To exhaust all possible variations, the Multiply Keyword Lists tool within the Keyword Planner is extremely useful. This gives you the option to combine multiple keyword lists, for example, combining 'Remote Control Helicopter' and a list of colour variations. This can be a great time saver but the tool also provides forecasting information that can be used during the planning process.
Google your keywords
Google is making searching the internet easier all the time. Potential customers are using predictive technology such as Google Suggest and Google Instant, so research in this area is a must. Test your keywords in Google Search and see what suggestions it comes up with – these are the same suggestions potential customers will be seeing when they make similar searches, making this information extremely valuable to your keyword research.
---
Creating keywords
Now you have a raw list of keywords, you'll need to group these under common themes to form your campaigns. These ad groups will form your specific matches with keywords of these five main types:
Broad match
Broad match modified keywords by definition will "include misspellings, synonyms, related searches and other relevant variations".
These keywords are useful to ensure a higher flow of traffic. With more possibilities of matching to other keywords, these are sure to have the highest impression counts in your account. However, you'll need to carefully review how relevant the traffic is that is attracted, alongside the cost of having so many matches.
Broad match modified

Broad match modified keywords by definition will "contain the modified term (or close variations, but not synonyms), in any order".
These modified terms should form the base of your keyword strategy, matching to anything they can in direct relation to the original keyword. They're important to ensure that you pick up queries that fall outside your generic keyword terms. One thing to note when using generic keywords with broad match modified is that they can be very costly, especially if used over a large target area, they will match with a very broad range of queries, not all of which will be relevant to your business.
Phrase match
Phrase match keywords by definition "are a phrase, and close variations of that phrase".
These keywords are important because they match with the most important part of the search query. Phrase match keywords are good for capturing the themes of searches. For example if someone searches "where can I buy remote control helicopters online?" or "places to buy remote control helicopters on the internet", surmising that these are not built in then the theme 'buy remote control helicopters' will match the same phrase match keyword.
Phrase match keywords are good for capturing the themes of searches. They allow close variations and also additional words before and after the phrase match keyword, for example, the phrase match keyword 'Remote Helicopters' would match to both 'Fast Remote Helicopters' and 'Remote Helicopters Sale' queries. This allows you to target your keywords to long search queries without covering every potential keyword entry. You also have much more control than with the previous two match types.
Exact match
Exact match keywords include by definition "exact term and close variations of that exact term".
These keywords are a must-have because they give you specific control of what you which search terms you want to match. This helps with budgeting within your Account and results in high relevancy. To ensure that your traffic is not too restricted, exact match should be used alongside the previous three match types.
Negative keywords

Negative keywords can be of any type. They follow the same rules as mentioned above, so ensure you're fully aware of the restrictions that associated with these keywords.
Negative keywords are important as they improve nearly all metrics and budget when utilised correctly. Relevancy is key and this is a great way to keep your account as relevant as possible. They can be added at campaign or Account level so you can wisely plan your negatives to work as effectively as they need to.
Paid search keyword strategy SlideShare
Following the popular recent paid search keyword eBook, Click Consult has distilled the information into an easy to comprehend seven slide presentation.
Paid search is hitting the big time, with brands across the board increasing their budgets year on year as they come to realise the results which can be achieved with a solid strategy. For that reason, it is increasingly important for staff at each level of the brand to be well versed with its practices and aims. Click Consult have recently released embeddable PPC calculators, a PPC glossary and a long form version of the below presentation with that in mind. However, sometimes it is necessary to communicate the information quickly and concisely, whether as part of a meeting or presentation, or as part of an effort to get a new member of the team quickly up to speed. Here, then, is everything you need to know about paid search keywords in a quick presentation.
---
---
With over thirteen years of search marketing experience, and as one of the UK's first agencies to offer paid search services to clients, Click Consult is ideally placed to offer insight into the process. We hope you'll find the presentation useful as you and your brand embark on your next paid search campaign.
This presentation is available for download on Click Consult's SlideShare page, feel free to use and share as you see fit.
---
---
Tools & Advanced PPC
10 P.R.O. tips to help optimise your PPC potential
If you have optimised your page, are producing great content and offering a unique and positive UX, PPC could give you the visibility you need while you wait for your content strategy to pay dividends.
PPC is not going away, whichever side wins the debate as to whether 'Content is King', the necessity for search engines to make money means there will always be ad visibility. What is changing is the increasing need for planning, relevance and originality.
This may seem obvious advice, but one of the easiest pit-falls for any PPC campaign is either insufficient knowledge, or insufficiently utilised knowledge of the target demographic. If you are offering experience, or adventure holidays are you targeting search terms in the idiom of your ideal consumer? Use the full range of targeting methods and split keyword into tight themes to increase the relevance of ad text.
Are your ideal customers working 9am to 5pm? Then modify your bids to make the most of evenings and weekends, target relaxation keywords – those terms entered, initially, from desire rather than intent. New parents? Focus on the daytime and child-friendliness. What devices do they use? You can have the finest, most detailed picture of your ideal consumer – but if they're not seeing your ads, you won't see the benefit.
Stay ahead of the game when new features are released, there is a short period between release and full adoption in which you can have a real competitive edge, make sure you're one of the first to board the bandwagon.
Review the search query report (SQR) frequently for both positive and negative keywords – forewarned is forearmed and you will achieve the best results with your campaign when you are the best informed you can be.
Make sure you take advantage of all the ad extensions. Why miss the chance to increase your click-through rate (CTR) at no extra cost? Visibility is one thing, but well optimised, original and relevant copy in these ad-extensions is your sales pitch.
Think global, act local is a much repeated phrase across industries and PPC is no different. Whether or not your company strides purposefully across oceans, if it has any relevance or premises at a local level, then target the local markets – the world is, after all, just the collective noun for a lot of different locals.
Test different ads. Even if, somehow, you hit the nail squarely on the head first time, you should test, then test, then test again – the best results are those you can replicate and the only way to do be able to replicate them is to know exactly what is working and why. Work with three desktop and mobile ads per group to determine which works best.
The more data you have, the better. Results increase in significance the larger the sample size, so make sure you use a variety of date ranges when optimising data to ensure you always have a significant amount to work with.
Shopping campaigns are competitive, but one thing that cannot be neglected in a successful campaign is feed optimisation. Make sure to leave no field unfilled, use recommended title and description lengths, ensure they're accurate and well written and, above all, make sure you give an easily identifiable (by humans and search engines) description.
Remarketing campaigns currently using 'whole site' or 'whole site minus converters' can be vastly improved by splitting audience lists according to site behaviour. This allows your ads to better target and to be more relevant to each individual.
PPC Calculations
There are some key calculations involved in judging whether a PPC campaign has been a success – and though some of these are relatively easy to do, sometimes it helps to have a ready made tool to do the legwork for you.
There are some issues that cannot be solved by just throwing money at them, and for that reason it is always important to ensure you are doing your sums. Sometimes gains can be better made through CRO or by improving the quality of your ads and this will begin to show in your calculations of the factors listed below. There is often the expectation that a PPC campaign on its own is enough to ensure results, but it is absolutely vital that quality is paramount when you are creating ads – whether that's ad copy, or simply ensuring that you understand what ads to use for which part of the buyer's journey.
PPC in a mobile-first world
More searches now take place on mobiles than other devices and, with Google's recently announced mobile-first approach, it's time for advertisers to take advantage of the additional targeting and control they now have at their fingertips.
---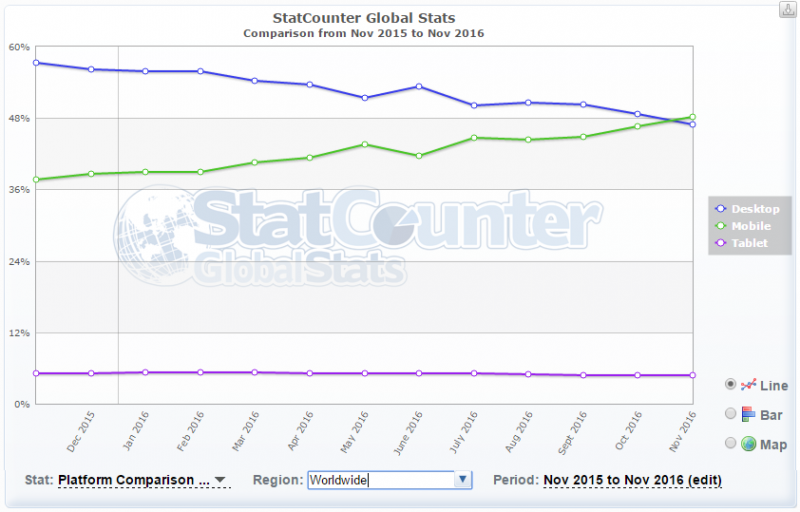 Comparison of mobile, tablet and desktop searches November 2016
As every marketer will no doubt be aware, consumer behaviour varies across devices and PPC advertisers need to adjust their strategies to optimise their campaigns.
New bid modifiers introduced earlier this year in AdWords give advertisers more control over device-level bidding – specifically splitting out mobile, tablet and desktop –  and this has the potential to majorly impact the way brands target consumers and drive conversions. However, advertisers have so far seemed somewhat unsure how to  use these newly acquired powers.
Many seem to have dipped their toe in the water by testing out small adjustments, without fully realising the potential offered by this ability to optimise with such great precision.
Here's the best practice we've developed at Click Consult…
Anchor a device
Many advertisers are just using the new bid modifiers for desktop and tablet to make slight adjustments without much thought to overall strategy.
The issue with this is that you shouldn't really be applying bid adjustments to all three devices. Instead you should use your highest traffic device source as an 'anchor point'. This ensures that you have a good correlation between your keyword bid and how much you are prepared to pay for each click.
If you have the following situation…
Keyword bid: £1.00
Desktop bid modifier: -50%
Mobile bid modifier: -70%
Tablet bid modifier: -80%
… then you are actually bidding 50p, 30p, and 20p respectively for each device, which does not correlate well with the £1.00 bid. If these are indeed the amounts you want to bid, then you should set it up as the following instead:
Keyword bid: £0.50
Desktop bid modifier: –%
Mobile bid modifier: -40%
Tablet bid modifier: -60%
This means that the amount you are prepared to pay for each click and the keyword bid are strongly correlated, as they should be.
Split out top traffic campaigns by device
Before enhanced campaigns launched in 2013, it was fairly standard practice to split out campaigns by device. This was made impossible by enhanced campaigns.
Savvy advertisers will have realised that it is now possible to once again create device specific campaigns with the following set up:
Desktop Campaign
Desktop bid modifier: –%
Mobile bid modifier: -100%
Tablet bid modifier: -100%
Mobile Campaign
Desktop bid modifier: -100%
Mobile bid modifier: –%
Tablet bid modifier: -100%
Tablet Campaign
Desktop bid modifier: -100%
Mobile bid modifier: -100%
Tablet bid modifier: –%
Some obvious benefits include stronger control of bidding by device, and more options for device-specific ad copy.
The biggest benefit, however, is being able to make use of other bid modifiers such as ad scheduling, which vary massively between devices, as people will use different devices at different points of the day.
The graphs below show the huge discrepancies between the devices at different times of the day. Mobile traffic spikes a lot in the late evening, while desktop revenue spikes between 9 and 5.
---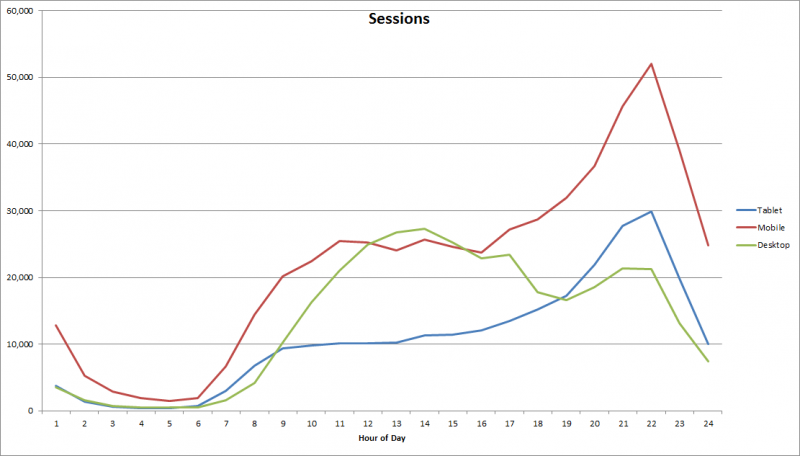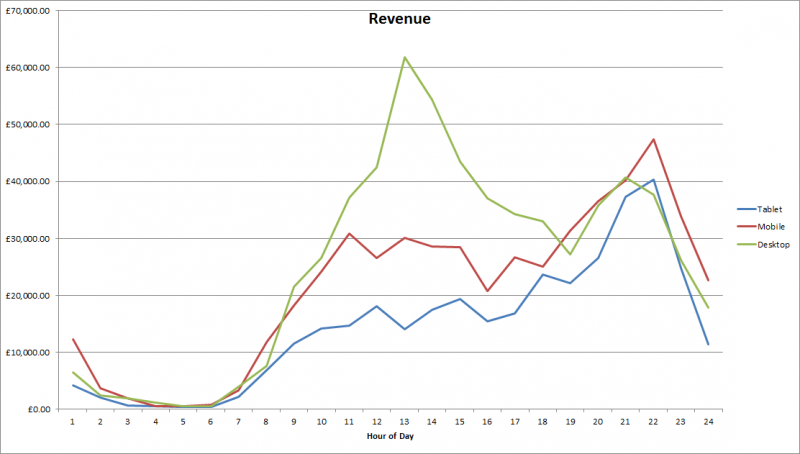 ---
The one caveat is that you only want to split this out on your highest volume campaigns, so that you avoid data dilution, and the dreaded low search volume keyword status.
PPC: The tools that make our team unique
Getting an ad for your products and services in front of people just at the time they're searching for what you offer through paid search (PPC) is an increasingly important strand of any competitive online marketing strategy. Introducing our own, unique suite of tools that are vital to Click Consult's track record of PPC success…
---
People…
As one of the first agencies in the UK to offer a PPC service, we've grown up alongside the industry as it's developed and it's become second nature to test, optimise and learn at every step of the way. Successful paid search needs a balance of analysis, creativity and technology and our team, headed up by one of the industry's top practitioners Dave Karellen, has the skills and passion to excel in each one.
And technology…
Our PPC team has spent years building and optimising thousands of successful PPC campaigns, during which time we've not only stayed on the cutting edge as the industry has grown, we've developed and honed our own methodologies, tools and techniques: Our Paid Search (PPC) Technology Suite.
It includes a Bid Optimisation Tool, Performance Tracker, Campaign Build Tools, Ad Confidence Tester and Shopping Campaign Splitter.
Here's what it helps us do that other agencies can't:
Crunches all keyword data, date ranges and comes up with formulas to optimise bids and make the most of your budget
Massively improves campaign performance by optimising by time of day and the type of device someone is using
Carry out health checks and flag up any opportunities and issues to the team straightaway
Speed up the process from keyword research to ad copy creation, leaving us to do more in less time
Drive up click through rates (CTRs) by dynamically personalising ads by location, time of day and device
---
While there are few processes that should be 100% automated – the human element is vital – our tools allow us to spend the time in the places where we can add most value and leave repetitive tasks to the tools. Our team like to quote: 'above target is on target for us'; we don't just meet your targets, but drive to exceed them

Dave Karellen, Head of Paid Search
---
… Get results
On average, our clients see the following results after a three-month period of Click Consult managing their campaigns:
Return on investment increased by 84%
Revenue increased by 150%
Cost per click (CPR) reduced by 13%
CTR increased by 34%
Whether you completely outsource your PPC to us – or we coach your in-house team – working with us gives you complete access to the benefits of Our Paid Search (PPC) Technology Suite and enjoy the same success as our portfolio of previous and existing clients.
---
Click Consult's two-day PPC training course with Head of Paid Search, Dave Karellen, was thorough, informative yet easily digestible. Prior to the training Dave carried out an audit on our current PPC activity to understand where we are, what we'd like to achieve plus any quick and long terms wins to help improve account curation and, most importantly, improve conversion rates.

Kevin Thorpe, Kwik Fit
Compelling PPC – How to create ads that convert
PPC is evolving and as businesses find themselves in increasingly competitive markets, it's important that any marketing activity you do, makes your company stand out from the crowd.
Our dedicated paid search team is constantly involved in industry discussions and look at the latest developments to ensure we get the best results for our clients. With this in mind we decided to look further at ads in our latest eBook, and find out what makes them work.
Creating adverts for your business and distributing them in the correct channels, to the right audience, is one of many techniques that can lead to increased brand awareness and sales. A deep understanding of your audience is therefore a must. You need to know, who, when and where you are targeting individuals and under what search terms.
This moves us on to one of our first topics – keyword strategy.
By pooling information from the three key areas in the diagram below, you should get a good read on what will attract the correct audience based you offering and subsequently, your ads should reach those most likely to engage and convert with your brand.
---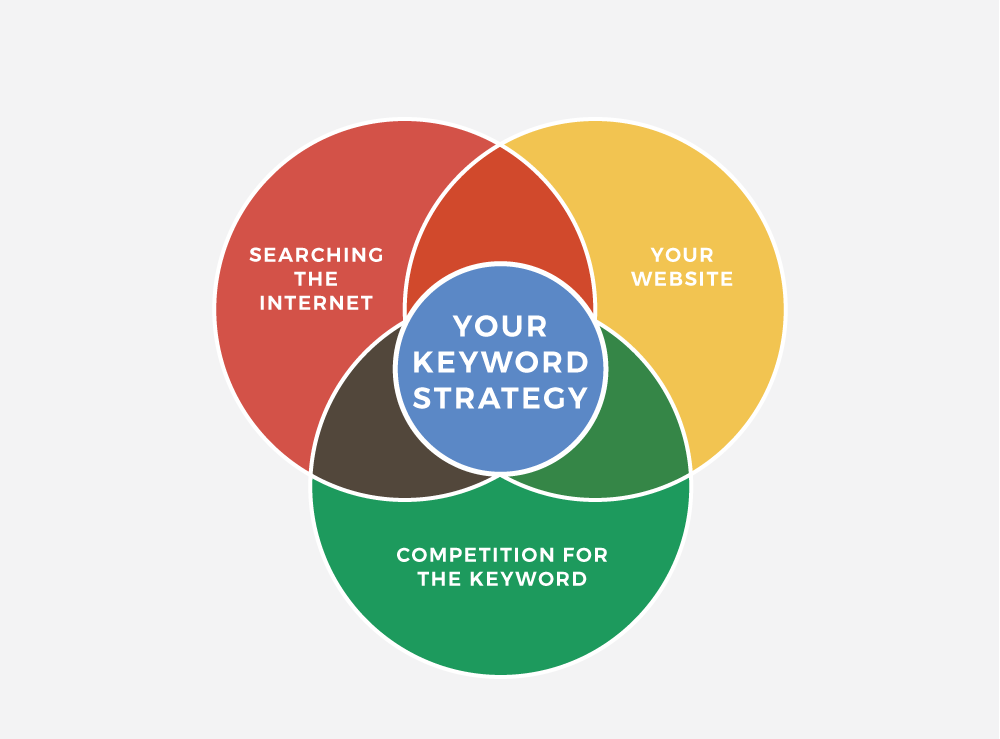 ---
Quality Score is another important consideration when it comes to PPC and ads. Formed as the result of Google's analysis of your keywords and PPC ads, it is the figure by which your cost-per-click is calculated. This calculation can also give you your ad rank ready for the ad auction process.
The main factors for determining your Quality Score are as follows:
Click through rate (CTR)
Relevance of every keyword to ad group
Quality of the landing page and relevance to the ad
Relevance of the ad text
AdWords performance historically
In the eBook we give you a full rundown of Quality Score, explaining how they are formed and what the determining factors are.
---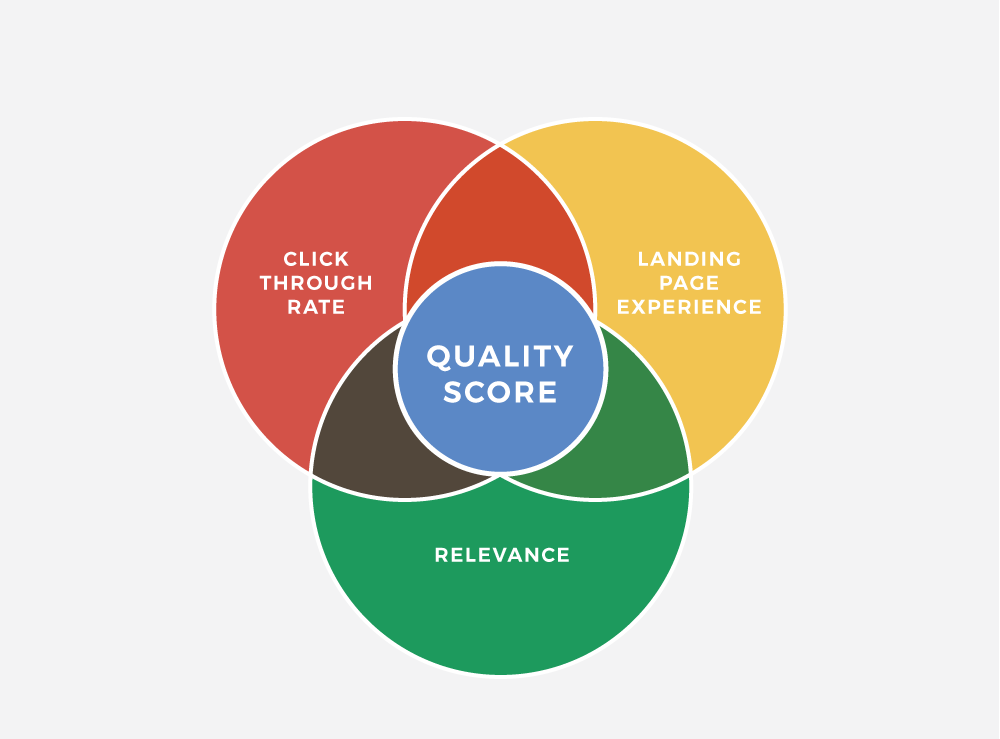 ---
In summary this eBook is a must for those looking to build ads, increase exposure, boost conversions and increase their sales. Inside we cover the following areas:
– Picking your targets
– Setting your budget
– Making great ads
– Keyword strategy
– Dos and don'ts
– A/B testing
– Tracking your results
Digital assistants and PPC – what does the future hold?
There's a lot of attention being paid, at the moment, to responses given by various digital assistants in answer to queries such as 'who is king of America?' (Obama apparently), but where will these AI helpers leave PPC?
---
As a science fiction fan, beyond the Minority Report style virtual computer screens, my second favourite near future technological advance has always been the Star Trek computer – with its superfast response times and 100% accurate voice recognition. You never hear: 'I'm sorry, I didn't catch that' in the voice of Majel Barrett-Roddenberry, but what is also noticeable by its absence is advertising.
The same is true for interactions with Alexa, Cortana, Siri, Echo and the Google Assistant – their answers, though sometimes wildly inaccurate, are never sponsored. This isn't of much concern while our voice queries remain query based (who's this, what's that, when's the other), but history tells us that this is unlikely to be the case for long.
---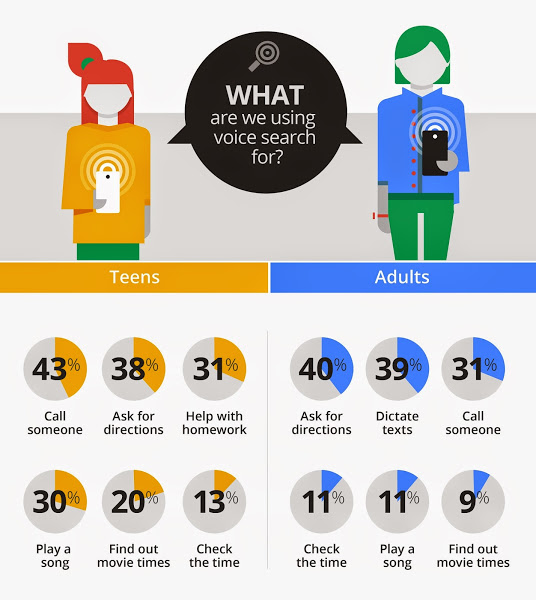 ---
With 55% of teens and 41% of adults already using voice search on a daily basis, and the general usefulness of digital assistants, it is only a matter of time before people begin to expand their use of voice to other areas.
According to Google's Consumer Barometer, 41% of people (of 3,741 respondents in this case) presently use a mobile device (smartphone or tablet) to research products prior to purchase. Add this to list creation (shopping and to-do) and a host of other potential awareness level activities and the pool of people using their phone to look up, plan and prioritise activities and purchases is larger even than 41%.
As things stand, there will mostly be a screen display to many voice queries (barring Google Home, Alexa and Echo), on which adverts could be served, but what will happen when we become more comfortable trusting our digital assistants (and they become better able) to book tickets or tables, to order taxis or takeaway? Something former head of Google X research labs, Sebastian Thrun, already wants a brain implant for:
---
I wish I just had to think of buying a plane ticket, and didn't have to go through this lengthy dialogue to explain it to somebody else. Eventually, I would love to just have some smart system sit in my brain and solve these problems for me.
Sebastian Thrun, former head of Google X
---
Many people that listen to podcasts or who feel they can manage with Spotify's inability to personalise ads (Olly Murs interrupting Tom Waits – are you really spending that ad money well, Columbia?) will be familiar with receiving their ad content aurally. These tend to be generic ad-slots in the vein of those served on traditional media, however, and in a world which demands personalised content these are unlikely to be successful (which is why you won't see stamps.com crop up in your search results beyond a very narrow group of searches).
---
Voice search has created a huge vulnerability at the heart of Google's business
Hannah Roberts, Business Insider
---
This concern is not new (to my chagrin), however, in fact the Business Insider reported that a number of investors raised the issue at the 2016 earnings call for Google's parent company Alphabet – an issue that, while reassurances were given by CEO Sundar Pichai, Google was not able to satisfactorily address, stating only that it would expand Google's business.
With Google remaining tight lipped on the issue (we can, I feel, be confident this has not caught Google unawares) it remains for us to theorise on how Google may eventually seek to monetise voice search.
As stated above, the one size fits all advert is unlikely to work – but more than that, it goes against the core of Google's ad offering, its ability to offer enormous options in terms of targeting. It's therefore safe to discount this method.
The answer, I feel, lies in a variation of an offering Google already offers – the dynamic search ad.
---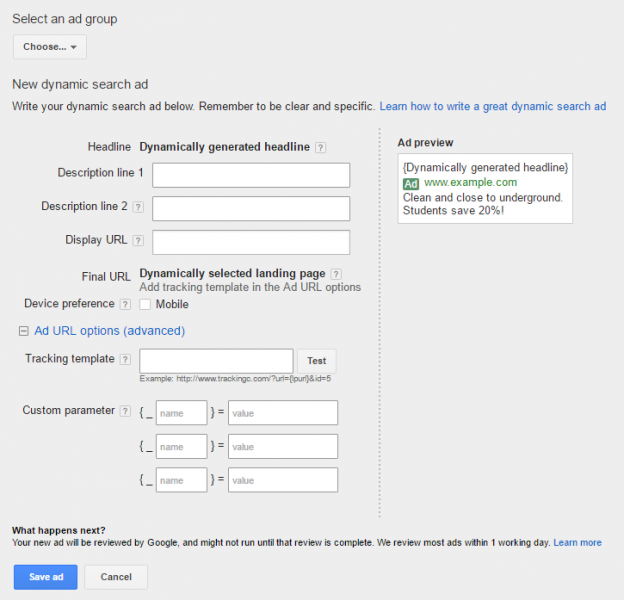 ---
By operating using a variation of the CPC model (cost-per-access?) and dynamic ads tailored to match potential voice searches, Google could well look to generate personalised spoken ads to serve against queries with specific intention levels.
By allowing the personal assistants to serve appropriate content from a brand's website, you also allow the necessary flexibility to serve appropriate content for variations in query structure, regional dialects and also for specific products and services.
Yet, the willingness to listen to ads is likely to be low and while an increasing familiarity with your digital assistant may lead to an increase in trust of their advice (there is a reason your assistants have a female voice in a range lower than average), it is unlikely that consumers will listen to multiple ads for a single search – with both of these factors likely to contribute to highly competitive and, consequently, expensive ads for key terms and trophy keywords.
So, with one ad available (possibly two at a push, unless a skip function is incorporated), where will it fall in the exchange? Will consumers be more or less likely to switch off for an ad at the beginning or the end of their answer? Providing the answer first would reassure the consumer that delivering that answer (and not the ad) is most important to the search engine, but could well leave the ad unserved, while the irritation of a pre-answer ad is likely to actively discourage many consumers from interacting with the ad.
The right way, it seems to me, would be to serve the ads conversationally. While this is almost certainly more difficult to achieve than a pre or post answer ad, it is also the least likely to irritate.
For me, therefore, the likely future of PPC – in a world where voice search follows the same trajectory of other technologies used to access online content – would be more conversational:
Searcher: [name of digital assistant], what's the nearest coffee shop?
Digital assistant: [coffee house name] is the closest, at 600 meters. ***AD*** However, [rival coffee house] would like you to know that they are currently running a special offer and are only an extra 100 meters away.***AD***
This more natural approach to the ad takes advantage of the digital assistant's main competitive edge – the humanity of spoken interaction.
What approach Google and the other digital assistants take remains to be seen, but in the meantime it would be a good idea to ensure that websites are in order with regards to semantic markup. Make sure that everything is correctly labelled. While digital assistants are getting smarter, they will – for the foreseeable future – need all the help they can get from the sites they draw from (remember, they recently thought Obama the king of the USA).
Excel Formulas Every PPC Professional Needs – Anu Adegbola's Benchmark 2017 talk
Anu Adegbola, Zoopla's Paid Search Manager and self-confessed Excel geek shared some of the great formulas that had been invaluable to her career in paid search over the past ten years
---
She began her Benchmark 2017 presentation by admitting she used to be "that little girl who used to play on my dad's laptop creating tables and graphs while everybody else was outside playing", and could talk about Excel all day, but instead managed to squeeze an impressive host of useful formulas and tips with the Benchmark audience.
Anu established that Excel could be used by PPC professionals for a number of things, including campaign creation, reporting, budget modelling (to allow you to determine which parts of your accounts you want to target spend depending on your return you're getting), competitor tracking and ad scheduling. But Anu's talk focused on campaign creation and reporting.
Campaign creation
Consider your high intent keywords – the ones that are more likely to lead conversion and revenue. How many of them are there, and how big do you want your campaign to be? This will be determined by your budget.
How can you make your ad copy as relevant as possible as, in terms of Quality Score? You need to make sure your keyword matches your ad copy and landing page.
Match type and how your site is actually structured.
Anu demonstrated how Excel can be used to optimise for this.
Keywords
Starting off with keyword formula, Anu recommended using the concatenate formula (which is designed to join different pieces of text together or combine values from several cells into one cell) for keywords and match typing.
For Zoopla, the different aspects that make a very high intent keyword are: number of bedrooms, type of property, whether it's to rent or for sale, and location.
If you apply concatenate properly, for these keywords you can generate 96 possible keyword combinations, as the slide below demonstrates:
---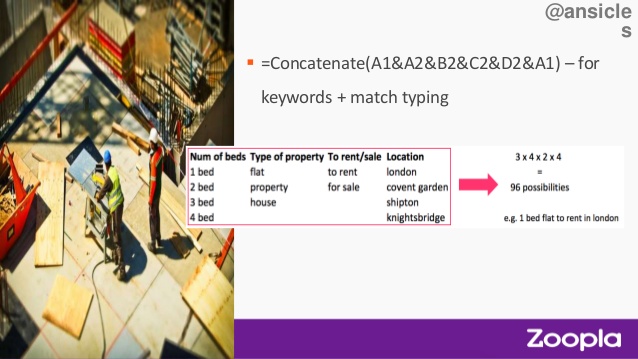 ---
Take the first line in the slide, for example, by putting A1 at the front and end, you can set your match type, you automatically set up your phrase match for all of these keywords.
This can be used for keywords and match typing, but particularly for exact match and phrase.
For a match type of broad match modifier (BMM), Anu recommended using a formula such as substitute, because for BMM you need a plus sign in front of each word. To do this easily in Excel, you need to insert the plus sign before the first keyword, and then do substitute from space to space + (to make sure there's a space in between each of the words).
In this example, '1 bed hotel to rent in London' becomes the BMM version of '1 bed hotel to rent in London':
---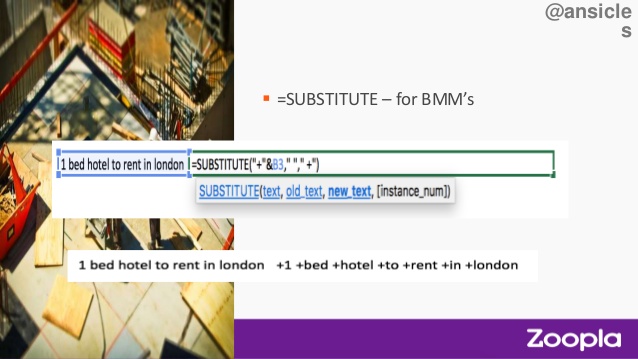 ---
Ad copy
Anu moved onto how to use Excel to create and optimise ad copy. She recommended using the proper formula to ensure each word was capitalised, as she finds this format increases CTR.
In this case, the keyword becomes the headline copy of the ad as: '1 Bed Hotel To Rent In London':
---
---
Moving onto the description line, where you have more characters to play with to include features, USPs and CTAs, you can use concatenate by putting find at the beginning, using the & sign to refer to your keyword, then adding extra copy after that.
Anu pointed out that it's a good time to bring the trim function into play so as not waste any characters spaces:
---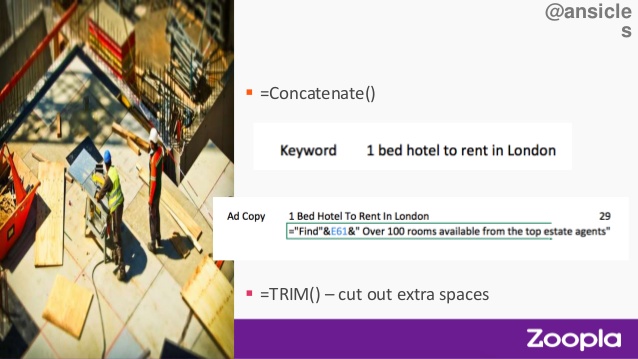 ---
You can also use the LEN, which allows you to see how many characters you have for each line to ensure you're working within the limit and maximising the space available.
---
We are always looking for an instant return from our paid search; Excel can help with this through several must-use formulas

Zoopla's Anu Adegbola
---
Reporting
When she first started as Paid Performance Manager at Zoopla, Anu was disappointed that the agency they were using wasn't providing daily or weekly Excel reports – so decided to create her own.
With reporting, you need to ask yourself:
Who is it for?
How often does it need to be done? For example, your internal digital team might want to have more frequent visibility of performance, such as daily or weekly; while your CEO may only want reports monthly or quarterly.
How large is the account (therefore what size does the report need to be)?
PPC reporting: a case study
Anu showed us the report she created for Zoopla:
---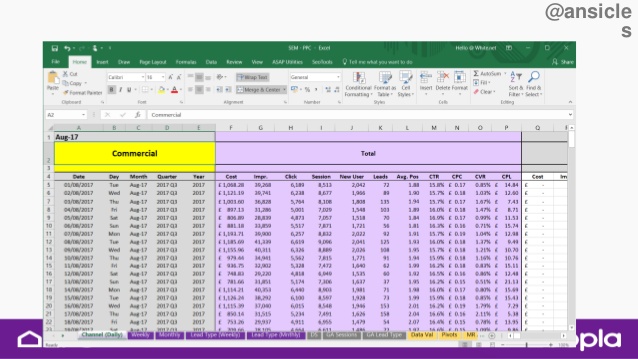 ---
The tabs show daily, weekly and monthly activity. It has a tab for raw data, as well as data pulled from DoubleClick, Google Analytics and AdWords, and all of Anu's formulas.
She admitted that putting such a detailed document together is very time consuming at the beginning but, once the template is set up, maintaining it can be quite straightforward.
---
Easter egg incoming!
Anu shared a tool not many people know about yet: the SEOTools extension, which provides additional formulas for manipulating your data.
Here's screenshot:
---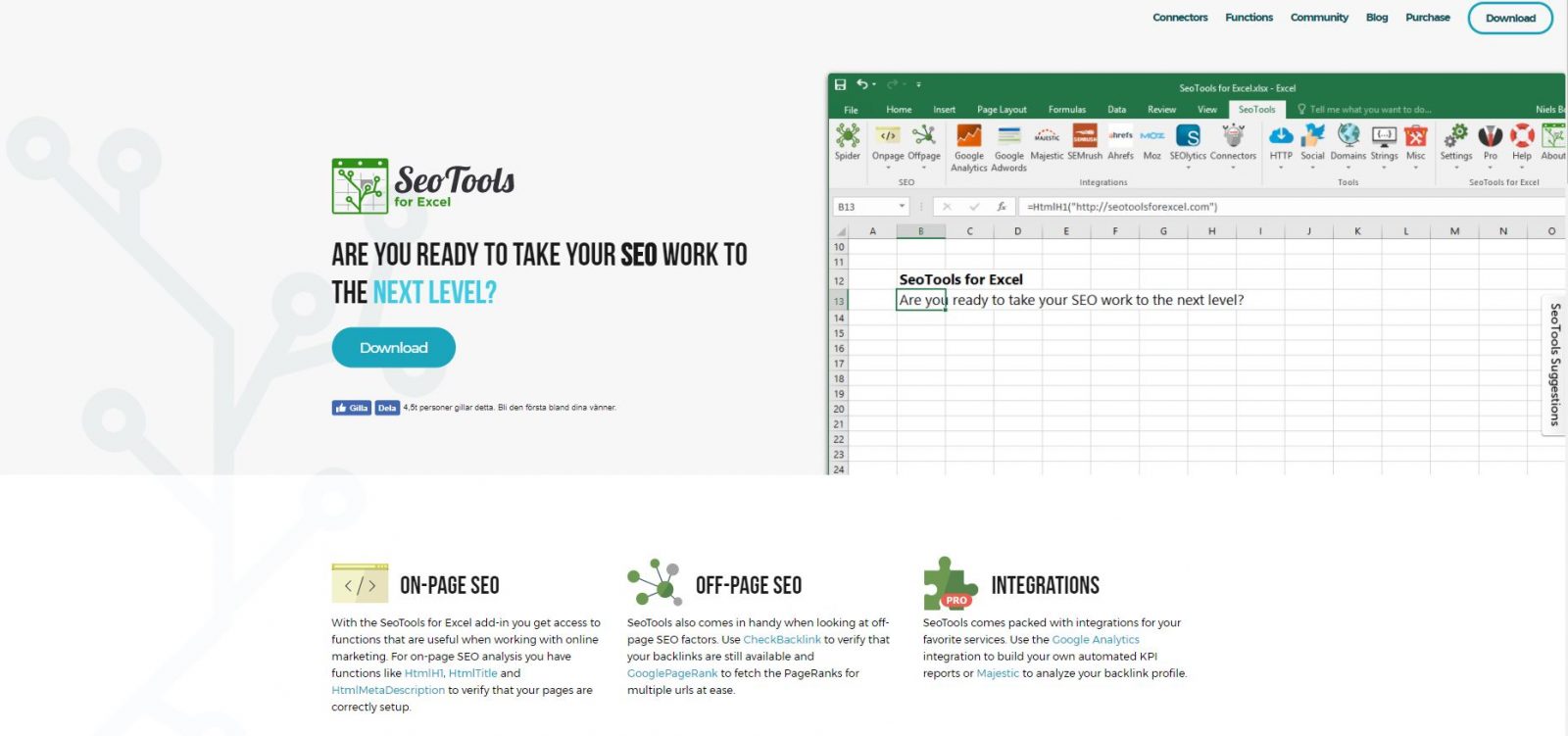 ---
Formulas used for reporting
The text formula allows you to control the format of your data.
Sumifs is a good way of summing up your data, whether this is impressions, clicks or costs, according to different groupings.  For example, if you have several campaign reports over several days, but you only want to see performance over a weekly or monthly basis, you could use this formula to aggregate your costs column, and then a particular date or date range.
The search and isnumber formulas are a good way to categorise something that's in a cell and there are a few variations. The search formula identifies what you put in the bracket and generates a number where it is found.
Now the isnumber formula determines whether data in a certain cell is a number. Combining this with the previous search formula, which returns a number if the formula can find an instance of the query, means you can use these formulas together to apply rules only when a certain query appears in a string:
---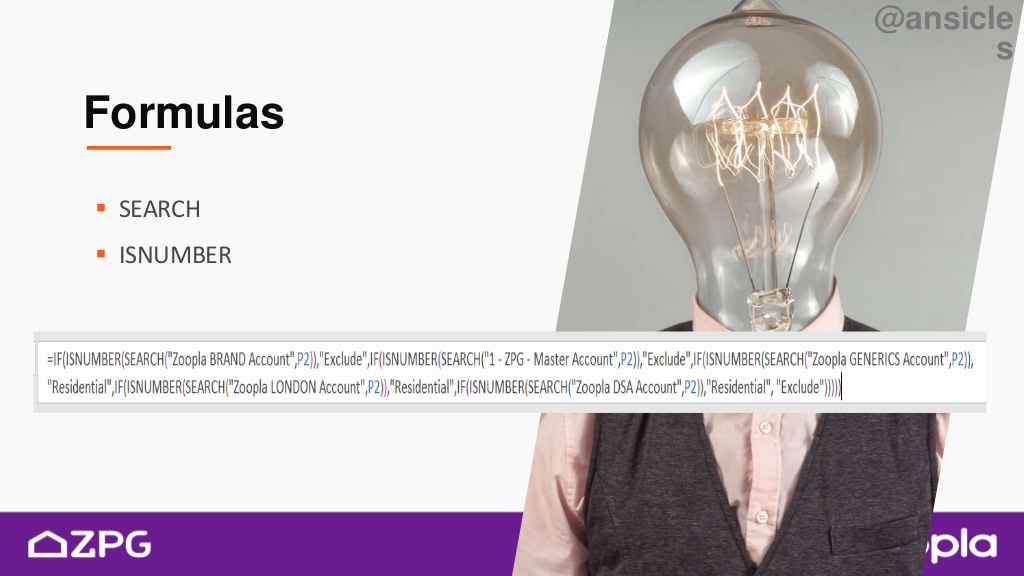 ---
Anu uses the SEO formula RegexpFind to find cells containing particular words and replace the contents of that cell with that term written out in full, regardless of what else the cell contains. A limitation with this is that there is a limit to the amount of arguments you can use in the formula. A way around this is to add more options using concatenate.
While Vlookup is a popular formula, Index Match opens up more options to look up values in a table based on data in other rows and columns.
Lean up your file
As formulas take up a lot of space, it can take a long while for your file to load, for you save or do anything else while the calculations are working.
So, save all the formulas on one line, in one tab, then call use it when needed to manipulate your raw data by copying down the formula then copying and saving the values produced in another tab.
---
Easter egg incoming! Part two
ASAP Utilities is a downloadable tool (currently only available for PCs) that allows you to implement many of the formulas discussed here without remembering them.
One way Anu likes to use it is for reformatting the dates, as she doesn't like the default format when downloaded from Google Analytics:
---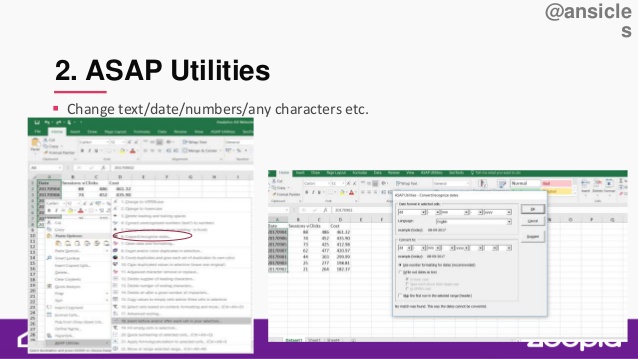 ---
The tool can also be used for manipulating text, formulas, removing or adding characters. It makes finding large batches of landing page tracking URLs less painstaking than doing manually.
---
Key takeaways
The 'concatenate' and 'substitute' formulae are vital for keyword list creation.
The 'trim' formula can resolve any potential problems with wasted space.
Reporting takes time, creating a great reporting template takes longer – but crucially the latter needs to be done only once.
The 'SEO Tools' extension for Excel can be extremely useful.
To maintain a lean file, save all formulas on one line in one tab and work your data around this to prevent excessive loading times.
ASAP Utilities is a must to save time on various repetitive tasks (such as date representation conversion from US to UK).
---
Prefer to watch the talk? Here's Anu's video in full:
Fine tuning your PPC
Search engine marketing (SEM) is fast becoming one of the most important considerations for businesses as they try to break through the 'digital' noise and grow their businesses online.
Having a well-oiled, high functioning, paid search (PPC) strategy is a vital component of this growth, but just because you have a strategy it doesn't mean that it is performing to its best. The following knowledge base will cover some of the things you can do to fine tune your PPC and put you in the best possible position to progress.
Learn about your audience
Understanding your audience is vital and making sure that you are not wasting spend on those who are not at the right stage of the buyer's cycle, or who are not even looking for your products and services is a must. You should be looking at your audience at all times and adapting your strategy in order to give your business the best possible chance of converting from an ad.
---

---
In the world of PPC one of the most satisfying metrics is return on investment (ROI), if you can use personalisation and build truly bespoke ads that are well targeted then you are heading for success. ROI is determined by a number of factors and none more so than the actual spend. If you are going for a broad range of highly competitive keywords then you might find that the cost per acquisition (CPA) is very high. Making mistakes in terms of your targeting here could prove both counter intuitive and expensive.
Focus on keywords
Keyword research is among the first steps to take when planning a PPC campaign. The end result of this can be a long list of keywords to explore, but do you really need to test them all?
According to Searchenginewatch: "It's tempting to try all of them until you find the most successful ones for your business, but it's usually more effective to focus on the most important ones for your goals.
"Quality keywords are not the same for every business or even every campaign, and this depends on what you want to achieve. These may not even be the most popular, but they will probably have more chances of converting than the rest.
"Focus on what you define as quality keywords, even this is quite a limited pool. This will save you both time and budget."
The additional time that you will have saved can be spent on maintaining lists. Look ahead and plan for new trends especially those picked up by consumers. You should also forward plan in terms of new products or services that you might be launching.
Conversion tracking
Once you are pushing ads into the marketplace you not only want the basic details surrounding how many times they are clicked on but you want to know where the ads were seen and who clicked on them and when. This all relates to conversion tracking and making sure that you have it set up is a must. According to Google: "With AdWords conversion tracking, you can see how effectively your ad clicks lead to valuable customer activity, such as website purchases, phone calls, app downloads, newsletter sign-ups and more".
The main benefits of having conversion tracking set up and working is that it will allow you to gain a deeper understanding of you audience, where they are in the buyers cycle and where they are browsing and coming through to you site. This can lead to businesses reviewing their budgets and targeting their ads to a certain type of person in a certain location.
In terms of why Google suggests that you use conversion tracking as a key component of a business's PPC strategy, they highlight the following:
See which keywords, ads, ad groups and campaigns are best at driving valuable customer activity.
Understand your ROI and make better informed decisions about your ad spend.
Use Smart Bidding strategies (such as target CPA, enhanced cost per conversion (CPC) and target return on ad spend (ROAS) also) that automatically optimise your campaigns according to your business goals.
See how many customers may be interacting with your ads on one device or browser and converting on another. You can view cross-device, cross-browser and other conversion data in your "All conversions" reporting column.
Optimise for mobile
Unless you've been living under a rock you will know that mobile optimisation is one of the most talked about topics when it comes to search marketing. Businesses are clamouring to follow consumer trends and optimising for mobile is a must. Failure to make sure that your ad displays properly or at all means the difference of hitting the entire potential audience or missing out on over 50% of them, (according to mobile v desktop usage).
Another key thing when it comes to mobile optimisation is that you include local search. Search users are more likely to visit a store if they can see that a store has the product in stock. This is true whether researching a shopping trip on a desktop PC or a last minute search from a smartphone during a shopping trip. Recent Google research identified that 75% of shoppers plan to use their smartphone in store this festive season.
---

---
Create device specific campaigns
As we have already touched on with the increase in mobile usage it is important to not only understand where your audience is looking but how and when. This was one of the topics covered by Click Consult's Head of Paid Search, Dave Karellen at The Benchmark Search Conference.
---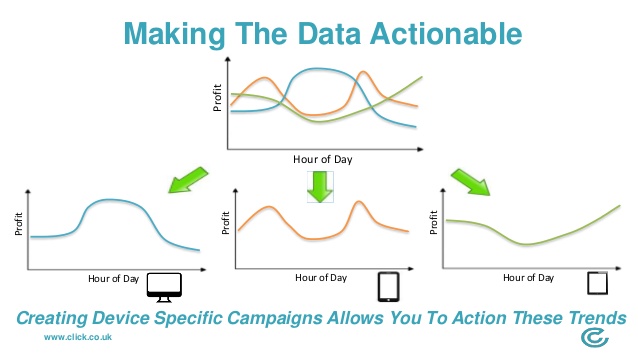 ---
As you can see from the graphic above day parting is vital in terms of a paid search strategy. You need to be able to see when your audience are looking and on which sort of device. Desktop users tend to be most active in terms of search and clicking on ads during the middle part of the day, normally around lunchtime. Mobile users tend to be online during commuting hours and just before/after traditional work hours. Tablet usage picks up momentum throughout the day rising to its peak in the evening. If you bear this in mind and target you ads, to certain devices and at certain times of the day you will reduce wasted spend and improve your chances of a higher ROI.
---

---
There is also an argument that a consumers age plays an important part in the targeting strategy. The number of smartphones us highest with the younger end of the market, whilst desktop usage remains fairly steady. Tablet use becomes higher with an older generation. If you are a business targeting one end of the market and you have relevant products for a particular demographic, then make sure you are targeting their devices at the time they are being used.
Utilise images
A picture paints a thousand words or so they say. When it comes to writing an ad and implementing a PPC campaign many businesses think that they can choose to say anything. In the digital age it is not like taking out a full page, text heavy ad in a magazine. There are limits to what you can say in terms of Google AdWords rules. A trick to make sure that you are getting the most from you ads is to add relevant imagery. This could be in the form of a banner image with your promotion on or it could be a product shot. Use images to say what you can't fit into the copy and display further benefits to the potential customer.
Match your landing pages
The rule here is to check, check and check again. The most fundamental mistake that businesses make is linking the wrong information to their adverts. There is no excuse for putting in the hard work, designing eye-catching and informative ads and then linking them to the wrong place. If a buyer is genuine and they are interested in what is displaying there is a high chance that you will get a conversion following a click-through.
---
---
Paid Search & Social
Paid search (PPC) in 2018: what to expect
As self-confessed geeks, there's nothing the PPC team at Click Consult don't know about paid search. Like any other aspect of digital marketing, this form of advertising is continually developing and no marketer can afford to stand still if they want to remain successful and competitive.
---
Earlier this year, ad customisers expanded out to time of day, device, and audience, in line with my prediction at the end of 2016 that paid search would increasingly move towards true personalisation.
As also anticipated, implementing AMP (accelerated mobile pages) has grown in importance and will continue to do so into next year, and this will include AMP for PPC landing pages
Here are my other predictions for 2018:
GDPR
A big focus on adapting to GDPR (General Data Protection Regulation) and, particularly for PPC, how this will affect remarketing lists.
Data-driven attribution
A move to data-driven attribution, with last click becoming a bit of a dirty phrase. Prepare to allocate more budget to display and video as they become more valued and trackable by data-driven attribution.
Acceptance of machine learning
Machine learning will come into its own rather than simply being a buzzword thrown about. The distinction between automation and machine learning will be thrown into the spotlight with people who've always shunned automation conceding that machine learning – true machine learning – is something that at the very least we should all be testing.
Further personalisation
I imagine personalisation to continue to be a focus into 2018. The stage is set for it now, but it's not being embraced by all. There are clear ways in which this can continue – demographic ad customisers and interest ad customisers, using the same interest categories as the Google Display Network. The latter may also finally be brought over as a search bid modifier, to help push Google's drive on focusing on the audience.
Content advertising
The only other point is that last year we predicted an increase in content advertising usage (the process of producing content with the intention of promoting it through paid distribution channels). While this has experienced limited adoption this year, I'd say it's one we can roll over as a next year's prediction. I guess we were looking too far ahead last year!
PPC advertising: reaching your target market through geographic targeting
Using AdWords offers many benefits for businesses; it equips users with multiple options to help them to reach their target market effectively. Targeting campaigns to specific geographic locations is just one of the options.
You can choose a preferred county, area or be as specific as designating a radius around a location where you want your ads to appear. Some of the location types available include boroughs, cities, governorates, municipalities, states, provinces or even cantons, depending on geographic division of a targeted country.
Furthermore, the location function allows you to target customers based on demographic information available on Google.
Benefits of geographic targeting
Targeting by geographic locations can bring multiple benefits to your paid search campaigns, including decreasing cost from irrelevant clicks, increasing ROI or matching customers to your offering more closely. For instance you can target densely populated places like big cities where you are able to raise more awareness or find new customers. If your business is operating locally or is limited by a certain area you can target your ads to reach only that particular area and its local residents.
The ads provide better results for people that are searching with a particular location in mind. Furthermore, the function also works the other way around where you can exclude certain areas that your business does not service. For instance if your business is based on direct home delivery then with this option you can automatically exclude areas that are outside of your delivery radius.
---
How it works
The way AdWords determines what location category an internet user belongs to is relatively straightforward. It uses two methods: the first one matches geographic locations to users by either physical location of the person determined by their IP address or their device location; the second one determines data by locations that people showed interest in. For instance, if somebody is interested in a particular location and includes it in the search phrase entered, their search results will not be limited by their physical location or the location of the domain they are searching on. So a user from one country (for instance France) searching for information relating to the country you operate in (UK) can still see your business's ads.  Furthermore, AdWords also provides you 'ad reach' information which is a current estimate of a number of users within a selected location determined by Google. This can be found in advanced search settings section of your campaign.
---
Improve location performance
If your campaign performs particularly well in a certain location it might be worth increasing your bids related to that location to further boost the performance of your campaign. You may also want to create separate campaigns targeted to your most successful areas, including keyword and ads that perform best for that location.
Another way to improve the performance of your campaign in a particular location is using location-specific landing pages. A different landing page for each region you are targeting can help your customers reach relevant information quicker.
Enhancing your paid search (PPC) adverts through AdWords' 'callout extensions'
Google's latest addition to the search network extensions family has been released, offering you the opportunity to spotlight your brand's most attractive USPs and special offers in your advertising campaigns.
The new feature, known as 'callout' extensions, allows you to add up to four sets of descriptive phrases (with a 25 character limit) that advertises pretty much anything that you believe is going to attract traffic to your site.  Callout extensions give you the opportunity to 'show off' elements of your website, service, or product offering that could get you the attention you need in your ad listing.
---
How it works
In your AdWords account, you can apply sets of two to four callouts at each ad level (account, campaign and ad group) to ensure that your ads remain as accurate and relevant as possible. Google will select the most appropriate callouts to display, as per the search query a user types in. If there isn't a callout selected at ad group level, Google will use your campaign set of callouts. If you haven't set campaign callouts, Google will use your account level callouts and so on. Google determines the relevancy of your ad based on various factors including its length and its click-through rate the last time it was displayed in search results.
The new callouts feature offers you the ability to schedule your callouts for specific dates and times, which is great for promoting your offer periods such as 'free delivery weekend' or '20% off week'. Additionally, the callouts device preference feature allows you to choose whether or not to display your callouts on mobile devices. If left unselected, then your preference is for your callouts to be displayed across desktop and tablet-based searches. Utilising this feature means that you can segment your callouts based upon what you'd like display to mobile customers and what you would like to display to desktop and tablet users. One important point to bear in mind at this stage, is that if you have more callouts set for higher levels, these may be used in favour of inappropriate device callouts.
---
Benefits
One of the main goals of optimising your adverts is improving ad rank and this ad extension option is a great opportunity to increase your ad rank. Furthermore, unlike site links, there's no need for landing pages, so placing high quality callouts is super easy to set up. Additionally, editing and removing your callouts is simple and time-efficient, so you can continue to change your callouts in line with your marketplace and your website changes. This makes the advertising of special offers, sales and discounts as temporary as you need them to be.
And the cost? Callouts are completely free. If your callouts have a high click-through rate, they're more likely to be selected by Google in the future and, as always with PPC ads, you will only be charged the regular cost-per-click (CPC).
So, to help keep your business ahead of your competitors, start taking advantage of Google's new feature and implement your callouts now.
---
Simple setup
Setting up the callouts extension in your Google AdWords account is quick and easy.
Click on the 'Ad Extensions' tab
Change the view to 'Callout Extensions'
Select which ad level you wish to apply the extension to, then click '+ Extension' to add a completely new callout. Click '+ New Callout'
Complete the form shown below, using additional settings if required and click save.
That's it! Your new callout will now be ready to run…
Ad blockers & PPC – Turning a threat into an opportunity
It is estimated that 22% of over 18s currently use ad blocking software and a recent report by eMarketer suggests that this is a figure which will continue to rise
It is statistics such as these that have resulted in the vast amount of 'we're doomed' articles that can be found all over the internet with regards to paid search (PPC). Some of the more extreme commentators on the subject could leave you thinking we'd all better get down to the job centre first thing in the morning. But is it all doom and gloom?
What do they actually do?
Firstly in order to understand the issue let's take a look at what ad blockers do when they are enabled and how this actually affects the work we do with regards to PPC. I'm sure it won't come as a surprise to anyone that the purpose of an ad blocker is to block ads. As can be seen in the example below, all the blood, sweat and tears (hopefully not literally) put in to make a PPC campaign successful are wasted in relation to the 22% of web users with an ad blocker enabled, some of whom could be the exact people that you are trying to target.
---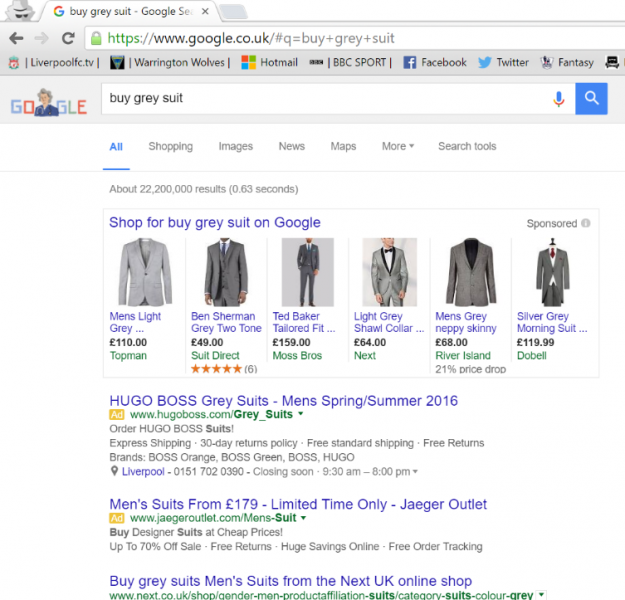 Google results without ad blocker
---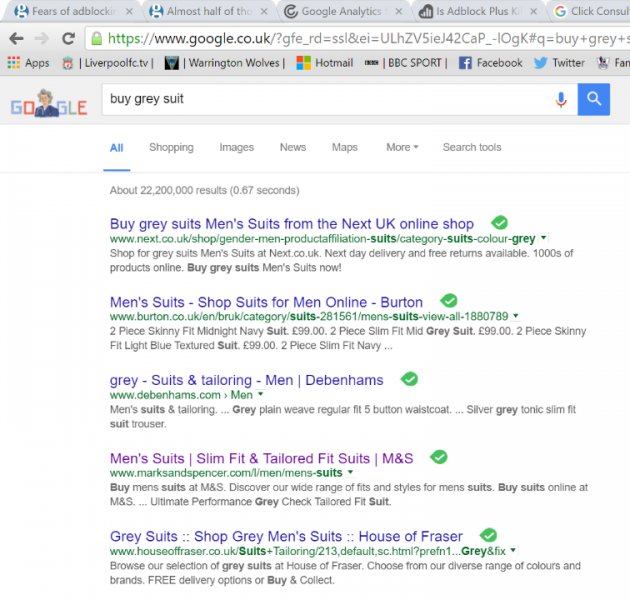 Google results with ad blocker
---
Why do people block ads?
Next it's important to understand the reasons behind the rising number of users who are deciding to use ad blocking software in order to give us an idea of where we can go from here. According to a recent KPMG report, over 40% of people that plan on using an ad blocker in the future cited a lack of ad relevancy as a key reason and almost half the respondents alluded to the intrusiveness of ads in relation to the sheer amount of space that they take up.
---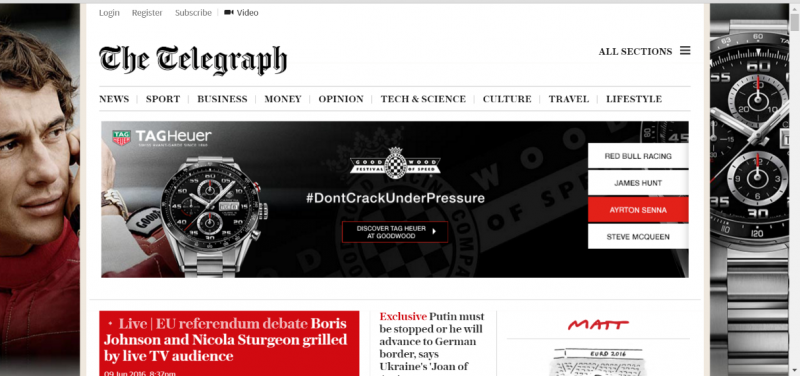 Ads dominate this Telegraph web page
---
So are we doomed?
Although the statistics paint a pretty dismal picture, this should really be seen as an opportunity for evolution and a chance to stand out within the industry; as those that move away from the intrusive and irrelevant advertising techniques of old, pioneer new methods which will separate the wheat from the chaff. Those that try to empathise with the alienated ad block users are in a much better position to create solutions and strategies which can begin to turn the tide.
Some suggest that those that have already installed ad blocking software are somewhat of a lost cause however more than half respondents to the above survey said they could be persuaded to turn off the software. Furthermore, the number of internet users is growing, if ads are more relevant and less intrusive these new users (who could also potentially be more likely to click an ad than a long term internet users/those who user ad blockers) could provide a chance for advertisers to continue to tap into the market whilst ensuring these new users are less likely to consider ad blocking.
---
Those that try to empathise with the alienated ad block users are in a much better position to create solutions and strategies which can begin to turn the tide
---
The threat of ad blockers is forcing advertisers to consider the longer term effects of their paid search campaigns. Just as customers would likely not appreciate being hounded by a salesperson on entrance to a high street store (and then followed around by said salesperson even after they've left the store) they are unlikely to react kindly to similar behaviours on the internet. Although these tactics may bring 'wins' through clicks and conversions in the short term, those advertisers that consider how these behaviours are likely to affect things such as brand image in the long term will be those that users are much happier to engage with.
One way in which the industry has already begun to evolve is the shift towards advertising targeted at mobile devices, which have a much lower proportion of ad block users. The same eMarketer report mentioned earlier estimates that fewer than 9% of smartphone users will have installed ad blocking software by the end of next year. As a result, advertisers almost have a clean slate with regards to mobile advertising and those that adapt their mobile targeted paid search campaigns using the lessons learnt from the desktop ad blocking 'epidemic' have a real opportunity to create more meaningful connections with their audiences.
---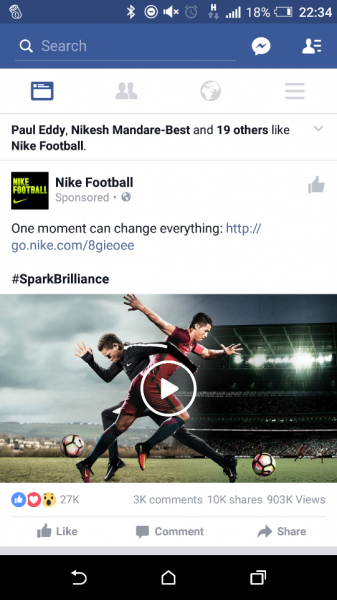 Nike's engaging social media ad
---
Lessons learnt from the desktop ad blocking 'epidemic' offer a real opportunity to create more meaningful connections with your audience
---
The topic of ad blockers seems to have almost become the elephant in the room in some circles within digital marketing; born from a reluctance to accept the need for change. But in such a fast changing industry, it is those who truly understand the threat posed that will be able to actualise the opportunities presented.
Is paid social media for you?
Social media advertising (paid social media) can be an effective way to amplify your other inbound marketing activities – and there's never been a better time to invest some of your advertising budget into social platforms.
While in the past, social advertising was seen as somewhat of an antithesis to the organic, authentic engagement and interaction associated with traditional social media marketing. However, paid social has moved on in leaps and bounds since Facebook's first foray into advertising back in 2004 with simple banner ads.
Over recent years, social platforms have broadened their appeal to marketers by allowing them to interact with followers like a native user; by encouraging branded content and by offering more sophisticated advertising options in the form of promoted posts, native and video ads; and, most recently, 'buy it now' buttons.
The scale of reach and targeting offered by social, along with increasingly intuitive in-platform advertiser interfaces and metrics,  means paid social has never been a more attractive option to complement your organic social activities.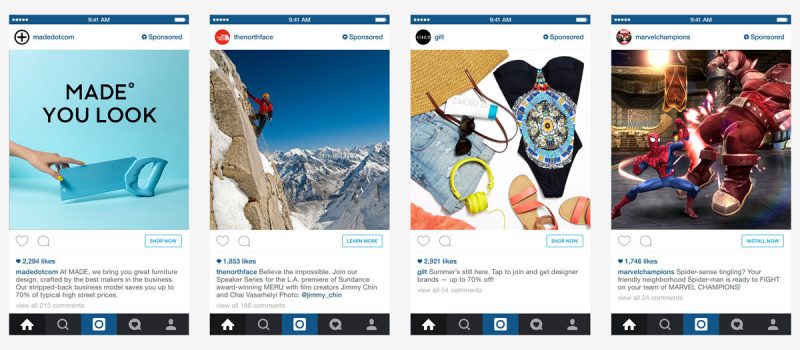 Examples of paid social on Instagram
But how effective is paid social?
The perceived value among marketers is on the rise: the number of advertisers viewing social ads and promoted posts as effective leapt by 20% and 30% respectively between Q4 2014 and Q4 2015, research by the Content Marketing Institute/MarketingProfs found.
Meanwhile, social users themselves say sponsored social messages are "equally—if not more—effective as other types of marketing tactics", according to data analysis by eMarketer; this showed that platforms like Twitter, Snapchat and Instagram ranked higher than more traditional tactics such as print ads, with TV commercials the only non-social/non-digital medium in the top ten:
Source: eMarketer
---
Our eBook, Social Media Advertising: What Are The Options? will help you to explore the paid opportunities available to place your content in front of the audience that matters to you on social media.
Share this: