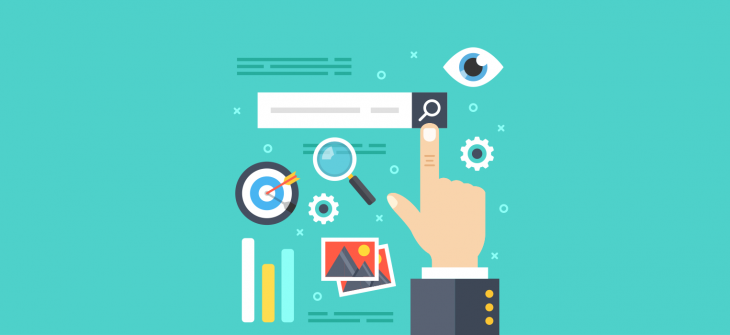 This month in search marketing: April 2021
The latest search and digital marketing news brought to you by Click Consult…
---
Tuesday, 13th April
Jedi Blue and Project Bernanke
Oh dear oh dear, Google has been caught making deals with Facebook to the detriment of advertisers. Search Engine Land's article, titled 'Marketers not surprised…' gives some indication of the problem. We know that Google is always up to something, but their absolute lack of transparency really needs to result in some kind of consequences soon before the damage done is irreversible.
Monday, 12th April
Soft 404s causing traffic loss
Search Engine Journal features a piece on a bug that has been causing drop the desktop rankings of some sites. While there was little elaboration (surprisingly), Mueller did suggest that the issue has been uncovered, which makes a fix likely and, hopefully, quickly.
Social media usage survey
Pew Research have published data from a recent social media survey that shows growth was not as common in social media (in the US) as one might have expected – although it's possible that the breakout stars of the year like TikTok and Nextdoor, for example, may have played some part with the two platforms going from nothing to 21% and 13% respectively of US adults having said they use the platform
---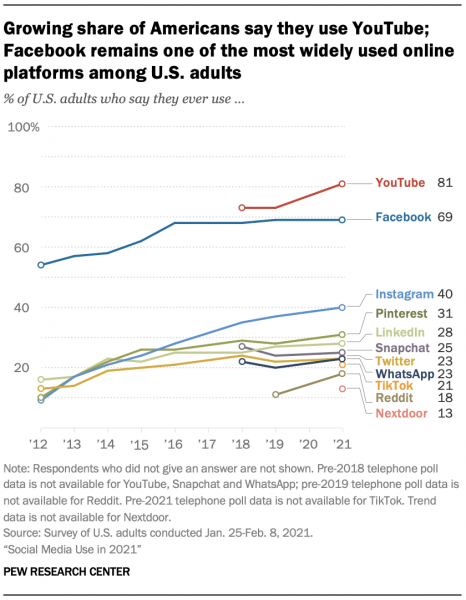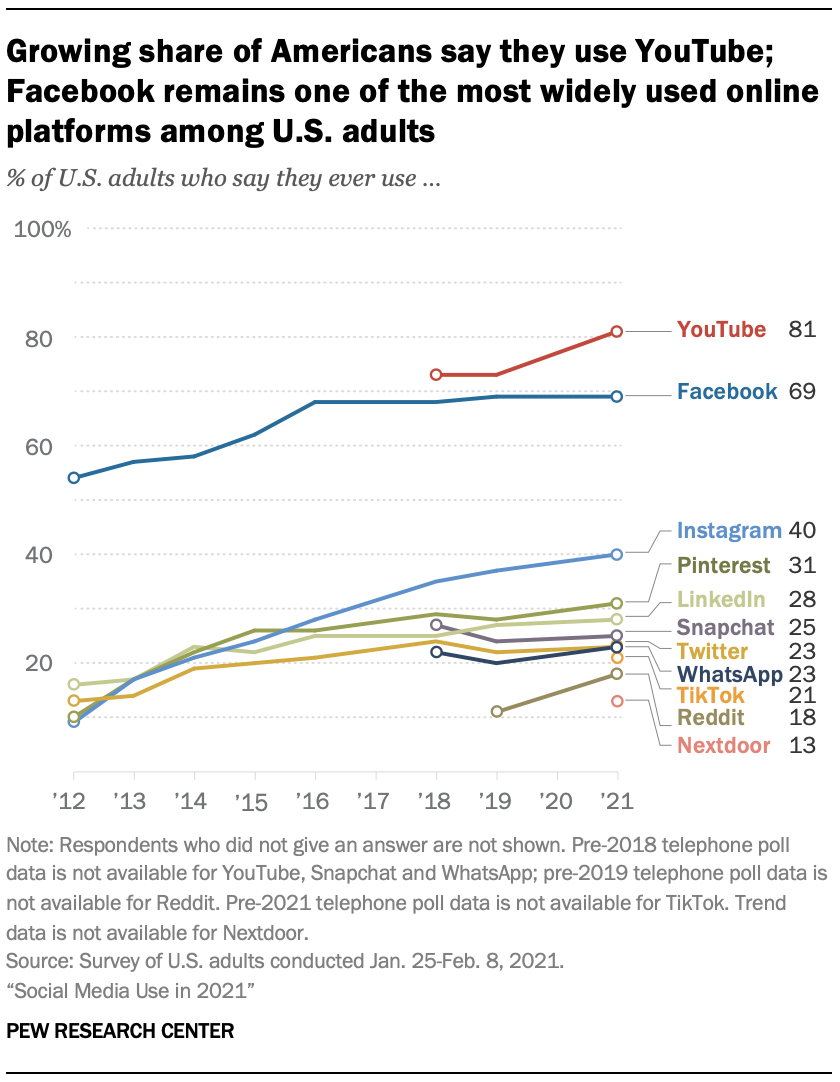 ---
What may be of more interest to marketers, however, is the demographic data, which shows 95% of all 18-29 year olds using YouTube and a surprising 70% of them using Facebook (I wonder how many have to have them to post on the platforms for clients?).
---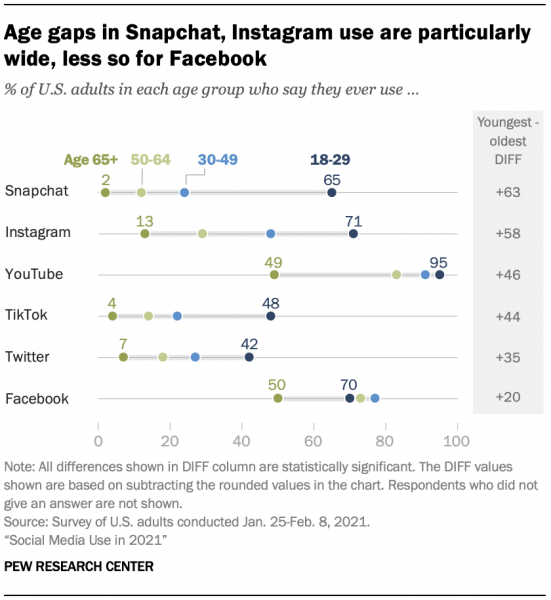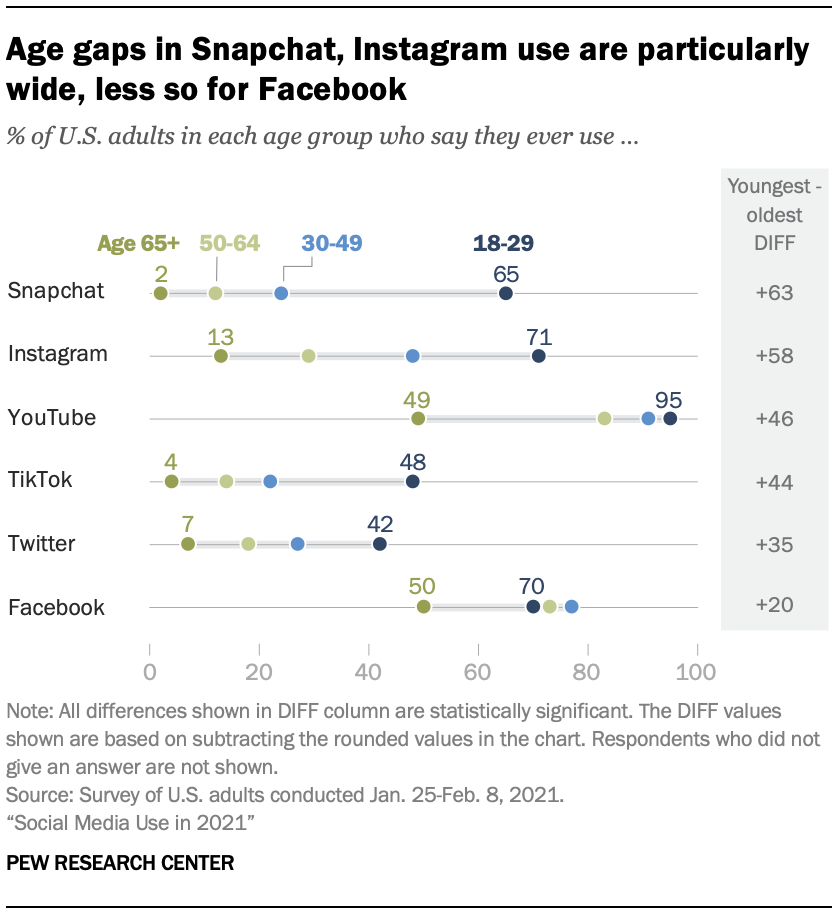 ---
Wednesday, 7th April
Google Ads' continuous audience sharing is now available
Google has expanded on the continuous audience sharing feature it launched last year by enabling audiences to be shared from sub-accounts, the company announced Tuesday. When enabled, existing and future remarketing lists created from sub-accounts are automatically shared with manager accounts.
When continuous audience sharing was first introduced, it could only be done at the manager account-level and it only enabled manager accounts to share audience lists with sub-accounts.
Now, audience lists can be shared from sub-accounts to manager accounts as well.
Audience lists may be confidential or proprietary. Before sharing a list with another account, ensure that you've received permission from the account that owns the list, Google says on its remarketing list help page.
Tuesday, 6th April
65% of all searches in Google Search do not lead to a click to a website
Rand Fishkin of Sparktoro came out with a study saying about 65% of all searches in Google Search do not lead to a click to a website. Shortly after, Google responded saying Google sends more traffic to the open web every year. One study says Google is gatekeeping the search traffic and Google saying, no we don't. Who do you believe?
On the whole, both are right and both can be believed.
Rand published more data that said if you look at just US searches, the zero-clicks looks worse, from 64.82% to 68.3% but he did say overall clicks to websites, the raw number of clicks, is up because searches are up year-over-year. He shared a sample query set, saying a query like [apple iphone xs] zero-click rate was 43% but a query like [donald trump age] was much higher at 95%, which just shows you, the query really matters. Rand said he hopes to break down queries more but needs more time, while Google has remained silent, giving us zero data to refute any of Rand's claims.
Google core web vitals and page experience update FAQs updated
Last December, Google released a detailed FAQs around the upcoming Google page experience update and the core web vitals. Well, this week, Google has vastly improved the FAQs with a ton of additional information. We recommend you review the FAQs in greater detail but keep in mind, as the FAQs say, this update should not be earth shattering for your site's position in Google Search.
Here are two items in the revised FAQs that stood out to Barry Schwartz.
Google will still rank the most relevant content despite how poorly it might do with its core web vitals scores. "Our systems will continue to prioritize pages with the best information overall, even if some aspects of page experience are subpar. A good page experience doesn't override having great, relevant content," Google wrote.
AMP nor core web vitals marks will be a deciding factor for top stories. Google also said that those pages are still "eligible for Top Stories carousel if my webpage is not clearing Core Web Vitals."
---
There's always a lot going on in search and digital marketing – and 2021 is already guaranteed to be one of the fastest moving yet. Keep up to date with our monthly news blogs – or stay ahead and contact us today!
Share this: