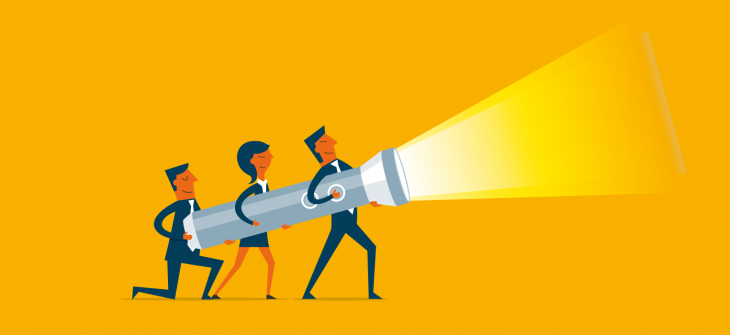 This month in search marketing [August 2020]
The latest search and digital marketing news brought to you by Click Consult…
---
Friday, 28th August
The average GMB profile has 73 reviews, 45 photos, 5 Posts and a star rating of 4.08
Google My Business (GMB) optimization has become critical for brands and small businesses alike as the gateway to offline and, increasingly, online conversions. Google Search and Maps (especially) are often the first points of contact for millions of consumers with businesses that have physical locations, as well as service-area businesses.
One of the questions I've asked repeatedly over the past few years is "how many businesses have verified their listings on GMB?" Places Scout in 2019 analyzed 2.4 million business listings in over 30 categories and came up with an answer: 62.2%. A 2020 analysis of 800,000 listings by Whitespark found a lower number: 49%.
The Places Scout study contains a wealth of valuable GMB benchmarking information. Here are some of the numbers.
According to the study, the average GMB profile is 72% complete. Sixty-one percent have business hours posted and 93% feature a business phone number. Seventy-three percent have a URL, but only 29% on average have a business description. The average description length is roughly 231 words.
Google tests reporting of false positives in Search Console
Let's say your site was flagged by Google search as having a security issue, be it malware or maybe your site appeared to be hacked. Google is now testing a feature to let you request that Google review the site and the specific security issue if you think Google mistakenly identified your site as having such a security issue.
"We're piloting a new reporting system beginning with security issues," Google said on Twitter. There is a new "Report a Security Issue" button on the security issues help page where site owners can report potential false positives or request a re-review of the security issue.
Wednesday, 26th August
Google's new AdSense Reports page makes it easier to visualise data
Google has launched a new AdSense reporting page, the company announced Tuesday. The new Reports page will be rolling out in phases and it could be up to two weeks before it reaches all publishers.
Google has restricted reporting data to the last three years for all AdSense products. With the exception of billing and payments data, it has also removed all AdMob and YouTube reporting data. This limitation will make reports more accurate, Google said.
Historic data can still be downloaded from the old Reports page or the new Reports page, where it will be accessible until the end of 2020.
Publishers will be automatically opted into the new Reports page when their accounts are updated. However, the previous iteration of the Reports page will remain accessible until the end of September.
The AdSense API will be upgraded in 2021 with more parameters and signals. Over the next year, Google will prioritize enabling publishers to get more insights from the data they already have by contextualizing reporting data with suggestions.
The new Reports interface should make it easier for publishers to manipulate and visualize their data. It also adds more in-product help via hover-over information icons. These improvements can help publishers identify trends, compare important metrics and learn more about how their account is performing.
Tuesday, 25th August
Google makes it easier to control Shopping ads by country
If your Google product feeds are set to show products across multiple countries, there's a new feed field to give you some more flexibility.
You can now use the shopping_ads_excluded_country attribute to keep some products from showing in certain countries you're targeting, Google announced this month. That attribute will override the country targeting set at the feed level.
If the U.S. is your primary country of sale, and you've added Canada and Mexico as additional countries of sale in Merchant Center, you can use the shopping_ads_excluded_country attribute to exclude certain products from being advertised in Canada or Mexico Shopping results.
With this attribute, you don't have to create separate feeds for each country in order to control which products show where.
Monday, 24th August
Google launches 'people cards' in Search
Google has launched public search profile cards for individuals in India, the company announced.
Known as "people cards," the new feature has already begun rolling out in English for mobile users in India.
People cards may increase visibility for personal brands by making a knowledge panel-like list of links and information about an individual available to potential customers, clients and/or employers right from the search results.
Individuals that have claimed their people card can add details such as a personal description, their occupation, employer, location, profile avatar, phone number, website and social media accounts. This curated information may help people card owners influence their customer journey.
Facebook redesign will be rolled out next week
Facebook has slowly been rolling out a redesigned version for desktop, and will enforce the change for all users from next month.
The 'new' Facebook was introduced back in May, and has a much more minimalist design than the previous version.
The top of the website has been changed from blue to white, and includes light grey icons for the News Feed, Facebook Messenger, notifications, Watch, Marketplace and Groups.
Facebook's logo has also been changed, with the letter 'F' now in a brighter and lighter blue circle. Another change is that Facebook Stories used to appear on the right of the page, these have now been moved to the middle, and are represented by rectangles rather than circles.
Unfortunately, according to the Daily Mirror,  the initial response to the redesign hasn't been great.
One user tweeted: "This facebook redesign might give me the final push just to delete the stupid thing."
Another added: "Whoever worked on Facebook's redesign needs sacking. Yuck."
Friday, 21st August
Google to launch 'enhanced news storytelling' project with licensed content
Google's history with news publishers is, to say the least, complicated. The company historically has resisted paying licensing fees for news, arguing that it was delivering considerable value to publishers in the form of traffic. But some publishers (e.g., Rupert Murdoch) have complained over the years that Google was actually "siphoning" their ad revenues, eroding their brands and hurting subscriptions.
European regulators and legislators tried for several years to force Google to pay publishers with more restrictive copyright laws and lawsuits, which didn't really work. However French antitrust authorities recently ordered Google to pay for news content and work out a deal with publishers.
This years-long back-and-forth, against the economic backdrop of traditional news media decline, has helped evolve Google's position. More recently the company has sought to be a better partner to publishers. In that spirit it launched the Google News Initiative in 2018 "to help build a more sustainable future for news via programs like Subscribe with Google and the Local Experiments Project."
In June of this year Google announced a news-content licensing program "to pay publishers for high-quality content for a new news experience launching later this year." Google says this new initiative will feature "an enhanced storytelling experience that lets people go deeper into more complex stories." It began testing this program in Germany, Brazil and Australia.
This new product will reportedly live side-by-side with Google News and won't replace it.
Thursday, 20th August
Yelp's updated 'Request a Quote' and new 'Nearby Jobs' provide lead-gen for SMBs
Yelp introduced "Request a Quote" business messaging in 2016. In the interim, the company added capabilities and is now reintroducing it as a more full-featured lead-generation and business matching tool with appointment booking.
Yelp is also launching "Nearby Jobs" for local services businesses, which gives them the ability to access a flow of local leads a part of a $240 monthly subscription. Businesses can proactively reach out to interested consumers based on a feed of local projects and service requests.
More than 60 business categories now offer Request a Quote, featuring a newly revamped lead-gen questionnaire. That will grow to 100 in the near future, according to Yelp Product Lead Yue Wu. Those include auto repair, movers, photography, salons, pet groomers, realtors, child care, home services, professional services and contractors, among others.
Wednesday, 19th August
Bing Shopping opens up to free product listings
Organic product listings are now available in the Bing Shopping tab, Microsoft announced Monday. They are currently offered to Microsoft Merchant Center store owners with approved offers, and will launch with a small volume of traffic this month.
The ability to promote products for free is currently only available to merchants in the U.S., but will also eventually roll out to those in the UK, Canada, Australia, France and Germany.
Microsoft Shopping Campaigns customers do not need to take any action to participate and all approved product offers in Microsoft Merchant Center are automatically opted into free product listings. Clicks from the Product Listings section of the Shopping tab are free; retailers do not need to pay Microsoft for them.
Microsoft encourages merchants to submit detailed product feeds as a data source for these organic listings. Merchants that do not wish to participate can opt out from the Settings page of their merchant center store.
Tuesday, 18th August
Google and Firefox renew their 'default search' partnership
Google and Mozilla's Firefox need one another. That was recently reaffirmed in the decision to extend their 2017 search partnership, which was set to expire this year.
Mozilla gets most of its revenue from search partnerships, the most important of which is Google — the latter is the default search engine for Firefox in North America. Google needs Firefox as a competitor in the browser segment, which it dominates globally. Google's browser is under antitrust scrutiny in both Europe and the U.S.
Failure to extend the search deal with Google could have been a potentially existential blow to Mozilla, which has laid off 320 employees since the beginning of the year. As part of that, last week the company reduced its workforce by 250.
COVID-19 has put pressure on the browser company and it now needs to accelerate revenue diversification to survive over the long term.
Google Performance Planner adds support for conversion delay and shared budgets
Google has added three new features to Performance Planner, its ad campaign forecasting tool, the company announced Monday. Performance Planner can now account for conversion delay and supports shared budgets across search campaigns as well as campaign plans that can be viewed and edited by other stakeholders.
Writing for SEL, George Nguyen said we should care because: "Being able to account for the lag between when a user clicks on an ad and when they perform a conversion action can help advertisers get more accurate campaign projections. Shared budget projections may also make the Performance Planner tool more useful for advertisers managing their campaigns that way. And, enabling advertisers to share their performance plans supports collaboration with other stakeholders."
Monday, 17th August
Google Search Console Insights for content creators
After being under the radar for a couple of months, Google has confirmed the new Google Search Console Insights according to Barry Schwartz for Search Engine Land. Search Console Insights is a new view of your data specifically "tailored for content creators and publishers," Google said. It can help content creators understand how audiences discover their site's content and what resonates with their audiences.
Search Console Insights uses both Search Console and Google Analytics data in one view. Google announced the beta today on Twitter, saying, "Today we're starting to roll out a new experience to beta testers: Search Console Insights. It's a way to provide content creators with the data they need to make informed decisions and improve their content."
Facebook launches free 'paid online events' for SMBs and others
Facebook wants to help small businesses (SMBs) survive the COVID crisis — and make money.
A few months ago, the company announced $100M in cash grants and ad credits for SMBs. It later introduced Facebook Shops to help SMBs sell online. And today it announced a new product to monetize classes and online events called, matter-of-factly, "paid online events."
Potentially powerful new channel. Paid online events is currently a free product that enables "businesses, creators, educators and media publishers" to set up paid events or classes online and keep 100% the revenue themselves — except on iOS, where event hosts must give up the 30% "App-Store tax," as Facebook called it.
The offering is self-contained: hosting, promotion, ticket sales and payment processing are all provided. Businesses, publishers, creators and educators can determine whether they're eligible here.
TikTok launches a new information hub and Twitter account to 'correct the record.'
TikTok had already offered its statement regarding the Trump administration's executive order that will ban the app from the U.S. if it's not sold by Chinese-owned parent company ByteDance by a given deadline. Today, the company has additionally launched its own online informational hub and a new Twitter account designed to give it a dedicated platform for its collected responses, including those where it may need to respond more quickly — perhaps in response to the president's tweets, for example, or with other breaking news.
On Monday, TikTok launched tiktokus.info, a website that organizes the company's statements, news coverage, "expert opinions," FAQs and other resources in a single destination. Oddly titled "The Last Sunny Corner of the Internet," TikTok makes the case for its app as a place where millions express themselves creatively. It also goes on record to flatly deny that it would ever provide TikTok U.S. user data to the Chinese government. And it spells out its commitments to areas like user safety and security, as well as its commitments to combating election misinformation and interference, among other things.
Friday, 7th August
Google adds 'last updated' hours notification to GMB profiles
Google My Business (GMB) profiles now indicate when business hours were last updated. A small but important change, this happened roughly two weeks ago.
Some SEOs interpreted this as a test when it first appeared, but I confirmed with Google today that it's not. In the examples below — both are London retail store locations — the hours information includes the notification: "updated by business" and how recently.
Wednesday, 5th August
Google extends lead forms to YouTube, Discovery campaigns
Google has been testing lead form ad extensions in Search campaigns since last fall. Now, advertisers can use the lead form extensions in YouTube and Discovery campaign ads as well. The company also announced new initiatives to automate data imports into Google Ads.
Lead form ad extensions will be available in Display campaigns later this year, Google noted in its announcement Wednesday.
Google has expanded the field options available for collection since it initially started testing lead forms. Now in addition to name, email, phone number and postal code, advertisers can opt to collect city, state, country as well as business contact information, including company name, job title, work email, work phone.
You can now capture leads from Quora ads
Quora has rolled out Lead Gen Forms for advertisers after a few months of beta testing. The forms can contain up to 12 fields and are prefilled with users' Quora account information. Available fields include:
Contact Info: First Name, Last Name, Email, Business Email, Phone Number
Employment Info: Job Title, Company Name, Company Size
Location Info: City, State (US Only), Zip Code (US only), Country
You can download leads via CSV in the Ads Manager to send leads to Salesforce, Gmail, Marketo or other systems.
LinkedIn to acquire TikTok ?
"Microsoft is in talks to acquire TikTok, the Chinese-owned video app, according to a person with knowledge of the discussions, as President Trump said on Friday that he was considering taking steps that would effectively ban the app from the United States," The New York Times reported Friday.
The company is in talks with the White House and reportedly negotiating to take over TikTok's operations in US, Canada, Australia, and New Zealand.
Despite its best efforts, TikTok's attempts to convince U.S. legislators that it operates wholly independently from its Chinese parent company ByteDance haven't stuck. It's options increasingly look limited to spinning off to go public or spinning off for acquisition. It's looking like TikTok may be headed down the latter route.
Tuesday, 4th August
Google security updates improve user privacy in digital advertising
Google has issued a number of security updates and tools that will provide greater transparency and more control when it comes to accessing ad-supported content.
There will be a number of improvements made to its 'Why this ad' feature, (telling users some of the factors that came into play when selecting a certain ad for them), with an enhanced 'About this ad' option that will also show users the verified name of the advertiser behind each ad.
There will also be an 'Ads Transparency Spotlight' tool, to provide people with detailed information about the all the ads that they see on the web, while the 'Privacy Sandbox', an open standards initiative that will explore more privacy-forward ways for Chrome to support digital ads.
The aim is to eventually phase out support for third-party cookies on the browser.
In a blog post statement outlining the updates, Google says that, "The future state of digital advertising promises new technologies, new standards, and better, more sustainable approaches, but it will take some time to get there.
"We recognise the unease that many in the industry feel during this period of transition.
"While there is certainly more change on the horizon, it's critical that marketers and publishers do not wait to take action."
Monday, 3rd August
Microsoft launches revamped Bing Webmaster Tools
Bing announced it has completed the migration from the old Bing Webmaster Tools to the new Bing Webmaster Tools. With this launch, Bing also launched a new URL inspection tool, a new Robots.txt tester tool, the site scan tool and a new webmaster guidelines.
With this migration Bing was able to consolidate 47 different links in the old version to 17 different links, since most of the links have been consolidated and bundled into fewer tools that do more. Bing said this makes the new Bing Webmaster Tools user experience "more user friendly and intuitive."
Google Search Console adds image license structured data support
Google has added support for image license metadata for licensable image label to both Google Search Console reports and the Rich Results test tool. Google said on Twitter "we are happy to announce support for Image License structured data in Search Console in addition to the Rich Results Test tool."
This is metadata and schema that you can use to display licensing information about content that appears in Google Images. A new section has been added to the Enhancements reports in Search Console if you use this markup. Google will only show this to you if you use this markup.
Google also said it is supported on the Rich Results test tool. Google's updated documentation on this tool says it is one of the 17 markup options supported by the rich results test tool.
Google adds 'Black-owned' business attribute to local listings
Verified Google My Business profile owners in the U.S. can now add a Black-owned business attribute to their listings.
Business attributes are highlighted as icons when customers view a business' profile on mobile, as shown below.
---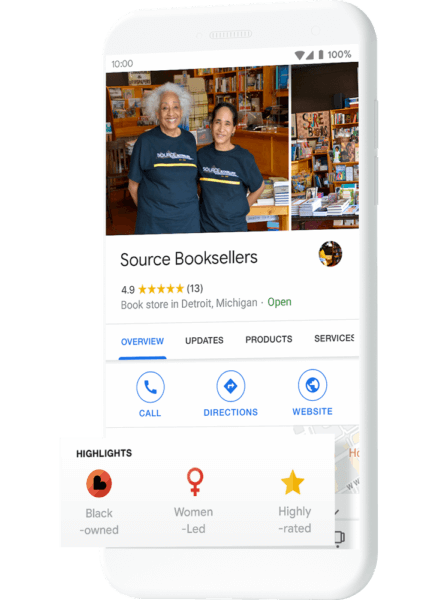 ---
Google said it has seen "a surge in online searches for Black-owned businesses" in recent months — a period in which the Black Lives Matter movement gained momentum. Distinguishing Black-owned businesses in local search may help those businesses attract visibility in Search and Maps and gain customers.
"With this attribute, our goal is to make Search and Maps more inclusive and help support Black-owned businesses when they need it most," Jewel Burks, head of Google for Startups U.S. said.
---
Need help with your search marketing? Why not get in touch? Or subscribe to our newsletter for industry leading insights.  
Share this: