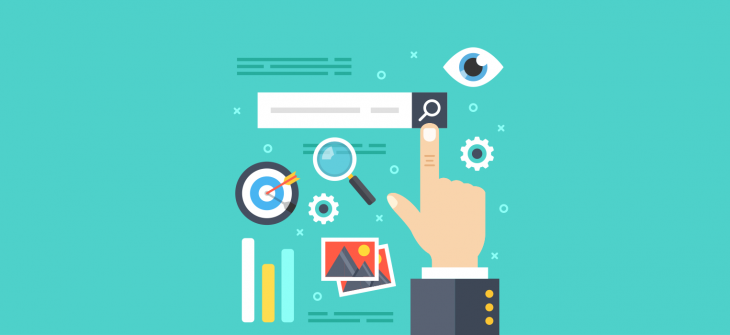 This month in search marketing: March 2021
The latest search and digital marketing news brought to you by Click Consult…
---
Tuesday, 30th March
Pick up and delivery attributes
Search Engine Land features a story on a host of new features coming to Google Maps – including indoor live view, pick up and delivery attributes (with the former offering a cool AR overlay).
Friday, 26th March
Rewriting queries
Another great article on Google patents from Bill Slawski – this time in Search Engine Journal – details a patent granted in February which pertains to a method of using context clues to predict changing intent. The patent which indicates that additional information can be used to help infer altered intent has many implications for search – and lends itself particularly well to voice, it seems to me. As always, well worth a read.
Thursday, 25th March
Microsoft Ads removed 300,000 advertisers in 2020
Compared to the 1.7 million advertisers that Google removed, it may not sound like much – but bearing in mind Microsoft's 8% market share and the number seems an awful lot healthier by comparison. The announcement is covered on the Search Engine Journal blog.
Wednesday, 24th March
Star ratings less than stellar
Another piece from Search Engine Land, this time on the rise of fake reviews, the decrease in trust people place in them and the covid related drop off in their numbers last year are all covered. It's a shame, but there are few things that have suffered as much from my time in search as my trust in online reviews.
Google provides their response
And it's poor. The response to the response from Barry Schwartz on Search Engine Land, however, is pretty much spot on – and well worth a read.
Monday, 22nd March
New ways to make money from Facebook video
Although there have been monetisation options available for a while, there are to be new options for shorter videos, new midroll ads and the option to earn livestream 'stars' similar to Twitch bits. With Twitter rolling out monetisation options, there are likely to be further innovations in this regard across platforms as they compete for content creators.
More nonsense about zero clicks
I've mentioned how dodgy this whole campaign is a few times, but another year passes, another story about zero click searches emerges. Covered on Search Engine Land, the percentage of zero click searches has apparently risen to 65%. The methodology is all over the place, the data source has changed, and cannot possibly be representative of the almost 2 trillion searches carried out in 2020. I'm far from Google's biggest fan, but this isn't a study, it's educated guesswork and supposition.
That's not to say the idea that Google is attempting to throttle clicks is entirely beyond the pale – the quest to become an answer engine has been spoken about many times, and the direction Fishkin gives to aim for in SERP SEO is good advice, but this kind of study and the merry-go-round of accusation, counter accusation and defence it constantly ends in helps nobody. Instead, there should be a push for transparency from a legislative angle (which Fishkin has also done). We absolutely need more transparency from Google and the other big tech companies and the legislation currently expected to deal with these firms is at least 100 years out of date. Things need to change, but this isn't the way to change them.
Friday, 19th March
Sites think about links more than necessary
John Mueller, in response to a tweet asking if Google will ever remove links from the ranking equation, responded that many SEOs think about links more than necessary. The tweet, covered by SE Roundtable, is not the first time he's made such a statement – and for many niche brands, or at least those not facing a major monopoly in their industry, the statement is probably a lot truer than people would give it credit for. However, for many industries, where concerted link building has been a longstanding practice, it's unlikely to sway general opinion as to their importance.
Thursday, 18th March
YouTube adds real-time subscriber counts
In a move that has taken way too long to arrive, YouTube creators have been granted access to real-time data on their subscriber count – meaning that they will no longer have to rely on third party tools. The same Search Engine Journal article also covers the decision to expand its shopping functionality.
5 lessons the pandemic taught Google's CMO
Think with Google published a piece from their CMO Lorraine Twohill in which she reflects on what the last year has taught her. She breaks it down into five areas:
Stay true to who you are: – Like many of us, Google, Twohill says, had many ideas that they wanted to put into practice in order to try to help, but eventually 'had to focus on where [they] could add the greatest value for those in need'.
Build from strong foundations: – Although it may seem easy to say, Twohill points to Google's 'strong foundations' as key to their ability to respond quickly to the pandemic. While there are few brands that could hope to have the capacity to work on their foundations to such an extent, there is still something to be said to dedicating time and budget to developing a base level of resilience – especially as epidemiologists are quick to point out that this isn't the major global pandemic, but likely the first major global pandemic of our lifetime.
Empathy, always: – Twohill states that '[we] needed to lead with empathy and connect with people on a more human level.' and that this has been a driving force for them during the pandemic. How this impacted their decision to refuse remote working to staff that have potentially moved away from offices during the last year to enjoy cheaper housing and better work/life balance would be interesting to hear.
Walk the talk: – Despite repeated issues with firing staff who expressed ethical concerns about certain programs and silencing marginalised voices, one of the things learned by the CMO is that needs to work harder to address systemic inequality.
Be human: – They also learned to be more human, apparently, and prioritise self care (provided that doesn't involve forming a union).
Wednesday, 17th March
Google blocks 3.1 billion ads in 2020, says annual Ads Safety Report
It's been a turbulent year for marketing, and Google's latest Ads Safety Report reflects the trends advertisers have been noticing and adjusting to for a while: "In 2020, our policies and enforcement were put to the test as we collectively navigated a global pandemic, multiple elections around the world and the continued fight against bad actors looking for new ways to take advantage of people online." Google involved both manual and automated ad monitoring to ensure that all advertisements served through the platform met the existing, new, and updated ads policies.
Carolyn Lyden of SEarch Engine Land posted that Google had updated its Sensitive Events Policy with the outbreak of the COVID-19 pandemic and then later with the misinformation surrounding the election. These event policies eventually escalated to include bans on ads related to politics as well as COVID-19.
Regarding the pandemic, Google banned ads related to price gouging of important pandemic-related supplies like masks and hand sanitizer. Their policies included restrictions on ads that promoted false cures and opportunistic abuse of audiences.
Google also initially banned election-related ads after US polls closed on November 3 through December 10. When the insurrection at the Capitol occurred on January 6, Google again shut down all ads mentioning politics, impeachment, the inauguration, and the insurrection at the US Capitol. The ban was meant to stop the spread of false information and violent actions.
Google My Business releases tool to manage your reviews
The newest feature within Google My Business allows local SEO practitioners to see recent reviews on their listings in a single place and check the status of reviews they reported to Google.
This feature seems to only work for Google My Business accounts that have a small number of listings in them.
Previously, there was no real way to see the status of reviews you submitted for a takedown in an organised fashion. Now there is by using this new tool.
Tuesday, 16th March
Google tests displaying cost estimates in local search results
A Google spokesperson confirmed with Search Engine Land the company is testing displaying cost estimated directly in the local panel in the search results. This information comes through a partnership with Homewyse, a fact-based, independent reference for home product, installation and service estimates. Google displays an estimated range of the cost to have certain jobs done in your local area for your home.
As you can see below this could soon become the norm and will affect many industries.
---

---
Monday, 15th March
Google Search Console rich results report updated
Google has made two changes to the rich results report in Google Search Console. One of the changes was related to the job posting report and the other change was related to the FAQ and Q&A rich results report.
Google explained that starting on March 11, 2021 and going forward, Google has changed its requirements for the Education, Experience, and ExperienceInPlaceOfEducation properties of job posting structured markup. Because of these changes you may notice an "increase in warnings for Job Posting instances," Google said.
If you see these new errors or notices in the rich results report, make sure to review those warnings and make sure your job posting structured data follows the new requirements in the documentation.
Wednesday, 10th March
Free hotel listings
Carried in a number of places is the news that, in no way due to anti-trust proceedings, Google has moved to allow hotels to list booking links which will allow hoteliers to display when users are searching and will show below the paid results. Search Engine Journal carried the following quote from a Google spokesperson:
---
Now, we're improving this experience by making it free for hotels and travel companies around the world to appear in hotel booking links, beginning this week on google.com/travel.

[…]For all hotels and travel companies, this change brings a new, free way to reach potential customers.

For advertisers, free booking links can extend the reach of existing Hotel Ads campaigns. Our testing of this new feature shows that all partner types — from individual hotels to online travel agents — benefit from free booking links through increased booking traffic and user engagement.
---
Tuesday, 9th March
Google may assume duplicate content from closely matching URLs
Another Search Engine Journal piece, and another section of a conversation with John Mueller, this time about an issue that may arise from near identical URLs. Mueller is reported to have indicated that, often, sites which serve similar content to multiple geographic locations can find pages failing to index because of an assumption made about the site content based on URL structure. So, while there may be no duplicate content penalty, it's interesting to see how Google is practicing a host of different methods to exclude duplicate content from the index.
Monday, 8th March
Question answering patents
It's heavy going, but this and the other linked articles on question answering from Slawski's SEO by the SEA. While, as he states in the piece, we don't know which one they'll eventually settle on (or if it will be just one of them), it's interesting to see how they're approaching these subjects.
Anchor text advice from John Mueller
Search Engine Journal covers an exchange with John Mueller in which the most pertinent advice would seem to be that anchor text for inbound links should be out of the control of the linked to site and so the idea of providing advice runs counter to their stated aims to discourage paid for links. A natural link profile will, naturally, contain every kind of anchor.
Thursday, 4th March
WhatsApp adds voice and video calling to desktop app
WhatsApp is rolling out support for voice and video calling to its desktop app, the Facebook-owned messaging service said Thursday, providing relief to countless people sitting in front of computers who have had to reach for their phone every time their WhatsApp rang.
For now, WhatsApp said its nearly five-year-old desktop app for Mac and Windows will only support one-to-one calls for now, but that it will be expanding this feature to include group voice and video calls "in the future."
Video calls work "seamlessly" for both portrait and landscape orientation, and the desktop client is "set to be always on top so you never lose your video chats in a browser tab or stack of open windows," the firm said, which began testing the feature with a small group of users on desktop late last year.
Google will not build or use alternate identifiers to track users
Once third-party cookies are phased out, Google will not build or use alternate identifiers to track users across the web, the company announced on Wednesday. It also reiterated that its web products will be driven by the Federated Learning of Cohorts (FLoC) API, which groups people with similar interests into cohorts so that advertisers can still serve relevant ads while providing a degree of individual privacy.
Google seems committed to its Privacy Sandbox, the company's initiative to set new standards for targeted advertising, emphasizing user privacy. As an alternative to third-party cookies, FLoC is a major part of that, so advertisers may have to get accustomed to this new method of targeting, especially if alternate identifiers prove to be unviable.
"People shouldn't have to accept being tracked across the web in order to get the benefits of relevant advertising. That is why Chrome made the decision to deprecate support for third-party cookies. We believe that aggregate and de-identified methods being developed in the Privacy Sandbox can effectively monetise web publishers," a Google spokesperson told Search Engine Land.
Google's Flutter toolkit V2 adds support for desktop and web apps
At an online event, Google today announced Flutter 2, the newest version of its open-source UI toolkit for building portable apps. While Flutter started out with a focus on mobile when it first launched two years ago, it spread its wings in recent years and with version 2, Flutter now supports web and desktop apps out of the box. With that, Flutter users can now use the same codebase to build apps for iOS, Android, Windows, MacOS, Linux and the web.
Wednesday, 3rd March
Microsoft launches 'Group Transcribe
A new project from Microsoft's in-house incubator, Microsoft Garage, introduces a different take on meeting transcriptions.
TechCrunch reports that while today there are a number of real-time transcription apps to use on your phone — like Otter.ai or Google's Recorder app for Pixel devices, for example — Microsoft's new Group Transcribe app reimagines meeting transcriptions as a more collaborative process, where everyone simultaneously records the meeting on their own device for higher accuracy. It also offers real-time translation for languages spoken in over 80 distinct locales.
To use the app, one person would first initiate the meeting in their own device. They can then invite the other meeting attendees to join the session via Bluetooth, a scannable QR code or by sharing a link. After the other participants join the session and the meeting begins, each person will see the transcript appear in real-time on their own device.
Tuesday, 2nd March
Google Search may be showing featured snippets less often
Starting around February 18, 2021, Google seems to be showing fewer featured snippet results in the search results page. Most, if not all, of the tools that track the Google search results, are showing significant declines in featured snippets showing up.
Writing for SearchEngineLand, Barry Schwartz said: "If your site gets a lot of traffic from featured snippets in Google Search, this may impact your traffic. Keep an eye on your analytics, check to see if your top performing featured snippets are still showing up. If Google is not showing any featured snippet and you still rank number one for the query, you are probably okay. But if you rank lower, you might want to make sure to add appropriate and relevant structured data so Google richens up your result and you can get more clicks.
"This may be a bug and Google may start showing these featured snippets again or this may be an intentional change on Google's end. We do not know but we do know there was a change to how often certain categories of search results in Google will show featured snippets."
Monday, 1st March
Google set to deprecate Showcase Shopping ads on April 1
Google will stop serving Showcase Shopping ads and remove Showcase Shopping ad groups beginning on April 1, the company stated in an email to advertisers sent on February 23. After April 1, previous Showcase Shopping ad layouts will become part of Product Shopping ad groups. Advertisers will retain access to performance data for removed ads and ad groups in their account reports.
Google has previously said that approximately 40% of product searches are for broad terms. Showcase Shopping ads, which were first introduced for search in 2016 as a multi-image Shopping format, were intended to provide retailers with a way to "showcase" a curated group of products, and mostly surfaced for broad, non-branded searches, like "summer dresses"
In 2018, Google added video to Showcase Shopping ads in search. The following year, the format was extended to Google Images, the Discover feed and YouTube feed. And, in March 2020, Showcase Shopping ads became eligible to show in Gmail. Prior to that, Smart Shopping campaigns were the only way to get Shopping ads into Gmail.
After April 1, Showcase Shopping ads will be included in Product Shopping ad groups. "I would just suggest monitoring Shopping ads for a few weeks after the change, since it is possible advertisers could see an influx of top-of-funnel placements (since Showcase ads tended to be top-of-funnel)," said Kirk Williams, owner of ZATO Marketing.
Pinterest powers up creators and rethinks stories and influencers
"The content on our platform is about you and what you want in your life," explained Colleen Stauffer, Global Director of Creator Marketing for Pinterest. "We really tried to harness planning that became way more short-term last year during the pandemic. We wanted to fit people in their current lives and how they planned in the hour."
The pandemic didn't just change our lives out in the real world, it changed digital lives as well. It modified the demands users placed on familiar tools. For marketers, taking note of these shifts on social media platforms is essential. For the architects of these communities, the trends cut deep into human experience.
Before the pandemic, Stauffer was aware of the tendency for users (called "Pinners") to be "future-looking" in the content they sought out. They might be planning a vacation, or maybe they were redesigning a room in their home. With the pandemic, those same people were now searching out short-term solutions. What quick meal could they prepare just before a work-from-home meeting, while their child did remote learning on the family laptop?
As a quick response last March, Pinterest moved up the launch of their Today tab. The feature allowed users to get quick updates from reputable sources like the Centers for Disease Control and the World Health Organisation. Users could also find kid-friendly baking recipes and recommended movies to fill all the downtime indoors.
At the end of September, Pinterest introduced Story Pins, the ability for creators to tell multi-page stories. This beta version also included a new creator profile and analytics tools to track performance. Pinterest is also giving creators access to analytics across the community through its trends tool.
With the new beta Story Pins, creators can also publish directly to Pinterest. Also, Pinners can browse and then message creators directly within the platform via the new profile.
"Creators want the content to live in one place," Stauffer said. "Creating content directly on Pinterest has been a need for our Pinners. They want to find an amazing food creator, see their Story Pin, and get the recipe, all within our ecosystem."
---
There's always a lot going on in search and digital marketing – and 2021 is already guaranteed to be one of the fastest moving yet. Keep up to date with our monthly news blogs – or stay ahead and contact us today!
Share this: