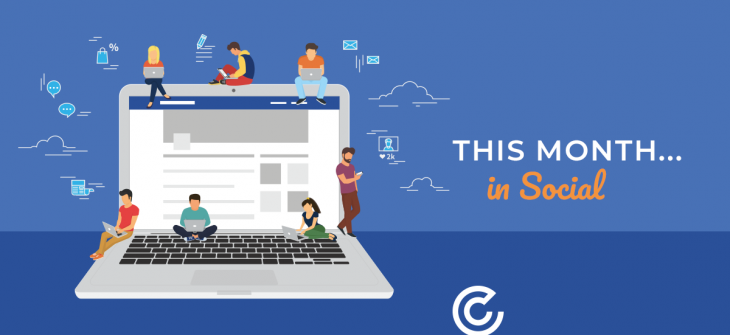 This month in social media (July)
The biggest news coming out of July was Instagram's controversial decision to remove "likes" numbers on posts, being tested out in a variety of locations. Along with this, Snapchat announced another 13 million users to the app and Twitter introduced a new design to those using it on desktop. We take a look at the main social media news from July below, with updates on features for both businesses and consumers across the majority of social channels
---
Twitter updates makes following back easier
Twitter continues to update its user experience, wanting people to grow their user base and boost engagement throughout the social channel. One way they have tackled this is to introduce a new 'follow' card appearing right in the notification feed, when you see people have interacted with your content.
Making it easier for users to follow back pages, as opposed to clicking through to their page and following from there has reportedly already been successful with profile growth rising. Pretty handy right? Give it a go…
Instagram removes its "likes" numbers
Possibly the biggest thing to come out of social media for July was Instagram's decision to remove post like counts, starting with six countries – Australia, Brazil, Canada, Ireland, Italy, Japan and New Zealand.
The main focus of this was to take away the "vanity" element of post likes, getting people to focus more on people expressing themselves. It is currently at a testing stage but expect to see this rolled out to all countries as soon as feedback has been given.
Pinterest's new video features
Being a platform with a main focus of inspiring others through the likes of tutorials and how-to-videos in a variety of specialities, it has introduced a variety of new features to help businesses and creators reach their audiences easier and effectively.
With this in mind, they have introduced an improved video uploader, a new video tab, new lifetime video analytics and the Pin Scheduler tool. What does this mean for creators? Well, business profiles can now feature all their videos in one place for people to discover. It also means accounts can now upload videos directly to the platform to engage with audiences and access new metrics. That's not all, you can now schedule video content in advance without the need for a third-party tool.
Instagram using AI to crack down on offensive comments
Instagram has announced a new AI feature which is cutting down on bullying through the app. This new feature will automatically flag offensive comments and for those who are commenting, it will ask them if they intended to post the comment and gives an opportunity to reconsider.
That's not all though, it is now a possibility to "shadow ban" individual users, those who are commenting in an offensive or spammy way for example. The new feature will hide the public comments from everyone but their author, so they will never know that you have banned them, as they stay visible to the author. This is a big step in the right direction to cut down on social media bullying.
Introducing Google's new social networking app, 'Shoelace'
Earlier this year, Google shut down its social network, Google+ due to low user engagement, but already has thoughts on its next venture. This month they announced their decision to launch a brand new social network, and have called it Shoelace.
Shoelace's main focus is to bring people together in real life, through common activities and interests, giving users the choice to fill in your interests and find like-minded people interested in the same thing. This also includes any real-life events you may be taking part in a certain area. The app also introduces you to new events you might enjoy. Keep an eye out for this one.
---
Check out how our social media marketing team can enhance your online visibility, and keep abreast of the latest social media, SEO, PPC and content marketing stories by signing up to our newsletter at the top left hand side of this page.
Share this: