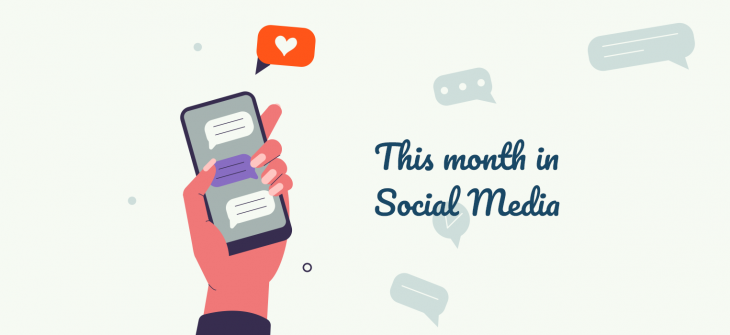 This month in social media (May 2021)
As the UK gets to grips with post-pandemic life in May, the social media world has adapted too, with new features and updates benefiting businesses large and small as consumers use social media in a different way.
Below we take a look at some of the biggest social media news to come out of the last month, and how these can have an impact on your own marketing strategy.
---
The end of cropped images in Twitter and Whatsapp
Looks like we've had two wishes come at once this month, with both Twitter and Whatsapp updating their platforms to ensure when you attach an image (or video too for Whatsapp) to your post, it now won't crop when viewing on the mobile apps.
This is great news, particularly on Twitter, where social media marketers are often left wondering which part of the image Twitter will choose to show instantly on people's timelines, and which part will be hidden until clicked on. Worry no more, as it will now show the full image instantly, allowing you to be more creative with your portrait orientation imagery and more chance to get your message across with text overlay.
New insights tools for Instagram Reels and Live
Ever since Instagram introduced Reels and Instagram Live last year, it has been the request of many businesses and marketers to get more control over the insights, allowing you to learn what has been successful and to produce content of a similar nature in the future.
Well, looks like our requests have finally been taken on board, as new insights tools are coming. Currently being rolled out, so not everyone will have it yet, but the insights will allow you to see how many accounts your content was shown to (including a breakdown of followers and non-followers), how many plays it got, likes, comments, shares, saves and for Instagram Live you get to see what the peak audience was. Pretty handy right? We're looking forward to this one.
Business profiles on Snapchat, will you join?
Snapchat is the social media platform we probably feature the least on these monthly round-ups, and that is due to it being the most difficult to master from a business point of view. However, in May, they announced that they are introducing business profiles to help brands run their organic presence on there. So what does it involve?
The new Public Profiles for Businesses will give brands the ability to place their organic Snapchat content in one "discoverable place" and connect with their customers "by highlighting useful and engaging content, showcase existing Lens AR Experiences, and share shoppable products directly within the Snapchat app." Other users can subscribe to Profiles to stay up-to-date with new content, product launches, and more.
Businesses will also get several other benefits as well, such as management tools through the Business Manager (available on the web and mobile) that let team members collaborate, manage branded content, and analyse data insights.
It is now easier to boost your LinkedIn organic posts
LinkedIn has announced the roll out of organic post boosting on its platform, allowing marketers to reach new audiences easier than ever before. Similar to how we see it on other social channels, your organic posts will begin to have a "boost" button in the top right corner.
You can also do the same for events, so if you see one of your posts working well organically, this option is good for those who want to give it a further push and turn it into a paid advertising campaign. We feel this is something that LinkedIn has definitely been missing, and is a feature growing in popularity on other channels, making paid social more accessible and easier for businesses and page managers.
---
Check out how our social media marketing team can enhance your online visibility, and keep abreast of the latest social media, SEO, PPC and content marketing stories by signing up to our newsletter at the top left hand side of this page.
Share this: