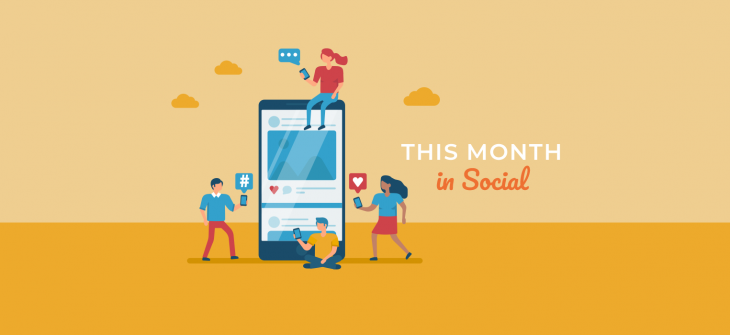 This month in social media (October)
October brought many updates in the social media marketing world, with Facebook continuing to remove more pages and accounts for 'inauthentic activity', Snapchat bringing more updates and filters for creators on desktop and Google's plans to shut down Google+ in the future. We take a look at some of the more creative and beneficial stories for marketers.
---
Have you tried Facebook's 3D pictures?
You might have seen a few brands or individuals testing this new feature out this month, and we feel it is very effective for markets, 3D pictures on your timeline. It's not available to everyone at the moment, but if you are one of the lucky ones it's been rolled out to, and you have a iPhone with dual cameras (anything after iPhone 7 will work), then you are able to create these.
3D photos draw from the depth map that is automatically created using the dual cameras and creates a 3D rendering that moves as the user scrolls and moves their mobile device whilst viewing it on Facebook. Some advice from Facebook… make sure the photo is about 3 feet away, think about the contrast and use texture such as straight edges. We can't wait to see how brands and influencers will utilise this feature.
Major advancements to Periscope's live streaming
As you'll know, the majority of live streams through Twitter are with third party app, Periscope, and they've released a whole load of new updates with their latest release. So what's included? Well, they're really focused on the stream replays part of their function, allowing for broadcasters to create more shareable assets once the stream has been completed.
Broadcasters and social media managers alike can now edit the thumbnail to their creation, which can show off the best part of their stream. The thumbnail previously was aut-picked by Periscope, with no control over what is picked. There's also now the option to edit titles afterwards, which is great for search marketing purposes (include those keywords!) and to avoid any spelling mistakes. Lastly, you can now set a custom start spot, so if the video is over an hour long, and you want to showcase a specific part when sharing, then you can pick a custom start spot for this.
Major advancements to Periscope's live streaming
To coincide with Facebook expanding it's 'Brand Collabs Manager' to several new countries, the social network has updated its branded content feature. You'll recognise this when brands or influencers are working together and promoting posts it will say "Paid", well this will now read "Paid Partnership" and they're adding a "About this Partnership" icon for users to gain more information on where it has come from, and information on the pages involved in the partnership.
The second update involves those pages and brands that have partnerships with other pages or influencers, but without payment. They are currently rolling out the option to tag another page in their post (as a partnership), which is only available for paid partnerships at the current moment.
---
Contact us today to find out how our social media experts can amplify your brand's visibility, alternatively sign up to our blog or check out our social media resources
Share this: