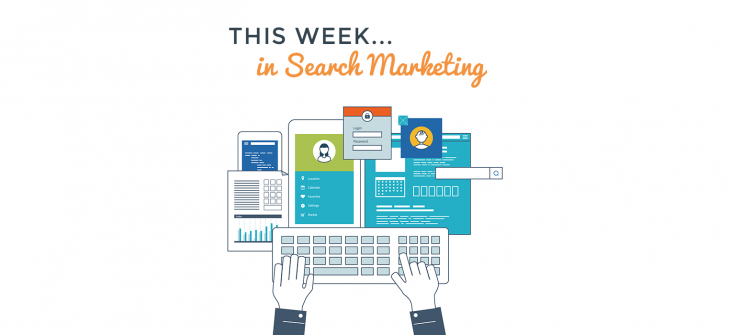 This week in search [26/01/2018]
In this week's news, we have the first Google named and confirmed update in a long while, ad spend has grown for the eighth year running, the release date for the spectacularly inventively named Apple HomePod has been announced – and more…
---
January has continued in a very first month of the year kind of way – as one might expect – with the pages of the internet continuing to fill with various 'future of' blogs. There were a couple of interesting ones on AI and B2B and PPC, for example. However, with the Holiday season now firmly in the rear-view mirror and January disappearing fast, there were a number of pretty important stories, too.
Google Home

AppleHome

HomePod

The Apple smart speaker will be available from the 9th February, bringing the voice of Siri to the homes of committed Apple fans around the world. With this device set to take on the Google Home and Amazon Echo devices in a market that has rapidly expanded over the last two years, it will be interesting to see how it pushes the advancement of digital assistants and voice search.
Searchmetrics ranks number one in patent case
Seach marketing tool providers Searchmetrics have overcome a legal case brought by competitor Bright Edge which had alleged that Searchmetrics had breached a number of its patents. With the judge ruling against Bright Edge, both companies have released statements with the main aim of reassuring customers that they remain committed to innovation and the success of their client base.
UK ad spend grows in the face of marketing Brexodus
While various sources reporting that two thirds of EU marketers are considering leaving the UK due to Brexit, leaving the advertising industry wondering how they'll fill the gaps, it appears that those remaining marketers will be in charge of an even larger sum of money as UK ad spend grew by 3.4% in 2017 and is expected to grow by a further 2.8% in 2018.
Google releases ability to mute 'reminder ads', allowing you stop that pan you looked at once following you around the web forever
Located in the Ads Settings page of your account, there now lurks a function that allows you to see who is targeting you with 'reminder ads' and also to mute them. While this offers some benefit to consumers, it does place more pressure on brands to ensure that they have their targeting down to a tee and refresh their lists regularly. If not, brands could see their retargeting campaigns blocked totally by consumers who may not have liked just a single component part.
Google announces new algorithm update
In the news you've been waiting for (or have scanned down to find), Google announced late last week that that they were about to introduce a new algorithm update. The update, dealing with mobile search results and their load speed, the update has been christened the 'Speed Update' which I expect will be represented in all future algorithms by vector renderings of Sandra Bullock and Keanu Reeves standing in front of a bus.
Search Engine Land conducted a Q&A with a Google spokesperson (and former employee?) which answers many of the questions that brands will be asking pretty well.
While speed has been a ranking factor for desktop search for some time (and many, including me thought it already was for mobile), the announcement puts still more pressure on brands to up their game with regards the mobile experience.
---
Need to prepare for the mobile revolution? Get access to our mobile boxset today, for free. Or contact us to see what we can do to help you prepare for Mobile First and the Speed Update.
Share this: