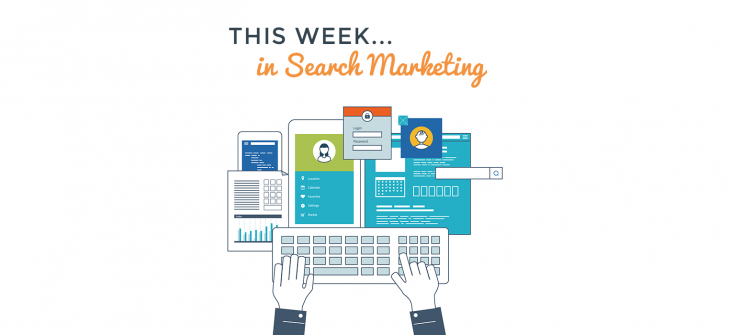 This week in search
Once again it's that time of the week where we round up all of the latest news in the world of search marketing, keeping you up to date
---
Apple follows in footsteps of Google and Bing with indoor maps update
Apple has been developing indoor location and mapping for several years and in one of the most hotly anticipated company announcements of the year, it has shared their latest update in Maps for iOS 11.
Among the large array of announcements at Apple's developer conference, the company showed off an updated Apple Maps that includes indoor location for shopping centres and airports. The update means that Apple Maps will now show:
Floor plans and individual store information.
Directories of stores.
Ability to search and browse.
Google has offered a version of this information for a few years; Bing Maps also has selected indoor locations. As can be seen in the image below the improved visuals are thought to be a huge boost to retail areas in places with the service activated.
---
---
Indoor location for shopping malls will initially launch in Boston, Chicago, Hong Kong, San Francisco, Tokyo, San Jose, Philadelphia, New York, Washington DC, London and Los Angeles. Apple said that there would be "hundreds more per month thereafter". It does not appear to include indoor navigation, however.
The announcement at the conference was one of many features launched by Apple who is also trying to stop distracted driving. The company told those at the conference that it's launching "Do Not Disturb While Driving" as part of iOS 11. It'll block notifications from showing up when Apple determines you're driving, either through a Bluetooth connection or Wi-Fi Doppler, blacking out the screen until you stop driving.
iMessage will automatically respond to anyone who texts to say that you're driving. Not every message has to be blocked, though. You can set certain people as important, and anything they send will show up on your phone. If you aren't actually driving, you can exit this mode, too.
Facebook adds three templates for Canvas ads
Social media giant Facebook has announced a string of updates to their Canvas ads platform including an extension to their shoppable Collection ads and three plug-and-play templates for advertisers to use.
Almost two years after Facebook debuted its fast-loading, iAd-like Canvas ad format, the company continues to make the creation of its showiest ad product less of a production and more of a plug-and-play and to extend its application beyond raising brand awareness to pushing sales.
Facebook rolled out three templates that self-serve advertisers can use to create cookie-cutter Canvas ads for certain business objectives. And advertisers can now use a Canvas post as the main creative showpiece in a shoppable Collection ad.
In March, Facebook added the Collection format to create a line of immersive, mobile-only ad formats in addition to the original Canvas format. Collection ads appear in people's news feeds topped by a large photo or video with a product gallery appearing underneath. When people tap on the ad, a full-screen product catalogue opens listing details like a product's name and price, and people can tap on a product to view it on the advertiser's mobile site.
The three templates are as follows:
If a brand wants to give people a more in-depth look at a particular product or service it sells, it can pick the "Showcase Your Business" template that combines videos and photos into a highlight reel.
If a brand wants to attract new customers, it can opt for the "Get New Customers" template that resembles a mobile landing page.
If a brand simply wants to push a product, it can choose the "Sell Products" template that presents people with a product catalogue pulled from the inventory list already uploaded to Facebook.
Google Posts for small businesses moves to Google My Business
Google has moved the management location of Google Posts and the company hopes to expand Posts to more businesses and organisations.
Small businesses that are in the Google Posts program can still make use of the experimental service, but the location of that feature has shifted to within the Google My Business area.
---
---
Google Posts is a feature that allows people and businesses to create content directly on Google which appears highly ranked in Google search results for their names.
Although Google has been recently expanding Google Posts to more and more businesses, organisations and people, Google says it is still not open for businesses that weren't already invited into the program. Google did say that it hopes to expand it to more over time and promised an update to come soon.
---
There is more news in search each week than it would be possible to adequately relate in one post per week. Nevertheless, Click Consult prides itself on remaining up to date with everything happening in the industry. To find out how you can take advantage of our expert knowledge, contact us today.
Share this: