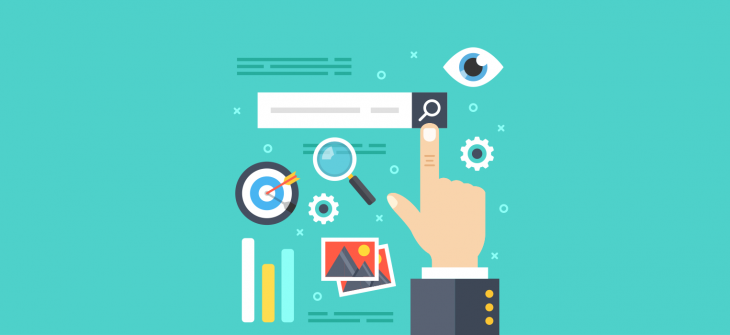 This week in search marketing [02/03/2020]
Another week, another week in search, here we bring you the roundup of everything, SEO, PPC, social media and more…
---
Friday
New look for attribution reports in Google Ads
Google has launched a new experience in Google Ads that features a simplified and intuitive set of attribution reports. It claims that the new experience can help you quickly understand how customers interact with your marketing throughout the purchase cycle, making it easy for you to take action in the areas that are driving results. Some reports have been combined and others removed. Starting today, available attribution reports in Google Ads include:
Overview
Top paths
Path metrics
Assisted conversions
Model comparison
Examples of cards on the revamped overview page
The revamped overview page helps you better visualise your customers' paths to conversion. For example, you can see the percentage of customers who converted after multiple clicks on your ads. You'll also be able to see the percentage of customers who engaged with your ads on each device, and who did so using more than one device.
Compare different attribution models with the model comparison report
Model comparison helps you compare your cost per conversion and return on ad spend for different attribution models, such as last click, rules-based, and data-driven attribution.
Attribution reports can be found in Google Ads by clicking the tools icon 
 in the upper right. Then, under Measurement, select Attribution.
Mobile-First confirmation
All sites will be switched over to Mobile-First indexing starting in September, Google clarified yesterday. This will conclude the process that has been underway since 2016. Google says 70% of indexed sites have already been switched over, but if you're one of the 30%, it's coming down to the wire to address any issues Google's mobile crawler has in accessing your site.
Thursday
Twitter jumps on 'Stories' bandwagon
Twitter has announced it will begin to test a new sharing format called "Fleets." Starting in Brazil, the feature will let users post ephemeral content that cannot receive Likes, Replies or Retweets, before completely disappearing after 24 hours. However, the news has not been popular among Twitter users, with the #RIPTwitter trending this morning:
Retweet this tweet if you want edit button, not stories. #RIPTwitter pic.twitter.com/HOX10L9jwR

— Jishan (@iamsrkJishan_) March 5, 2020
Wednesday
Google cancels I/O
Google cancelled the "physical" aspects of its annual I/O developers conference, scheduled for May 12-14, over coronavirus fears.
"Due to concerns around the coronavirus (COVID-19), and in accordance with health guidance from the CDC, WHO, and other health authorities, we have decided to cancel the physical Google I/O event at Shoreline Amphitheatre," explains a Google spokesperson in a statement to The Verge.
Google typically uses I/O as its biggest news event of the year to introduce new changes to Android, Google-powered hardware, and even updates to services like Google Maps. Google says it's now exploring "other ways to evolve Google I/O to best connect with and continue to build our developer community."
Distrust among UK consumers for online reviews
UK consumers are increasingly reliant on customer reviews – with 90% saying they read reviews before buying online, and the average consumer spending £433 each year on purchases that were influenced or informed by an online review – they are also wary of their legitimate feedback being removed or censored by companies.
A study from Trustpilot, has revealed an alarming 42% saying they are very concerned about their freedom of speech.
Peter Mühlmann, Founder and CEO Trustpilot, explains: "Reviews are core to helping consumers navigate this complex eCommerce landscape, but there must be more transparency and explanation about how different platforms operate, including how they moderate, filter, flag, publish or remove reviews. Only then will consumers be able to feel confident they're making informed purchasing decisions. "
Consumer review websites ranked second for trust and third for their perception of providing honest product and service reviews; only family and friends rank higher in both categories.
Tuesday
Google tightens FAQ markup guidelines
Google has updated its content guidelines for the FAQ schema, meaning that if you repeat the same question and answer in multiple FAQ pages on your site, you are in violation of its guidelines..
Google has updated the guidelines of FAQ: "If you have FAQ content that is repetitive on your site (meaning, the same question and answer appear on multiple pages on your site), mark up only one instance of that FAQ for your entire site."https://t.co/favNCmWMTa
cc: @rustybrick pic.twitter.com/JBpDdAxkIk

— Kenichi Suzuki💫鈴木謙一 (@suzukik) February 28, 2020
LinkedIn is continuing to develop its offering beyond networking and job searching – and perhaps remain more relevant to younger professionals –  LinkedIn – has announced it's testing the Stories format: quick bursts of disappearing content.
Pete Davies, Senior Director of Product Management at LinkedIn, said "… my job is to make sure we're giving professionals every format and feedback opportunity they need to make these conversations as productive as possible. Over the last few years, that's led us to launch features including Newsletters, Live Video, Trending News, and Reactions. There are more conversations taking place in the LinkedIn feed than ever before, with a 25% year-over-year increase in engagement…
"So, we're currently testing LinkedIn Stories internally, and we can't wait to test it with our members in the coming months. We've learned so much already about the unique possibilities of Stories in a professional context. For example, the sequencing of the Stories format is great for sharing key moments from work events, the full-screen narrative style makes it easy to share tips and tricks that help us work smarter, and the way Stories opens up new messaging threads makes it easier for someone to say, "and by the way… I noticed you know Linda, could you introduce me?"
"We've also found there's an entire generation growing up with Stories as a way of speaking; they're more comfortable starting conversations with a full-screen ephemeral format than posting updates and prefer sharing content that lives as a moment in time rather than as an item in a feed.
"I'm excited to see how Stories will bring creativity and authenticity to the ways that members share more of their work life, so that they can build and nurture the relationships necessary to become more productive and successful."
Consumers crave personalisation but not at the expense of their privacy
Retail brands to strike the right balance between respecting privacy and delivering personalised experiences for consumers across all generations, Episerver's Reimagining Commerce Report 2020 has found.
62% are interested in personalised experiences, unchanged from 2019
Last year 26% consumers wanted more personalisation; that number dropped to 17% this year
And 25% want brands and retailers to make shopper anonymity a greater priority
Other findings include:
Smartphones are preferred by all audiences except Baby Boomers as the default or favoured platform for online shopping:
25% of consumers use smartphones to research or shop online multiple times per week; 18% use them to complete a transaction multiple times per week –- 2% higher than in 2019
Smartphones lead all other device categories as the "default" for online product research and shopping: 58% of Millennials prefer smartphones; 49% of Gen Z
Yet only 18% of Baby Boomers prefer smartphones to other devices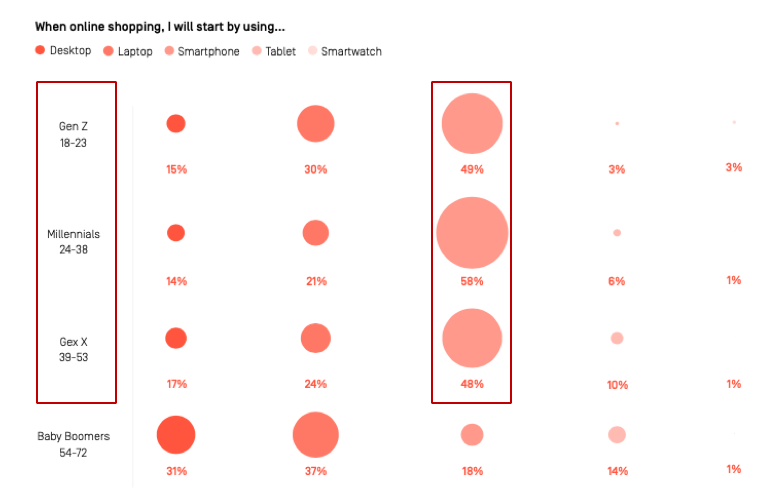 The survey also found, for example, that 48% of consumers start their online shopping at Amazon, compared with 39% who started at Google and 9% who start on a specific brand website.
Social commerce and influencer-generated purchases are both growing, with roughly 20% of consumers saying they bought something "directly because of a social media influencer's product post". The numbers are considerably higher, roughly 50%, for Gen Z and Millennials. In addition, 31% of consumers bought something directly from a social media ad, which was a 10-point gain over last year.
---
To keep up to date with the latest search news, you can sign up for our newsletter, or check out our resource section for more actionable advice. Alternatively, contact us to see what we can do for your brand.
Share this: