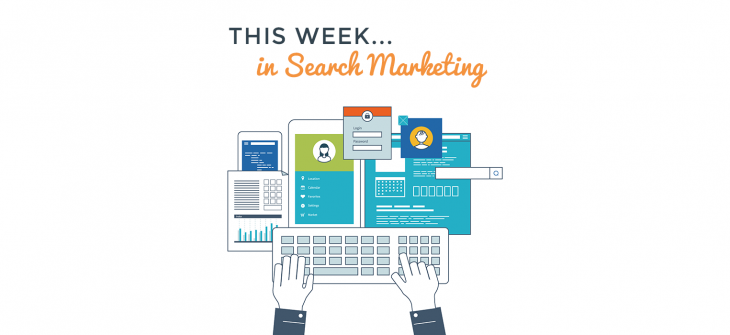 This week in search marketing [05/03/18]
Google crawling questions, Bing Search API and more search marketing news…
---
Friday 9th March
Wider AMP rollout planned
Google has announced that it's embarking on a project to convince the group in charge of web standards to adopt technology inspired by its Accelerated Mobile Pages (AMP) framework. If successful, this would mean that virtually any webpage could gain the same benefits as AMP: near-instantaneous loading, distribution on multiple platforms, and (critically) more prominent placement on Google properties.
It said in a blog post: "We are taking what we learned from AMP, and are working on web standards that will allow instant loading for non-AMP web content. We hope this work will also unlock AMP-like embeddability that powers Google Search features like the Top Stories carousel. Meanwhile, AMP will be Google's well-lit path to creating great user experiences on the web. It will be just one of many choices, but it will be the one we recommend. We will continue to invest heavily in AMP. A key example of how we continue to innovate on user experience on the web are AMP Stories and we hope to provide insights to future web standards along that way."
YouTube ads new analytics
YouTube has announced that its updated YouTube Studio channel management tool – previously called 'Creator Studio' – will now become the default for all creators, after being in beta testing for the last eight months.
YouTube Studio is designed to be your one-stop shop for all your channel management needs – including organising your channel, analytics, managing your videos and interacting with fans.
The upgraded YouTube Studio merges more functionality into one tool, with a particular focus on streamlining communication between fans and other creators. And as part of the expanded roll-out, YouTube has also announced a set of new metrics to help creators better understand their channel performance.
Thursday, 8th March
New AMP feature to to l

oad ads faster when browsers sit idle

The team behind Google AMP has launched a new feature called 'Render on Idle' now available for publishers using the DoubleClick AMP ad tag, and any ad network choosing to implement Fast Fetch can also take advantage of it. With Render on Idle, ads load 12 viewports from the user's scroll position (as opposed to 3) when the browser is idle, no other page content is being retrieved or rendered. This delivers better ad performance by loading ads earlier in the page lifecycle.

Keith Wright, AMP Project's Technical Lead, says: "In early tests with publishers using DoubleClick AMP ad tags, we've seen a 13% increase in impressions per page (giving Fast Fetch an overall +18% increase compared to Delayed Fetch) and 0.5% increase in clicks and viewable queries from this feature."
Wednesday, 7th March
Google Home adds calls
The Google Home smart speaker has finally added voice calls in the UK, catching up with its Amazon rivals. Google announced the feature was coming to its smart speakers last May with US customers being able to make hands-free voice calls since August.
Monday, 5th March
Google crawling question
In Google's first SEO Snippets video, John Mueller has responded to the query: "how often does Google reindex a website?" He says: "In general, Googlebot tries to crawl important pages more frequently to make sure that most critical pages are covered. Often this will be a website's home page or maybe higher-level category pages. New content is often mentioned and linked from there, so it's a great place for us to start. We'll recrawl these pages frequently, maybe every few days. Maybe even much more frequently depending on the website."
See the full video below:
Google engineer: GoogleBot can't crawl CSS custom properties
A Google engineer has issued a 'public service announcement' notifying web publishers that Google does not support CSS custom properties. The engineer stated that Google's crawler is rendering sites using an outdated version of Chrome, Chrome 41, which dates from March 2015.
This effectively means that Google's crawler will not be able to render the web page properly, Google's site rendering is based on Chrome 41.
According the Search Engine Journal (SEJ): "It may be the case here that the crawler team is lagging behind the Chrome team such that the crawler team has fallen behind the standards that the Chrome team supports."
SEJ recommends: "If you care about how your website ranks, then it may be helpful to make sure it renders perfectly on Chrome 41."
PSA: Google Search crawler is based on Chrome 41 [1], which does NOT support CSS Custom Properties [2]. If your layout/design relies on vars, make sure you're compiling CSS so your page renders properly. I wasn't

[1]: https://t.co/ZinziTp4oT
[2]: https://t.co/PtAAR4ZOHq* pic.twitter.com/w4AhujZYSQ

— Eric Bidelman (@ebidel) February 28, 2018
Search trumps social for content discovery
Search outstripped social in the percentage of overall traffic that it delivered in 2017 – reversing a trend of social dominance that began in 2014 – research has shown.
Content marketing platform Shareaholic looked at externally referred traffic from over 400 million internet users and 250,000 mobile and desktop sites. A year ago site visitors were more likely to be referred from social networks, but search seems to have made a comeback in 2017.
Search drove 35% of site visits in 2017 compared to 26% from social. Shareaholic consider the changes to the Facebook news feed algorithims to be a major factor in the shift over the last 12 months. Another important factor is that search engines are indexing more and more social content and including it within their rankings and results pages. This means that internet users are increasingly finding social content being aggregated by search engines, rather than only being accessible through searches on individual social media networks.
Bing roles out Search Entity Search API
The API enables you to pull Bing Knowledge Graph information about people, places, things, and local businesses into your sites and apps. It allows developers and creators to programmatically pull in Bing Knowledge Graph structured data on topics such as people, places, things, and local businesses into their application, blog, or website for a more engaging user experience, and is similar to Google's Knowledge Graph Search API. The Search Entity API is now available in the UK, US, Australia, Brazil, Canada, France, Germany, India, Italy, Mexico, and Spain.
Facebook ends its experiment Explore Newsfeed
Rolled out in October as a trial across six different countries, the feature has been dropped after just a few months.
The idea behind the Explore Feed was to show Facebook users more content across the social network, beyond posts from friends and Pages they already followed, such as that similar to those they'd already liked, or those popular among their network of friends, and included posts, articles, photos and videos from sources like Facebook Pages and other posts from publishers or news organisations.
This basically split the feed into two, but facebook received complaints from users in the test countries that this made it harder for people to access important information, and that the social giant didn't communicate the test clearly. On its blog, Facebook's Adam Mosseri admitted: "People don't want two separate feeds. In surveys, people told us they were less satisfied with the posts they were seeing, and having two separate feeds didn't actually help them connect more with friends and family." He added that Facebook was acting on the feedback by updating the way it evaluates where to test new products, and how it communicates about them.
---
Keep up with the latest news by subscribing to the blog – or for actionable advice on all things search, check out our resources. Or contact us to see how we can help your brand take the next step.
Share this: