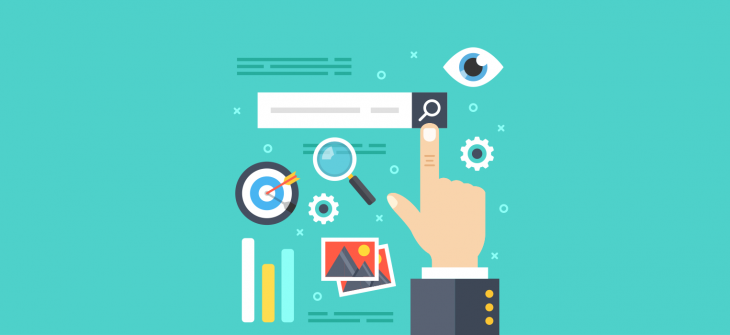 This week in search marketing [08/07/2019]
Another week, another week in search, here we bring you the roundup of everything, SEO, PPC, Social and more…
---
Friday
Bing showing a streamlined recipe carousel in search results
Bing appears to be testing or introducing a new way to show rich results on desktop. For queries that may relate to recipes, Bing is displaying a carousel that features just three recipes initially. It allows users to filter results by total time and other nutrition criteria, but does not immediately show the option to compare recipes.
Google News rolling out card layout on desktop search results
Google is now rolling out a new design for the Google News search results while the user is on desktop. The new design removes the news clusters of stories and brings you a single featured story in a card-like result.
This is a big development, especially in terms of user experience (UX) and one we'll be keeping an eye on as it rolls out fully.
Thursday
New Google Shopping program enables customer photos to show with their product reviews
Google Shopping is bringing customer photos to the product reviews sections of advertisers' listings. Reviews are accessible from the "View more" option on mobile Shopping ads or by clicking on the star ratings in a listing.
The feature is rolling out now and available through a handful of reviews partners.
Ad customisers are now available in all Microsoft Advertising accounts
Ad customisers have been around in Google Ads for several years, and now advertisers can use them in their Microsoft Advertising campaigns, too. Microsoft Advertising (formerly Bing Ads) announced Wednesday that ad customisers are now available to all advertisers globally.
According to Search Engine Land: "With ad customisers, you can dynamically tailor your ad copy based on attributes defined in a feed. Can deliver ads that are more relevant to the query without having to build out hundreds or thousands of variations.
For example, you could show different offers to users based on their target location, promotion and more. Unlike Google, Microsoft Advertising allows you to apply ad customisers by audience, in addition to keyword, ad group, campaign or ad group.
Bullish forecast predicts 31 million Americans will 'shop' on their smart speakers in 2019
There's contradictory evidence surrounding consumer adoption of smart speakers for search and commerce. Multiple surveys indicate growth but other data suggest smart speakers have not emerged as a commerce platform. However, eMarketer's new smart speaker shopping forecast paints a very bullish picture of the future of "voice shopping."
The firm says that 31 million Americans "will shop via a smart speaker this year, up 31.6% from 2018." The company defines "shopping" expansively as "browsing, researching products and adding things to a shopping cart." In two years, eMarketer says the number will climb to 38 million voice shoppers, as smart speaker owners do more product research on the virtual assistant devices.
eMarketer also says that 21 million people in the U.S. will make a purchase this year using a smart speaker. The important caveat is that these will almost entirely be digital goods: movies and music.
Wednesday
Facebook shows users more details about data used to target ads
Facebook is introducing new details to its "Why I'm seeing this ad" feature for users. It now shows the interests and categories used to target the ad and how the ad targeting information was collected — meaning, the website or Facebook Page a user may have visited. The tool links to options to hide ads from an advertiser or remove ad targeting data from their profiles.
Facebook Ad Preferences (a page within User Settings) also has been updated to include two sections: One displaying the advertisers who have uploaded a list with the user's information, and another that lists businesses that have uploaded and shared lists with the user's information.
"In this section, you'll see the business that initially uploaded a list, along with any advertiser who used that list to serve you an ad within the last 90 days," writes Facebook Product Manager Sreethu Thulasi.
Ad Preference pages will list an advertiser's phone number or email address as well.
Facebook makes a play for creators with new tools, features for monetising content
In advance of VidCon later this week, Facebook announced Tuesday a new slate of updates designed to provide creators with more opportunities to make money — and attract them to the platform, which is competing for creators' attention with YouTube.
"We're committed to supporting our diverse community of creators on Facebook who share original, engaging content that people love and seek out," Facebook announced Tuesday. "We've introduced a range of tools to help them engage their fans, manage their presence, and build a business."
The new updates aim to support creators' efforts to turn a profit and grow audiences. Facebook takes a slice of creators' revenue.
The updates include:
New placement options and regions for video ads
Driving revenue with Brand Collaborations
Subscription-generated revenue options
Enhancements to the Creator Studio
Tuesday
Google announces changes to targeting settings
In a really interesting piece from Marketing Land it has been reported that Google has announced changes to environment, position targeting settings in DV360 (Display & Video 360) which could have an effect on advertisers and service providers.
In an effort to provide advertisers with more accurate and granular ad targeting options in Display & Video 360, Google will be launching a revamped experience for environment and position targeting settings on August 26, 2019.
The changes will include updated targeting settings when creating or editing items individually or in bulk, updated dimensions in Reporting and a new version of Structured Data Files (SDF) to support the targeting overhaul.
The main changes and updates are:
Updated environment targeting will be focused on web- or app-serving environments. The device- and position-related options will be relocated from environment targeting to a different targeting control panel.
A new position targeting setting will group together all controls related to an ad's position on a screen or in content in a new position targeting control. The position-related settings that will be moved to position targeting include Viewability, Video, and Audio targeting. Even with the new grouping, all of the targeting options will still function the same as before.
Reporting changes to values in the Environment dimension will reflect the new environment targeting setting. All existing values will be re-routed to the new values, including historical data. For advertisers running scheduled reports, the reports will not change in terms of delivery and will also reflect the new values for the Environment dimension. However, scheduled reports will no longer include the new Position in Content dimension.
A new version (V5) of Structured Data Files will launch in tandem with the August 26 update and will include fields to enable advertisers to retrieve and set the new targeting options. Once the new SDF goes live, older versions will not work if updating fields for environment- or position-related targeting options, but will still function as normal for all other fields.
Monday
Microsoft Advertising says it's keeping average position reporting
Microsoft Advertising (formerly Bing Ads) has added the position-based impression share metrics that Google introduced last fall. But, unlike Google, it said average position reporting will be sticking around.
Now called prominence metrics, rather than share of voice, in Microsoft Advertising, the set of six new stats are available at the campaign, ad group and keyword levels.
• Top impression share
• Top impression share lost to rank
• Top impression share lost to budget
• Absolute top impression share
• Absolute top impression share lost to rank
• Absolute top impression share lost to budget
"One key metric that will remain in your reporting is average position, as we've heard continuous feedback that shows this information is still very valuable to you," said Nahva Tecklu, a Microsoft Advertising program manager, in the blog post.
Google extends Chrome ad blocking to global markets tomorrow
Publishers must conform to Better Ads Standards or see ads on their sites blocked by Chrome.
In February 2018, Google implemented ad filtering for "annoying" and intrusive ads in Chrome in North America and Europe. This had been pre-announced in 2017 and was intended to compel publishers to adopt advertising standards established by the Coalition for Better Ads.
Chrome has 64% of global browser market. The industry group was created in response to the rise of consumer ad-blocking. Now Chrome's bad-ads filtering is going global, with a rollout to markets beyond North America and Europe on July 8. Google Chrome has a roughly 64% global browser market share.
The vast majority of North American and European publisher sites pass the Better Ad Standards test, so the impact on users and publisher ad revenues has been minimal. That's less certain in other markets, including Asia where consumer ad blocking is currently highest in the world.
---
There'll be plenty more news in the coming days, why not make sure you don't miss a thing by signing up to our blog? Or contact us today to see what we can do for you.
Share this: