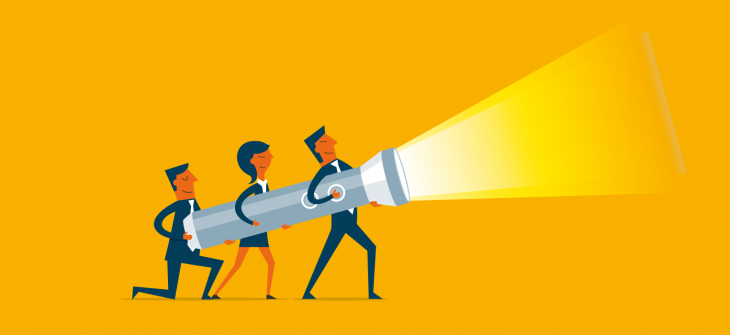 This week in search marketing [13/07/18]
This week's news sees Google giveth and Google taketh away…
---
Thursday
Google My Business to notify businesses when they go live on services
Google has announced it's in the process of launching a new notification that informs you when your business goes live on Google services, like Search and Maps. You'll only receive live listing notifications if your business accounts are fewer than 100 listings and your user-language preference is set to "en-US." Bulk verification accounts currently don't receive this messaging.
Snapchat ads now use offline data
Snapchat is offering marketers the ability to make target ads based on offline data, in similar fashion to other popular social media platforms. The service will be based on its existing relationship with measurement firm Nielsen.
The pair claim that clients will now be able to purchase inventory across more than 30,0000 segments (such as age, gender and various buying behaviors on different platforms). This means, for example, if someone buys lipstick in a bricks-and-mortar store, and the purchase is logged by Nielsen, advertisers can then go on to serve them relevant ads.
"Discovering the audiences that drive engagement and offline sales has never been more critical for marketers, and we're excited to continue our work with Snapchat across both our premium audience segments and measurement solutions," said Jessica Hogue, senior vice-president of digital solutions at Nielsen.
"This integration with Snapchat will allow partners to plan, activate and analyze marketing initiatives by accessing the highest quality audience data in the market underpinned by Nielsen."
Wednesday
EC slaps Google with €4.3 bn fine
Google is to be fined a record €4.3 bn over its Android operating system, the BBC has reported.
The European Commission's action followed a three year probe into claims the firm's mobile device strategy had unfairly strengthened its dominance of search. The penalty is set to be confirmed at a press conference in Brussels later. It will be the largest fine imposed by the regulator against a single firm. However, Google may challenge the ruling.
UK marketing budgets see "relentless" growth
Marketers displayed a "noticeable drive towards digital-based advertising" in Q2 2018, while spending plans for search/SEO marketing also shifted upwards,  according to the latest IPA Bellwether report. However, although strengthened on the first quarter, budget growth overall remains "modest", the report states.
The IPA said the upward revisions to internet budgets have "positively impacted" the overall figures for UK companies' marketing budgets. While 23% of panellists indicated higher spending plans for overall marketing activity during Q2 2018, just below 17% pointed to lower budgets.
Personal Facebook profiles dropped from sharing platforms
Facebook is taking away the ability to share posts on personal Facebook profiles using scheduling platforms, such ad Buffer and Hootsuite. This is as a result of Facebook's announced API updates in April which impact how partners like Hootsuite use their data. In a message to users, Hootsuite said: "We are actively working with Facebook to understand and mitigate these changes."
Updates to LinkedIn
Video captions
You can now add closed captioning to your video when you post from desktop to help give your viewers a better experience when watching a video with the sound off and ensure your videos are accessible to all members.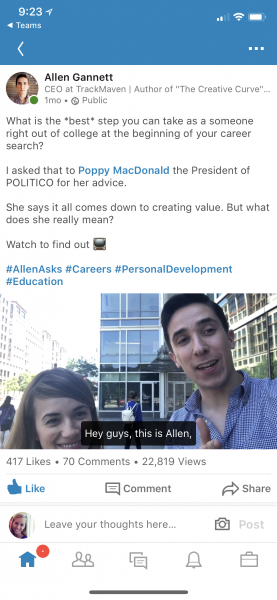 Translation of posts in-feed
Posts that are in a different language than you speak will now show a See Translation button within the LinkedIn Feed, the recent activity section on someone's profile, and the post detail page. This feature is currently available to most members on web and mobile web and starting to roll out on iOS and Android.
Share pull-out quotes from articles
You can now highlight a quote from a LinkedIn article and share it directly with your network in the Feed. Quotes can serve as a conversation starter or a chance to add your own perspective.
Save posts as draft
Self-explanatory.
Shortcut to created content
This makes it easier to access all of the content you have created via the Me tab on desktop. This will be a quick shortcut to access the articles, posts and videos you've shared on LinkedIn.
Tuesday
Google jobs rolled out in UK
Google has expanded Google for Jobs, which was introduced a year ago in the United States, to the United Kingdom. Google wrote: "We're excited to bring a new job search experience to Google to connect people in the UK to job opportunities."
Google provides special schema for job listings that can be used by publishers to enable their job results pages to show up in Google job search.
Monday
Update to slow down Chrome
The latest version of Google's browser, Chrome (which has 60% market share), includes a new always-on feature to keep hackers out, but it will make PCs and laptops slower.
In a blog post, Google has admitted the newest version of Chrome rolling out to customers worldwide is going to consume up to 13% more of system memory.  Chrome software engineer Charlie Reis says his team "continues to work hard to optimize this behavior to keep Chrome both fast and secure".
Google also confirmed this is a cross-platform change and will apply to Chrome on Windows, Mac, Linux, and Chrome OS.
Google Search Console Search Analytics API allows 25,000 rows per request
Google has announced that the Search Console Search Analytics API now lets developers request 25,000 rows of data per request. Google also added 16 months of data to the Search Analytics API, so giving developers a way to get more data out of the API.
Thanks guys ! Already implemented in production 😎 pic.twitter.com/b89MA6Pvz0

— Olivier Tassel (@OlivierTassel) July 13, 2018
Google faces record-breaking $11 bn fine
The European Commission (EC) is reportedly set to hand Google a record multi-billion Euro fine tomorrow to resolve an antitrust case involving the company's Android operating system.
Google's general counsel, Kent Walker, said last week: "The commission's case is based on the idea that Android doesn't compete with Apple's iOS. We don't see it that way. We don't think Apple does either. Or phone makers. Or developers. Or users."
Share this: