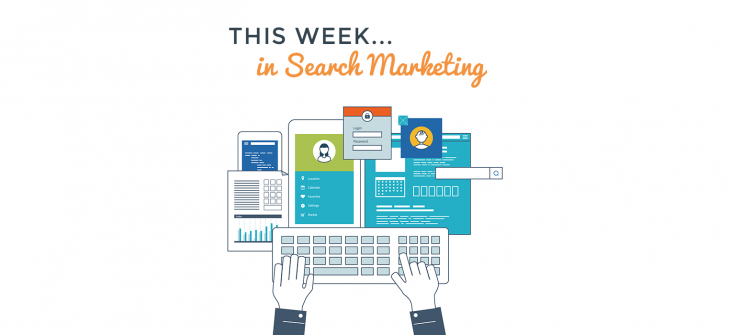 This week in search marketing [15/10/2018]
Bringing you the latest from the world of search and digital marketing, this week in search covers the topics you have to read about…
---
Wednesday
Bing to improve web crawler efficiency
According to a story on Search Engine Land, Bing is working on making sure their crawler doesn't miss new content and at the same time overload your web servers.
Fabrice Canel, principal program manager for Bing Webmaster Tools, provided an update on his team's efforts to improve the efficiency of their web crawler, BingBot. In a blog post Tuesday, Canel said the team has made numerous improvements based on this feedback and thanked the SMX audience for its contributions. He said they will "continuing to improve" the crawler and share what they've done in a new "BingBot series" on the Bing webmaster blog.
YouTube now counts ad engagement even faster
YouTube now counts 'engagement' for YouTube for action ads at 10 seconds, not 30 according to the latest news, with Google suggesting that the new attribution will better reflect the role of video in the customer journey.
In an update this week, YouTube announced it is changing the attribution criteria for TrueView for action video ads. TrueView for action ads are designed for performance advertisers and feature call-to-action banners at the base of the video ads. The announcement mentioned that two key attribution points were changing and they are as follows:
YouTube will now count an 'Engagement' whenever a user clicks or watches 10 seconds or more of a TrueView for action ad when using maximise conversions or target CPA bidding. That's a change from 30 seconds.
A 'Conversion' will be counted, by default, when a user takes action on an ad within 3 days of an 'Engagement.' If you want this changed, you will have to ask your Google rep to customise this time frame. That's a change from 30 days.
For users who click your ad, YouTube will still attribute conversions according to the conversion window you have set (the default is 30 days).
The shorter engagement-to-conversion window will mean faster ramp up times for target CPA campaigns and more current reporting, says Google.
Tuesday
Facebook 'to launch camera-equipped TV streaming device' amid privacy concerns
Facebook is pushing ahead with its plans to get a camera into millions of homes despite widespread privacy concerns.
According to code hidden in Facebook's Android app, the company is working on a TV mounted camera that doubles up as a streaming device.
The system is designed to be placed atop a TV, providing video chat capabilities and the ability to view Facebook Watch and third-party videos. Codenamed "Ripley", details of the system were first discovered by Hong Kong-based developer Jane Wong.
Moz expands with acquisition of STAT Search Analytics
Seattle-based Moz has acquired Vancouver, Canada-based STAT Search Analytics for an undisclosed sum.
Monday
DuckDuckGo reaches 30 million queries per day
DuckDuckGo, the privacy-focused search engine, posted on Twitter that it has reached a new milestone, breaking 30 million queries per day on average.
The company said it took seven years to reach 10 million searches in one day. To get to 20 million searches, it took another two years. Now, less than a year later, it is now at 30 million searches per day, therefore showing a 50% growth YoY.
Speaking about the growth to Techcrunch, Founder of DuckDuckGo, Gabriel Weinberg said: "We've been growing by approximately 50% a year pretty consistently so at a macro level it isn't too surprising, just the numbers are getting bigger!
"That said it has been even increased on top of that this year, especially in the past two months."
Large search budgets move to Amazon according to agencies
A small survey of agencies found some advertisers are making large moves to Amazon advertising according to Search Engine Land.
The reported on a CNBC survey of several advertising execs which found some advertisers are shifting large percentages of their Google search budgets to Amazon.
Executives in the survey said some advertisers that sell on Amazon are moving 50% or more of their search budgets to the site.
Bing Ads Editor now supports in-market audiences
Bing Ads advertisers can now manage in-market audiences in Bing Ads Editor according to a recent blog post.
In-market audiences, currently available only in the US, are comprised of people deemed to be in the process of making a purchase in a particular product or service category. Bing Ads' algorithms take into account numerous purchase intent signals from Bing, MSN and other Microsoft properties. It will be interesting to see how this works for users and when it is rolled out to other markets.
---
Keep up to date with the latest, most important stories in search by subscribing to our blog – or check out our resources to see what knowledge you can gain from Click Consult's 15 years of experience.
Share this: