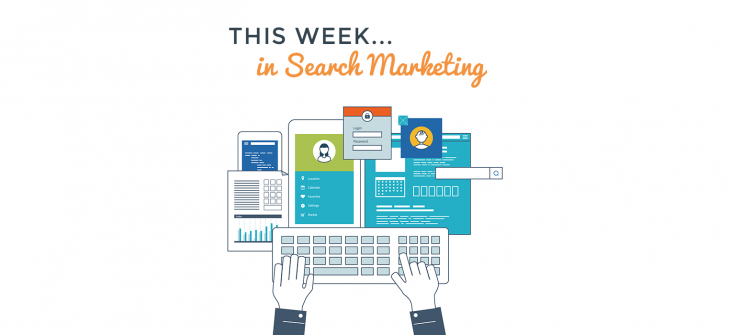 This week in search marketing [17/09/2018]
Bringing you the latest from the world of search and digital marketing, this week in search covers the topics you have to read about…
---
Friday
Amazon to surpass Microsoft as 3rd highest Ad seller
Amazon will surpass Oath and Microsoft to become the third largest digital ad seller in the U.S. behind Facebook and Google. In a report from data and research company, eMarketer it was announced that Amazon will more than double their ad growth over the course of the year.
The research estimates that the business will bring in $4.61 bn from all of their digital advertising over the next 12 months, a total which equated to just over 4% of the market. If the projections are true and the growth remains on a steady trajectory, then Amazon can expect to control 7% of the market by the end of 2020. This will be seen as a major coup, but the figure will still be well short of the market leaders – Google and Facebook – who between them control nearly 58% of the market.
Wednesday
Search community speculates over Mobile-First Index updates
The search community has taken to Twitter and Facebook to note an increase in Mobile-First inclusion notices (we've just had ours through) from Google Search Console (GSC). It is widely believed that there will be a significant update in the Mobile-First Index over the coming weeks.
---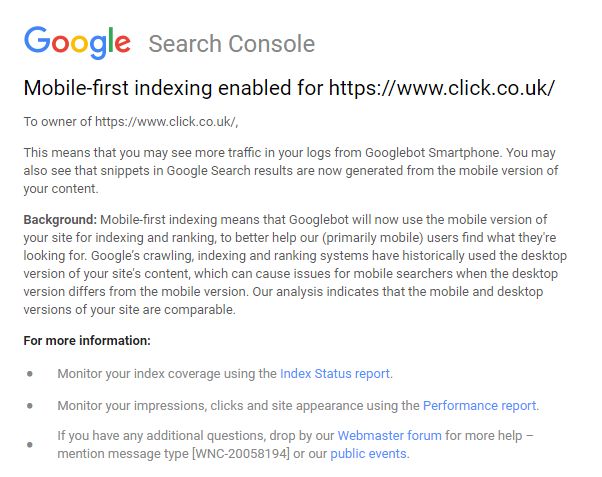 ---
In a story posted on Search Engine Journal, many SEOs are reporting unprecedented levels of email alerts from GSC that sites they are monitoring have been migrated to the Google's Mobile-First Index.
Senior Strategic International SEO Consultant at Moz, Gianluca Fiorelli, tweeted the following:
---

---
At present there is no official statement about what is going on but Google appears to have increased the size of their Mobile-First Index. We'll watch this space.
Google debuts Shoppable Image ads
This week, Google announced two new ad formats for retail and brand advertisers that will deliver shopping experiences on third-party sites, in Google Image search and in Google Search.
Showcase ads are the multi-image Shopping format that Google rolled out last year. When users click on the ads, they go to a Google-hosted landing page that features promotions, descriptions and select products from the advertiser's product feed. They typically display on brand and broad queries.
Videos are displayed in the featured image position. After clicking on the ad, the video plays in full at the top of the Google-hosted landing page that features a selection of products from the advertiser's product feed.
The option is currently available to advertisers already running Showcase Shopping ads.
TripAdvisor goes deeper into social with relaunch as a travel 'hub'
One thing that we often talk about here at Click Consult is the way that the search marketing industry is developing and the way apps are increasingly embracing search. One such app is that of TripAdvisor who has revamped the website and moved closer to a social media platform.
According to Marketing Week the relaunch will allow users to save recommendations, follow friends and influencers and create their own "inspiring" content.
Speaking to the press about the launch CEO and co-founder of TripAdvisor Stephen Kaufer said the website is "going from the world's largest travel site to the most personalised and connected travel community ever."
Tuesday
Twitter brings back chronological timelines
For those out there like me that use Twitter as a rolling (live) news feed and not as a forum for discussion, the latest change is a welcome addition. Twitter users can now opt-out of the algorithm that displays what the platform thinks are the most relevant tweets to the user.  Tweets will now be displayed in chronological order and this may be of some concern for the for advertisers who will have to see how it impacts their visibility on the platform.
Announcing the change on their"Show the best Tweets first" setting so that when it was turned off, the user would only see tweets from followed accounts displayed in reverse chronological order. Previously, when the setting was turned off, Twitter would still display missed tweets, tweets from recommended accounts and a not exactly "pure" chronological timeline.
Monday
Android warning: Google smartphone users alerted about increasing number of fake apps
Android users have been put on alert and warned by security experts about dozens of fake malware filled apps to stay away from.
Android is one of the most used pieces of software in the world, with more than two billion active devices running the Google mobile OS each month.
But there have been a number of high profile security alerts recently with shock threats affecting Android users.
Arguably, one of the most high profile instances was the Judy malware scam when 36.5million Android devices were feared to be infected by 41 apps.
Speaking about the warning, Top10VPN's Head of Research Simon Migliano said: "Our biggest concerns relate to the excessive permissions.
"We found apps that can be used to spy on people by tracking location, reading contacts, using the camera – even secretly making phone calls."
Facebook beats Twitter at fighting fake news
A new study from authors at Stanford University and New York University, has analysed the performance of stories posted on fake news sites from January 2015 to July 2018.
Authors Hunt Allcott, Matthew Getzkow, and Chuan Yu assembled a list of 570 sites that had been identified as peddlers of false stories in previous stories. It then measured engagements for a range of publishers — big mainstream ones, small mainstream ones, and niche business culture sites, alongside the fake ones.
Here  they describe the key findings:
"The results show that interactions with the fake news sites in our database rose steadily on both Facebook and Twitter from early 2015 to the months just after the 2016 election. Interactions then declined by more than half on Facebook, while they continued to rise on Twitter.
"The ratio of Facebook engagements to Twitter shares was roughly steady at around 40:1 from the beginning of our period to late 2016, then fell to roughly 15:1 by the end of our sample period. In contrast, 2 interactions with major news sites, small news sites, and business and culture sites have all remained relatively stable over time, and have followed similar trends on Facebook and Twitter both before and after the 2016 election. While this evidence is far from definitive, we see it as consistent with the view that the overall magnitude of the misinformation problem may have declined, at least temporarily, and that efforts by Facebook following the 2016 election to limit the diffusion of misinformation may have had a meaningful impact."
---
Keep up to date with the latest, most important stories in search by subscribing to our blog – or check out our resources to see what knowledge you can gain from Click Consult's 15 years of experience.
Share this: