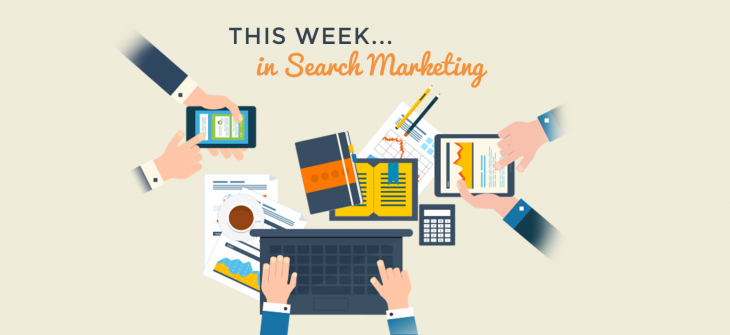 This week in search marketing (19/01/18)
Google's Speed Update, Facebook newsfeed changes, YouTube's new rules for advertisers and the latest figures on ad spend and mobile payment
---
Mobile SEO: it's not enough to be good, you need to be fast
Starting in July 2018, Google will finally use mobile page speed as a ranking in their mobile search results. Announcing a new ranking algorithm designed for mobile search, the company Google recommends you use the new updated PageSpeed report and tools like Lighthouse to measure page speed and make improvements. Calling it the Speed Update, Google has said only pages that "deliver the slowest experience to users" will be impacted by this update.
Is Google losing its memory?
Google has stopped indexing the older parts of the web, according to former Google employee Tim Bray (currently at Amazon), and he claims he can prove it. He says he now relies on Bing and DuckDuckGo. His theory began when he couldn't find a 2006 review he did of the Lou Reed album 'Rock n Roll Animal'.
In his blog post he says: "Obviously, indexing the whole web is crushingly expensive and getting more so every day. Things like 10+-year-old music reviews that are never updated, no longer accept comments, are lightly if at all linked-to outside their own site, and rarely if ever visited… well, let's face it, Google's not going to be selling many ads next to search results that turn them up. So from a business point of view, it's hard to make a case for Google indexing everything, no matter how old and how obscure."
With most brands still concentrating their SEO efforts on Google, Econsultancy warns of the possibility of businesses finding their older content 'drops' out of the index, even if it's high quality, ie, it could become a depreciating asset. It advises that publishers should vie producing content as a fluid, ongoing process and recommends using Google Search Console to better understand the status of their content in Google's index.
Has Facebook unfriended brands?
Facebook has moved the goalposts for publishers once again, relegating posts from brands, businesses, and publishers, demoted to second tier content in people's newsfeeds.
Explaining his motivations for the change Chief Executive Mark Zuckerberg wrote: "We've gotten feedback from our community that public content – posts from businesses, brands and media – is crowding out the personal moments that lead us to connect more with each other."
Adam Mosseri, Head of Newsfeed at Facebook, went into more detail about what these changes will mean for businesses users: "As we make these updates, Pages may see their reach, video watch time and referral traffic decrease. The impact will vary from Page to Page, driven by factors including the type of content they produce and how people interact with it. Pages making posts that people generally don't react to or comment on could see the biggest decreases in distribution. Pages whose posts prompt conversations between friends will see less of an effect."
Biting the Apple
Apple News has emerged as a promising source of referral traffic for publishers. According to Digiday, news brands tend to fare better on Apple News than lifestyle publishers.
Media companies can publish content to Apple News with relatively little effort. To be a fully integrated partner (what Apple calls an Apple News Format partner) requires a couple weeks of development work from the publisher. As an Apple News Format partner, Stylist says it has broader customization options for typography and layout, but, more important, it gets access to more audience data.
Owen Wyatt, Managing Director at Shortlist Media, which publishes the US magazine Stylist, said he receives data from Apple News on shares, follows, reader demographics, article likes, saves, total views, reach, unique visitors and average read time.
Monetisation through ads on the platform has been underwhelming, Digiday reports.
---
---
Mobile payments lag behind in UK
More than 22% of UK smartphone users will use a mobile to pay for goods and services at the point of sale (POS) in 2018. About 9.2 million people in the UK will use a mobile phone to pay at the POS this year, and the sector will grow by almost 17%. However, while double-digit growth will continue through to 2020, it is expected to slow, dipping to 8.5% by 2021. China has the largest mobile proximity payments market in the world, with 77.5% of smartphone users expected do so this year.
Digital media channels power ad spend growth
Digital ad spend is set to grow globally by 12.6% in 2018, versus 15% in 2017, to reach US$220.3 billion. The forecast, by the Dentsu Aegis Network, says the picture is mixed at country level. For example, while ad spend in the United States, Germany and India will grow faster in 2018 versus 2017, there are signs of a slowdown in the United Kingdom, Russia and China programmatic spend will rise by 23% as established players and startups compete over ad tech.
Jerry Buhlmann, CEO of Dentsu Aegis Network, said: "The latest ad spend forecasts show a market in transformation, but not recession. The challenge for brands is to navigate an uneven economic outlook alongside a rapidly evolving tech & innovation landscape. In many markets, disruptive innovation – from mobile, voice activation and new ad tech players – is still providing new sources of growth and we forecast this trend will continue into 2018."
YouTube tightens rules for monetisation
YouTube has announced it will impose stricter criteria for the types of videos that can earn money on the video-sharing site. From March, small channels will no longer be able to monetise until they grow their subscriber base to above 1,000 subscribers, with 4,000 hours of view time in the past 12 months
It has also pledged that its content moderators will screen every single video in Google Preferred – the biggest change to the rules since its inception. In the past year, YouTube has dealt with a series of firestorms, starting last March when ads were found next to violent and racist videos, leading several advertisers to pull their business.
---
To keep up with the weekly news, sign-up to our blog – for anything else there's our collection of resources and infographics. Alternatively – to find out what we can do for you, contact us today.
Share this: