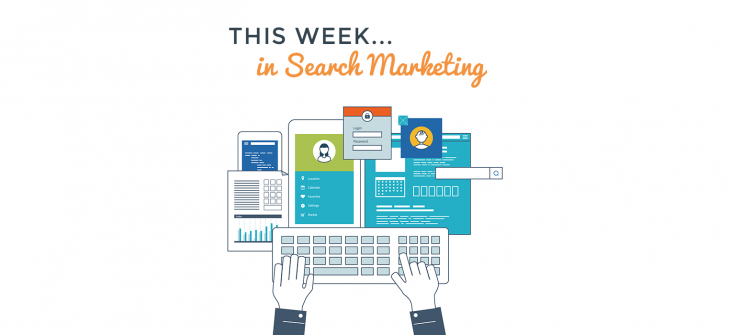 This week in search marketing [20/08/18]
What's up with the world of Google, SEO, paid media and more this week?
---
Wednesday
How to find Google Image search traffic after the referral URL changes
Google Analytics has issued guidance that tells users what to expect when Google Image search engineers flip to the new referrer URL over the next couple of months.
Previously, all traffic coming from a Google Images search result would be grouped together under 'google / organic' in the Acquisition reports in Google Analytics. Soon, when the Google Images team makes their changes to the referral source URL, there will be a new Source line item for image search reflected in Google Analytics which will display as 'google images' in the Source report and 'google images / organic' in the Source / Medium report within Analytics.
Google's Analytics Advocate, Krista Seiden, said in a blog: "This is a change in the way we're processing and reporting this data and will happen automatically for all accounts. If you don't have any filters or custom channel groupings set up based on Google Organic Source or Medium, then no changes are needed and you can continue to report on the data within the Channel, Source and Source / Medium reports as is.
"If you do have special filters, custom channel groupings, or reports based on this data, then you will want to make updates as needed to capture the new Source parameter in your custom settings.
"Note that when this change launches, you may see a drop in data perceived to be coming from 'google,' since it will be reclassified as coming from 'google images.' In some cases, you may see an increase in organic traffic as we reclassify some traffic previously classified as 'referral' to 'organic.' These changes should all balance out and you shouldn't expect an overall drop or increase in total traffic."
---
You may see a drop in data perceived to be coming from 'google,' since it will be reclassified as coming from 'google images.' In some cases, you may see an increase in organic traffic as we reclassify some traffic previously classified as 'referral' to 'organic'
---
Hey Google, give me some good news
Google's Assistant is making postive news easier to find with a US-based experiment.
Ryan Burke, Creative Producer at Google, said: "'Tell me something good' is a new experimental feature for Assistant users in the US that delivers your daily dose of good news. Just say 'Hey Google, tell me something good' to receive a brief news summary about people who are solving problems for our communities and our world. The stories come from a wide range of media outlets, curated and summarised by the Solutions Journalism Network.
"They're a nonpartisan nonprofit dedicated to spreading the practice of solutions journalism, which highlights how problems are solvable and that doing better is possible. Solutions journalism empowers and energizes audiences, helping to combat negative news fatigue. It's an important part of a balanced news diet, so we're exploring how to incorporate more solutions journalism wherever you access Google News."
Ad spend on Instagram soars, while Facebook declines
Ad spend on Instagram is growing at four times the rate of ad spend on Facebook ads, Marketing Land has reported.
Source: Marketing Land
China is now the largest ecommerce market in the world
China has leapfrogged the US to become the largest ecommerce market in the world and accounting for 83% of all online retail sales in the Asia Pacific region, thanks to brands including Alibaba and JD.com.
The Forrester research found that by 2022, it's forecast China's $1.8 tn online retail market will be more than double that of the US ($713 bn). Among metropolitan Chinese consumers, 72% are 'Progressive Pioneers', known as the most demanding, advanced, and innovation-hungry digital shoppers.
Social media influenecr told to be transparent about paid promotions
The Competition and Markets Authority (CMA) has launched an investigation into influencer marketing to gather more information on whether social media stars are being transparent about sponsored posts.
As part of the investigation, the CMA has written to a range of celebrities and social media influencers to gain further insight into the inner workings that goes on behind these posts.
A spokesperson for the Advertsiing Stnadards Authority says: "The issue of ad disclosure in social media and dealing fairly and transparently with consumers/followers is an important one. We launched our call for evidence into online labelling earlier this year as the first part of a project exploring people's ability to recognise online ads as ads, including by how they are labelled. We'll be reporting more on this in the autumn."
Mobile apps unprepared for GDPR compliance
Some apps don't seem to be taking GDPR seriously – or maybe just don't realise how much they're leaving themselves exposed, reports AdExchanger.
Although mobile apps aren't necessarily more at risk of GDPR violations, they do have specific and nuanced tasks they must complete in order to comply, and many are noticeably behind.
Senior Editor Allison Schiff says: "Mobile apps that rely on advertising to monetiae are particularly vulnerable. Developers integrate an average of 18 third-party software development kits into their apps, according to SDK management platform SafeDK, which means roughly 18 opportunities to improperly process data without consent.
"Apps have to ensure their third-party partners are also compliant – and they have to be prepared for any consequences of noncompliance on the part of their partners."
Tuesday
Sites to be punished by EC if they don't remove 'illegal content' with an hour
Tech companies and publishers in Europe will face fines if they fail to comply with European Commission (EC) rules on the removal of 'illegal content' (primarily terrorist propaganda).
Earlier this year, the European Commission (EC) created guidelines and recommendations but is now taking action because there hasn't been sufficient voluntary action and progress.
Julian King, the EU's commissioner for security, told the Financial Times that Brussels had "not seen enough progress" on the removal of such material and would "take stronger action to better protect our citizens". He warned that policymakers could not "become complacent" when facing such as "shadowy and destructive" foe.
The regulations will be published next month for review by the European Parliament and then EU member states.
Google accused of illegal tracking
Google has been accused in a lawsuit of illegally tracking the movements of millions of iPhone and Android phone users even when they use a privacy setting to prevent it, Reuters has reported.
According to a complaint filed late Friday, Google falsely assures people they won't be tracked if they turn the "Location History" feature on their phones to "off," and instead violates their privacy by monitoring and storing their movements.
"Google represented that a user 'can turn off Location History at any time. With Location History off, the places you go are no longer stored.' This simply was not true," the complaint filed in San Francisco federal court said.
Superfast broadband boost UK business by £9 bn
Faster broadband has driven a £9 bin increase in turnover for businesses, according to new figures.
The boost has come from the Government rollout of superfast broadband, which the Department for Digital, Culture, Media and Sport (DCMS) confirmed has now reached almost five million homes and businesses.
Digital minister Margot James said: "Our rollout of superfast broadband across the UK has been the most challenging infrastructure project in a generation, but is one of our greatest successes. We are reaching thousands more homes and businesses every week, that can now reap the clear and tangible benefits that superfast broadband provides. We are helping to ensure the downfall of the digital divide."
Ms James said the target was to ensure everyone in the UK has access to fast and affordable broadband by 2020 and there should be nationwide gigabit connectivity by 2033.
Monday
Advertisers get third headline for Google text ads
Google has extended the added character benefits of responsive search ads to text ads. Advertisers will now have an additional headline and description characters to play with. In total, text ads can now have up to three headlines and two descriptions, and descriptions have been expanded to 90 characters.
Google advises:
---
To get started, try adding a third headline and a second description to your existing text ads. For example, if you're a retailer using two headlines that show your brand name and official site, you can add a third headline showing shipping details or special offers
---
Blockchain fatigue
39% of executives think blockchain technologyis overhyped. Deloitte, which carried out the research, says "blockchain fatigue" is beginning to set in among those who feel "its potential has been over-communicated, while its real-world benefits remain elusive". The main problem is that despite the constant talk about blockchain, there are actually very few active use cases.
---
To keep up to date with the latest news, views and best practices in search marketing, subscribe to our blog – or contact us today to see what we can do for your brand!
Share this: