This week in search
This week has been a busy one in the world of search marketing and as always we use this blog to round up the changes and developments that you need in order to focus your marketing efforts
---
Google reforms AdSense with tougher rules
Search engine giant Google have this week announced tougher regulations to their AdSense platform, banning Google AdSense ads from showing on pages that use excessive pop up or pop under techniques.
After updating their ad policies Google also revealed that ads will also be blocked from running on any web site that deploys pop under ads.
Following the announcement, Google published the new policies, which read:
Publishers are not permitted to place Google ads on sites which have more than three pop-ups. If pop-ups are displayed on a site they may not interfere with site navigation, change user preferences, initiate downloads, or distribute viruses.
Publishers are not permitted to place Google ads on sites that contain or trigger pop-unders.
Additionally, sites using AdSense may not be loaded by any software that triggers pop-ups, modifies browser settings, redirects users to unwanted sites, or otherwise interferes with normal site navigation. It is your responsibility to ensure that no ad network or affiliates use such methods to direct traffic to pages that contain your AdSense code.
Google adds menu tab to restaurants' local panel
Google has added a new tab to the local panel for many restaurants. The new tab is for accessing the restaurant's menu, and Google may show the tab if Google is able to pick out the menu items from the restaurant's menu.
This is how it appears:
---
---
According to Barry Schwartz at searchengineland.com: "Google began showing tabs in the local panel about a month ago, after testing it for some time.
"The tabs shown are different based on the type of local venue it is. For example, restaurants might have a menu option, whereas hotels might show rates."
This feature yet again adds to the overall UX and it will be interesting in time to see if there is a correlation between adding the feature and bookings.
Google launch PAIR project to improve human/AI interaction
Google has this week unveiled a research program geared towards improving how humans interact with artificial intelligence (AI).
Dubbed PAIR (People + AI Research Initiative), the scheme will aim to spread the use of AI research beyond the areas where it has been pioneered to date, such as speech and image search, by focusing on "the human side of the relationship between users and technology" with a view to developing new applications for such software.
PAIR has opened with the launch of two open-source tools named Facets Overview and Facets Dive — visualisation tools aimed at giving software engineers a clear view of the data they use to train AI systems.
According to Google, the project will revolve around aiding three types of users:
Engineers and researchers: Providing such practitioners with tools to better understand and build machine learning systems.
Domain experts: Exploring how AI can help professionals from all disciplines, including medical, design, farming, etc, use AI.
Everyday users: Ensuring the benefits of machine learning are inclusive "so everyone can benefit from breakthroughs in AI".
The latest initiative includes open-source tools that will be made available to third parties, including software engineers, as well as professionals from disciplines such as medicine, design and music.
Bing adds 'Popular Content' to snippet section of search results
In the latest updates Bing have further enhanced user experience (UX) by adding a new carousel feature to the snippet section of the search results.
The "Popular Content" section is actually a box which appears when you search for certain brands like DropBox or Shutterstock (see below).
---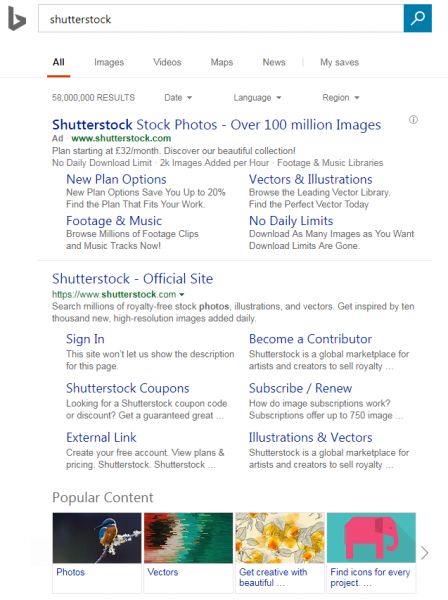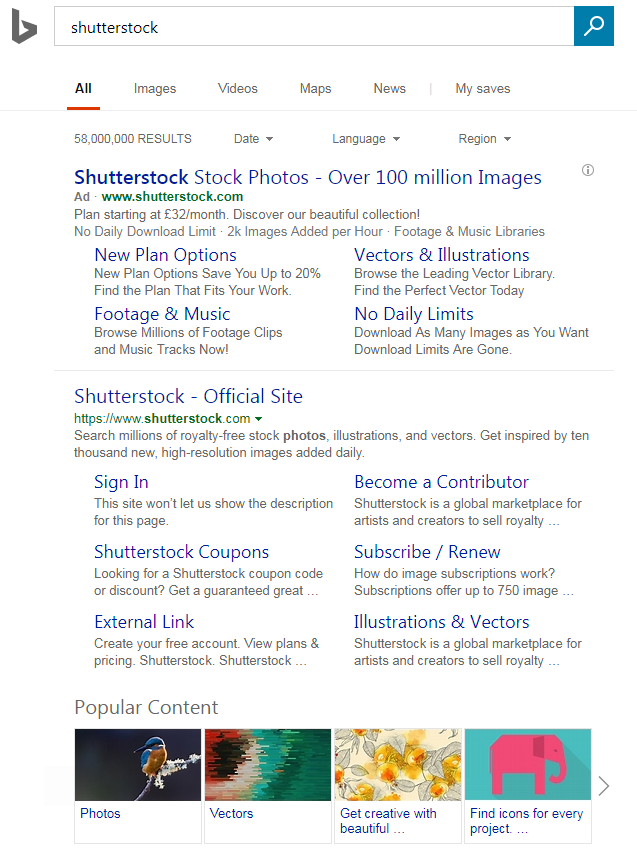 ---
According to onmsft.com: "It's not exactly clear when Microsoft started to roll out the feature, but "popular content" appears to be very similar to the hyperlinks which are already shown in a list when you run a search for popular websites such as Twitter, Facebook, or Google.
"The only difference, though, is that "popular content" results appear as a small box under search results, allowing you to scroll right and click through to see more content for the searched website."
---
To make sure you keep up to date with the latest and most important search news, sign up to our blog using the form on the left, for more insights – check out our resources or contact us today to see what we can do for you.
Share this: