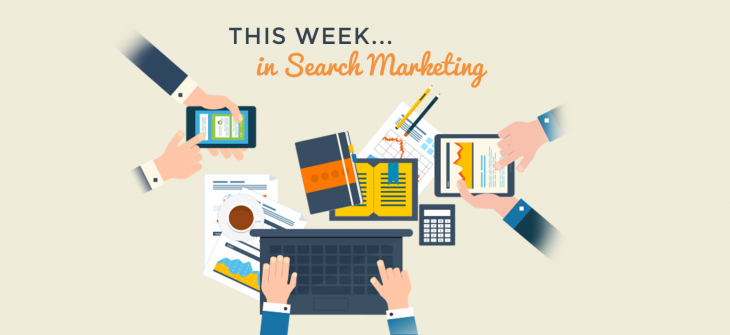 This week in search marketing (05/01/18)
The first week of January tends to be a week of predictions in the search marketing community (including here, where we released our annual infographic and a blog), but there are still some interesting stories to report from the digital realm
---
Marketing Land has vaguely annoyed me this week with two stories that seem to make a lot out of very little – but nevertheless, for your delectation:
Facebook users are more likely to like and share content by people they like than by brands says the first article, with branded content ads seeing just shy of twice the paid impressions of standard ads and about 3600% more earned impressions. Perhaps my audible eye roll was a little harsh here – as it's something that content marketers have been saying and measuring for years – it's good, however, to see definitive data from any source.
Marketing Land also ran a story on the spending habits (with Amazon) of 2,000 consumers that had purchased from Amazon.com in 2017 – which I'm including, rather grumpily, as the data is provided without any kind of detail on the sample. While the graph they share from CIRP shows a $400 uplift in spend annually from Echo owners (presumably to show that the Echo is a good marketing device or that it removes friction – which it may well do), without data on age, net income, and a host of other possible influences on the results, it's impossible to determine whether the findings are at all meaningful.
In slightly more meaningful news, Channel 4 (The Drum reports) became the first UK broadcaster to have a digital ad offering. This will allow brands and agencies to better target their advertising and promises the possibility of 'Dynamic Ad Insertion [for] live events'. Channel 4 already has a partner in BT Sport, with more expected to follow.
Video also seems to be on the way to Google My Business according to Search Engine Land (whose stories fair far better than their sister site this week), who were able to share screen grabs of a video tab on the dashboard.
Search Engine Land also reports on a disputed (but eminently likely) story from CNBC that Amazon is some distance in to a process that will deliver promotional opportunities for brands via Alexa and Alexa linked devices. While a post script states that the author received an email again denying speculation, it is reasonable to say that further monetisation opportunities for Alexa are unlikely to be overlooked indefinitely.
I'm going to round off the week with a blog from Forrester on a search marketing research report that predicts a 'late-stage renaissance' for search advertising as brands look to protect themselves and their reputations from the damage that is possible on social media platforms, and difficulties with data gathering and targeting caused by GDPR.
The same report also finds that spend on advertising through voice search will 'grow significantly' – presumably as Alexa (and the Google Assistant) starts opening up to advertisers.
---
To keep up with the weekly news, sign-up to our blog – for anything else there's our collection of resources and infographics. Alternatively – to find out what we can do for you, contact us today.
Share this: