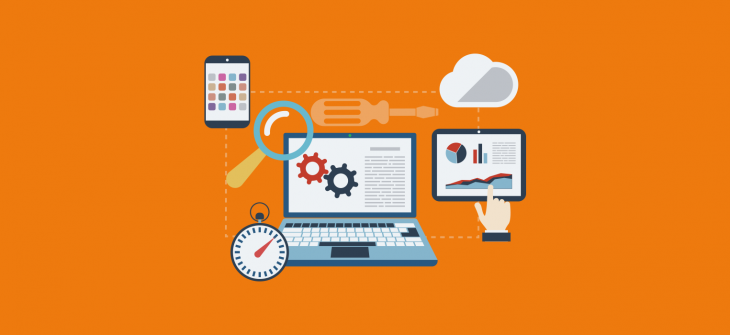 This week in search marketing
In a shock development, Google features heavily in this week's search news – with the recently hyperactive brand making further changes to the mobile experience, while Nielsen reports on the activities of sections of the populace divided arbitrarily by dates of birth, digital ad spend grows and more besides
---
Google continues to ring the changes
It's been a frantic seeming year on the Google front so far which, despite Google whistling nonchalantly and claiming it's not doing nothing, seems to have exceeded most previous years in noticeable changes to SERPs rankings as well as user interaction and experience (UI and UX).
One of the recent changes comes as 'Google Now' ceases to be. While disappearing in name, the functionality will remain as a 'feed experience' which will become part of 'Google Now's offering – with a series of personalised cards presented to consumers on the app's home page which feature relevant news stories; while a secondary tab will feature upcoming personal information – such as various appointments, flight times etc. While appearing on mobile only in the UK at the moment, the feed is also due to be added to google.com in the near future.
---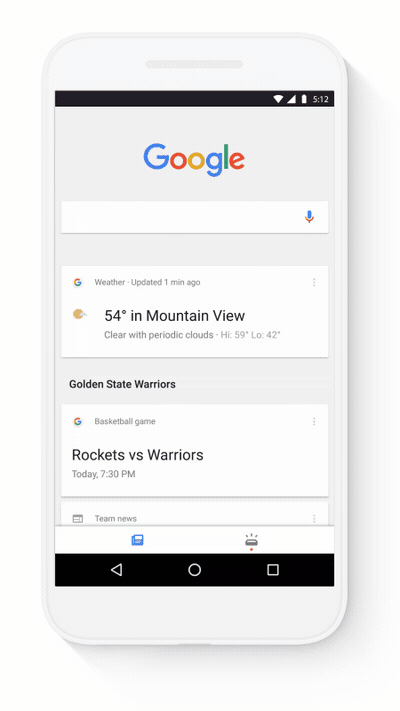 ---
Amongst the coverage of this, there have appeared a number of predictions as to the future relevance of the feed for SEO – including from founder and wizard of Moz Rand Fishkin:
---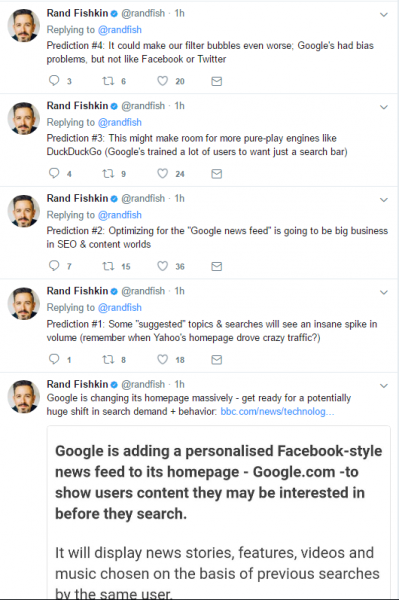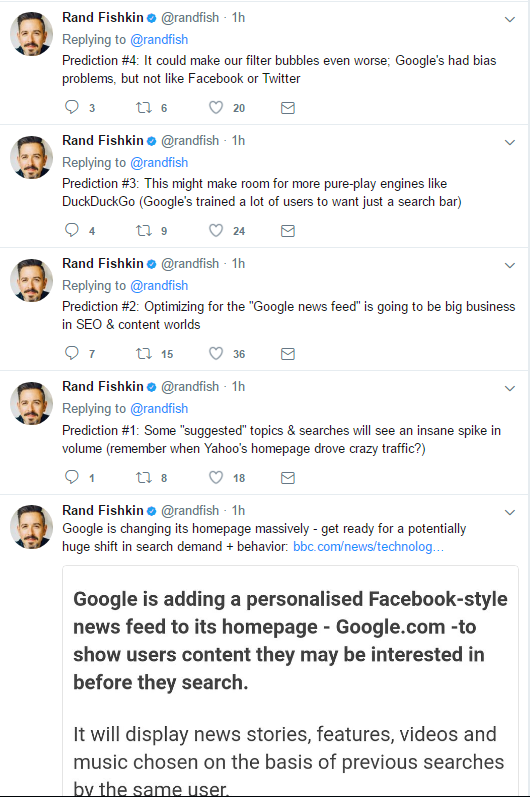 ---
As someone who seldom uses search for news (there's an app for that – or at least a series of regularly visited sources), I've found the personalisation of these cards to be less than optimal – based as they must be on search history rather than actual online activity. Unless the algorithm generating these cards becomes more sophisticated (or intrusive), therefore, I would add to Rand's predictions that it will be a while before it offers anything like the utility to be considered necessary.
In other Google news, Analytics can now answer simple compare and contrast questions thanks to Analytics Intelligence (accessed via the circle and dots icon on desktop and mobile). While this may not mean much for hardened users of Analytics and the many twists and turns you can take therein, it is a fantastic first step toward a truly interactive platform for monitoring and optimisation of online performance.
---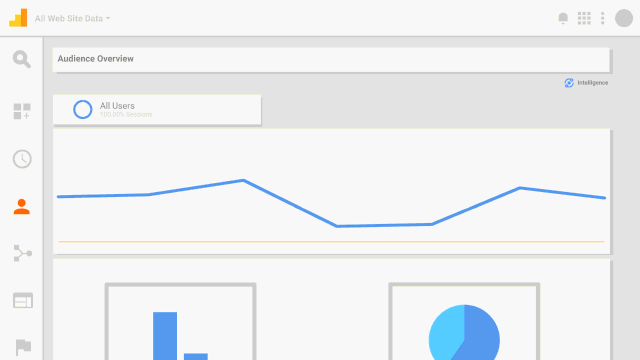 ---
Shocking report finds that people of different ages do different things
A new Nielsen study of the media habits of the American population has discovered that age groups are different, but facetiousness aside and accounting for the fact that findings about the American public can only be loosely applied to the UK, there are some interesting statistics.
Generation Z (watch this term, you'll be seeing a lot of it in the coming years) watch a lot less live television than Millennials (so turn of the century) who watch less than Gen X who in turn watch less than Boomers. Similarly PC use has dropped compared to quarter one of 2016 while app/web use on a smartphone has jumped across generations (with Gen Z excluded due to privacy restrictions).
With consumption of media online constantly on the rise, it can come as no surprise that the next story details marketing's upward trend in digital spending.
Digital spending up
Marketing week is is reporting on the latest Bellwether report which shows an increase from 16.9% to 22.7% of net budget – the highest percentage since the third quarter of 2007.
The report is good news for search marketing with spend set to increase to a two and a half year high at the expense of market research, sales promotions and direct marketing.
---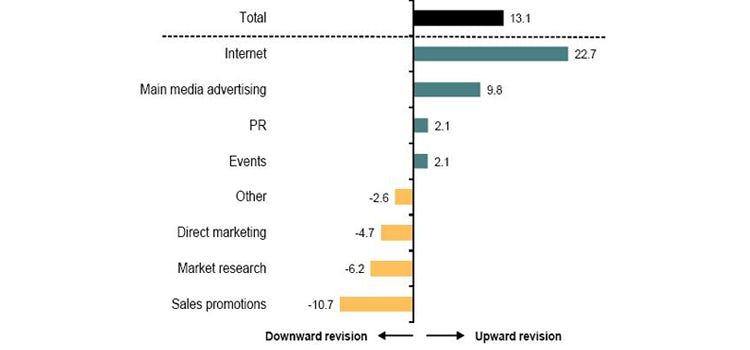 ---
It remains to be seen, but it would be a reasonable assumption to make that a good proportion of this increase will be pushed into mobile – where the customer base of virtually every brand is spending more and more of their time (though possibly in smaller chunks).
Immaturity a bar to growth
Apparently this lack of 'digital maturity' (as reported by The Drum) is not due to time lost posting memes on Twitter but a failure to inculcate a 'digital minded' culture.
Reporting on a survey by eMarketer and Deloite, The Drum notes that almost 40% of those marketers surveyed stated that their company needed to improve in digital strategy and innovation. It is, apparently, a resistance to change and a lack of forward thinking regarding digital that is impeding the development of companies. This is causing them to fail to secure the right talent and implement necessary changes for what survey respondents considered to be a necessary shift to digital.
---
At Click Consult we make it a priority to keep up to date with the latest in search marketing news. To find out how we can help your brand to avoid unpleasant surprises in this rapidly changing industry contact us today.
Share this: