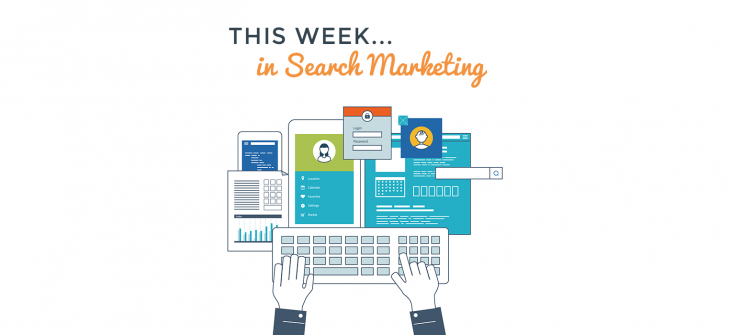 This week in search marketing [11/06/2018]
Where I battle bravely against the tides of search marketing news so that we can all keep our heads above water
---
Friday
The week is very nearly over, and as we head in to a weekend of watching average football, these are the final few interesting pieces from today's feed.
Google
Users, according to an article on Search Engine Land, will be able to turn of targeting signals, Google is also extending the 'Why this ad?' notices to all services.
Keyword tool review
Also from Search Engine Land, comes a very in depth review of keyword research tools. With some great information, a well outlined process and some good take aways, the article should make it on to anyone's weekend reading list.
AIfred Hitchcock
In compulsory AI news – an AI has written and produced an apparently awful film according to Wired. While the results were apparently less than optimal, the very fact that the AI was at all capable of performing the myriad tasks required to make a film is a step forward toward AI creativity that is more than a little impressive.
Thursday
Today's news is limited, with quite a few industry professionals out at a conference, and the rest of it writing almost entirely about the World Cup.
Blockchain
There's an interesting article on blockchain and its possible uses for social media. While blockchain certainly seems to be more useful than the cryptocurrencies that spawned it, the article's ideas are well worth a read – including three main points:
Giving ownership of content back to social media users
Allowing the community to decide what content is valuable
Creating a reward system where users benefit for contributing and engaging with content
Google
There are a couple of articles on Search Engine Land today with some useful information – the first, a collection of clarifications from Google around mobile first; the second regarding the latest update to Search Console that allows webmasters to see how often their site is being delivered as part of 'Web Light' – which delivers a stripped back version to help delivery in areas of slow internet connection.
Wednesday
You'll all, no doubt, be pleased to know that the Ahrefs API just needed a sleep and woke up in a much better mood.
Advertising has no soul
While many would argue that advertising never had soul, it just had far more and easier access to recreational uppers, Marketing Week's interview with Sir John Hegarty states that the industry has favoured data over creativity and has lost its way. In some ways, it's easy to see that there has been a lack of overt creativity in recent ad campaigns, but while Hegarty makes some good points around risk aversion, it's difficult to see why data takes the fall and why, for example, the risk of social media backlash for outside the box campaigns may be more to blame.
It's an interview worth a read, however, and one thing we can definitely agree on is that the marketing industry as a whole needs to embrace creativity as the future.
Podcasts are in the money
MarTech Today are today reporting that ad spend on podcasts reached $314M in 2017 – an increase of 86% YOY. With one of the most engaged communities around, podcasting seems like a great avenue for brands with budget to spare – it's no wonder, then, that DoubleClick has added audio podcast ads to its offering.
Tuesday
The spreadsheet battle continues, and the Ahrefs API and I have clearly fallen out as it refuses to load the measly few thousand requests I'm making of it. In other news:
Econsultancy
There's a great blog on the evolution of influencer marketing in the beauty industry on Econsultancy. While I'm by no means the target market of make-up influencers – my eyeliner is already always perfect – it is undeniable that beauty brands were in early and have made fantastic progress in harnessing the power of influencer marketing. The article – and the linked to report – offer some insight in to how they've done it.
Marketing Week
In conjunction with YouGov, Marketing week conducted a poll on the the UKs favourite ad of the 80s. The winner, rather than the clearly superior red car vs blue car Milky Way ad, was a Yellow Pages ad. While the result is clearly nonsense, the write up is really quite interesting.
---
---
Voice Interface
There's a nice addition to my 'voice is taking over the world' scrap book on the Martech Today blog – one of a growing number as we approach 2020 and the dawn of voice first search with almost no one ready. Not that I'm being alarmist, but I am beginning to wonder when the panic will set in.
Monday
Returning from holiday, I've been catching up on some industry news in between battling with a new spreadsheet – the best bits for today are as follows:
Marketing Week
Not all or always search related, but the weekly 'stats to start your week' series on Marketing Land is always worth a look if you like novel marketing stats. This week's includes the fact that the World Cup will boost ad spend by a projected £2.4bn globally (as well as sales of 3 Lions by Baddiel, Skinner and the Lightning Seeds), and that only one third of British Facebook users don't believe Facebook cares about its users (reported negatively – but that's an astonishingly low number if you ask me, which nobody did).
Search is getting better
Search Engine Land published that 3 million fewer manual action notices were sent the previous year, down from nine to six million. While there were 45 million messages in total, those issued for webspam and breaches of user guidelines only made up a minority.
More stats
Marketing Profs (another site well worth adding to your personal feed) reports on some research in to reasons why editors aren't accepting your guest content pitches (yes, yours specifically, you should be ashamed).
---
As well as a wide variety of resources, infographics and case studies, Click Consult's blog is full of actionable insights and industry news – so why not sign up? Or contact us to see what we can do for your brand.
Share this: