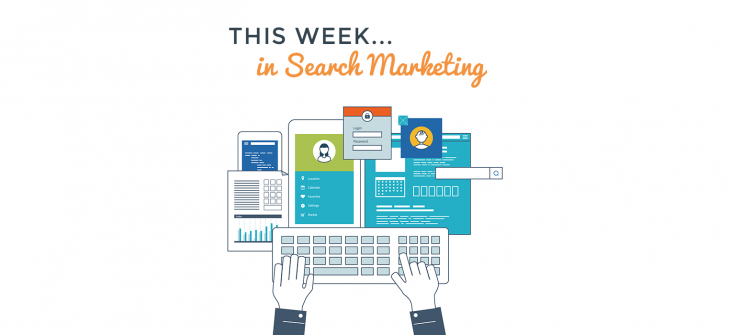 This week in search marketing [21/05/2018]
The latest developments in the world of organic search (SEO), paid search (PPC), content and social media, updated daily
---
Thursday
Google trends gets an update
In their latest blog post Google has officially announced that it has rolled out an updated version of their Google Trends platform
Google Trends has become a key part of journalistic storytelling, giving reporters everywhere an insight into search trends across the world and in a post by Google Trends, Software Engineer, Gavri Smith he said: "Today, we're updating Google Trends with new features, simpler navigation and more ways to explore data and stories around one of the world's biggest journalistic datasets. Many of the changes are based on feedback from Trends users.
"The new design puts more editorial data-based stories up front, and gives you the ability to create your own stories using Year in Search data, or by exploring the revamped Trending searches and Explore pages."
The new updates include:
A revamped Trending searches section, showing what is trending in search right now, both daily and minute-by-minute.
A newly-designed section where you can see Google Trends data stories curated by the News Lab team. This is also a great place to find amazing examples of Google data visualizations by newsroom designers from all over the world.
Easy access to Year in Search data going back to 2001, so you can see how search interest has changed over time.
New infographic types such as an intensity map to compare different topics in more meaningful ways.
Wednesday
Yelp asks Europe to take new antitrust action against Google
In an article published by the Financial Times, it is reported that Yelp has formally complained to the European Commission (EC) that Google "abused its dominance in local search" and is seeking a formal Statement of Objections against the company.
The logic of the complaint is nearly identical to claims made against Google in the shopping search context: Google systematically favours "its own content," minimising that of competitors. The EC said when it brought the formal Statement in shopping search and subsequently fined Google roughly $2.7 billion that similar actions were possible.
Talking about the action, Yelp's Luther Lowe said: "When a mother does a search for a paediatrician in Berlin, instead of being matched with rich review content from a service like German startup Jameda.de, Google siphons her to a degraded local experience with fewer reviews and less content. In addition to being anti-competitive, this type of conduct directly harms consumers who still assume Google is relying on its meritocratic algorithms to govern which information appears at the top of the page.
"The substantial economic data and evidence included in Yelp's complaint provides the tools needed for Commissioner Vestager's team to extend its finding of guilt in comparison shopping into local search, the most common form of search on Google."
Google has denied it has abused its position and appealed the shopping search fine to the European Court of Justice, but if the EC were to take up Yelp's complaint, it would represent another action, with billions more in potential fines.
Monday
Google launches YouTube music streaming service
Google is unveiling a new music subscription service this Tuesday (22nd May), and will promote it with YouTube's most expensive advertising campaign. The service, called YouTube Music, mimics the Spotify model: there will be a free, ad-supported tier with more limited functions, and a $10 a month subscription without advertisements and with extra functions.
According to the Financial Times, Google is looking to dismantle the Spotify-Apple "duopoly" in music distribution, overhauling its music service in the fourth attempt (following on from Google Play, YouTube Key and YouTube Red) at convincing YouTube's billions of users to pay.
Lyor Cohen, YouTube's head of music, said that the dominance of Spotify and Apple is "scary for musicians and for record labels".
"To preserve this incredible opportunity the music business has, we need competition in distribution,"he added.
"It's not like it was 30 years ago, when some guy could rent a warehouse, buy a bunch of records and put a sign called Tower Records in front. Now you have to have a ton of engineers, a global footprint and a ton of money."
We'll keep a close eye on how they fare over the coming weeks.
Google confirms it shortened search results snippets after December expansion
Google has confirmed that only about five months after increasing the search results snippets, it has now decreased the length of these snippets.
Danny Sullivan of Google wrote, "Our search snippets are now shorter on average than in recent weeks." He added that they are now "… slightly longer than before a change we made last December."
At the time Google did warn webmasters  that there was "no need for publishers to suddenly expand their meta description tags," but many ignored the warning for fear of missing out and the possibility of a penalty later in the year.
Sullivan added, "There is no fixed length for snippets. Length varies based on what our systems deem to be most useful. He added, Google will not state a new maximum length for the snippets because the snippets are generated dynamically.
Facebook Founder, Mark Zuckerburg in change of heart over EU data breach
In a change of plan, the public will be able to watch Mark Zuckerberg's response to European Parliament leaders' privacy concerns.
The body's president, Antonio Tajani, has tweeted that tomorrow's 75-minute meeting would be livestreamed.
---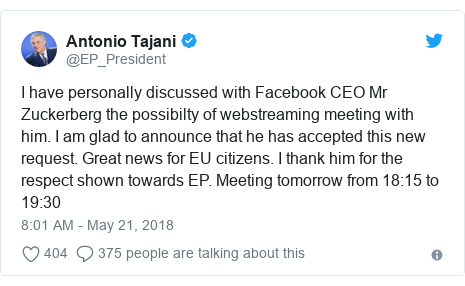 ---
Earlier German Green Party's MEP Sven Giegold, had launched an online petition, stating that: "It is disgraceful how Zuckerberg promises more transparency, but does not want to make public statements in the European Parliament. Facebook operates a public platform and therefore has to publicly take responsibility for its actions."
The European Parliament's webstream is due to be broadcast on the European Parliament's website between 18:15 and 19:30 local time (17:15 to 18:30 BST) on Tuesday.
---
Keep up to date with the latest search news, views and best practice by signing up to our blog, or become a search superhero with our extensive library of resources.
Share this: