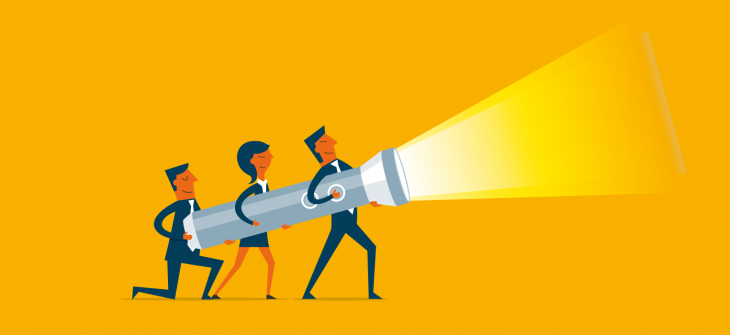 This week in search marketing [25/06/2018]
It's not just the weather that's scorching… here's what's hot in search marketing this week
---
Friday
Google has reduced link spam by almost half
Google has also cut the number of hacked websites from showing in the search results by 80%, and cut link spam in search by almost half.  Less than 1% of sites visited from search results are ar enow spammy. Earlier this month it was reported that Google sent around three million fewer manual action notices this year than last year down from nine million in 2017 to six million in 2018
In a blog, Principal Google Engineer Cody Kwok, said that Google "actively works with webmasters to maintain the health of the web ecosystem. Last year, we sent 45 million messages to registered website owners via Search Console letting them know about issues we identified with their websites. More than six million of these messages are related to manual actions, providing transparency to webmasters so they understand why their sites got manual actions and how to resolve the issue."
One in four marketers dismiss data-driven insights
A quarter of marketers rely on their 'gut instincts' when making decisions and planning their campaigns. The findings, which were launched in Qualtrics' 'Experience Data – The New Competitive Advantage' report, reveal that 86% of marketers admit to relying on 'gut feel' at least some of the time. Despite this fact however, 85% of those surveyed collect data from 15 or more sources in order to inform their marketing approaches.
---
Marketers certainly aren't short of data – but when so many are still relying on gut feel, it's clear there's a gap between the data they have and the data they need. The most successful marketers are closing that gap by looking at a new type of data – Experience Data (X Data). This looks beyond the traditional marketing metrics that tell you what's happened in the past and looks at the 'why' behind this data. When you can understand the key drivers behind your core metrics you can use data rather than gut feel to identify the improvements that will have the biggest impact on your organisation

Caroline Mogford, EMEA Marketing Director, Qualtrics
---
Marketers struggling to get to grips with AI
B2B Marketers are still just learning about how AI will help achieve business goals, and are, for the most part, confused about the potential impact on their marketing strategy and overall business performance. This is according to a survey by marketing company EverString and Heinz Marketing. According to Matt Heinz, president, Heinz Marketing: "These findings will help marketers understand how they compare to peers in viewing AI applications and future expectations to create value."
The need for speed
Ahead of the rollout of Google's mobile Speed Update in July 2018, a new study by Searchmetrics suggests that marketers should take note that faster-loading pages already are deciding winners over losers in mobile searches. The search results appearing in Google positions one to five load significantly faster than those lower down, with almost a third (32%) loading within one second. And pages using Google's faster loading Accelerated Mobile Pages (AMP) appear in the first search results page for around 61% of searches.
Cliff Edwards, Director Marketing & Communications of Searchmetrics said: "The research suggests there is already some correlation between page speed and mobile rankings − and Google's Speed Update is only going to make this stronger. So webmasters need to be continually testing and finding ways to optimise their web pages for speed. Overall this is going to mean plenty of work for many sites as even in the top five positions 32% of search results took longer than three seconds to load."
Thursday
Google Home outage causes outrage
Google devices and apps have experienced serious outages that lasted for more than 12 hours and affected millions of users around the globe. The Home devices are responding to queries by saying "there was a glitch" or "sorry, something went wrong".
The issue affected Google Home and Google Home Mini – speakers that respond to voice commands – as well as Chromecast – a device that plugs into a television and allows people to watch video content.
Users were angry at both the length of the outage and the lack of information from Google about it, once it had been identified. Google has not given a reason why these devices went down, only apologising for the service problems and identifying a fix for the issues.
5 devices down for 12+ hours

— James Burns (@jdburns4) June 27, 2018
CMOs slow to optimise for voice search
Only 3% of chief marketing officers, have tailored their SEO strategies to optimise for voice-enabled search, though 75% say they plan to do so. QueryClick's CMO Performance Report 2018 surveyed 150 CMOs for UK brands with a revenue of more than £150 m.  Almost half of those surveyed said they would optimise their SEO for voice within the next 12 months.
Wednesday
Welcome to Google Ads, Google Marketing Platform, and Google Ad Manager
Google is rebranding its tools for advertisers and publishers, retiring the well-known brand names AdWords and DoubleClick. Google AdWords is now Google Ads, while DoubleClick for Publishers and DoubleClick Ad Exchange will be brough together d unified programmatic platform under a new name: Google Ad Manager. The new Google Ads, Google Marketing Platform and Google Ad Manager brands will begin to roll out over the next month.
---
The new Google Ads brand represents the full range of advertising capabilities we offer today—on Google.com and across our other properties, partner sites and apps—to help marketers connect with the billions of people finding answers on Search, watching videos on YouTube, exploring new places on Google Maps, discovering apps on Google Play, browsing content across the web, and more… We're enabling stronger collaboration for enterprise marketing teams by unifying our DoubleClick advertiser products and the Google Analytics 360 Suite under a single brand: Google Marketing Platform.

Sridhar Ramaswamy, Senior Vice President, Ads & Commerce
---
Tuesday
Sports brands top list of most visible brands on social
Brandwatch analysed the top 100 logos featured on Twitter and Instagram using their Image Insights tool and discovered that Adidas came out top with more than 6.5 million unique images a month, followed by Nike with over 5 million. Big names like Apple, Coca-Cola and McDonalds also made the top ten, while Amazon, Facebook and Kellogg's appeared lover down the list.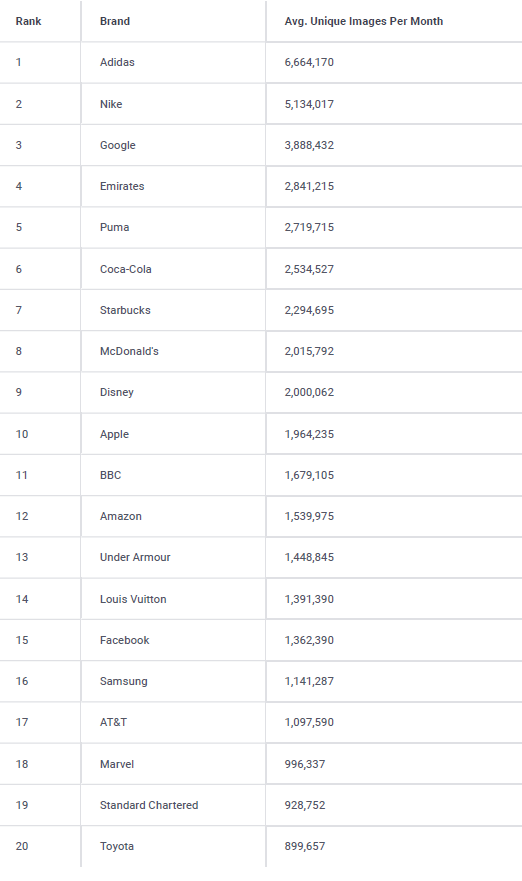 Source: Brandwatch
Lacks of optimisation costs $45 bn
Brands are missing out on a potential $45 bn in profit because they are failing to optimise media allocation, investing too much in digital display and not enough in more traditional formats, according to new research by Ebiquity, which was revealsed at Cannes.
"This research shows that brands could be delivering much more from their advertising investments," Ebiquity Head of International Effectiveness Mike Campbell said in a statement. "We're highlighting that with proper measurement and analytics, marketers can reevaluate their spend allocation to dramatically improve results."
Monday
Knowledge Panel verification
Individuals and organisations with Knowledge Panels are being invited by Google to claim and verify their panels and provide authoritative feedback on the information and images presented. Any person, organisation, sports team, event and media property with a Knowledge Panel is eligible to get verified and suggest edits to the information shown.

Source: Google
Execs want Google to clamp down on fake news
Executives think platforms should do more to combat fake news, are increasingly sceptical of social media and blame brands for adverts placed alongside inappropriate content – but they increasingly see news brands as a source of trusted content, according to a survey published today by Reuters Plus.
The third annual Tomorrow's News survey, based on a new survey of 1,587 global executives, reveals that 87% of respondents think Google and Facebook should do more to control fake news, while 81% believe that Google and Facebook should be held accountable for content.
Mobile's reshaping B2B marketing
Google reports that 50% of  B2B search queries today are made on smartphones. – a figure that's expected to grow to 70% by 2020.
Toddlers are tech-savvy
Two thirds of children under two are using tablets and a third can even open apps. Nick Richardson, analyst at Parents Insights, said: "Our latest data reveals a fascinating picture about how toddlers and babies as young as six months are interacting with technology – and how much their parents are seemingly willing to allow.
"It seems that tablets are the first device that parents are happy for their little ones to use but their attitudes to social media are much less liberal. We found that just 17% said they would let one of their children use social media before the legal age of 13.
"It's key information for brands to be aware of as they adapt to the way that both kids and parents consume information."
A third of marketers think GDPR will improve their offering
Awareness and preparedness for the GDPR, which came into effect last month, are at their highest level, says the DMA. Over a quarter of marketers do not believe the legislation will have a financial impact on their business and a third think it will actually benefit their offering.
Meanwhile, when asked if they were ready come 25th May, the majority of respondents said they were both aware and prepared, with 71% saying their organisations were equipped. However, a quarter revealed that 27% of marketers received no specific training prior to the deadline.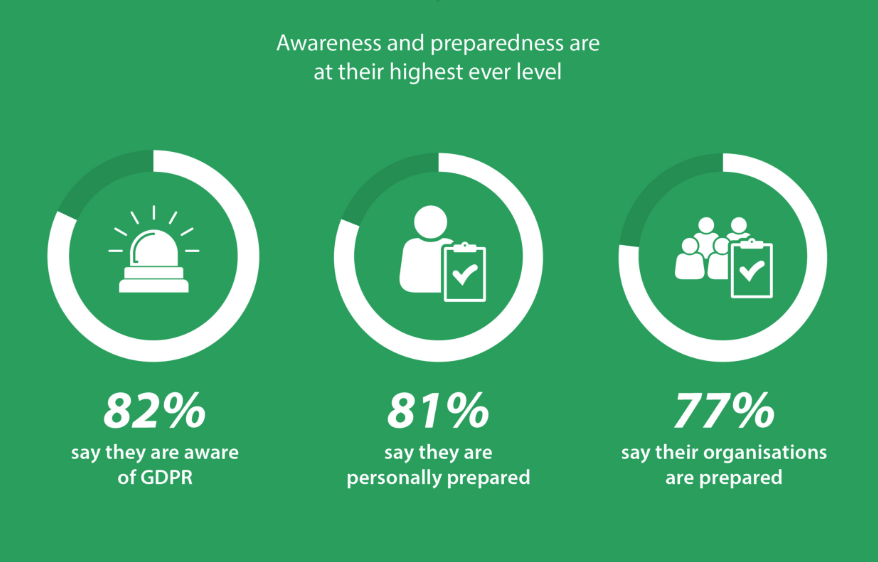 Source: DMA
---
To keep up to date on the latest trends, best practices and opinions in search marketing, subscribe to our blog – or contact us to see what we can do for your brand.
Share this: