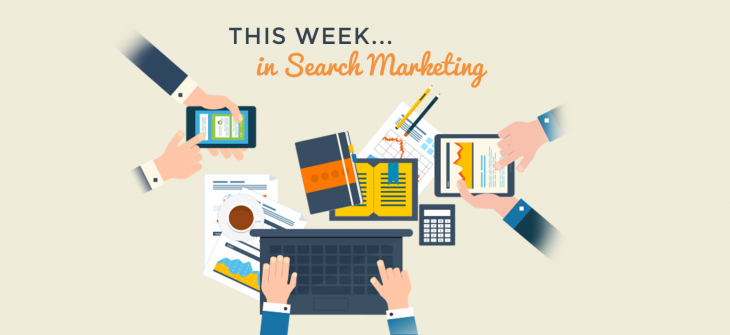 This week in search marketing
The latest developments from the worlds of Google, content marketing and social media…
---
Creative Commons' new free photo search engine
The non-profit organisation is making it easier to access free and legal images to accompany your web content with a new search engine, CC Search, which as launched into beta. Creative Commons offers copyright licenses that creators can use to share their work more broadly, while putting them in control of where and how their work can be used, and how it should be attributed.
LinkedIn change
LinkedIn has almost finished rolling out its revamped interface to  – a somewhat mixed reaction. And a lot of people have taken to the platform to criticise the new UX. Top gripes are the disappearance of the dropdown Notifications list, reduction in options to view your newsfeed and removal of updates for Company Page admins: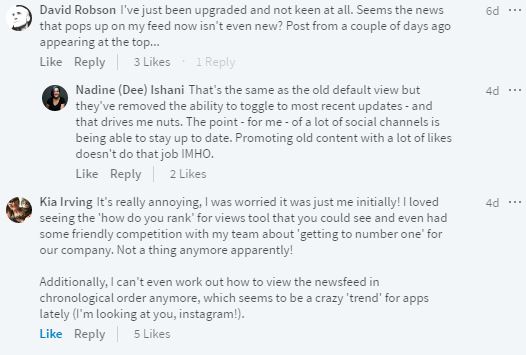 Ad-blocking levels stabilise
The proportion of British adults online currently using ad blocking software has remained at around 22% for the last year, according to the Internet Advertising Bureau UK.
"The continued rise in ad blocking that some predicted simply hasn't materialised," says the IAB UK's CEO Jon Mew. "A key reason is publishers denying access to content to ad blockers which, in effect, has created that 'lightbulb' moment for people who realise that they cannot access free content without seeing the advertising that funds it. The industry has worked hard on promoting this "value exchange" and it's paying off."
Automated call extensions added to AdWords
Google AdWords will be adding automated call extensions to text ads from this Monday, 27th February.
Some advertisers have been notified with the following email: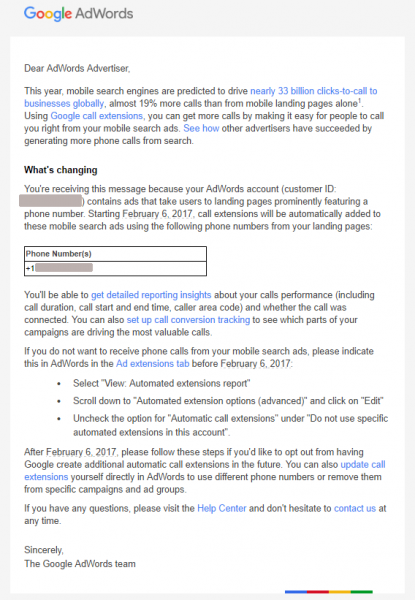 This seems to be an update on their recent rollout on their Mobile-First Strategy. The phone number added will be based on the one on your landing page.
Twitter launches another measure to prevent abuse
As part of its drive to combat abuse on the platfrom, Twitter has announced it will no longer notify users about replies to threads started by accounts they've blocked or muted, unless those replies are from people they already follow:
We've heard consistent feedback from the safety community regarding notifications from conversations started by people you've blocked/muted.

— Twitter Safety (@TwitterSafety) February 16, 2017
Bye bye Google Site Search
Google is discontinuing their Google Site Search product, which is the paid version of using Google search technology to power your internal site search feature. Customers are being advised to use the free custom search engine version instead. The product will be discontinued later in the year.
---
Find out how Click Consult can help your brand achieve the results it deserves by staying ahead of the curve when it comes to industry developments. Contact us today.
Share this: