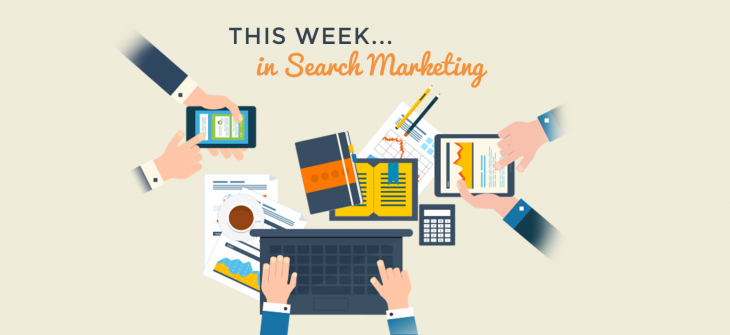 This week in search marketing
The lowdown on this week's hottest search news
---
Gmail phishing attack
This week, a phishing attack that security experts called "incredibly sophisticated" affected more than a million Gmail users, although Google managed to shut down the vulnerability in less than an hour after an employee became aware of the scam via social news aggregation site Reddit.
The scam sent users an email asking them to click on a link to a Google Doc that appeared to come from someone they knew. On opening the link, Google's login and permissions page asked users to grant the fake Docs app the ability to "read, send, delete and manage your email", as well as "manage your contacts" potentially giving hackers access to the contents of emails, contact lists and online documents of victims.
@zeynep Just got this as well. Super sophisticated. pic.twitter.com/l6c1ljSFIX

— Zach Latta (@zachlatta) May 3, 2017
Luckily, many were suspicious of the email when they spotted the recipients section which showed it had been sent to "hhhhhhhhhhhhhhhh@mailinator.com" with others BCC-ed.
A Google spokesperson shared the following statement with TNW:
We realize people are concerned about their Google accounts, and we're now able to give a fuller explanation after further investigation. We have taken action to protect users against an email spam campaign impersonating Google Docs, which affected fewer than 0.1 percent of Gmail users. We protected users from this attack through a combination of automatic and manual actions, including removing the fake pages and applications, and pushing updates through Safe Browsing, Gmail, and other anti-abuse systems. We were able to stop the campaign within approximately one hour. While contact information was accessed and used by the campaign, our investigations show that no other data was exposed. There's no further action users need to take regarding this event; users who want to review third party apps connected to their account can visit Google Security Checkup.
Google and Apple accused of unfair practices
A group of European internet businesses are lobbying the European Commission to crack down on what they see as unfair practices by the likes of Apple and Google. The big internet platforms "can and do abuse their privileged position", according to a letter signed by the chief executives of Spotify, music streaming rival Deezer and German start-up investor Rocket Internet among others. Although the letter to the European Commission does not cite the Silicon Valley giants by name, it complains that some mobile operating systems, app stores and search engines have evolved from "gateways" into "gatekeepers" — effectively hindering rivals from competing with their own services.
Apple and Google together control over 90% of mobile operating systems, meaning that smaller companies which offer products on smartphones have to abide by terms and conditions set by the Silicon Valley groups, or risk being unable to reach customers. The letter comes in the midst of a debate inside the commission around overhauling digital policy, with new proposals due later this year aimed at addressing allegedly unfair contractual clauses enforced by big platforms.
New EU laws could transform digital marketing
Two pieces of legislation are set to transform digital marketing in the European Union (EU) when they come into effect in May next year. WARC (the World Federation of Advertisers) has published a report outlining how the General Data Protection Regulation (GDPR) and ePrivacy Regulation will impact marketing across the globe.
Key insights from Merkle's Digital Marketing Report for Q1
Merkle's quarterly Digital Marketing Report, which takes a detailed look at performance across digital channels and search engine trends, has produced some interesting headline insights:
Spending on AdWords has increased 21% YOY in Q1 2017, up from 19%in Q4 2016, with click volume increasing 20% over the previous year, spurred on by by greater device bidding controls and other updates, such as the addition of a fourth mobile text ad, PLAs in image search, and Google Maps ads over the past year.
Tablet bids have declined, while mobile bids have improved relative to desktop:
Source: Merkle
Product Listing Ads (PLAs) continue to grow faster than text ads, accounting for more than half of retail search ad clicks in Q1, up from 48 percent in Q4, with growth largely driven by non-brand queries. For non-brand queries, PLAs drove three quarters of all clicks for retailers.
Google's Local Inventory Ads, a bricks-and-mortar-focused version of PLAs, are gaining traction, accounting for 19% of all Google Shopping clicks on phones.
Expanded Text Ads, introduced last year, are failing to produce consistently higher click-through rates than the previous standard text ad format:
Source: Merkle
The mobile share of advertising spend for Facebook and YouTube video platforms has continued to strengthen.
Spend across Bing Ads and Yahoo Gemini fell by 14% compared to the previous year, hampering mobile growth and marking the fifth consecutive quarter of spend declines.
Bing Ads rolls out three new features for Shopping Campaigns
Search term report at product level
Advertisers can now see which search queries triggered product ads and the product ID level with Product Search Term (giving Bing an edge over Google as this is a feature that's not available with Google Shopping)
Source: Bing Ads
This report will show whether products are triggering for appropriate search terms and can also help guide product title optimisation.
Online product inventory update feed
Advertisers can now upload — via FTP or manually — an online product inventory update feed with availability and/or price changes as a supplement to the main product feed, which means you don't have to upload a new main feed every time products go on or off sale, run out or get restocked.
Feed download scheduling
Advertisers can now have several scheduling frequency options to choose from: daily, weekly or monthly.
---
Click Consult stays up to date so you don't have to – to see how it can help your brand stay ahead of the competition, contact us today. 
Share this: