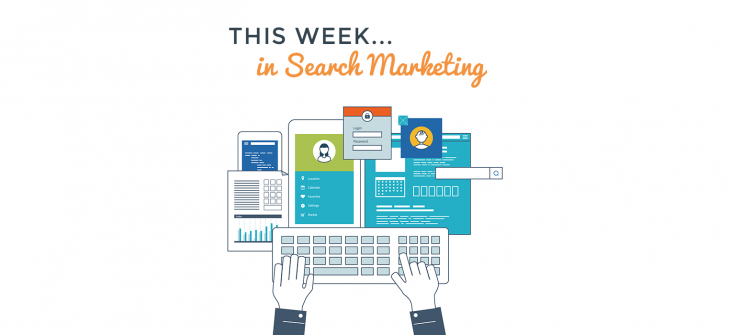 This week in search marketing
As always, our commitment to bringing you the latest news from around the world of search marketing is unwavering, so much so, we once again look at the stories that have hit the headlines this week.
---
Google make events easier to find with enhanced search features
Google has announced a new search feature that will make it easier for users to find events and buy tickets.
The latest update means that those conducting Google app and mobile web searches for events will now find a comprehensive listing of activities and events pulled from Eventbrite, Meetup and other websites.
---
(Image: Google Events display)
---
Discussing the update Google Product Manager, Nishant Ranka said: "To try it, type in a quick search like, 'jazz concerts in Austin', or 'art events this weekend' on your phone. With a single tap, you'll see at-a-glance details about various options, like the event title, date and time, and location. You can tap "more events" to see additional options.
"Once you find one that's up your alley, tap it to find more details or buy tickets directly from the website."
The event results include filters that let allow the user to search by dates or look for specific events happening 'today', 'tomorrow' or 'next week'.
Google has also provided a link to its developer guidelines for creators so that they can make sure their event listings show up in within the new search feature: Google Search Events guide.
---
Facebook commit to reducing links to low quality web pages
As part of their ongoing commitment to build an informed, integrated community the social media giant has announced a major shake up to the way they evaluate posts for websites offering low quality experiences.
According to an update on the Facebook newsroom, the company says that they are working hard to understand which posts people consider misleading, sensational and spammy so that they can show fewer of those and show more informative posts instead.
According to the press team: "We hear from our community that they're disappointed when they click on a link that leads to a web page containing little substantive content and that is covered in disruptive, shocking or malicious ads. People expect their experience after clicking on a post to be straightforward.
"Starting today, we're rolling out an update so people see fewer posts and ads in News Feed that link to these low-quality web page experiences. Similar to the work we're already doing to stop misinformation, this update will help reduce the economic incentives of financially-motivated spammers."
The changes will roll out gradually over the coming months and Facebook have reviewed hundreds of thousands of web pages to identify those that contain disruptive, shocking or malicious ads.
---
Bing adds back stories to home page images
Bing is adding more to its home page, now offering the backstory for the image of the day and a gallery of past featured pictures.
Since it was rolled out a little over a week ago, users can scroll down on the home page to see a brief summary of the featured image of the day and a map of where the image was taken.
Users also have the option to like the picture, download it to use as their wallpaper or and share it on Facebook, Twitter or Skype.
---
(Image: Bing home page)
---
There is also a "Recent Homepage Images" section that links to a full gallery of Bing's past home page pictures. The gallery allows users to find past images using a number of filters, including category, tags, colours and holidays.
Currently, the image of the day information is only available on Bing's US home page, but it will be launched later this month in the UK, Canada, Australia, India, Germany, France, Brazil and Japan.
---
Advertisers continue YouTube boycott as they seek assurances from Google
A host of high profile UK advertisers including Marks & Spencer, Tesco and Pepsi are still withholding ad spend from YouTube despite moves by its parent company Google to allay marketers' concerns over brand safety.
Google has been working hard behind the scenes to rebuild trust after an investigation by The Times found that some ads from big brands were being shown next to seedy or illegal content such as that posted by those in the pornography industry, extremist groups and those associated with terror.
In a range of interview with Marketing Week, many brands have said that while they are "encouraged" by Google's attempts to make the way it serves ads on YouTube more transparent and to provide better guarantees, they still need more before they resume advertising.
In an effort to combat the backlash and bring the advertisers back in line Google and YouTube have worked on a range of updates and guidelines. The search engine giant has promised third-party verification and restricted where ads appear so they are only served if a creator or channel has more than 10,000 views.
They have also hired people to help monitor the site for content that advertisers might not want to appear next to and introduced new rules so content is more likely to appear in genres and channels that are brand safe.
---
Click Consult stays up to date so you don't have to – to see how it can help your brand stay ahead of the competition, contact us today. 
Share this: